Bloodlines of Eventing Champions
Bloodlines of US Eventing Hall of Fame Inductees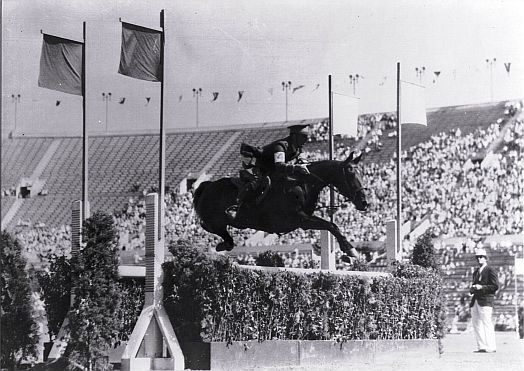 [Above is one of the greatest eventing horses there ever was--anywhere. Her name is Jenny Camp, an American sport horse, 3/4 TB-1/4 Standardbred. She earned a individual silver and team gold in 1932 Olympics (seen above) and came back in 1936 to take the individual silver in the notorious Berlin Olympics--there was no US team ranking because of the injuries sustained at the treacherous #4 obstacle eliminated half our team, one of our two horses injured in the trap was Slippery Slim and he had to be shot right there. But tough little Jenny made it through into the history books and the Hall of Fame. Army Archive photo].
This is the last in a series of articles looking at the genetics of the best Olympic style horses that have competed in this country. We will be looking at the bloodlines of the eventing champions that have made it to the ultimate honor of the Hall of Fame. (Written first in 2011, there will be additions and revisions added in 2016.)
There are nine Hall of Fame inductees: Jenny Camp 1926, The Grasshopper 1948, Kilkenny 1957 and Plain Sailing 195?, Good Mixture 1962, Bally Cor 1965, Irish Cap 1967, Bilko 1984 and Custom Made 1985.

Overall we find in these nine that the Thoroughbred is king of the genetics as four are full Thoroughbred, and the remaining five are 1/2 to 3/4 Thoroughbred. That is an overwhelming affirmation that the sport genetics of the much maligned Thoroughbred are supreme in the sport of eventing. And the funny thing is we have found that they are also the top breed in the best Show Jumpers. And surprisingly we even found they comprise 25% of the Dressage Champions--but that is not accurate either. Further investigation into the non-Thoroughbred lines in the dressage stars has revealed that the majority of their background genetics--no matter the breed label is Thoroughbred--you can see that demonstrated in the Duellant HA example on the Dressage page.
I hope this helps put to rest the common lore that the Thoroughbred is not the proper ingredient for Olympic style success, rather the facts and the history demonstrate not only the excellence of this sport breed, but that it probably is the only constant to be found in the successful sport horses today. 

In eventing we find the influence of the Irish Horse, both the Irish Draught and the Connemara Pony, are of significant importance. When crossed with with its close relative, the Thoroughbred, these horses have led the sport leader boards since the mid-1800s, which is long before anyone thought of having a Hall of Fame. The roots of this successful cross reach back to the 1500s all the way to the racehorse studs of Ireland (pre-Thoroughbred), where a saddle-racehorse-hunter was perfected, they were known as the Irish Hobbies. These horses, along with their cousins, the Scottish Galloway and the English Running Horse (Hobby), were the base stock that gave birth to not only the English Thoroughbred, Irish Draught and Connemara, but they crossed the Atlantic as well and became the base of our own Colonial saddle-racehorse breed: the American Running Horse.
Our Running Horse was a premier racehorse at all distances from 1/4 sprints to grueling four-mile heat stamina contests, as well as a supreme Hunter--all one-hundred years before the English Thoroughbred arrived on our shores. This Running Horse, became the base of our Thoroughbred, Morgan, Standardbred, Saddlebred, Tennessee Walker, Missouri Fox Trotter and several extinct breeds. These native breeds then are the base of our own sport horses of today (Hunter-bred--see Sport Horse Recipe). I provide this history lesson so that you may begin to understand why it is that the Irish Horse and the English Thoroughbred have such an affinity for our native breeds--it is because they all arise from the same base stock, and it was a sport horse, not a farm horse.

Now in our Hall of Famers, we find only four of the nine have full pedigrees (TBs) and that none of the part-breds have full recorded lineages, and unfortunately the ony Irish part-bred that has any of its Irish lines showing is Custom Made ISH (Irish Sport Horse), so we will be only able to partially determine the genetic strengths of many of these champions. In Custom Made ISH we can see the Galty Boy IDH (Irish Draught) line is concentrated, but through sons only. Galty Boy IDH is a proven hereditary transmitter of jumping talent, but unfortunately is usually found only by son lines as he is here. Custom Made's sire line, the TB Bassompierre, is also a male leaning pedigree, led by a double of Wild Risk sons--although because they are 3/4 related and are represented by both a son and a daughter more of the power does come through to Custom Made ISH. There are four lines of Teddy, sex-balanced, and we find Pharos and his sister Mirawala--all of these lines are warehouses for the jump line of Birdcatcher. Custom Made ISH won the individual Gold medal at the 2000 Sidney Olympics.

Two of the other Irish/TB crosses, Plain Sailing ISH and Kilkenny ISH are out of the same sire: Water Serpent. Water Serpent has a pedigree worthy of study, not only because he was such a wonderful sire of top eventers, but because he possess a very strong genetic design. Water Serpent is also found in the superlative Irish Sport Horse Cruising--his second dam-sire, and surely helped make Cruising ISH a star jumper. Water Serpent is living proof that we should strive to build up the maternal influences we find in our stock. He was an immensely successful sire of eventers in Ireland. His pedigree reveals a strong filly factor of Gallinule daughters: Lady Drake, Hammerkop and Joie De Vivre 4x3x4. Further he carries the ever present Swynford with his 3/4 brother Chaucer--also through daughters 3x3, but they are then reinforced through their dam Canterbury Pilgrim who finds her brother Loved One here also--these are the lines that Lord Derby built his racing empire on--the sound progeny of the mare Pilgrimage. Canterbury Pilgrim does much more, for she is found to be one of the greatest taproot jump bloodlines in the modern sport horse (see Standardbred Sport Horses for the tracing of the jumping trait back to its roots). Plain Sailing ISH won team Gold at the 1967 Pan Am Games, team Silver at the 1968 Olympics, team Silver at the 1972 Olympics and in 1979 team Gold at the World Championships.
A Note on Swynford --He is by the elite mare Canterbury Pilgrim, a daughter of Pilgrimage, as is her brother Loved One.  The presence of Swynford, plus his 3/4 brother Chaucer are what is called a 'standard pattern' in the TB--because it is more common to find them in the average Thoroughbred pedigree, then it is not to find them. Swynford is not an entirely sound line, his sire John O'Gaunt gave unsound joints, although his great-grandson Mahmoud is a sound line. How can a bloodline that has some unsoundness become such a successful sport transmitter? It is because of the way genes divide and combine in a mating--so that the progeny do not get all of the horse's genes--this can be a positive or a negative. When a bloodline has immense talent but also some unsoundness, then pick the descendants who show the talent you are looking for but also do not demonstrate the weakness; in this case you will find Mahmoud is a sound representative of that line.

In more modern lineages we see the same thing with Nasrullah, his 7/8 brother Royal Charge and their 3/4 brother Mahmoud. This combination worked so well it became a standard pattern in the modern Thoroughbred. However, being part of a standard pattern does not detract from their importance and several of these stars here have a strong concentation of them.

[For American breeders especially, realize that War Admiral, plus his five full sisters (Admiralette, Military Brush, Our Colors, War Brush and War Hysteria) and his 3/4 brother War Glory or 3/4 sisters Marching Along and Harrannette--all carry Harry of Hereford who is the rarely seen full brother to Swynford, and including these lines will add to the potency in a large way--building up the mare line Canterbury Pilgrim. War Admiral also carries a strong Lexington RH build up and he is a son of Man O'War--other key sports line. War Admiral is one the best overall bloodlines to build into our sport designs.]

Strong marelines don't only appear in the event sire Water Serpent, as we find there are three other top eventers who have a tremendous build-up of Pocahontas with significant additions of the often missing daughter lines coming from these sources: Wellingtonia, Teddy and Tracery. Pocahontas is a daughter of Glencoe--a great broodmare sire and a source of the large heart gene, and Pocahontas herself is the main source of the large heart gene in the modern Thoroughbred, however Glencoe had many other daughters and we find multiples of them in Gordon Russell who is the sire of the first Hall of Fame inductee Jenny Camp ASH (American Sport Horse) and Glencoe daughters also found through the Spearmint progeny such as Plucky Liege, Chicle, Catnip and Bathing Girl. Other female strength appears from concentrations of Brown Bess, a good source of impulsion, who we find in the lines of Quiver and Carbine, who is also found in Spearmint. 
As far as sport breeding goes, Teddy is notable as a jump transmitter, as is Gordon Russell, who at one time was the sire of the USET entire jump team--he is a similar genetics to the French jump line of Orange Peel--both carry tremendous buildups of the taproot jumping line of Birdcatcher.

Spearmint is an interesting character, a great race horse (Derby winner), but also unsound in his front legs. However, he established one of the most lasting performance lines in the modern Thoroughbred. We found other unsound individuals such as John O'Gaunt, the sire of Swynford, and Phalaris, all three had poor front legs, but the excellence of the athletic ability still made them great sport bloodlines. Swynford, Chaucer and Harry of Hereford are all by the mare Canterbury Pilgrim. But Spearmint is also notable for the dam of his sire, The Mersey, who is daughter of Clemence, a mare who has proven to be a tremendous conduit of jump talent--she is the power also behind The Tetrarch, another horse with poor front legs that has left a sport and jump legacy.

So let's look at a few of these full Thoroughbred stars of eventing to see what is powering their amazing careers. Irish Cap won the 1974 individual and team Gold at the European championship. Her lineage has Swynford 6x6x5 sex-balanced, plus two lines of Gondolete who is a daughter of Loved One 6x7, so this then is a notable concentration of Pilgrimage, the dam of Canterbury Pilgrim. Also of interest to us is the perfect symmetry of this performer's sire and damlines: Roman and Maimaison who are 3/4 siblings, a son and daughter of Sir Gallahad (Teddy son), with a son and a daughter of Sunstar as the 2nd dam and damsire. 

Another Hall of Famer with a strong pedigree is Good Mixture showing a strong Spearmint build-up of Chicle, Plucky Liege and Petite Marmite 4x5x4x4 (Spearmint is strong in Pocahontas, Clemence and Brown Bess). Chicle is by Lady Hamburg, and brings in the American top sport lines of Lexington RH/Boston RH, plus a double of the taproot jump line of Vandal RH. The full brother Teddy sons Bull Dog/Sir Gallahad are sex-balanced 4x3, Swynford and Chaucer are 4x5, the full siblings Sainfoin/Sierra are 6x6, plus the impulsion lines of Polymelus 5x5. Sainfoin and his sister are by another top jump bloodline: Sanda. Found as a cull from the racetrack, this gelding went on to become the USCTA Horse of the Year, he won team Silver at the Munich Olympics and in 1974 the individual Silver and team Gold at the World Championship.
Bally Cor is a full Thoroughbred with the usual strong Swynford and his relatives, but another factor keeps arising in these stars and we see again here--that is the reinforcement of the Pocahontas lines. This mare carries a triple of Negofol, who in turn carries Wellingtonia, a stallion who brings us more daughters of Pocahontas. But there is way more in sport here, Bally Cor brings in the sound and tremendous American sport lines of Domino, Fair Play, Ben Brush and Hamburg. (See Legacy of Lexington to learn about the distinctive American developed sport lines that power sport all over the world), bringing in the toughness refined in our four-mile heat era.

Bally Cor's sport record is: team and individual Gold in the 1975 Pan Am Games, team and individual Gold in the 1976 Olympics. The other Hall of Famers with these key concentrated lines are Good Mixture with Teddy, Biko with Teddy and extra lines of his sire Ajax, Irish Cap with both Teddy and Tracery and Custom Made ISH with Teddy. Good Mixture with Hamburg, Lexington RH, Vandal RH.

What we can conclude from this series of study on the bloodlines of the Hall of Fame inductees is that overall the Thoroughbred is the most important sport resource available to us. No other modern breed comes close to it in the top performers of eventing and show jumping and is also now found to be the true power behind the dressage lines as well--no matter the breed.

---
---

bloodlines of show jumpers
bloodlines of dressage champions
American Sources of Sport Talent
Sport Horse Recipe
Thoroughbred