Horses for Sale
---
Breeding Stock for Sale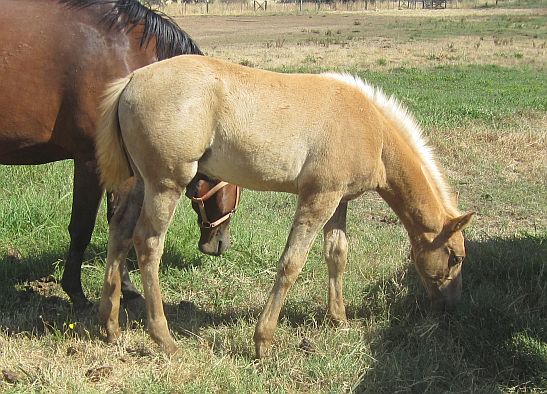 This is one of the first foals I have had in seven years--I stopped breeding because of market--it has been pretty grim. This is Just Peachy, American Sport Horse colt, registered with the PHR, and he is also eligible for registry with the American Warmblood Society. He has a large white star and small stripe on his face, of course the palomino color, and although you can't really see it in this picture he is also dappled. I have not gelded him, because of his quality and color, and am leaving that up to the prospective buyer.
His pedigree indicates he is potent, and he will nick with Thoroughbred, Morgan and Irish easily--carries the full Thoroughbred sisters Businesslike/Belle of Troy/Blue Eyed Momo and multiple 3/4 Morgan siblings, and so will surely set type well. He should throw palomino or buckskin on 50% of his foals, or if mate is palomino or buckskin 50% Palomino-Buckskin, 25% Cremello 25% solid. I am not keeping him as a stud because of his close relation to the rest of my herd, I am keeping his 3/4 sister. As a competitor or show horse he will be a head turner.
The quality of this colt surprised me, he was the first offspring of a Morgan stallion I acquired, and right from birth he was special, he has that 'look at me factor'--huge presence, and he was quite robust when born and precocious, he began interacting with his three week older pasture mates immediately--no infant time with him, it was right to playful, curious foal.
I am having trouble predicting his best use, it looks to me the angle of his hip is just slightly more dressage than jump, but I can't be sure--he moves beautifully, but I have advertised him on Dreamhorse as a jumper-hunter-eventing-dressage prospect, because I can't tell. What I can state is he has great bone, correct movement and conformation, good size (possible 16-16.1 h at adulthood) beautiful feet and legs, perfect shoulder angle, good neck set, and he is very calm. Asking $6200, will consider a trade in full or part for a good condition used gooseneck stock trailer.
Contact Information
e-mail: kathleenkirsan@hotmail.com phone: 916-289-0392