American Hall of Fame Show Jumpers
Brief Analysis of American Show Jump Champions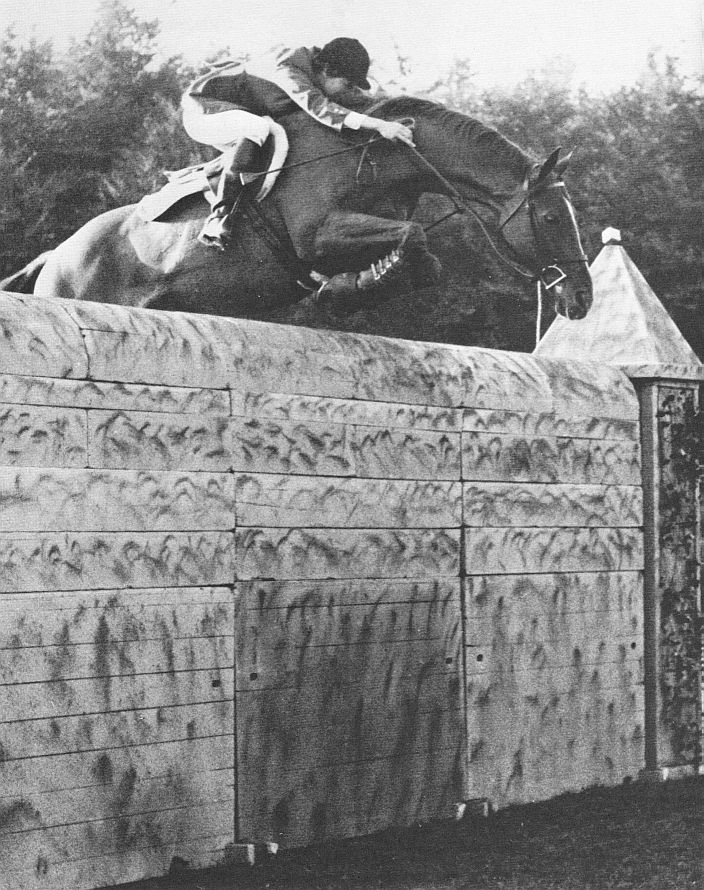 [Above is the utterly fantastic team of Kathy Kusner and Untouchable easily clearing a massive wall in Holland. Untouchable is powered by the American jump lines of Man O'War, Domino and Hamburg--photo courtesy of the USET]
This is a brief analysis of those super show jumpers, the select few, that have made it into the American Show Jumper Hall of Fame. This article was written in 2011 and reprinted under the title "Red, White and Blue Bloodlines" in Horse Connection Magazine. Since that time I have followed the show jump trait through time back to its roots, and found what is powering all the jumping horses in th world--that inclues all the warmbloods, and I have added the key root bloodlines in each example horse here. I will identify the main roots found in the Thoroughbred lines, but also have discovered those that come from the Trotter, and those lines and the surprising main root behind all of those, both Trotter and TB are presented in Standardbred Sport Horses.
Okay, the main Thoroughbred roots are Birdcatcher and his full brother Faugh-a-Ballah and a English mare named Clemence. Slightly lesser roots but still quite common is two other mares: Canterbury Pilgrim and Sanda (dam of Sainfoin/Sierra), plus the progeny of Bay Ronald. The French lines often go back to Thormanby, another strong jump transmitter. The American lines are usually Birdcatcher and Clemence, plus the American developed lines of Lexington RH and his sire Boston RH, and Vandal RH. All this is fully explained in both Legacy of Lexington and Standardbred Sport Horses.
Peter Birdsall did an admirable job of cataloging the best hunters and jumpers in his 1980s texts, but I decided to take a look at the genetics of those few that broke all the records and made it to the Hall of Fame. What I found surprised me a little. First of all only twenty horses have made it so far to the list. Two of those (Snowman and Main Spring) are of unknown breeding, and I expected more warmbloods--but found only one Trakehner (Abdullah) and one 'Dutch' warmblood who is actually 1/2 American TB (Calypso). The rest were all Thoroughbreds.
Now because I composed this study in the end of 2011, and me being a product of our modern sport breeder experience, I fully expected to see by that time the proven merits of the 'European' warmblood more in evidence at the very top of the game (although I am sure undisputable greats like American-bred Dutch warmblood Judgement and his rider Beezie Madden will be added shortly.) 

That said, since I first wrote this article I have discovered that all the jump lines go back to just a few main roots, then from there back to major root of an early English Thoroughbred and even behind him to the Irish Hobby. I know this is not what you expect, and it certainly took me by surprise, but that is where decades of pedigree tracing has led.
Here is a new point for you to think about. The evidence is undeniable that the Thoroughbred has reigned supreme at the very upper levels of achievement seeing that sixteen out of the twenty (80%) are Thoroughbred and significantly for us is that many of those are of American Thoroughbred lines. The Thoroughbred, so very obvious just by my simple research, is one of, or possibly the greatest sport horse breeds in the world--yet it is not included in the breed 'world' rankings that so many of you rely on for unbiased reporting of the reigning breeds in Olympic style sport. This is because most of us have failed to recognize the 'world rankings' published by the WBFSH are a marketing ploy, not a true world view at all, and it is in place to present their member breeds as the ones for you to buy--really. If what I am saying is not correct, why then is possibly the greatest sport breed of them all: the Thoroughbred, not included in the 'world' rankings. And don't be confused by their member breeds 'allowing' TB as a cross, that is not the same thing at all, and they will only register a Thoroughbred in their member registries if they decide to. See Market Share page and its attachments for your wake up call on this. 

It has to be just our lack of knowledge that has allowed us to agree with the 'warmblood' association's view of our domestic Thoroughbred. And I am ashamed to admit that when I was actively involved in breeding in the 'European' manner and following the warmblood registries instructions that I accepted their decidedly unfavorable view of our domestic Thoroughbred. But the evidence is clear, our Thoroughbred produces sport horses of the very highest excellence and ability. And the Thoroughbred itself is the one constant in all equine sport, not some mythical European centuries old breed!
Now, as breeders we want to be enlightened to what bloodlines--domestic or foreign, produce the winners--it is a key to our success. And in the Hall of Fame inductees you do see the same bloodlines repeated over and over- such as Nearco-Pharos, Teddy, Black Toney-Domino, Man O'War-Fair Play, Hanover-Hamburg, Le Sancy, Hurry On, Rock Sand, Dollar, Blandford, Spearmint-Carbine, The Tetrarch-Roi Herode. For example, the magnificent Sinjon carries Roi Herode on his top line through The Tetrarch and his dam sire is War Glory a 3/4 brother to War Admiral, a Fair Play grandson. And we see that For the Moment descends from Teddy on the sire line through Bull Lea and from Double Jay, a grandson of Black Toney, on the dam side. In my updates on each selected example I will give the root jump source behind the recognized line. In this case, Sinjon, he is overwhelmingly saturated (critical mass) in the root jump lines of Clemence and Lexington RH. In For The Moment, the jump roots are Birdcatcher and Lexington RH. (The jump source is indicated in the lineages by the principle we call critical mass, which is the point of genetic saturation where the genetics of that ancestor rules the genotype--see Understanding Pedigrees.)

I said this will be a brief analysis, and so I will just pull a couple of these top American Thoroughbreds out for our inspection--for a full reporting see Legacy of Lexington--available for 20% off when ordered from this site.
At the top of the article is Untouchable and Kathy Kusner clearing a massive wall jump. Here is what I said about Untouchable in Legacy of Lexington:
"Untouchable 1952, another OTTB who earned a position in the Hall of Fame, was owned by Benny O'Meary who rode him to several wins in jumping, but then was turned over to the USET as a mount for Kathy Kusner, and this team jumped just about everything in sight with success. Some highlights of the Kursner/Untouchable team: 1964 Grand Prix in Dublin (and repeat the next year), 1964 Tokyo Olympics fourth place team, 1965 Nations Cup first place, and 1967 silver medal Pan Am Games, plus he held the American High Jump title. When the tally was done this pair had been on twelve winning Nation Cups teams, and Untouchable won individually in Belgium, England, Switzerland, Ireland, and Holland, and he even won the high jump (puissance) in Aachen, Germany.
"He has a powerful pedigree, with some key full siblings groupings such as Sainfoin/Sierra, but most of his dominance is actually in American lines. The full siblings Domino/Mannie Himyar 7x7x6x6, the 3/4 brothers Hamburg/Blackstock 5x6 and the 3/4 brothers Friar Rock/Man O'War 4x5 are the focus points for the background dominance of thirty-four lines of Lexington RH, and nine lines of the jump transmitter Vandal RH."
Next let's take a look at  what is powering the incomparable Gem Twist, who won individual and team silver at the Seoul Olympics (1988) and he also was the Grandprix Association 'Horse of the Year' a whopping three times (87,89,92)--without doubt he is one of the greatest show jumpers who ever lived. When you hear him mentioned today in blogs or in internet articles, you often here that he is the only good jumper America ever produced. That unfortunate attack on the American Thoroughbred is a highly inaccurate statement, but they can't ignore Gem Twist, his career is still a memory of most equestrians, so they have to make sure you don't think of the American Thoroughbred as a source of sport talent. None of that detracts from the fact that Gem Twist is one of the greatest show jumpers there has ever been. Click on link below to view his pedigree.
Looking at his topline you will see he descends from Bonne Nuit--who is a grandson of the Irish Thoroughbred Roi Herode and also has the great French Thoroughbred Dollar line in his dam--both of these are proven jump lines. Notice also the presence of Bonne Nuit's half sister Brave Bonnie-- who is out of a Domino line sire (American jump line) as well as reinforces the Dollar influence. We find three more lines of Roi Herode through his best son The Tetrarch. Don't miss the Man O'War son Great War, and that the dam carries two lines of War Admiral through daughters, as well as three lines of Black Toney, and another line of The Tetrarch. These are the genetic powers behind this world beater. Since I looked at this in 2011, I have discovered that there are common root jump lines behind these dynasty stallions. Roi Herode and his son The Tetrarch carry the root jump transmitter Clemence, the Dollar line is heavy in the root Thoroughbred jump sources, and Domino is inbred to the American jump root of Lexington RH and his sire Boston RH. So Gem Twist is jumping on the power of his genetic dominance in Clemence/Lexington RH. All this is explained in Legacy of Lexington.

I found a curious coincidence when looking at the genetics (pedigrees) of the Hall of Famers. There was another world beater back in the 1950s, this was a mare called 'Miss Budweiser' whose registered name was Circus Rose. She is a 3/4 sister to Sisterly Love who is the dam of New Twist the grandfather of Gem Twist. Check out her pedigree and compare to Gem Twist. She is by Great War (Man O'War son) out of a daughter of Valorous a Pennant son (Domino line). In my updated information--this too is a Clemence/Lexington RH dominance.
Circus Rose (Miss Budweiser) Pedigree

One other thing before we leave Gem Twist--his father Good Twist, a stallion, also made the Hall of Fame list, and his grandfather New Twist was a top international jumper as well. Good Twist was described as a speed horse with a tremendous jump, and he managed to win an amazing twenty-one international level classes in both Europe and America. For three generations: New Twist, then Good Twist and finally Gem Twist were top international jumpers (Gem Twist is a gelding).

Next let's look at an incredible mare: Touch of Class. In the 1984 Olympics Touch of Class won two Gold Medals. She also had the first double clear rounds in Olympic history. What a mare! (And I guess her record kills the new put-down of the American jumpers that says only Gem Twist was any good that I mentioned above.) Usually teamed with Joe Fargis, she also won on the Nations Cup teams in Aachen, New York and Washington, and she won the Grand Prix of Tampa. After the Olympics she and Fargis continued their winning ways including making first in the World Cup U.S. east coast standings. She then retired to broodmare duties where she also succeeded. Her pedigree can become a blue print for us, illustrating how to breed top mares- mares that succeed both in sport and as mothers.
We see Black Toney-Domino on the sire line through Blue Larkspur, but also through two lines of the inbred Ultimus (Domino). A strong filly factor of Sir Gallahad daughters (Teddy line), the full brothers Fairway and Pharos multiple times on both sides of the pedigree, a strong presence of the 3/4 brothers Chance Play and Mad Hatter from the Fair Play line, as well as a beautifully sex-balanced Blandford and his 1/2 sister Felina. Great background buildup of the taproot mare Canterbury Pilgrim through lines of Chaucer and Swynford. All and all a extremely strong genetic structure. Including my new data, the Teddy line is jumping on a Clemence/Birdcatcher root jump sources, Blue Larkspur-Domino is dominant in Lexington RH, Fairway and Pharos carry Birdcatcher dominance, and Fair Play is a Clemence/Lexington RH dominance, and Canterbury Pilgrim is a root jump source herself. So Touch of Class is slightly more complex in genetics than Gem Twist, she is jumping on the root sources of Birdcatcher/Clemence/Lexington RH/Canterbury Pilgrim.
I know I have confused you with adding in root sources behind the front of the pedigree potency, but that is where my studies have taken me. In a nutshell here is what I discovered: behind the majority of English and European jump lines are the two major jump roots of Clemence and Birdcatcher (often present with his full brother Faugh-a-Ballah), and there are slightly less common sources of Canterbury Pilgrim, Bay Ronald and a couple I didn't find in my examples: Thormanby and Sanda (dam of Sainfoin and Sierra), all are powerful transmitters of jump to their descendants.
In the American lines we have as I explained at article beginning Birdcatcher and Clemence--but then we also have the distinctly American developed lines of Boston RH and his son Lexington RH, and seen a little less often is Vandal RH. These are the main Thoroughbred bloodlines that power the jumpers of today. This includes all those in the warmblood horses, and isn't it funny that the breed they won't tally in their world rankings is actually what is powering their ability to jump. All this is detailed in Legacy of Lexington. But that is not the end of the jump story either--there are root sources behind the trotter and Standardbred lines as well, such as what power the jumping breed of Selle Francais. And you will find all that explained in Standardbred Sport Horses.
For those of you who aspire to breed the best jumpers these are bloodlines that are proven transmittors of jump talent--look for them, learn which modern lines are dominant in them and build them into your foals.

Bloodlines of Dressage Champions of the USDF

Bloodlines of Eventing Champions

---

This article has been published in the spring breeding issue of Horse Connection magazine
See what an amazing job Horse Connection did- with incredible photos and design- sure dresses up my plain presentation. Red, White and Blue Bloodlines

Cavalier Royale - a standout modern show jump sire