Timeline of Events Leading to the Jersey Act
* Introduction
In this review of events I hope to set out a timeline that establishes why the English barred the American Thoroughbred from its studbook by listing most of the significant horses and their racing wins while overseas, and taking note of the progression in the industry narrative. The following list and commentary is acknowledged as incomplete, just a sampling of the occurrences, but hopefully is enough to present a more accurate recounting of the meeting of the American and English racers and the resulting backlash, than what we read in most literature.
England has sold its Thoroughbred stock all over the world. It was and is a source of national pride because the breed the English created is recognized as the supreme galloping racing breed in the world and the English always intended that the world would buy their replacement stock from them. We of course have been welcoming the Thoroughbred here since 1730. And we established the American Thoroughbred in 1868 by fulfilling the English requirements of maintaining our own studbook, switching to the classic race as the breed performance test (rather than the heat race), entering those horses that fulfilled their pedigree requirement of 5 full generations of General Stud Book registered stock. Until 1913 the horses that were entered in to the General Stud Book of England and the American Stud Book, were automatically accepted by the other.
[The real reason for the ban: Lexington RH, and his relatives and progeny won too much. From a painting by Troye]
Our Thoroughbred differs from those of other countries because it arose from the original pre-Thoroughbred base (English Running Horse, Scottish Galloway, Irish Hobby) with the English Thoroughbred added 100 plus years later, while other countries built their Thoroughbred only from imported English Thoroughbred stock. In the American colonies the English gentry imported the pre-Thoroughbred racehorse of England and Ireland, and only in the American colonies and in England itself was a racehorse breed established directly from those small, gaited, fast and stamina loaded breeds. (See American Running Horse series and Irish Hobby for more info).
Both the American Running Horse and the English Thoroughbred arose from the same base, the difference being the English added Oriental sires in their mix. And it is that presence of the pre-studbook bloodlines in our horses, which the English (forgetting their own breed origin) used to justify the ban on our American Thoroughbred from the International market place.
In 1913 England barred our American Thoroughbred from the General Stud Book (GSB), here is the crucial part: and they extended the ban to any other country that bought and bred with our horses, so they would have their horses excluded from the GSB as well. In other words, they destroyed our international business in Thoroughbred racehorses.
This objection to our horses' lineages did not matter to the English for the previous 150 years, when they were happy to sell us their stock and register our stock in their book. The oppositions didn't begin until we directly competed with English horses in the international racing and breeding arena. It was only when we came to the Old Country and won a lot, and it was then the attitude changed. The common industry narrative today is that our betting crisis made them do it, but that doesn't add up when you examine the actual events in real time.
To be fair, the influx of American horses and their owners did double when the tracks closed in New York, however, the betting crisis was over in 1912--it only lasted 2 years, and our horses went home, and by 1920 there were very few American horses there at all--yet the English kept this stranglehold on our industry until 1949. Why would they do this? We were their best customers and their allies who defended them through two World Wars during the span of this edict. And yet, until 1949 they would not budge on their ban, even though we had virtually no horses there for decades...it doesn't make any sense until you realize it was about control of their industry at home but especially internationally, protecting their profits and their prestige. It was the excellence of our Thoroughbred that threatened all that.

[American Running Horse, a breed based on imports of Irish Hobby and English Running Horse was a documented racehorse breed from 1624...long before the English Thoroughbred was organized.]
* Timeline
Following is a rough timeline of events, many of which I included in Legacy of Lexington, but present here now with some additional horses, events, newspaper and journal accounts. Legacy of Lexington covers the history of the Jersey Act, but the focus is more on the American bloodlines and the development of the American racer, and how those bloodlines are now powering world sport. Here we are laying out the events in a timeline to help us get to the truth behind the cause of the edict.
* Early Interactions on English Soil
1822-1830 John Randolph, American breeder and promoter of the English Thoroughbred, visited England multiple times, going to farms and the tracks, and discussing pedigrees and horses with all. He brought over his own work he had done on American lineages (he was attempting to compile a stud book), and it contained corrections and additions that Weatherby did not have in the GSB; but Weatherby would not consider his work and included none of it in the English stud book.
1833- We find an interesting piece in the Quarterly Review July, 1833, written by Mr. Apperly (Nimrod), where he points out the American racer is strong in stamina. American racing was still in the heat racing form in this era (1665-1868), but England had switched to the 'classic race' form 65 years previously, causing a notable difference in their breed's type. When they switched to the classic length version (1 to 2 miles dash race) we gladly bought up the heat racing horses that they were discarding. This fact, combined with the reality of our Running Horse had been performing heat racing since 1665 (NY), made our horses much stronger in stamina then the English racer. Mr Apperly reports:
"But it is in the New World--in America that racing and the improvement of horses are making the most rapid progress, so much so, indeed, as , from the excellent choice our kinsmen make in their stud horses, to incline some persons to the opinion that, in the course of another half century we shall have to go to the United States to replenish our won blood, which must degenerate if that of the most sound and enduring qualities is transported to that country."
Of course, it is apparent that Apperly thinks our source of stamina came only from the importation of English Thoroughbred distance runners...they had no recognition of our earlier breed, and really they had lost memory of their own pre-Thoroughbred breed as well. Until very recently (DNA) the popular belief was speed and ability only came from the Oriental horse.
Until 1857, when Richard Ten Broeck brought over a string to race, including several heat-racing champhions: Lecomte RH and Pryor RH, and Prioress, the English really had not taken much stock of our horses. Unfortunately Ten Broeck's best racers became deathly ill after their arrival, and both Pryor RH and Lecomte RH died shortly after this. Prioress somehow recovered and later in the year won the Cesarewitch. Ten Broeck continued to live in England for 30 years, returning to America only in 1887. He was a member of the English Jockey Club and had all the privileges it brought with it. He continued to buy and race both English and American runners.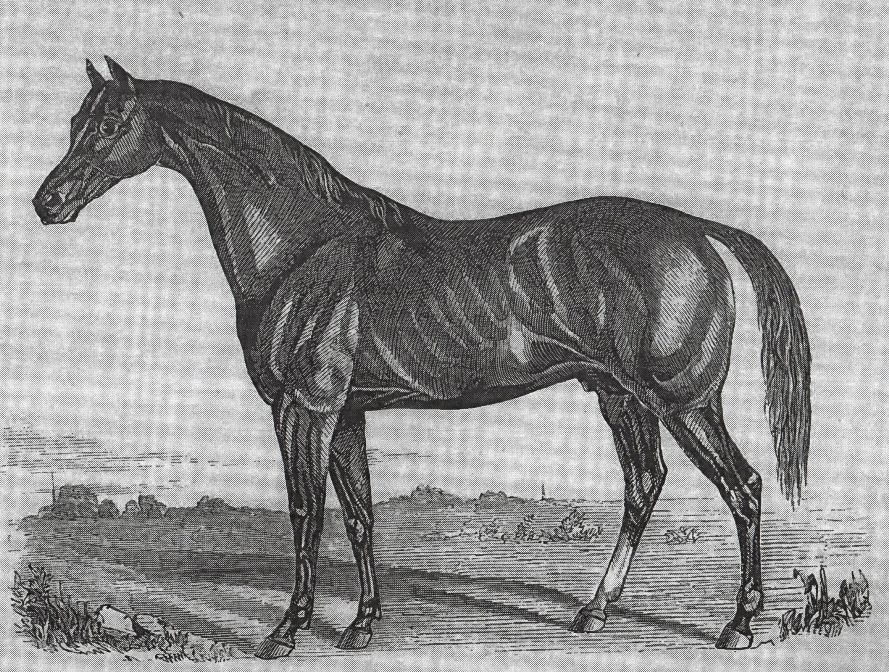 [The English never got to see this great horse run as he became ill and died shortly after importation. Lecomte RH, second only to Lexington RH in wins, both a son of Boston RH.]
1861- A. Keene Richards brought over Starke RH by Wagner RH, his dam Reel, and sent him to Ten Broeck to race. Starke RH won the Goodwood Cup in 1861
1863- Ten Broeck's Umpire RH won the Queens Start Stakes and was 2nd in the City and Suburban (Umpire RH was entered into the studbook and is found on the damline of the great English racing mare Quashed).
1868- The American Thoroughbred established. When the breeders produced a horse with 5 full generations of GSB registered ancestry, accepted the classic race as the performance test and provided their own studbook, then the American Thoroughbred was established--1868. Before this date, unless a galloping racer bred in America had full English ancestry, it was part of the American Running Horse breed. Our Running Horse did not disappear when this portion branched out and formed its own breed; already by this date it had produced several other spin off breeds: the American Trotter 1818, the American Saddle Horse 1817 (Plantation Horse) and Morgan Horse 1820, and it continued on until the early 1900s when it was absorbed completely into its various descendant breeds ( see American Breed Devepment).
1876- Milton Sanford brought to England a small string of his racers, including the great racer Preakness RH, who was entered into the GSB and reitred to stud in England (bought by the Duke of Hamilton). He became a noted sire of winners including the stakes winner Fiddler, and another of Sanford's imports, Brown Prince won the Rowley Mile, and came in 2nd in the 2000 Guineas, and he retired to stud in Ireland.
1876-- It appears the English public still liked the American racers at this point, but had already taken notice of the greatness of Lexington RH
London Field 1876- "It is to the credit of Englishmen, and especially of English sportsmen, that they honor pluck integrity, and enterprise; nor is it possible to image that any foreign colors are ever more likely to be popular upon our race-courses than those of an American citizen. Truth compels us, moreover, to admit that the stamina and endurance imparted by Lexington to his progeny, and which are said to be well represented in his son Preakness, are by no means to common at this moment among our English-bred race-horse for us to be able to defy the competition of a stout foreigner."
1878- The London Sporting and Dramatic News of August 3, 1878: "The success attendant upon the vision of Mr. Sanford in importing from America blood stock for the purpose of measuring swords with the equine flower of the old country, has been so far of a very limited description , for only a few comparatively unimportant races have fallen to his horse's share, and they seem lacking in speed and dash when put alongside our cracks over all sort of course...the advantage remaining with the British Thoroughbred at all points..."
* 1879 - Confidence in English Worldwide Domination Begins to Show Some Cracks
1879 - Parole, a gelding owned by Pierre Lorillard was shipped to England. Already a stakes winner in the States, but at 6 years old was considered aged. He was drafted to replace the ailing Duke of Magenta, and took his place in the Newmarkey Handicap and won it...beating Isonomy. But then just a week later Parole raced in the City and Suburban and he won that, and then just a day later he raced and won the Metropolitan Stakes. The English were stunned, that he was able to run three tough races in a week, and he even beat their hero Isonomy, and many others of repute.
John Wallace threw some cold water on the American jubilation, but saying that these victories were in 'handicap' races, therefore were not the great accomplishment they think. Americans at this time believed handicap races gave an unfair advantage to lesser horses, and ultimately would decrease the competence of the breed itself. Wallace said "...by this system of handicapping the poorest horse is just about as likely to win as the best..." (May 1879 Wallace's Monthly)
Parole later beat Isonomy again in the Silsky Handicap. He also won the Cheshire Stakes, but then was shipped home, where he won the Manhattan Handicap and Westchester Cup in 1881--all told he started in 138 races, won 59, 2nd in 28, 3rd in 17. His full sister Papoose was also a stakes winner in England and another full sister, Perfection is the fourth dam of Nearco. Another of Lorillard's string, Geraldine, won the Goodwood Cup (Lavant Stakes) in 1879.
[Parole, called the 'Yankee Mule' by the British press, at 6 years old he was used as an exercise horse for this stable mates until the star of the stable string: Duke of Magenta fell ill. Then Parole was substituted for him in the races.]
1880 - Pierre Lorillard brought over more horses to race as well. Boreas who ran 6th in the Derby, but then there was Iroquois who won the 1881 Derby and many other stakes.
Lorillard's Don Fulano won the Nursery Stakes at Newmarket (2nd place at Monday Nursery Handicap and Double Trial Plate). Foxhall and Don Fulano have the same sire: King Alfonso, but in Foxhall the dam was American while Don Fulano had an English line dam.
1880- Bookmaker owned by Keene, won $30,000 in stakes races in England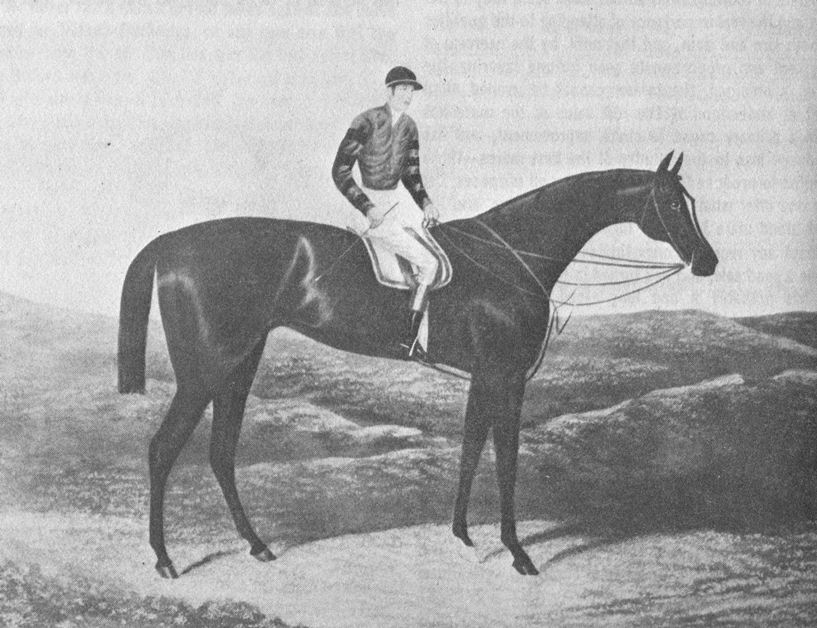 [Iroquois]
1881- called the 'American Year', one the reasons for this was Iroquois who won the Derby, plus the Prince of Wales Stakes, St. Leger, St. James Stakes and came in 2nd in the 2000 Guineas.
According to the current English press of the time I found it seemed the English were hoping we would send more good racers:
London Sportsman: "Iroquois victory was received as it deserved to be, with a tremendous outburst of cheering. Right heartily may the Americans be congratulated on having a colt capable of winning the Derby, and although the field was confessedly one of the weakest ever known in point of quality and below the average of recent years with regard to quantity, it will not do to rob Iroquois of one iota of the credit due his victory, which he secured handsomely. The American success is one in which English men should feel the utmost satisfaction, as it will induce the Americans to send a further contingent of racers to England. Iroquois was most popular, and it took the police a long time to get Iroquois threaded through the crowd to weigh in. His jockey, Archer, was cheered to the echo. So handsomely did Iroquois reverse his running in the race for Two Thousand Guineas [he came in second] Stakes at Newmarket that he must have improved greatly since the early part of May; but it may safely be said that he is a better stayer then Peregrine, and is bound to win a lot of races."
The London Times: "Iroquois did not seem the least distressed at the finish. It may now fairly be admitted that the Derby has changed from a national to an international affair."
The News: "We shall not grudge the Americans their victory, for they have shown great enterprise in sending thoroughbreds all the way across the Atlantic. The triumph of Iroquois was received with tremendous enthusiam."
So, the English attitude was mostly one of appreciation of a great horse no matter its origin and even then they hope we would send more of them to England.This happy honeymoon did not last long.
1881 - Foxhall, owned by Keene won the Grand Prix of Paris, Cesarewitch Handicap, Select Stakes, and the Cambridgeshire, where only four horses ran: 1st Foxhall, 2nd Tristan, 3rd Albion and 4th Fiddler (by Preakness RH, bred by the Duke of Hamilton). By this time several horses bred from American horses were being run in English colors.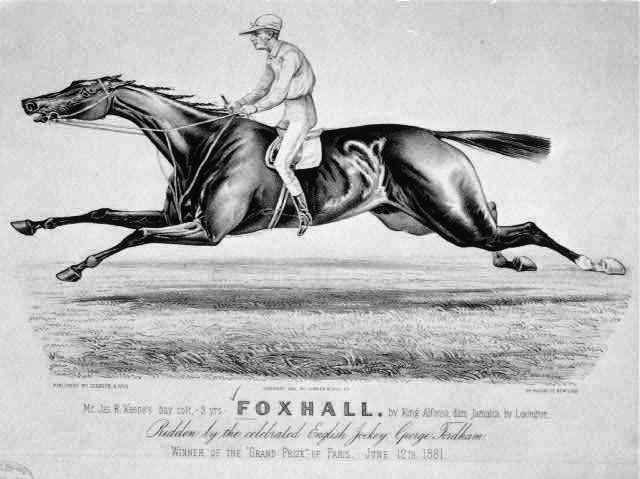 1881 - NY Sun reports: Foxhall won the Grand Duke Michael Stakes... only four horses ran in this stakes also. It was won by Foxhall, and second place was another American racer, Don Fulano.
Foxhall was named the greatest three-year old Thoroughbred in the world. "Everyone admits that Foxhall is the best three year old in the world." (L.J. Jimmy in London, for the New York World.) After the excitement faded, the industry did not miss the fact that Foxhall, best in the world, was 3/4 American Running Horse.
[6-generation pedigree of Foxhall, 3/4  American Running Horse, and his sire's dam line goes back to Black Eyed Susan RH, a daughter of Tiger RH, a speed source, and a son of the pacing super sire Blackburns Whip RH. Nearco, also has a Tiger RH daughter on his damline.]
1882- Passaic came in 2nd in the Ascot Derby Stakes
From 1882 through 1885 Don Fulano covered a few mare in England.
1883 -  London Field, article takes up again on the 1833 piece written by Apperly in the Quarterly Review, concluding that as good as Iroquois is, that Foxhall is even better: "It is to Mr. Keene's colt who is far more American in his lineage than the Derby winner--that Englishmen must look for a sire capable of infusing new vigor and stamina into what must, we fear, be pronounced a declining breed of horses; and it would be a singular climax to Foxhall's unique career if some wealthy English purchaserer should induce Mr. Keene--which we think little likely--to part with the grandest horse in existence." (Foxhall is 3/4 RH and Iroquois is 1/4 RH). Iroquois was sent home to stud, but Foxhall stood in England.
1885 - Don Fulano sent to France to stand, at Haras du Pin, where he sired both Thoroughbred and Anglo-Arab stock. 
* Turning Point From Tolerance to Fear 1889
Here we see an alarm from the English being raised about the possibility of their industry being overshadowed by ours:
London Field, March 7, 1889-- published about the fear now generated from the bigger prizes being instituted in America, that it may hurt British racing and that the many new races will eclipse their market: "...it cannot be doubted that in the United States--that country of big things--some prize for richer than anything ever heard of in the Old World will soon be established. In turn the wondrous tale will be taken up by Australia, so that the classic races of England will we fear, be forced in transatlantic parlance, to take a back seat. Accustomed as we now are to see the representatives of emperors and kings,  of foreign princes and nobles, of wealthy merchants from beyond the sea, flocking to London to give enormous prices for our best thoroughbred stock, we can hardly contemplate the arrival  of a day when an English derby or St Leger winner is weighted in the balance against the best steeds of North and South America, of Australia and south Africa, and found wanting...fifteen years since the American Turf was a puny child, now it is a burly giant."
1895- Americus, a stakes winner in the US, brought to England by Richard Croker, where he won several stakes as well. He stood at Peewit Stud in England 1898 to 1903, then in Glencairn Stud in Ireland from 1904-1908, then sold to Germany in 1909, he died the next year. Americus is damsire of Lady Josephine, he is extremely potent as he is 2x2 to full siblings by Lexington RH.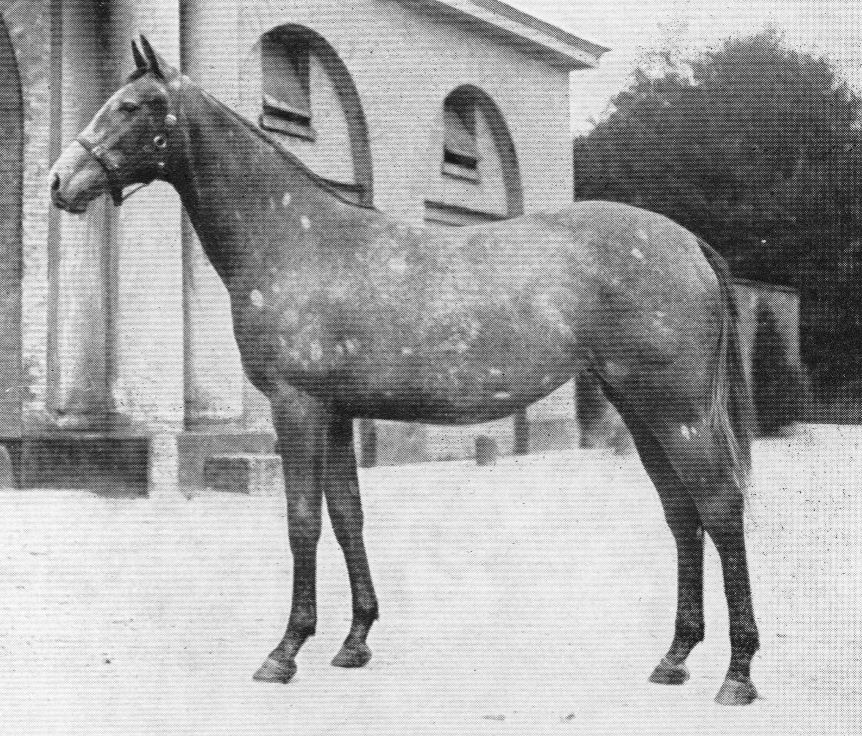 [Mumtaz Mahal--daughter of Lady Josephine, she created a winning dynasty]
Richard Croker, although born in Ireland, was taken to the States as a child, and the British considered him an American interloper. When he returned to his native Ireland he brought with him some excellent American horses. He was snubbed by the British Jockey Club, allowed to race, but not to use their training facilities, and they charged him exorbinant fees to participate. This did not go unnoticed by the Irish.
1896-- Richard Croker imported Rhoda B, dam of Rhodora (1000 Gunieas winner), Orby (winner of both the English and Irish Derby) and Alabama (dam of Addi in Germany)
7/30/98 Richard Croker, who was barred from training at Newmarket said: "English turfmen don't encourage foreigners. At Newmarket I had to pay $75 for a weekly ticket admitting me to all enclosures except the club."
1898--Diakka , a mare brought to England by Lorillard in 1895, won the Esther Cup Stakes, then was purchased by Lord William Beresford, had 9 recorded foals between 1901-1909.
1898 - Jiffy, a mare brought to England by Lorillard in 1896, sold to Lord Beresford, where she won the Eton Cap, Visitors Plate, then in 1900 won the Goodwood Plate and Ebor Handicap, later she was sold to Tesio.
1899- Pierre Lorillard mare, Sibola, wins the 1000 Guineas in England, destined to be the 3rd dam of Nearco (dam of Catnip).
1901 - The Keene-bred Cap and Bells (Domino daughter) wins the Oaks in England, returns to the US to breed (Domino is 3x4x4 Lexington RH).
1902 - Mr. Whitney, who had considerable racing interests in England and France, was feeling the growing animosity for the American "...the average Britisher is getting a bit sick of the eternal rubbing it in which comes from the other side." W.C. Whitney 3/29/1902
* 1905-Decision Made to Ban American Horses
Note the date below--the English had already decided to expel the American racer, and it was evident to everyone, this was 5 years before the betting crisis and 8 years before the Jersey Act. We will see below that Lexington RH was already being labeled as a 'cold-blood' and his progeny as 'half-bred'.
1/15/1905 The Telegraph column written by the Autocrat: "The situation has reached that point when it is simply impossible to conceive of the intent being other than the English Jockey Club means to wall up its courses against all foreigners, except the French, whom it can defeat. It does not want any American owner or any American trainer or any American horsemen of any character. Men in their decadence do violent things to uphold their pride of place. Whom they cannot defeat they would exclude. Racing in England had got into a rut when the Americans went over there and the lessons they taught were humiliating. Now comes the reprisal."
1/12/1905 - Jiffy sold to Tesio in foal to Bay Ronald, and the resulting foal, Fidia, became Tesio's first stakes winner.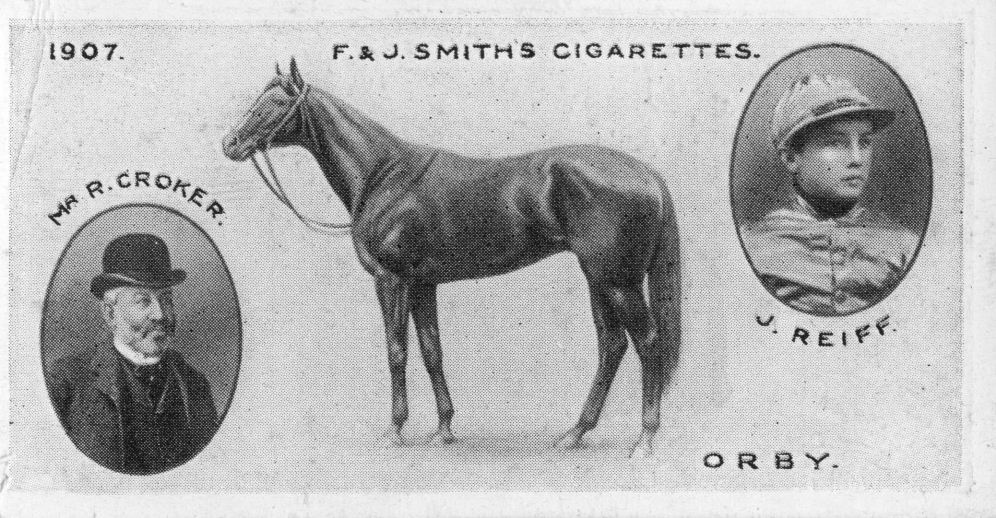 [Insult to injury--1907--the hated Richard Croker wins the English Derby with Orby, out of a American mare and ridden by an American jockey.]
6/1907 - Orby easily wins the English Derby...besides being bred and owned by the hated Croker, he was ridden by an American jockey Johnny Rieff...the English considered Orby a 'half-bred', more evidence that this thinking was already in place: that Lexington RH was not a 'thoroughbred'.
"If Lexington was a 'cold-bred' horse, Orby is only a half-breed, as Hanover's sire Hindoo is out of a Lexington mare, and Algerine (sire of Margerine) is out of a mare by Boston, sire of Lexington.The Lexington cross shows again in Abd-ed-Kader, sire of Algerine, whose granddam was Alice Carneal, dam of Lexington. It may be 'cold-blood", but there is one thing certain and that is that this 'cold-blood' is to be found in pedigrees of horses which are winning nearly all of the stakes in this country. If this is 'cold-blood', give us more of it..." (Thoroughbred Record 6/8/07)
Orby also won the Irish Derby and the Earl of Sefton's Plate and Balydoyle Plate. Of seven starts he had four wins, two 3rds. At stud he produced another English Derby winner: Grand Parade, plus the great Orb and the great sire The Boss--today he is rated a 'chef-de-race'.
6/15/1907 Dublin : "The Irish sportsmen say they believe that the British turf officials are determined to do everything possible to exclude Richard Croker from the English tracks. Mr. Croker withdrew Orby's entry at Ascot for the Royal Hunt Cup because the handicapper imposed a weight of 127 pounds. Not giving the horse a ghost of a chance to win. The weight is unprecedented for a three-year-old. The action of the officials has caused some irritation here. At the next meeting of the Corporation of Dublin a motion will be discussed to confer the freedom of the city on Mr. Croker."
1907 - Grave and Gay, daughter of Henry of Navarre, residing in England, with a colt by Zinfadel and bred back to John O'Gaunt was sold to Germany, where she established a successful maternal line. 
5/1908 Rhodora wins the 1000 Guineas (Croker bred, out of Rhoda B, dam of Orby.)
* Brits Suggest Putting a Hefty Tariff on the Yankee Stock --1908
By this time their own countrymen and visiting bloodstock purchasers were buying up the American stock, and it definitely was hurting the purses of the English and Irish who had had a monopoly on the market until the annoying American stock arrived.
10/29/1908 - London Sportsmen "English and Irish breeders are complaining of the American Invasion, and I do not wonder at it...during the past week we have seen seventy five American yearlings sold for fair price and the cry is--Still they come!...it is not, as a rule, judicious to suggest in the press to the Jockey Club stewards how they should or should not act, but on this subject I venture to submit for consideration that all American yearlings should be charged a much more substantial registration to qualify them to race in England..."
1908 - stakes winner Sir Martin shipped to England by John Madden to race, and he won the 1909 Welter Handicap, Challenge Stakes and Durham stakes, in 1910 he won the Coronation Cup and in 1913 he won the Ellesmere Handicap. Sent to stud at Lordship Stud in England in 1914, returned to the USA in 1920
1/11/1908 - In New York a anti-gambling bill was introduced by Senator Agnew, plus Assemblyman Hart had another anti-track gambling bill.
6/1908 - Hart-Agnew bill passes. James Haggin, the biggest breeder in America, responds by selling off his stock to England, France, Argentina and Germany.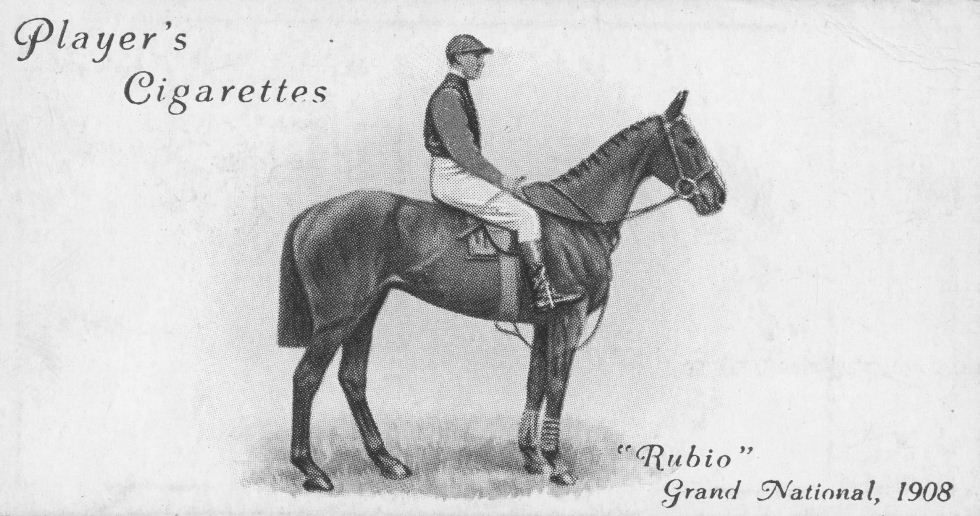 [Rubio, owned by Haggin, won the Aintree Grand National at 66 to 1 odds. He has Aerolite RH, a Lexington RH daughter in his dam quadrant--therefore according to the English he is a 'half-bred'.]
1908 - The great daughter of Hamburg, Frizette, bred by James Keene, is sent to France, where she established a maternal dynasty that is still powering the French Thoroughbred today with such greats as Banshee, dam of Durban and Heldifann (full sisters), Durzetta, Frizelle, Frizeur, Frizzle, Undulation and Princess Palatine. She is rated a reine, but clearly is one of the greatest mares of the last century. She established a maternal dynasty in America as well. 
B.D. Bruce of Thoroughbred Record, January 1909, "Never since Mr. Ten Broeck invaded the turf of England in 1857 has there been an "American Invasion" as formidable, in point of number, as that of the season soon to begin... With Colin, Ballot, Fair Play and Priscillian in England, we shall be represented by a better class of horses than at any time since 1881, which Iroquois and Foxhall made memorable as the "American Year". (The undefeated Colin stood in England in 1910, but returned to the US in 1913).
1909 - Henry of Navarre sent to England, Lady Hamburg sent to England
1/15/1910 Thoroughbred Record "The wonderful record made by the Americans in Germany has not been attained without the usual results. According to information  reaching here (Memphis)...so great is the feeling against the Yankee invasion that Walker may not return to Germany..." The American trainer George Walker, amassed 3,300,000 marks in winnings in the two years he trained there, this included two Derby winners, the German bred Fels was one of them.
1908- 1910 --sales to Europe: 20 stallions including Ethelbert, Irish Lad, McChesney, Kinsey Mack, Kilmarnoch, Adam, First Water, Octagon, Henry of Navarre... and others. These stallions are scattered in France, England, Argentina and Germany as well as other foreign lands. (Thoroughbred Record)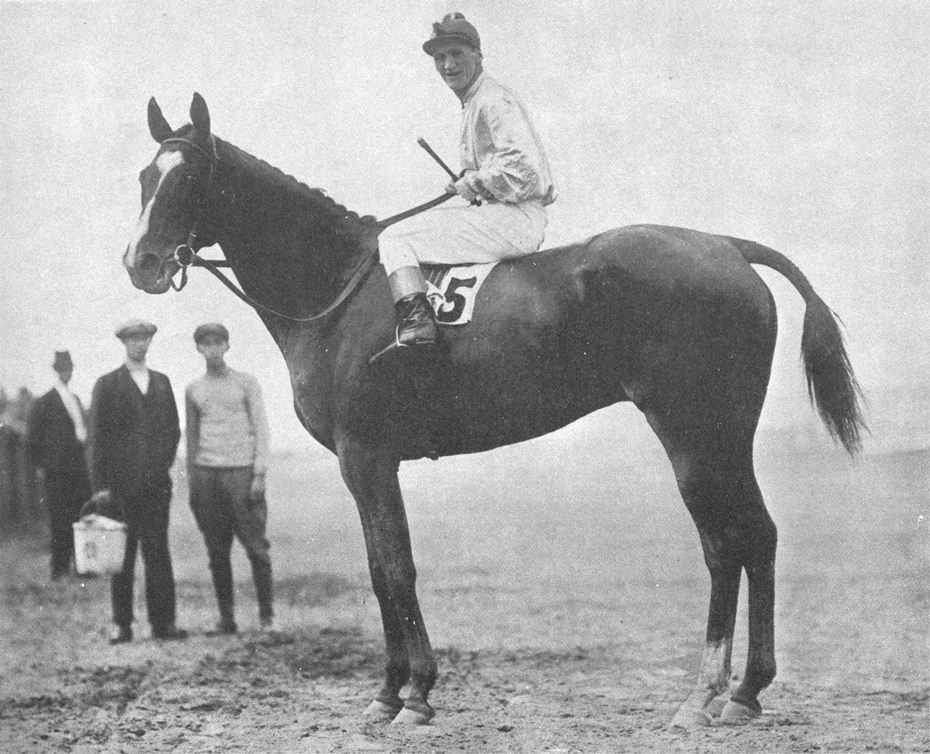 [Whitney's great gelding Borrow]
1910 - Lady Hamburg (daughter of Hamburg) owned by A.P. Whitney, while racing in England won the Fitzwilliam Stakes Wilbraham Plate, Nursery Stakes and Mercy Stakes.
6/2/10 - Sir Martin won the Coronation Cup, plus the Durham Stakes and Challenge Stakes
1910 - Mr. Whitney's 2-year-old gelding Borrow (son of Hamburg) won the Middle Park Stakes. As a three-year-old he won the Clearwell Stakes, Wokingham Stakes, Challegen Stakes, Ayr Gold Cup and Windsor Castle Handicap. 
* New York Racing Closed and the Resulting Fall-out
8/31/1910 - New York Racing closes
11/2/10 - American horses barred from Argentina
12/10/10 - petition prepared to restrict American imports for sale and older racing stock in England.
1911 - Henry of Navarre and Octagon returned to USA to stand as remount stallions
1911 - What had seemed like a hobby of wealthy American breeders, to bring their racers overseas to race, now became a wholesale relocation to England, France and Australia, and they began shedding their stock in massive amounts:
The entire St. James Stud, Mr. Irving Wheatcroft, will ship to Australia
James Haggin dispersed 400 broodmares/25 stallions to many countries
James R Keene sent 150 to Argentina, and his entire crop of 2 & 3 year olds to England
Harry Payne Whitney moved his stable to England
H.B.Duryea moved his stable to France
Clarence H. Mackey sold his whole stud
James E. Madden sold out to Louis Winans in England, many broodmares were sold to Eugene Leigh in France
Frank Gould, Theo Mayer, Alex Cochran, Harry Morgan, Perry Belmont, Sydney Paget, Decorsey Forbes, H.H. Ziegler---all sold miscellaneous horses
Steeplechase stable of Thomas Hitchcock and Joseph Widener moved to France
August Belmont moved his breeding farm to France
12/12/11 - South Carolina opens racing, and racing is open in many states as well as in Mexico
12/23/11 - Thoroughbred Record records: " General Woods says that thoroughbred studs are being shipped out of country in such numbers as to assume the magnitude of a national calamity. While other countries are spending immense sums of money in importing stock, many of America's most renowned breeders have entirely sold out, shipped abroad, or are gradually reducing their establishments." Genearl Woods headed the Army Remount and the loss of Thoroughbred stallions constituted a national crisis, as in his opinion the ideal recipe for a superior cavalry horse was Thoroughbred crossed on Morgan, Standardbred or Saddle Horse.
5/1/12 - racing in England, Sweeper II (son of Broomstick), bred in France by transported American Herman Duryea, won the 2000 Guineas (he won the Richmond Stakes the year before).
6/10/12 - August Belmont's Quelle est Belle won the Prix de Diane and Prix la Rochette, and was sent back to America in 1919
1912 - Duryea-bred Shannon won three races in France including the Prix du Conseil Municipal
Also in France, many of our Thoroughbreds were used in steeplechase
9/11/12 Belmont bred Tracery wins the St. Leger as well as the Sussex Stakes and St. James Stakes where Sweeper II came in 2nd. "With the Two Thousand Gunieas won by Sweeper II, and the St. Leger by Tracery, it must be said that American horses have won their full share of England's classics this year." (London 9/14/12)
1912 - Fasig-Tipton Co. Status Report; During the last two years we have sold hundreds of horses to be shipped to Europe, Russia has bid on every good horse we have had under the hammer. Austria has gathered many of them. Our best blooded stock has gone abroad...European countries are willing to buy every horse of consequence."
For England, the rush to buy American horses by so many other countries was causing a rising dread that they would not be able to maintain their position of control in the market.
12/24/12 - Announced that New York racing is to reopen for 1913 season---the racetrack closure is over!
* Jersey Act
The crisis is over--or was it? Racing was fully resuming on America and already many American racers and studs were returning home--yet the English went on with their plan.
5/1/13 Jersey Act put in force, reported by the Dublin Spirit--the English Stud Book
"At the meeting of the Jockey Club...the following discussion took place...with reference to the suggested addition to the Preface of the Stud Book:
"Lord Villiers said that...the importance of the question becomes more apparent every year, because more horses, were imported from America, and when the owners of doubtfully bred American horses saw horses of similar breeding in the Stud Book they not unnaturally claimed the same privilege for their own horses...the idea of admitting animals of doubtful breeding, such as Colin and Americus, on their own performance, however brilliant, was entirely contrary to the whole principle of the Stud Book...whereas, in view of the fact that a new volume of the Stud Book will be published this year...that the last sentence of the first paragraph of the preface be added to so as to read as follows; '...no horse or mare can after this date, be considered as eligible for admission (General Stud Book) unless it can be traced without flaw on both sire's and dam's side of the pedigree to horses and mares themselves already accepted in earlier volumes in the book."
The act officially barred the American Thoroughbred from the General Stud Book, and from international breeding. 
5/27/13 - Durbar wins the Epsom Derby, now a 'half-bred', Durbar beats 30 other horses, also wins the Prix Noailles and Prix Jean Prat.
1913 - Lady Hamburg foals the good sire Chicle (son of Spearmint) in France, entered into the French Studbook, barred from the GSB
London Sporting Life (article by Boulanger): "In strict accordance with the compiler of the Stud Book, emphasized by recent legislation [Jersey Act], this year's Derby has been won by a half-bred...yet he won by sheer stamina and gameness, and this upset the ideas that such qualities are the least that can be  expected in a horse bred from those 'dash' female lines that do not trace back to a source in the English Stud Book." 
* Racing in New York Reopens--Americans Coming Home in Droves 1913
5/30/13 - Racing resumes in New York, with horses and stables returning home.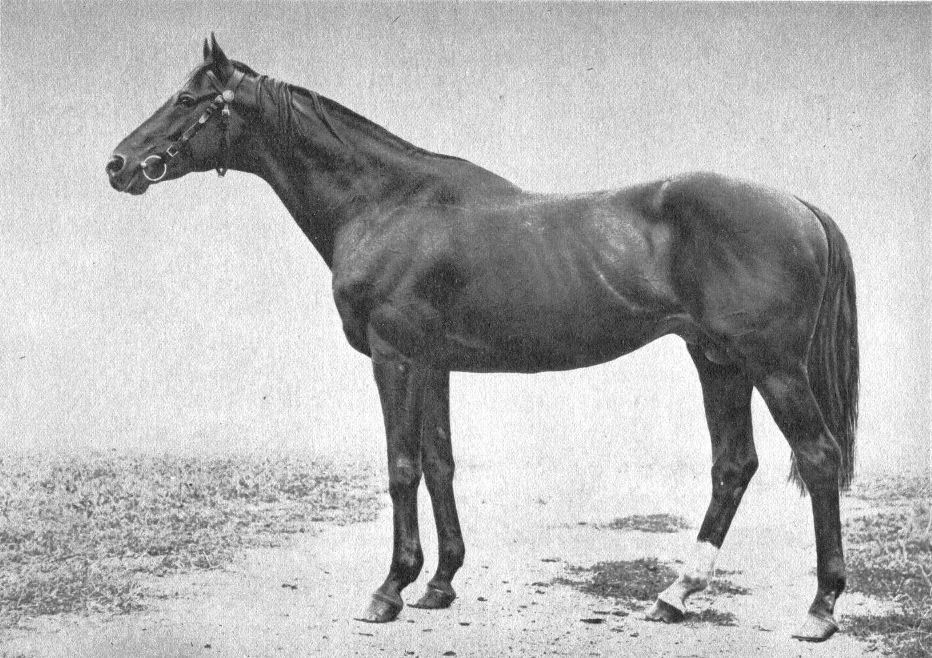 [Whisk Broom]
6/7/13 - Metropolitan won by Whisk Broom after returning home from England
6/21/13 Whisk Broom wins Brooklyn Handicap
6/29/13 - under heavy weight (137 lbs) Whisk Broom wins Suburban Handicap in 2 minutes flat (1 1/4 miles)
1913 - Shannon wins Prix Rabelais, Prix Ganay
9/14/13 Durbar and Shannon were rushed out of the war zone in France by their enterprising groom who wrapped them both in American flags, with Durbar's having a banner which said: This is Durbar, the English Derby winner, He is neutral" ..and they safely made it through the lines.
8/22/14 - four-mile race form abandoned in Kentucky "Horsemen have been unwilling to risk their best horses in it because of the distance and this has made the fields less attractive than the value and importance of the race seemed to warrant." (Thoroughbred Record).
1914 - Whitney's winning gelding Borrow sent home to the USA where he continued to win. He retired at 11 with a record of 91 starts/24 wins.
Most American horses home now from England, they were still welcome in France.
1918 - Lady Hamburg foals Dis Donc in France
4/24/18 - At home the Cavalry at the Department of Agriculture have settled on a plan for cavalry stock breeding:
" In order to encourage the production of horses suitable for cavalry and light artillery uses, the Department of Agriculture, in cooperation with the War Department, has placed in selective locations good, sound stallions of proper type and offered mare owners special inducements to make use of them. This plan, made possible by a provision of Congress  in 1913, grew out of the difficulty the Government has had in securing a sufficient number of army remounts...The plan consists primarily in placing stallions of merit, registered in the proper stud books and belonging to the thoroughbred, American saddle, standard-bred and Morgan breeds, in suitable localities in Vermont, New Hampshire, Virginia, West Virginia, Kentucky and Tennessee. The owners may breed to these stallions on the following terms: The owner of the mare agrees in writing at the time of the breeding to give the Government an option on the resulting [foal] as a 3-year old at a stated price, which so far has been $150. No service fee is charged unless the owner of a [foal] wishes to be released from the option, in which case it is $25..."
12/1919 - Shannon sent from France to USA
1920 - Lady Hamburg sent from France to USA
1/24/1920 - Sir Martin returns to USA, by this time most American horses were home from England, and racing between the two countries was then seldom seen. And even the horses in France were coming home, since crosses with American stock were refused entry into the GSB. But there were exceptions.
10/20/23 - Meanwhile back in the States, the first running of new International, held at Belmont Park in NY. It was a match race between Papyrus (English Derby winner) and the American champion Zev. They raced nose to nose until near home when Zev pulled away to win by 5 lengths. Zev of course was a labeled a half-bred (damlines to Woodbine and Mannie Grey).
Basil Jarvis, the trainer of Papyrus (son of Tracery) wrote a lengthy article justifying the loss. The English were pissed, and they had discouraged the match race, but the owner and trainer did it anyway. Through this ordeal, the English learned first hand the troubles in taking a good racer trans-ocean to race, the recovery, the difference in track surfaces etc. Jarvis blamed the loss on his not taking the advice of the American trainers who advised he put on mud caulks because it had rained the day before. But it is also reported that Zev was not quite healthy at the time "not in best condition', and this last hours development caused a rapid decline in odds in favor of him.
There were 50,000 spectators, and jockey Earl Sande rode a masterful race, holding Zev back until the last stretch, then he released him and Zev had the juice left to pull away for a definitive win.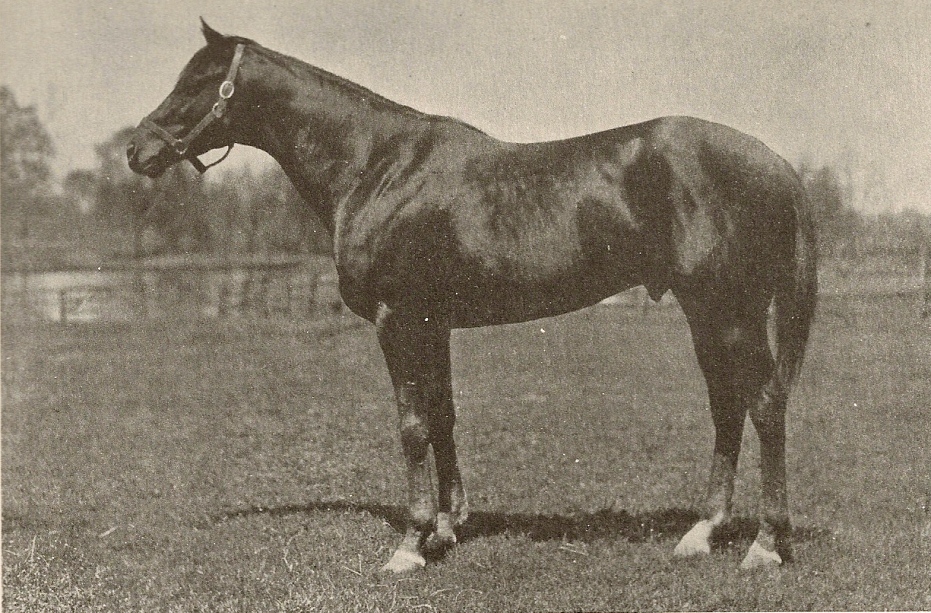 [Ladkin, winner of second running of the International.]
9/27/24 - Ladkin, a son of the great Fair Play, beat Wise Counsellor and the French champion Epinard in the second running of the International
1927 - Durbar sent to USA to stand stud
4/8/33 - Flaming wins Imperial Cup in England, rated a 'half-bred because Durbar is his sire
Occasionally during the Jersey Act a few Americans would bring over a horse to race.
6/20/36 - Ascot Gold Cup - the one-two finishers were both 'half-breds'. The great English bred filly Quashed won it, but she was banned from the GSB because her damsire Shogun's lineage cannot be fully traced to the GSB, ironically, her fourth damsire is Umpire RH, a son of Alice Carneal, the dam of Lexington. Second place went to the American Triple Crown winner Omaha, who of course was deemed a 'half-bred' because his second damsire Durbar, and his sire Gallant Fox---also a Triple Crown winner--was out of a Celt dam (Celt is a Domino line stallion).The race is rated as one of the greatest races of all time. 
Quashed was unquestionably the greatest racemare in England, winner of the Oaks, Ascot Gold Cup, Prince Edward Stakes, Jockey Club Cup and Ormonde Stakes, yet their own edict prevented her entry into the stud book.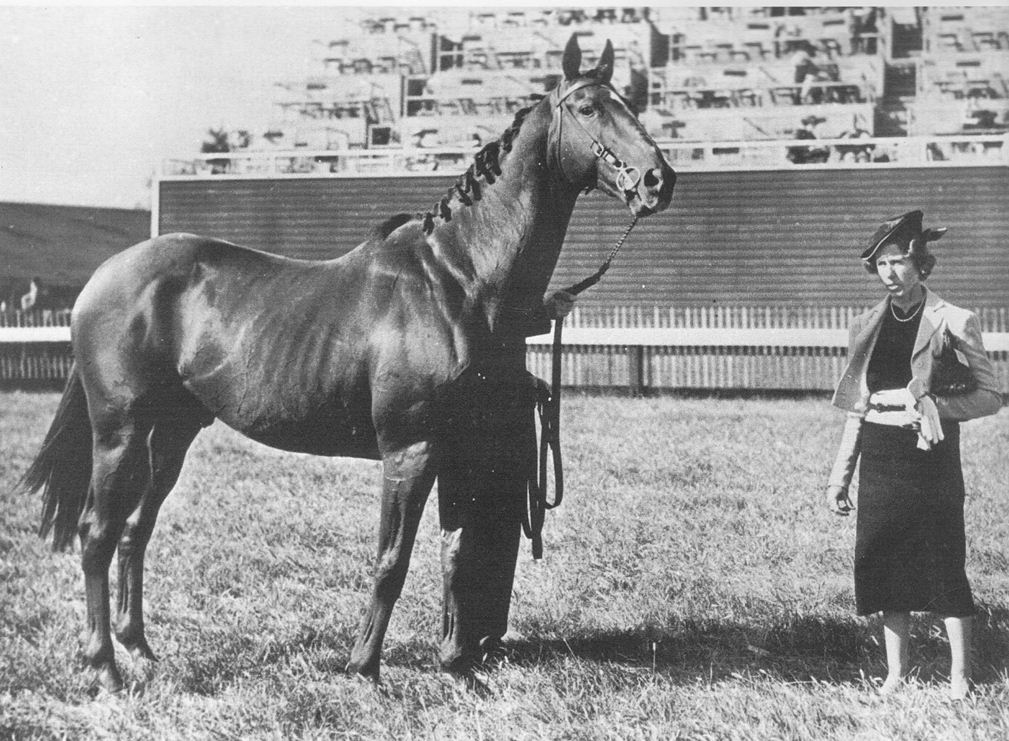 [The 'American pony', the 11 year old son of Man O' War, was just 15.1 hands, yet he won the Aintree Grand National in 1938, a half-bred by British reckoning]
3/26/38 - Battleship wins the Grand National
1948 - August Bellmont's Norman, another 'half-bred' wins the 2000 Guineas
Right before the rescinding of the Jersey Act, the 'half-bred' Black Tarquin won the St. Leger (1 3/4 mile), his second dam was the Man O'War daughter Valkyr, and his fourth dam, Frizette was by Hamburg.
* Jersey Act Rescinded
6/18/1949 - the Thoroughbred Record reports: English Jockey Club Rescinds Provisions of the Jersey Act
"The English Jockey Club, through its official organ, the Racing Calendar, announced on June 16 its decision to enlarge the General Stud Book to include strains which hitherto have been barred.
"The wording of the statement was such as to give proof that the so-called 'Jersey Act', by which the British branded a great majority of American thoroughbred race horses as 'impure' actually had been abolished:"As from this date conditions which have governed admission continuously since volume 22 was rescinded. Any animal claiming admission from now on must be able to prove satisfactorily some eight or nine crosses of pure blood, to trace back for at least a century, and to show such performance of its immediate family on the turf as to warrant belief in the purity of blood;"
"It was learned that the next volume of the General Stud Book, volume 31, will be published at the end of July this year and will contain the following statement as a preface: 'Under conditions imposed by the Jersey Act, which was adopted by the Jockey Club of a meeting in May 1913, no horse could be eligible for admission unless it could be traced without flaw on both the sire and dam sire of its pedigree to horses and mares themselves already accepted in earlier volumes of this books.'
"The question of revision of this act, which barred from registry a number of leading thoroughbreds from France, the United States, and Australia, undoubtedly was brought to a head by a string of French and American conquests in the British isle...The announcent came on the eve of the Ascot Gold Cup in which the favorite was the American-bred Black Tarquin, who according to the Stud Book, is a half-bred."
* Conclusions
We can see the attitude toward American breeders began in 1833 and was positive with the hope that our stamina lines would rejuvenate the speed based English stock--which it did when crossed in later.
By 1876 the American racer, while better than they assumed at first, was still in their minds no match for the English bred horse
But by 1879 the wins racked up by Lorillard's horses was upsetting their confidence in their own superiority, but at the same time the British were expressing they still wanted to see more of our horses, especially to breed to them.
In 1881, after Iroquois and Foxhall's clean sweep, and Foxhall's undeniable greatness, it was noted that he was dominant in American bloodlines rather than British. I believe this revelation over time unsettled them more than anything.
By 1899 an alarm was being sounded, that the talent of the American horses and the robustness of our domestic racing industry could displace the English from their racing throne.
And the return of Richard Croker to the British Isles was met with irritation. And when his 'American' horse won the Derby, it threw salt in their wounded pride.
And Englishmen were buying American horses, and racing them and breeding from them, and the progeny were winning.
By 1902 the American owners in England were feeling the cold wind of animosity
In 1905 a plan was launched to bar the American racehorse from English venues
Then in 1910 the betting crisis in New York resulted in more American stables and horses coming overseas, not just to England, but France, Germany and elsewhere, which added to the panic. And now French-bred horses with American lines were winning top races as well. And Austria and Russia were buying up American stock. The English were losing too many sales to the Americans.
That the betting crisis in New York only lasted two years, and was over by 1912, was hardly noticed by the English. American racers were now going home, but in their estimation the threat continued as they were now surrounded by countries that had loaded up on American stock. 
Thus the Jersey Act--its aim was to exclude the American horses and foreign horses carrying American bloodlines from the industry. I believe they felt it was the only way to save their place in their industry. And that is why it stayed in place so long, In the short term it did help their sales rebound, but not for long. 
And by the 1960s, raids of the American sales began the second American Invasion, and much to their surprise, the American Thoroughbred took the classics all over again, and has dominated the industry ever since.
The purpose of this study is not to shame the English, but rather to set the record straight. My first focus is always to the American breeder, who are at times misinformed or uninformed, sometimes confused by the narrative carried to us by foreign literature and attitudes about our horses and our history. 
The purpose of my book: Legacy of Lexington, which does cover the Jersey Act of course, but the focus is the 'why of it', to explain by historical and pedigree evidence, how a relatively few imports to England could upset the greatest racing industry on earth. And the answer is not what most people think---it is because we in the colonies received multiple doses of the original source of speed, stamina and athleticism as our base stock, and unlike the English who eradicated those horses, we encouraged its many talents. And we kept the much tougher heat race performance test in place for two hundred years, which ensured an extremely tough, sound and athletic breed. That is why American has three racehorse breeds, not one.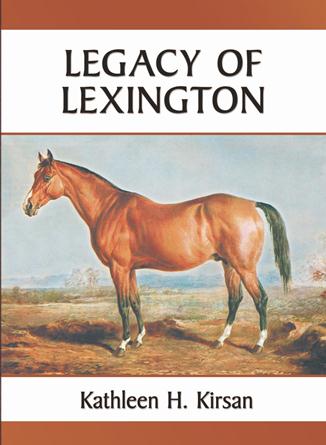 [Available through all online booksellers]
Links: