The Root Large Heart Mares
"The large hearts are inherited. That is, the stud stallion or mare must carry the large heart gene to produce horse with large hearts, some horses carry this gene of 14 or 15 pounds and a very few have a gene of 18 pounds." (Harold Matthews in interview with P.J. Matthews, 2019)
[War Admiral, a Triple Crown winner and possessor of the fantastic 18 pound heart]
This piece is to share with you Harold Matthews information on the large heart bloodlines, gleaned from a 2019 interview, a 2014 article and my own 6/2020 conversations with Harold Matthews, who is considered one of the large heart experts in the industry. Harold is able to tell by looking at a horse and how it moves what size heart it is carrying, and naturally those abilities have kept him in demand by breeders for decades. But those talents are beyond most of us. It is interesting that Marianna Haun noted in her books that she too, after spending countless hours studying the large heart carriers, was able to identify the heart size by a horse's conformation. Harold evidently is able to do much the same thing. But for us, Harold has some other information derived from his years of study of this trait: He determined that the large heart comes in many sizes and that most originate with 3 foundation mares, and he doesn't mean Pocahontas 1837. He has traced the factor back much further, back to the base root large heart mares who were born in the mid-1600s.
For perspective, a normal horse's heart is 7 1/2 pounds, while an average Thoroughbred's heart is 8 1/2 pounds, so even the 'average' Thoroughbred has an anatomical advantage. More than a quarter of Thoroughbreds (28% Haun), however, have an extraordinary size heart: 13 to 18 pounds, which gives them a huge edge over the general population of racers. As long as the horse with the huge heart has good conformation, speed and/or stamina, a will to win, and has been well managed and is uninjured, then possession of a large heart is almost a guarantee of success, which is why the industry has been infatuated with the idea of the large heart since they discovered the monster heart in Eclipse.
Conversations with Harold Matthews
For examples of the benefit of this knowledge, Harold was able to name American Pharaoh, before he ran the Kentucky Derby, as the next Triple Crown winner. He said American Pharaoh has an 18 pound heart, and that when he studied the previous winners of the Triple Crown most all ran on a 18 pounder as well. After California Chrome's Preakness win, Harold was asked about Chrome's chances of winning the Belmont and therefore the Triple Crown. Harold said he wouldn't win the Belmont, because Chrome had a 15 pound heart, and while examining the field he found that Tonalist carried a 18 pound heart. Tonalist, while he had not enough points to be entered in the Derby, was going to easily win the Belmont, Harold said, and of course he did. When California Chrome, who had won millions by that time, was entered into the Pegasus World Cup (entry fee of $1,000,000!), Harold said one of the other entries, Arrogate, had a 17 pound heart and he instead would win--and he did.
I asked Harold, if this was true, then why was California Chrome able to win the 1 1/4 mile Dubai Cup with just a 15 pound heart? He replied:"it depends on the heart sizes of the competition; if they all have the regular heart size (8 1/2) it is very easy. A 15 pound heart is much bigger than a 8 1/2 pound heart, so as long as California Chrome ran against 15 pound hearts he won, but when he came across larger hearts like Arrogate and Tonalist they ate his breakfast".
Harold gave me some other examples: Northern Dancer had a 15 pound heart, but got beat by Quadrangle with a 16 pound heart in the Belmont. He said Zenyata had an 18 pound heart but got beat by Blame who had a 16 pound heart, but because of jockey error--coming from way behind she need more space to run him down. And he pointed out that if a jockey knew what size hearts the horses in the field had, then they could gauge how to ride the race better.
At the 2019 Keeneland sales Harold was asked to evaluate the entries. There were over 4000 horses which was way more than he had time to check, so he restricted his study to the first two pages of the catalog (the highest valued horses). The horses in the sale are identified by 'hip numbers' which coincide with their information in the catalog. This is what he determined:
hip # 3 ; 13 pounds
hip # 9 : 15 pounds
hip # 15: 15 pounds
hip # 16 : 16 pounds
hip # 18 : 16 pounds
hip # 25 : 16 pounds
hip # 27 : 18 pounds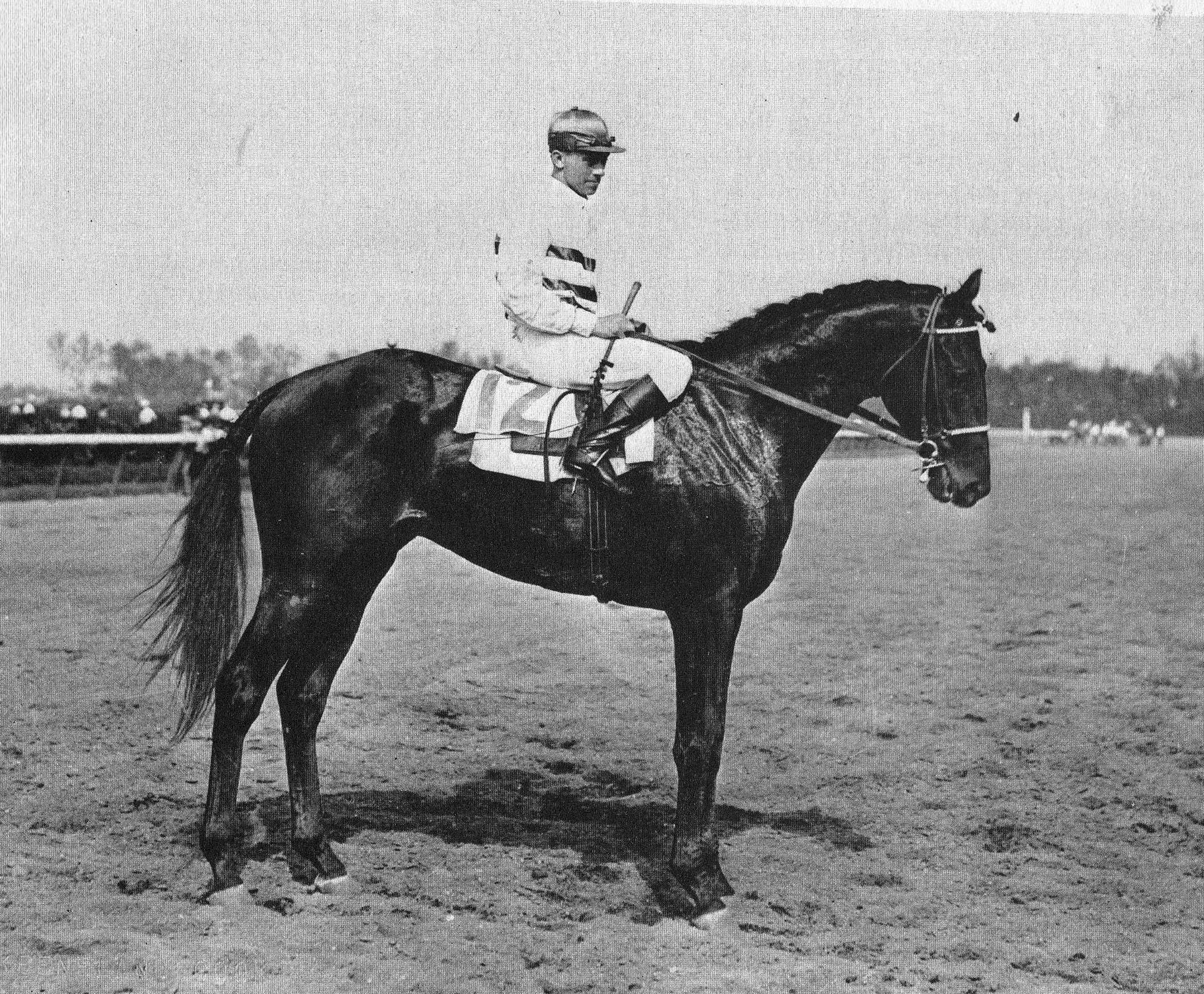 [Blue Larkspur, a possessor of the rare 18 pound heart]
Harold has helped important breeders such as Rex Ellsworth, Meschach Tenney and even passed on some of his findings to the Queen of England; all the while he kept working breaking and training horses.
In 2014 Harold was asked if there will ever  be another Triple Crown winner. This was his response:
"The last Triple Crown winner was in 1978, 36 years ago. Some feel there will never be another Triple Crown winner. There is a big push to change the rules to get another winner. This would be wrong and not fair to the other Triple Crown winners. Changing the rules would not produce another winner anyway. The only way to produce another Triple Crown winner is to breed a horse the same way as the Triple Crown winners were bred.
"There have been 11 Triple Crown winners. Thinking on this I wondered if there was a common denominator between the Triple Crown winners. I ran all Triple Crown winners...and here is what I found out:
1919 Sir Barton  18 pound heart
1930 Gallant Fox 17
1935 Omaha  18
1937 War Admiral  18
1941 Whirlaway  18
1943 Count Fleet  18
1946 Assault  18
1973 Secretariat  21
1977 Seattle Slew  18
1978 Affirmed  18
[The above data was from 2014, before American Pharaoh (18 pound) and Justify (16 pound) won their Triple Crowns]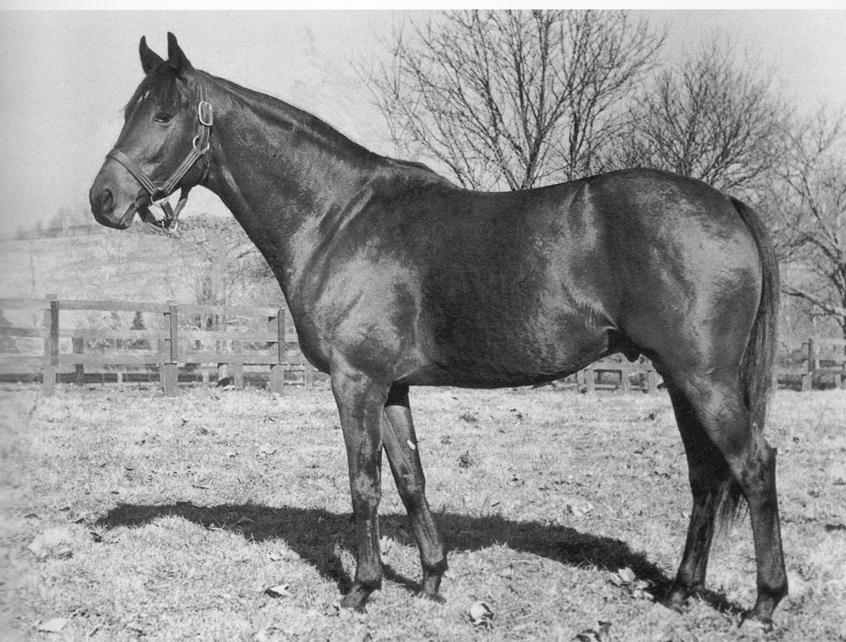 [Princequillo, possessor of the valued 18 pound heart.]
"Everyone believes the large heart comes down through the mare Pocahontas. While Pocahontas did have a large heart it was only a 15 pound heart. The heart size does not go up and down, but remains constant generation to generation. Which means the Pocahontas line cannot produce an 18 pound heart necessary to win the Triple Crown...all other Triple Crown winners did not get the large heart gene from Pocahontas. But from another mare who carried a large heart gene of 18 pounds. All the Triple Crown winners trace back to a mare in the 1690s [Darcys Royal Mare], that carried the large heart gene of 18 pounds--the only exception was Sir Barton who traces back to a close relative.
"There will be another Triple Crown winner when the large heart gene of 18 pounds is combined with the speed gene in a horse that has superior conformation which can run the superior style of running."
Pocahontas has a 15 pound heart, so she is a source of that size heart, but Harold has traced the trait further back to some early foundation mares. As mentioned above the 18 pound heart originated with Darcys Royal Mare [untraced ancestry, dam of Brimmer, believed to be a Hobby], the 16 pound heart traces back to two other mares: Royal Mare and Montagu Mare, these two from my own studies, and with ancestry left off, were most likely of the Hobby and Running Horse stock gathered by the Darcys. (see Irish Hobby for information on the old stud stock).
[Justify in winners circle after winning the Preakness 5/19/2018, photo made available to the public domain on Wikipedia by the Maryland Government]
On first glance Justify appears to present a problem to the information Harold provided us. And of course I asked him to take a look at this, which is when he determined that Justify had a 16 pound heart, which doesn't fit with the other Triple Crown winners. But, like California Chrome winning the Dubai Cup, Justify was racing against horses with normal sized hearts, and watching his Belmont win as would be the case if his heart was almost twice the size of the rest of the field...piece of cake.
How to Check Heart Line:
Harold explained to me that he took some of the horses in my articles to trace heart size, and as he demonstrates with the following examples, all you have to do to look to the last mare in the line.
Herod: out of Cypron, out of Salome, out of Companion Mare, by Graves Champion, out of Hautboy Mare 1700, by Hautboy out of Royal Mare ~1665 (16 pound heart)
Eclipse: out of Spilletta, out of Mother Western, out of Hautboy Mare #2, by Brimmer, out of Darcys Royal Mare ~1665 (18 pound heart)
Janus: out of Amorette, by Flying Whigg, out of Grey Whynot, out of Royal Mare (16 pound heart)
Diomed: out of Sister to Juno, by Spectator, out of Partner Mare, out of Bonny Lass, by Bay Bolton, out of Makeless Mare, out of Brimmer Mare, by Brimmer, out of Darcys Royal Mare (18 pound heart)
Domino: out of Mannie Grey, out of Lizzie G, out of Lecomte Mare, out of Edith, out of Judith, by Glencoe, out of Trampoline, by Tramp, out of Gohanna Mare, out of Fraxinella, out of Woodpecker Mare, out of Everlasting, by Eclipse, out of Spilletta, out of Mother Western, out of Hautboy Mare #2, by Brimmer, out of Darcys Royal Mare (18 pound heart)
Nasrullah: out of Mumtaz Begum, out of Mumtaz Mahal, out of Lady Josephine, out of Americus Girl, by Americus, out of Clara D, out of the Nun, by Lexington, out of Alice Carneal, out of Rowena, out of Lady Grey, out of Maria, out of Highflyer Mare, out of Fearnought Mare, out of Ariel Mare, out of Jack of Diamonds Mare, out of Dianna, out of Lady Griswolds Thigh, out of Greyhound Mare 1773, out of Gurwen Barb Mare, out of Darcys Barb Mare, out of Darcys Chestnut Arabian Mare, out of Whiteshirt Mare, out of Montaqu Mare, ~1650 (16 pound heart). James Hardiman believes Montaque Mare and Vinter Mare are one and the same. 
I think it is important to note that the early large heart carriers were not Thoroughbreds; they were born before that breed came into being, and they have no parentage listed, plus most originated in Darcys stud, which we know was populated with the gathered remnants of the Hobby-Running Horses of King Charles' reign (royal mares). Besides, if they were of oriental parentage or even had a oriental grandparent, then their name would have carried 'barb', 'arabian', 'turk' as all the other horses did. The first oriental that entered the future Thoroughbred gene pool was the Old Moroccan Barb 1637, aka Fairfax Moroccan Barb,  seen in the lineage of Spanker Mare, but the famous foundation sires didn't arrive until 60-70 years later.

[Was racing in America only established after the Thoroughbred arrived? No, a hundred years before the first Thoroughbred arrived, our domestic racehorse breed: American Running Horse, was known as an extremely fast and stamina loaded racer. Wood engraving by Alexander Anderson]
So, are these mares: Pocahontas 1837, Darcys Royal Mare ~1665, Royal Mare ~1665, and Montaqu Mare ~1650 the only sources of the large heart trait? Probably not, as the historical evidence points very strongly to the American colonial racehorse breed, derived from Hobby--Running Horse imports from both Ireland and England, before there was a Thoroughbred breed (1611-1666), and our racehorse was consistently reported as being very fast and capable of extreme feats of stamina (see American Running Horse series for sources). So we probably have several American developed root large heart bloodlines as well. And our Standardbred, which I have determined has the greatest level of old Hobby genetics of any breed in the world, is the greatest mid-gait racer, and possesses the speed, stamina and gait-keeper gene---pointing once again to the origin of all these traits we value so much as coming from the Irish Hobby. (see Standardbred Sport Horses).
I asked Harold what size hearts were in Haun's identified 4 four main large heart stallions, plus in Man O' War. He said Blue Larkspur 18 pounds, War Admiral 18 pounds, Mahmoud 14 pounds, Princequillo 18 pounds and Man O' War 16 pounds.
Harold Matthews:
Harold resides in Pima Arizona on his ranch, and he also has expertise in race pigeon breeding. He has determined that the extreme distance racing pigeons (800 mile) have a large heart factor. 
You may reach Harold via email: haroldkmatthews@gmail.com
Resources;
Hardiman, James "Black-aTop, Old Montaqu Mare, Pulleines Chestnut Arabian and Whiteshirt Mare", "Confused Pedigrees and Mistaken Identities"
Haun, Marianna The X Factor 1997, Understanding the Power of the X Factor 2001
Kirsan, Kathleen series of email conversations with Harold Matthews in June 2020, Large Heart Gene, American Running Horse, Standardbred Sport Horses 2017
MacKay-Smith, Alexander Colonial Quarter Race Horse 1983, Speed and the Thoroughbred 2000
Matthews, Harold "Will there ever be another Triple Crown winner?"
Matthews, Peter "A discussion with Harold Matthews...on the subject of large hearts" 2019