Standardbreds on Stage

            -World Equestrian Games 2010-
In October of 2010 eight American Standardbreds and their rider/drivers traveled to Lexington, Kentucky to demonstrate the excellent and versatile sport talent that is to be found in this underappreciated American light horse breed. We will take a quick look at these competitors, and we will examine their lineages to determine what is powering their extraordinary talents. Through this excercise we intend to begin to bring to the sport horse breeder the Standardbred bloodlines that are proven sport transmitters, so they can build up their presence in their own pedigrees.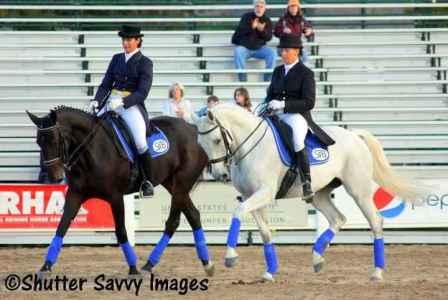 The spectators to the Pas de Deux pictured above were shocked to learn that the gorgeous mares performing the difficult but stunning exercise were not European Warmbloods, but American Standardbreds! Here is Whiz Bang ridden by Heather Caudill and Sea the Gray ridden by Denise Zimmerer gliding through their performance. (This photo and the majority of photos to follow were by the very talented Christie DeBernardis of Shutter Savvy Images--used by permission)

Following is a brief description of each horse, it training and competition achievements, with the pedigree attached for our instruction. After introducing you to these great horses we will re-visit what their pedigrees have shown us about Standardbred sport bloodlines which are successful for Olympic style sport.

---
Western Pleasure: Veruca Salt, 1994 Standardbred mare.
Laura Harbour and her Standardbred mare 'Legs' showed off the Western Pleasure discipline at the WEG. Laura was just a young adult in 1997 when she met this mare- a cull from the local racetrack. Just three years old, a gangly filly, yet with intelligence and that wonderful Standardbred disposition- wanting to please and open to training. Like most of the people I have spoken to who have re-schooled a harness racer for saddle use Laura found teaching the canter a little bit of a job. It is not a physical issue, the Standardbred has lovely pure gaits, but rather they have been trained not to break their trot or pace, and so they have to be convinced that it is first of all 'okay' and then that you want them to canter. Once they get over the mental hurdle they move along very well.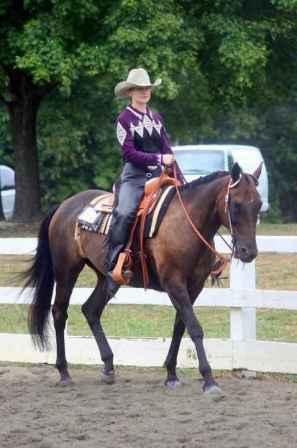 Laura and Veruca Salt--who Laura calls 'Legs', moved into hunter-jumper and field hunter training and with their smooth fluid gaits they did well, then with additional schooling in flying lead changes their performance became perfected and they won multiple medals in the Blue Grass Games.

While in college Laura taught Legs the western disciplines and then they showed and had won in those as well. Later on while studying for her Masters degree Laura became too busy to give Legs the attention she deserved, so she placed Legs in a therapeutic riding program where Legs' sweet gentle nature made her the favorite mount of the challenged riders.

Over the years Legs and Laura have racked up multiple medals and national championships in English Pleasure, Western Pleasure, Hunter/Jumper, as well as in Equitation and in-hand, competing in open competitions as well as against Standardbreds. In 2008, after winning yet another national championship Laura noticed a slight change in Legs' gaits, and when she had her examined they found the beginning of navicular changes. Laura then realized that their future show career was limited, and looked upon the upcoming WEG as possibly Legs' last competition.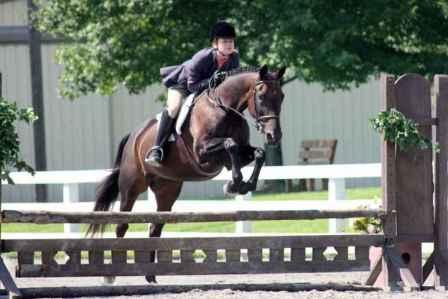 Laura had this to say about the prospect of retiring her wonderful mare who has won one-hundred-seventy-five blue ribbons and 25 national championships: "...Legs has unwaveringly taken on Thoroughbreds, Warmbloods and Quarter Horses in their own arenas and emerged victorious. She has earned her pension in green pastures many times over.The 2010 World Equestrian Games will likely be Legs retirement party, and though I have always had big dreams for my little mare, I can dream of no better way to celebrate the lifetime of an unassuming little brown mare who transformed from a failed racehorse to a national champion, than to showcase her breed and her talents with the entire world as her audience."

Fortunately, we have not seen the last of this gifted performer. Laura has recently given us this update on Legs' condition since the games: "...with careful management, Legs condition has not deteriorated and I will continue to ride and show her on a limited basis, as long as she remains happy and comfortable."
Leg's pedigree.
Her lineage is loaded with proven Standardbred bloodlines: Nibble Hanover, Volomite, Good Time, Meadow Skipper- all celebrated champions in race and in breeding. However the key breeding is Tar Heel and his full sister Barbara Direct 6x5x6x5x5; full siblings have been found to deliver the strongest and most lasting potency in lineages, and the five lines found here are significant. It is important to notice also that these are through daughter lines, creating a filly factor which has proven to be essential for performance mares as well as breeding stock of both sexes. The Tar Heel full sibling configuration is made all the stronger as it is in conjunction with Adios and his sister Overbid 6x5x6x6x5- the combination of Tar Heel with Adios is called the 'golden cross' in Standardbred breeding.

---
Dressage Stars: Whiz Bang and Sea the Gray.

Whiz Bang, 1995 Standardbred mare.
Whiz is a pacing harness racer retrained for saddle sport. Whiz Bang was bred by her owner Tina Bombardo. She and her husband loved Standardbred racing so much that they decided they wanted the full experience of actually breeding their own racer. The result was this lovely mare, which they did race as a two and three-year old under harness. At four years, Tina decided to retire her filly from the track, she had placed in a few races but was not fast enough for them to continue her track career. So Tina brought her filly home and retrained her as a pleasure horse, and for the next seven years the two of them enjoyed each other and riding the trails of New York State.

Tina says: "Some of the things I love about the Standardbred is that they are first and foremost very adaptable to ANY situation, they are willing to please, full of stamina, smart with an inquisitive nature, they are a hearty breed, and they are not high-strung or as hot as you would commonly find in a racing athlete. They transition from a harness horse to saddle horse very easily."

Now living in Florida and not wanting to waste the obvious talent her mare was showing, in 2006 Tina placed Whiz with dressage trainer Heather Caudill and before a year was up they had won the USDF training level award for the Standardbred breed.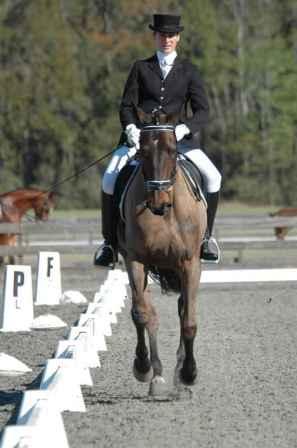 By 2008 Whiz Bang was excelling earning a 72.95% score in a Dressage Sport Horse Breeding Class (DSHB)from Judge Sue Madden-Mandas.

Here are some of her awards that followed:

2008 1st Level Open Champion

2009 1st Level Musical Freestyle Reserve Champion

2010 2nd Level Open Champion

2010 2nd Level Musical Freestyle Champion

And then in the fall of 2010 Whiz Bang demonstrated to the world the dressage talent found in this under-appreciated breed. Given a proper chance Standardbreds are proving they can do it all. So let's look at where this versatile ability is coming from.
Whiz Bang's pedigree.
As we can see this pedigree is loaded with lovely duplications in the background- horses that we are coming to recognize as the 'usual suspects' in Standardbred sport success: There is Volomite in multiples- a sire who has proven to be an enduring presence in Standardbreds who succeed, he sired both trotting and pacing winners. Billy Direct makes a strong presence, he is a great pacing sire.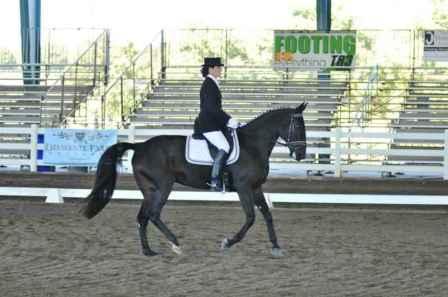 There is the ever present and aptly named "Peter the Great" also. We find the important sires Scotland and Spencer who both are trotters and carry key sex balancing for other good lines. But the true power and the focusing of the background talents come through Adios and his full sister Adieu combined with lines of Tar Heel and his sisters: Helen Z on the damline and Filly Direct and Evaline Hanover in the top quadrant. Tar Heel combined with Adios has become known as the 'golden cross' because of its consistency in producing champions, and it appears to be performing the same funciton in horses suited for Olympic style sport. This is why this sweet mare could rise to succeed in the demands of dressage. 

Sea the Gray, aka 'Luna'.

Luna is unusual in this group as she is the only one who has never raced, and she actually had some dressage training before she was donated to the the Standardbred Pleasure Horse Organization of Florida ambassador program in 2008. Heather Caudill is the dressage trainer for the SPHOFL and she started Sea the Gray at training level, and by the end of the year they had won the USDF All Breed Training Level championship. In 2009 they moved up to 1st level where they won the 1st Level Championship as well as the 1st Level Musical Freestyle. By 2010 they had won the 2nd Level Musical Freestyle Reserve Championship.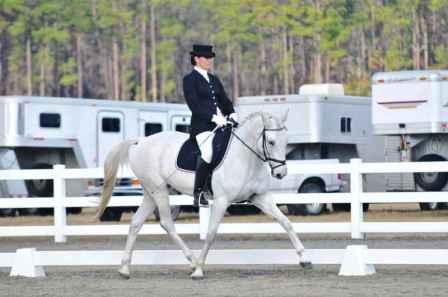 Luna is a lovely mare to work with, quiet with perfect manners, respectful and loving, with talent to spare she is a natural at 'passage'. Being unflappable she is also a joy to take out on the trail as well as performing in dressage. As seen in the photo at the start of this article Heather on Whiz and Denise on Luna wowed the crowds by being the 'half-time' entertainment between the games with a Musical Freestyle performance (as pictured at the start of article).
Sea the Gray pedigree. is loaded with a who's who of pacing greats: a sex balanced Meadow Skipper through his world beating son Albatross and his sister Tinsel 2x2. We see more of the golden cross here with Adios 4x4x3 and Tar Heel 3x4x4- with every corner of the lineage involved-this is a first class Standardbred breeding.

What a showing these two mares gave- grace and beauty personified!

---
Eventing: Dreamy Starlet, 1991 Standardbred mare.

I was first introduced to Dreamy Starlet and her owner-trainer-rider Elizabeth Tewksbury when I was searching for a Standardbred sport horse to use as an example in my first book: North American Sport Horse Breeder. Elizabeth shared her experience with me about this incredible mare and their road to sport championship. I had just finished their chapter and had moved on to final editing of the book when Elizabeth e-mailed me about the WEG and the eight Standardbreds who showed their stuff in Lexington. She hadn't told me about it before because she was nervous it wouldn't happen, but it did and it was a triumph for them all. Elizabeth and Dreamy showed off the discipline of Eventing at the WEG.

Elizabeth's family has been in Standardbred breeding for generations, as her great grandparents and grandparents were noted breeders in the state of Maine. Elizabeth however was involved in riding and showing Morgan horses in New England, and hadn't considered a Standardbred as a mount until Dreamy Starlet came to her. So it was an adventure for the both of them, which has resulted in a pair that can show with success in western, hunter, jumper, eventing and dressage. And they even throw in some time working as field marshalls at the Maine racetracks--they certainly are the poster kids for versatility. Elizabeth is the founder of the Standardbred Performance Society
Dressage and Eventing have proven to be their best sports, and they have collected a room full of trophies and ribbons, winning national championships and in open competitions with Warmbloods and Thoroughbreds. Dreamy's most recent accomplishment include two 2010 USDF All-Breed Training Level Championships-one for Open and the other for Adult Amateur
Dreamy Starlet pedigree.
We see a remarkable filly factor of the great sire Shadow Wave daughters 3x2, an indication of a good performance mare and broodmare. But that is just the tip of the iceberg as Shadow Wave, a son of Adios is just a portion of the strongest genetic structure in the lineage which is four lines of the full siblings Adios/Adieu 5x5x3x4. In addition, Adios is a son of Hal Dale and we find a key reforcement with Hal Dale's sister Peaceable on his damline. Further, as we have seen previously there are two lines of Tar Heel refocused this time through Bret Hanover and his 3/4 sister Peaches n'Cream 3x2. This is the pedigree of a great horse and an illustration for us of the quality that is available to the average breeder-competitor. Standardbreds with breeding like this are available through adoption or for a modest price-- horses that have the genetics to reach the very top.

---
Jumper: Jambalayabar Man, 2002 Standardbred gelding, aka 'JB'.

A Kentucky bred trotter, JB is owned and ridden by Helene Gregory. He teamed up with Helene, wife of noted harness driver Jeff Gregory, in 2008. Helene and JB compete throughout New Jersey in dressage, hunters, driving and most recently have begun to focus on jumper shows. They are true ambassadors for the breed, as Helene is vice president of
the Standardbred Pleasure Horse Organization of New Jersey.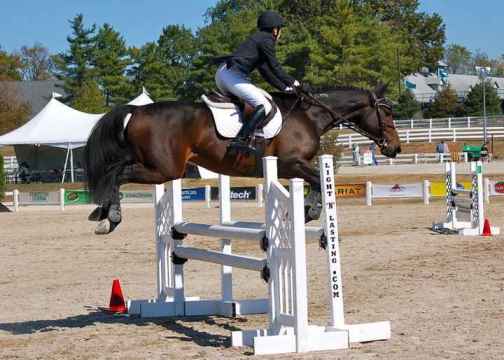 Helene says: "I think that is the beauty of the Standardbred, not only do they come in any shape or size, they can do just about anything you ask of them, and they do it with eagerness. They are the blue collar workers of the equine breed and I will always own a STB as a pleasure horse."
Jambalayabar Man pedigree is notable for the strong filly factor of Bonefish daughters 3x2. Bonefish, a champion trotter and son of the trotting world beater Nevele Pride, a son himself of the great trotting sire Star's Pride. This pedigree is that of a trotter rather than the pacers we have seen so far. And is it a coincidence that this horse is excelling at jumping? Trotting lines in my experience are behind the greatest modern breeds such as the Selle Francais and the Holstein. Other trotting sources are seen in the lines of Florican 3x6 (also a filly factor) who goes back to Messenger and the Morgan trotter Black Hawk. Notice also Speedy Scott and his sister Exciting Speed 5x5x5 (colt factor).
[Note on Helene Gregory--Helene is not just a star Olympic style competitor, she is a athlete of the highest order. Almost single-handedly she generated excitement for the return of the ridden trotter to the races. Sweden, which is where Helene grew up, has always raced their Standies ridden as well as in harness. They call this type of racing: Monte. Many riders in Sweden also take Standies off the track and retrain them for all manner of sport, and compete them in open competitions, and Helene was so surprised no one was doing that here--because they are such great ridden sport horses. Helen's enthusiasm caught on, and she got some key breeders interested, and soon she and five others took Standies with just a weeks retraining and put on a presentation at the track--the crowd loved it. Then the ball started rolling, and with the help of many others Monte racing has now become growing discipline. Helene has ridden in several of the real Monte races here, won several times. Thank you Helene for bringing our ridden trotter back to our tracks!]
---

Hunter Under Saddle: Road Kar, 1991 Standardbred gelding.

Road Kar, owned by Lena O'Brien of New Jersey, was already a champion on the racetrack earning $277,808. Trained and competed by Lena, they excel at both Hunter disciplines and dressage driving, equitation and hunter paces. Lena adopted Road Kar from the Standardbred Retirement Foundation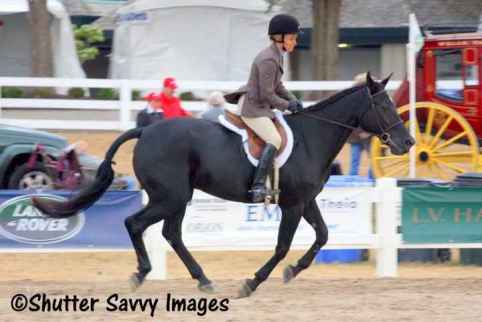 Road Kar's pedigree shows three lines of the great trotting sire Star's Pride with the daughter line Somolli being a 3/4 sibling of Nevele Pride on the sireline. They are both out of 3/4 related dams Thankful and Laurita Hanover. Those two dams are by Hoot Mon, another great sire of trotters and son of the trotting sire Scotland, and we find another of his daughters on the damline: Diana Mite- so we have a filly factor 4x4x4- these are all top athletic sources.

---
Driving Disciplines: Pro Gem and Draken.

What would the Standardbred demonstration have been without the Olympic driving disciplines? And of course, Standardbreds are excellent driving horses! Here are two wonderful horses with their owner-drivers: Pro Gem with Steve and Jennifer Sperry, and Draken with Kathleen Haak.

Pro Gem, 1996 Standardbred gelding.
The ex-racehorse Pro Gem and his owners traveled all the way from California to demonstrate the art of Combined Driving. Pro Gem was born and raised in California, earning $24,937 on the CA racing circuit. Steve and Jennifer Sperry thoroughly enjoyed the competitive life with their amazing gelding.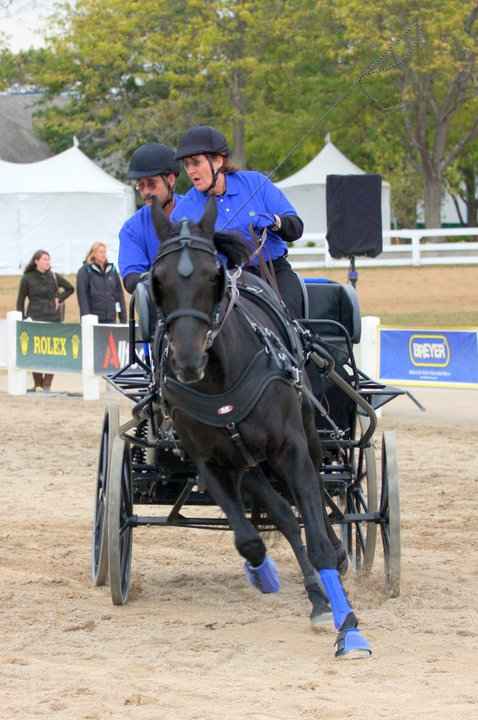 Pro Gem's pedigree is dominated up front with the trotting transmitters Star's Pride and Florican, the real power in this pedigree is coming from a series of full sibling configurations. Dean Hanover meets his full sister Pauline Hanover 5x5x4, the important sire Scotland finds his full sister also: Rose Scott, they are 7x7x7x7x6x7x5x5x4; and the Scotland son Spencer Scott finds his full sister Emily Scott 6x6x5- this is extreme consolidation of type.

---

Draken, 1992 Standardbred gelding.
This ex-racehorse, with his owner-driver Kathleen Haak of Pennsylvania, excels at marathon driving and pleasure driving. They won the High Point Award at the prestigious Lorenzo Driving Show in New York in 2009. Draken made $15,644 while on the NY racetracks for the Morrisville College Standardbred Program before switching gears to compete with Kathleen.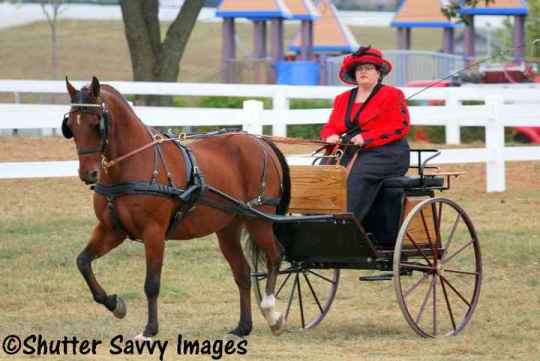 This is a remarkable pedigree for the variety of 3/4 siblings from the Adios/Tar Heel nick- they are Tarport Cheer, Carolonda, Bret Hanover, Steady Beau 3x3x3x5- plus many additional near relatives. This is a strong typesetting presence.
Discussion of the Standardbred Bloodlines succeeding at Olympis style sport.
Foiled Again--study in durability and soundness
Read how the Standardbred Came to Be
American Sport Sources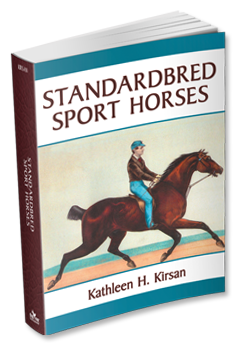 Now available--the real story of this wonderful sport horse breed.
We knew this breed was a fantastic sport horse, but what we did not know is that it is possibly the soundest breed. See a study in soundness inspired by the career Foiled Again, who completed 109 wins in his career and retired sound. And then the extensive study on soundness in the Standardbred that resulted.