Scotty Puppies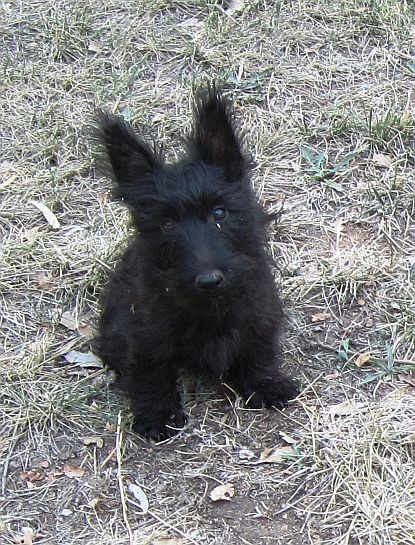 Who couldn't love a pup like this? Picture taken a few years ago, this little girl was just turning eight weeks.
New litter has arrived: 4 girls, 3 boys, pictures will follow when their eyes open (2 weeks), all black, some with some silver hairs or brindling on their hind  legs.
I have two breeding pairs, in the first, the  mother is a wheaten and the dad a black, and this is their fifth litter and they are always Blacks or Blacks with some brindle, every once in a while I get one that is quite brindle--their grandmother is a beautiful brindle. But most are Black, or Black with some brindling on their lower legs. Can't explain it--never had a wheaten baby from this pair, and it might be the jet Black male just overrides the wheaten trait.
And in the second pair, the mother is black, with slight sliver brindle, the dad a black--they have not had a litter yet. Hopefully this spring.
Above are the parents of the current litter. As you can see I keep my dog's dog hair cut short, that is because we are in the country where foxtails are a problem, not to mention the extreme heat in the summer. It was in the 100s when this picture was taken. In winter I allow their hair to grown out.
I register my dogs with the National Kennel Club (NKC). Why aren't my dogs registered with the AKC? Because in my opinion, unless you are planning on showing or breeding show dogs, the AKC is more bother than its worth. Contrary to common knowledge, a AKC registered dog is not any better than a NKC or a CKC registered dog--all are pure-bred and all can be DNA typed through their respective registries. There seems to be a trend lately that many AKC puppy sellers are advertising that only AKC dogs are pure-bred, this is utter nonsense and I can only guess those who are doing  this are trying to justify their exceeding high prices. The AKC controls the dog show world, and they put on the shows, so if you want to show that is the registry for you. If you just want a nice pure-bred dog the other two registries will do fine. How do I know a AKC is not a superior dog? Because all the genetic faults that entered my pack over the years came from AKC registered dogs, and it took years to get the faults out of my stock. The AKC is no guarantee the breeder is responsible or ethical. The best Scotty I bought from another breeder for stock was CKC registered--and she is wonderful--perfect.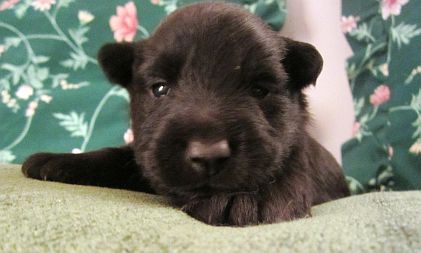 Above is one of my pups from a previous litter--about four weeks old.
My breeding goal is for perfect pets and family dogs, healthy dogs with great personalities, that want to be your best friend. I am trying to breed smaller also; the trend seems to be for huge Scotties, and one of my original males is 35 lbs. I love his temperament and quietness but his size is not my ideal nor it within the breed standard. He is a AKC registered dog by the way. But he did his duty and has been retired from breeding for many years now, and is the great grandfather of the new litter. His mate was a small female and they produce several litters, and I kept one of the daughters for the next generation--she is 21 lbs. She was a great mom and had many litters and she too is now retired to my home pack. Her mate was a small Scotty, barely 20 lbs, and their son is the father of the current litter. I am aiming for my dogs to be in the published breed standard: females 18-20 lbs and males 20-22 lbs.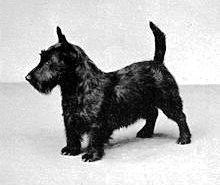 Above is a picture of the first American Scottish Terrier champion. This is what the breed is all about, tough little dogs. Notice the hair cut--this is the original scotty cut, and personally I like it alot better than what you see as a 'scotty-cut' today. Scotties also come in all sorts of colors--the champ above was a brindle. For those of you who might enjoy the history of the Scotty, I found an old book that was written just as the Scotty was being recognized as a organized breed of its own, and it has been converted to pdf on one of the digital books sites. For those Scotty loving people out there, I am sure you will find it is fascinating read. 
I often read in breed descriptions that the Scotty is aloof--I don't see that in my pack, my dogs are extremely friendly, love people and other animals, although they are not too hot on cats unless it lives with them. They are natural vermin killers, rats, moles, mice, are their natural prey--they were bred to keep vermin off the farm--they will take on bigger animals as well. My small Scotty female--the great grandmother of these pups, broke out of her kennel and went after a skunk as big as she is--she killed it (pretty smelly around here for a while) Many Scotties are diggers, they were bred for it--its called going to ground, and they will get those rodents that burrow.
These Scotties are happy dogs! They have enthusiasm and don't hold a grudge. Also I have read Scotties don't swim, many of mine swim, dog paddle right out into the creek or pond, while others don't like water, it seems a individual thing. If you take them fishing or on a boat it is best if they have a life vest. One of my previous pups went to a fisherman who takes him out with him every day--he wears a life vest--they fish in the Alaskan waters (just like you see on TV). Scotties are able to entertain themselves, and if they must be left alone for a while they are fine with it, as long as there is food and water. They also do fine sleeping in crates, all of mine sleep in their individual crate and look forward to it. It is up to you how you want your dog to settle in, they are very adaptable.
Scotties make great companions, this little girl is Kenzie, a little brindle bunch of love, who charmed her new family so much they made her a facebook page, she resides in southern California, and is the center of their universe.
Current Puppies for Sale: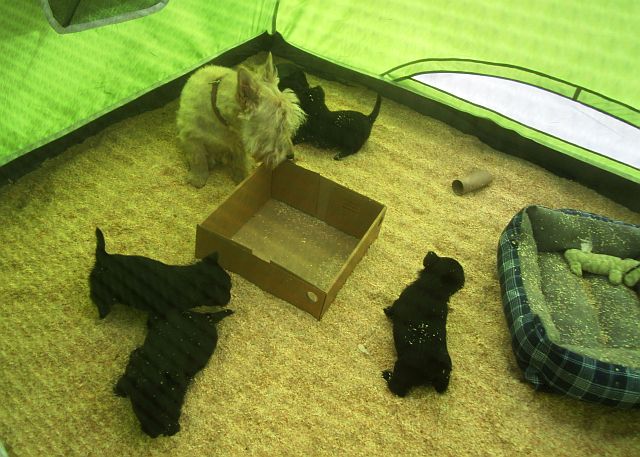 The pups in the  picture are four weeks, and big enough to spend time in their playroom. Here they are with their mother exploring their new world. Only two left without deposit--see below

New litter on 4/23/17:  4 girls/3 boys--they will be ready for new homes June 20-22. Below are the pups still available at 6 weeks old (photos removed as they sell.)  Just one left!
Above is Callum  at 6 weeks, a black with a small white spot on his chest and some brindling on his lower legs.

Purchasing a puppy: These puppies are already registered and you will receive their papers when you pick up the pup (along with some of their food etc), they will be signed over to you on the back of the certificate. At some point you may want to send in the papers to the registry to update them with your new owner information, and you may also officially change their name at that time to one you prefer. The registry will then send back a new copy of the papers with the new dog name and you listed as the owner on it. Some people never bother to do this, it is up to you, no matter what you choose to do, your pup is already registered and so are its parents and grandparents--the number on the certificate is their individual number--no other dog has it.  Also I put no restrictions on the registration, you are free to neuter or not neuter your dog as you choose.
Scotties' ears come up at various times, most will be fully erect by pick up time, but sometimes, especially with the bigger pups, it may take upto a month at home before they come up--but they ALWAYS come up, some just take a little longer than others--you need not do anything to help the process along, it happens naturally.
The males are $700 and the females are $750, shipping cost is extra--whatever the airlines are charging--it was around $300 last year. A $200 deposit will hold your pup, you may use PayPal to place a deposit--apply it to my email account: kathleenkirsan@hotmail.com. All purchase price must be paid before or at pickup--if you are paying the balance at pickup you must bring cash. If you pay ahead of pickup a personal check is fine as long as it has time to clear.
All pups will be current on shots and worming at pickup. All pups will require a booster shot three to four weeks later from your own vet--it is very important you do not skip the booster shot. Parvo is a terrible disease that is widespread and kills many puppies every year. There is no way to determine if a puppy got full immunity from the first shot, and that is why they must receive a second shot around four weeks later. Until that time keep our pup away from strange dogs and limit its time on the ground outside (Parvo can live in the ground for years). Once your pup has had its second shot it should be alright for exposure to the world--always check with your own vet because they will know what diseases are prevalent in your area and what special precautions you should take, if any.
While the pups are here they will never be exposed to the ground, they spend the first weeks just in the large birthing crate, but around four weeks old when they become rambunctious I set up a tent for them outside for a daytime playroom. The tent is the same type you or I would go camping in, and it has a full floor, which I fill with wood shavings. It is sanitary and most  important, they are protected from the outside environment while having room to play. During the day the mom will be brought in to nurse them periodically and she sleeps with them at night until they are weaned--usually by 6 weeks--by pickup (8 weeks) they are fully weaned. At evening they are brought back inside to the large crate to sleep. I do this because I want to insure that the pup you pickup has not contracted Parvo or any other disease. I do not let other dogs except their mother touch them, nor any people except for the purchasers, the veterinarian and myself handle them. 
If your pup is to be shipped to you, it will have a veterinarian certified health certificate with it (required by law), and will come in its traveling crate with its papers attached to it. I usually use Delta or United, and I have never had a problem with them--the pups get to you in good shape. If you purchase two pups they are small enough to travel in one crate, and so there is just the one shipping fee.
Once I have received a deposit on your pup it will be removed from the sale. Each pup has an identifying color on the back of its neck (nail polish) so there is no confusion on which pup is which. Once you put a deposit on a pup, those that may come to choose a pup will not be shown yours or be allowed to handle your pup. I will periodically send off pictures via text or email to you if you like, so you can see how they are growing. You are welcome to come here to pick out your pup, or once you do, you can come back and visit it. The puppies parents, grandparents and great grandparents are here for you to see as well. 
I hope you love your Scotty, they are great dogs!
Kathleen Kirsan
916-289-0392
kathleenkirsan@hotmail.com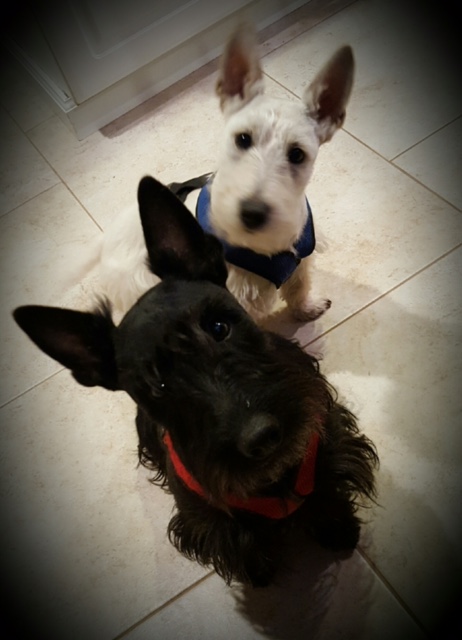 Meet Wallace, almost 3 (black Scotty) and his 1 year old son Magnu (wheaten). Wallace was from one of my previous litters and has such a sweet disposition he and now his son are in training as therapy dogs used for visiting the sick and elderly. Thanks for sharing  the update Suzanne.