Book Info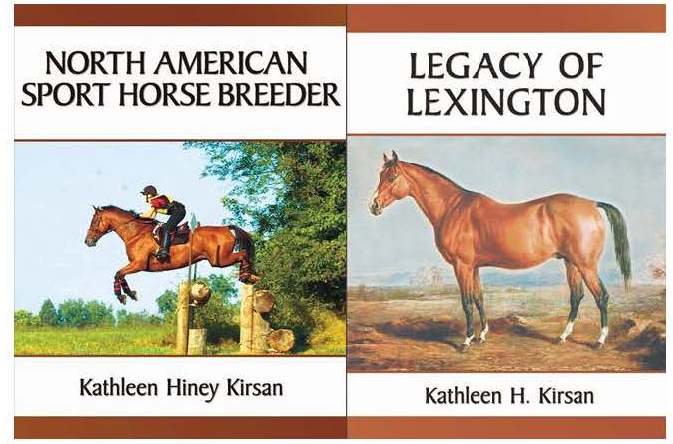 20% off if ordered here, the links to order follow each outline...clicking on the breed  title will take you to the publisher's book page where you may order at full price...once again the links for 20% off follow each book's paragraph

These books are non-fiction works designed as references for the Olympic style sport horse breeder, but are relevant also for the racehorse, western or pleasure horse breeder--the breeding principles for successful breeding are the same, no matter the breed of horse or the discipline. North American Sport Horse Breeder provides step by step instructions in applying Tesio  Methods in our breeding designs with 35 in depth analysis of individual horses. The American Thoroughbred (Legacy of Lexington) and Standardbred (Standardbred Sport Horses) bloodlines for our breeding goals (which are an exceptional resource for the breeder once we understand their strengths and talents) each have their own book.
North American Sport Horse Breeder: 
* history of sport horse breeding in North America and the development of the new international sport horse.
*  step by step instruction in Tesio Methods
*In depth pedigree analysis and discussion is provided for thirty-five individual sport horses; some famous, some foundation horses, others are owned by regular competitors, with the horses drawn from a variety of American and foreign breeds--each example providing background information on its breed's sport potential.
* appendices with additional useful information including the American Thoroughbred's suitability for Olympic style sport, which Thoroughbreds are stamina lines, an outline and short biography of key foundation sires, the power found in full siblings is demonstrated with historical examples from the Morgan, Hanoverian and Thoroughbred, a discussion of American foundation sires, a timeline of American sport horse development and an example of a intense pedigree verification carried out by John Wallace.
order paperback (20% off = $36) 
order hard cover (20% off = $44)
* history of American Thoroughbred
*distance racing era and its resultant bloodlines
* American Thoroughbred in International sport and breeding from 1856 to present
* Jersey Act, why it was imposed and its far reaching effect
* modern power bloodlines
*unsoundness and what to do about it
* American Thoroughbred in Olympic style sport and best bloodlines
order paperback 20% off = $39
order hardcover 20% off = $47
Standardbred Sport Horses This book is not available yet--early winter 2017-2018
* American Running Horse history from 1634 to 1925
*  mid-gait bloodlines in America and England
* Equine genetics and relevance to sport horse breeding
* American Trotter 1818 - 1879
* Pacing Running Horse and Narragansett Pacer branch, Morgan Horse and  Canadian Pacer bloodlines 

* American Standardbred 1879-present

* American Trotter and Standardbred in International sport and breeding--1829 to present
* Standardbred in modern Olympic style sport and breeding
* American breeds and breeders in the modern International market place