Borealis- 2001 Saddlebred Stallion
Champion of Breed - Dressage at Devon
Can a purebred Saddlebred win at Olympic style sports? Here is an example of one of the many horse breeds you have never considered for your goals, but it turns out everything you need for top dressage performance resides in the genetics of this American sport breed.
This is Borealis, a Saddlebred stallion who has excelled in dressage and as a breeding sire. Julie Lynn Andrew bought Borealis in utero when she purchased his dam Morning Eclipse from John T. Jones.

At just two years of age Borealis was shown at Dressage at Devon and his score of 78 from elite dressage judge Hilda Guerney won him the class and set a new record for his breed. The next year he easily won the breed class again.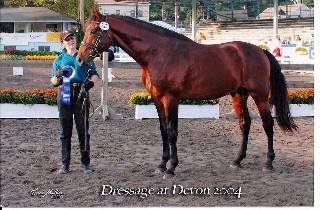 (Julie and Borealis SB at Dressage at Devon in 2004 where he took the breed title for the second year- photo by Terri Miller used by permission of Julie Lynn Andrew)
Julie was not just some Saddlebred enthusiast out trying to prove something, but someone who has over the years mastered the whole sport horse experience; she knows the dressage sport backward and forward with first hand knowledge gained through breeding, showing and winning with her Hanoverians, Trakehners, Selle Francais and Thoroughbreds. She is then highly experienced in the sport horse world, and has a deep understanding of the different breeds, their talents and abilities, but now when looking for the best sport transmitters she only deals with Saddlebreds--believing them to be the superior breed. I think we can all learn something from her.
Julie tells us that the bloodlines that will give us the winners in Olympic style sport are the very best ones in the gaited show ring also. We will look at her champion stallion Borealis SB to get a view into what makes up the best in the breed.

Borelais' genetics represent an extreme consolidation of type, and so we can clearly see where he received his tremendous talent from. He is inbred 3x4x4 to the full brothers Super Supreme SB and Supreme Sultan SB, through sons and daughters. Full siblings, especially sex balanced are the strongest design we can create in our foals for potency. But a strong design alone will not guarantee a sport sensation; those duplicated lines must be of excellent sport quality.

Borealis pedigree
Discovering the talent of Borealis SB through his pedigree, that is seeing the genetic source, is a study for us on why it is important to build out our lineages more than a few generations if we really want to understand what we have. A quick look at his lineage and we notice he has three full brothers 3x4x4 Super Supreme SB and Supreme Sultan SB. They are sons of the champion Valley View Supreme SB, a proven transmitter of sport talent, but they did not just possess his talent, instead they act as conduits of the ability, and we see they presented it down to Borealis SB.

I found the key to unlocking this pedigree when I realized that these full brothers carry three full brothers: Bourbon Genius ASA, The Genius SB and Leatherwood King SB 3x3x3. These three are out of the important mare Kate Haines ASA, who finds two lines of her brother American Ace ASA in the top quadrant of the pedigree. Sex balancing unlocks power and the addition of the brother lines added complexity as well. Building up significant mares in our pedigrees is a road to success. The great breeders Lord Derby, August Belmont and of course Tesio all did it, and thereby found the key to genetic power.
(SB is my abbreviation of Saddlebred, which became a bred of its own in 1935, before that year the breed was the American Saddle Horse (ASA), which in 1935 broke up into the modern saddle breeds of Tennessee Walker, Saddlebred and Missouri Fox Trotter. It is important we do not deny the accomplishments of the breeders who went before our modern day, and I will identify true breed assignments to honor them and instruct us in our own glorious breed heritage.Thoroughbreds will not have an abbreviation after their name. RH is for Running Horse, the parent breed of all our sport horse breeds--see Development of American Breeds)

The dam of Kate Haines ASA and American Ace ASA is the taproot mare--Broodmare Hall of Famer--Kathryn Haines ASA. An American Saddle Horse mare and it is she who is the real power behind the inbreeding. Either through her son American Ace ASA who is here through two daughters--therefore another filly factor, or through her stellar daughter Kate Haines ASA who is the dam of the full brothers Bourbon Genius ASA, Leatherwood King SB and The Genius SB 6x6x6x6x5x7x7x7x7x6x6x7--twelve lines plus the two sons lines for a total of fourteen lines!

If you look at the front full brothers inbreeding in Borealis of Supreme Sultan SB and Super Supreme SB 3x4x4 you will see that they carry all three of the full brother sons of this mare and their dam line is ruled by them. This is extreme consolidation of type and they act then as a deliverer of Kathyrn Haines ASA (picture) to the front of the pedigree. But that is not all--the top line of 'Man of the Town SB' ignites the entire pedigree by bringing in two lines of Kate Haines' brother American Ace ASA--thereby creating a filly factor of immense strength. The best breeding stock, mares and stallions have a strong female component. This is the type of key mare build up that the experts rave about, for instance in the Thoroughbred it was Pocahontas, and later Canterbury Pilgrim and more recently it is La Trioenne, Lalun and Almahmoud, this is an example of an equivalent power in a Saddlebred lineage.

The proof of the quality found in the genetics of this taproot mare is that three of her daughters have also been entered into the Broodmare Hall of Fame: Abies Irish Rose ASA, Kate Peavine ASA and Kate Haines ASA. Very much like La Trioenne in the Thoroughbred, Kathryn Haines ASA also had several full sibling offspring. Plus Kate Haines ASA has a full sister: Sun's Delight ASA. American Ace ASA has a full sister: Abies Irish Rose ASA--so this family is a line-breeders bonanza. Look for them when you are building up your maternal strength, they will amp up your results in an amazing way.

So what exactly are we getting with Kathyrn Haines? Here is her pedigree. Even with several lines incomplete we can see she carries strong filly factors herself of the Tom Hal RH line super mare Queen RH 6x7x6x6x6, and Cockspur RH is here by three daughters--6x7x7. These two: Tom Hal RH and Cockspur RH are pacing Running Horses bred in the Maryland/Virginia area who made a huge impact on our saddle horse breeds, delivering beautiful gaits and athletic prowess. You will find lines of Queen RH and her brother Kitrells Tom Hal RH, as well as Cockspur RH behind the sport lines in the Missouri Fox Trotter, the Tennessee Walker and the Standardbred as well as the Saddlebred. These bloodlines are powerful conduits of our colonial Pacing Running Horse genes--a guarantee of sport talent. (These bedrock bloodlines are presented in detail in Standardbred Sport Horses.)

Gaines Denmark ASA, the chief foundation sire of the Saddlebred is here in six lines and as is so often the case with him, he is here by sons only. (He did have many daughters of course, but I found most of them made their way into the American Trotter breed.) Usually multiple sons of a sire will tend to deaden the full transfer of ability unless the female side is added. However, Kathryn's dam has three sons of Gaines Denmark ASA (American Saddle Horse) that are closely related: King William ASA and Latham Denmark ASA are full brothers and Diamond Denmark ASA is their 3/4 brother, and they are sex-balanced (sons and daughters) so that more of his talent comes through them. Full siblings usually indicate the dominant genetics in the horse, and this is the case here with Gaines Denmark ASA combined with Queen RH.

Extra genetic bonuses are seen in the good colt factors that are present through the Black Squirrel ASA sex-balanced double 3x4, and the two sons of the good mare Pekina ASA, and the three sex-balanced lines of the American Trotter Edwin Forrest 5x7x7. All of our original light horse breeds were interbred quite regularly and they all have a natural affinity from their common roots.
Therefore what you are getting with Kathryn Haines ASA is traditional saddlebred form (Gaines Denmark ASA) with the addition of the sport talent of Queen RH. This is where the fabulous movement that Borealis SB possesses come from: it travels all the way forward from the dawn of our Saddle Horse and reaches straight back to our colonial Running Horse, refocused through strong full siblings groupings, right to the front of the pedigree. This is genetic power (critical mass).
                                   _______________
Some important notes on understanding our American breeds:
When you pull up many pedigrees online on various sites you find there is a massive breed confusion evident. For example let's use Pekina ASA--mentioned in the above paragraph as an example of this problem. She was born in 1844, an American Saddle Horse--born before there was a registry (1891). Here is a graphic example of the breed confusion that is rampant in our industry: here is a version of her pedigree which is posted online on a popular website. You will see she is identified as a Thoroughbred--which is a huge error made because of the ignorance of our own breeds and their dates of being established. It is admitted in the notes there that she is in the American Saddle Horse stud book as a foundation mare, but whoever wrote this fiction says she is really a TB. The sire and dam are also listed as Thoroughbred--which they are not--this is sad. Here is Pekina's pedigree with proper breed identifications for you to compare to the online fiction.
How did the online database get it so wrong about Pekina? The believed that whatever is listed in the our original American Stud Book (Thoroughbred) is indeed a Thoroughbred. Bruce's American Stud-Book 1868 and beyond, is loaded with frauds. He accepted any horse that was submitted to him without any verification or editing. He began his project with Edgar's previous studbook, which is also brimming with fraudulent pedigrees, and he did not verify any of them, he just listed them all verbatim. He admits in his introduction that he felt he had to add many horses to the book that did not qualify as Thoroughbred because they were the best racing families in America. The requirement for Thoroughbred registration in that day was 5 full generations of General Stud-Book (Weatherby's) registered stock with no 'contamination". What does that mean? It means that if you have a horse by Diomed for instance, and out of a mare by Medley (both imported English Thoroughbreds), but out of a mare that is a Running Horse, then the horse does not qualify, instead it is a Running Horse. There is no excuse for Pekina mentioned above to have been listed in his book, yes her sire is Sir Archy, a true Thoroughbred bred in America, but her dam is a gaited saddle horse, so she should not be in the book. Pekina is instead a American Saddle Horse, also called a Plantation Horse or Saddler. Please realize this confused recording is not an isolated situation, you will find many have slipped into the habit of assigning a breed identification to a horse that it does not belong to, sometimes it is a later formed breed that they influenced, in this case the thinking is obscure. But here is the important point: all this confusion arises because we do not know our own American breed history.
In this case, Pekina ASA could not by any definition of Thoroughbred ever be considered such. First, the American Thoroughbred did not become a breed of its own until 1868--so by date of birth she could not be a American Thoroughbred. Second, to be an English Thoroughbred she would had to have two General Stud Book registered parents--she does not, and the requirement for GSB entry at that time was five full generations of GSB registered parentage--so neither parent could be classified TB either. Third, she is not even a racehorse. Fourth, she carries obvious non-Thoroughbred bloodlines close up: such as Blackburns Whip RH, a pacing Running Horse--he is a source of speed, as well as gaits. Blackburns Whip was also added to this fraudulent stud-book as a Thoroughbred. Now it is true this particular super sire Blackburns Whip RH is found in some Thoroughbred lineages, usually through the taproot mare Miss Obstinate RH (such as in the mega-sire Nearco).
Note: How an American pacing Running Horse ended up in the Italian bred Nearco is because he is a descendant of a mare named Sibola that traveled to England, won the One Thousand Guineas classic race and was entered into the General Stud Book--just before the English banned our Thoroughbred from the stud book...see Legacy of Lexington 
As I outlined, Pekina ASA could never be of the Thoroughbred breed, not by any standard, at any time--she did not even race. Does that make her a lesser horse? Heck no! She is a fabulous foundation mare, of the highest quality, but she is an American Saddle Horse mare, not an English Thoroughbred mare, and the loss is theirs. We need to wake up and celebrate the fantastic breeds we in America created. There is nothing shameful about being American bred and developed, all of our horse breeds are more than a match in quality for any developed in any country at any time.
All the pedigrees and analysis done on this entire site is via what we call Tesio Methods, which are statistically proven dominance indicators from specific pedigree patterns and designs. Full explanation of these practices is provided, step by step, plus you will find an example of another Saddlebred that was a successful dressage sire (Flight Time Gold SB)  in North American Sport Horse Breeder.]