Book Info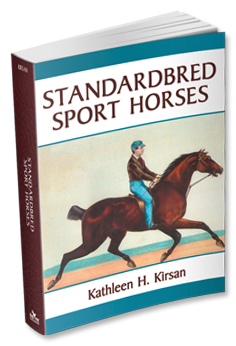 Temporary Delay.... switching publishers...from Dog Ear to IngramSpark...until IngramSpark has the 3 books available it may be better to wait to order...mid-May I am hoping
For my overseas customers this change will save on shipping and lead time as IngramSpark has printing facilities where you are as well as in the States. Thanks for your patience.
Standardbred Sport Horses needed to be written because the sport horse breeder is unaware of the huge genetic potential that is found in the Standardbred (and our other domestic sport breeds) for our use and benefit. It is important to rekindle pride in our domestic breeders by discovering that we are continuing a unbroken sport horse breeding tradition that began in 1611 in our colonies. North America, from the moment of its first settlements bred the finest sport horses in the world. If that statement puzzles you then you need to read this book.
Standardbred Sport Horses is my third book and it continues all the themes covered in the first two and enlarges them. It has taken decades of study, database building, research, writing, and breeding to arrive at this book. And it is meant as a record and a reference of our North American sport horse heritage, and the resultant bloodlines that power modern sport. It is my strong belief that the North American breeder needs to understand where equine sport ability arises from and to understand our own equine breeding legacy, in order to become aware of the fantastic resource that is right in front of us--unrecognized and therefore underutilized, so that we can meet and exceed the breeding challenges of our day.
subjects covered:
*American Running Horse history 1611 to 1925
*mid gait bloodlines originating in America and England
*equine genetics and relevance to sport horse breeding
*American Trotter 1818-1879
*Pacing Running Horse and Narragansett branch, Morgan Horse and Canadian Pacer history and bloodlines
*American Standardbred 1879-present
*American Trotter and Standardbred in International sport and breeding from 1829 to present
*Standardbred in modern Olympic style sport and breeding
*American breeds and breeders in the modern International market place
694 pages, 208 7-generation pedigrees, 224 illustrations, full bibliography, 9 appendices
20% off if ordered here, the links to order follow each outline...clicking on the breed  title will take you to the publisher's book page where you may order at full price...once again the links for 20% off follow each book's paragraph

These books are non-fiction works designed as references for the Olympic style sport horse breeder, but are relevant also for the racehorse, western or pleasure horse breeder--the breeding principles for successful breeding are the same, no matter the breed of horse or the discipline. North American Sport Horse Breeder provides step by step instructions in applying Tesio  Methods in our breeding designs with 35 in depth analysis of individual horses, and is suitable for the beginner in pedigree design. 
North American Sport Horse Breeder: 
* history of sport horse breeding in North America and the development of the new international sport horse.
*  step by step instruction in Tesio Methods
*In depth pedigree analysis and discussion is provided for thirty-five individual sport horses; some famous, some foundation horses, others are owned by regular competitors, with the horses drawn from a variety of American and foreign breeds--each example providing background information on its breed's sport potential.
* appendices with additional useful information including the American Thoroughbred's suitability for Olympic style sport, which Thoroughbreds are stamina lines, an outline and short biography of key foundation sires, the power found in full siblings is demonstrated with historical examples from the Morgan, Hanoverian and Thoroughbred, a discussion of American foundation sires, a timeline of American sport horse development and an example of a intense pedigree verification carried out by John Wallace.
This book will document the development of the unique American Thoroughbred, and explain why it is different from every other Thoroughbred population in the world. It will point out the important hereditary transmitters of sport ability and how to incorporate these lines into the sport horse for its improvement. This book is more difficult for a beginner and it is recommended for the person who has some understanding of relevant bloodlines and pedigree design. 
* history of American Thoroughbred
*distance racing era and its resultant bloodlines
* American Thoroughbred in International sport and breeding from 1856 to present
* Jersey Act, why it was imposed and its far reaching effect
* modern power bloodlines
*unsoundness and what to do about it
* American Thoroughbred in Olympic style sport and best bloodlines