American Sources of Sport Excellence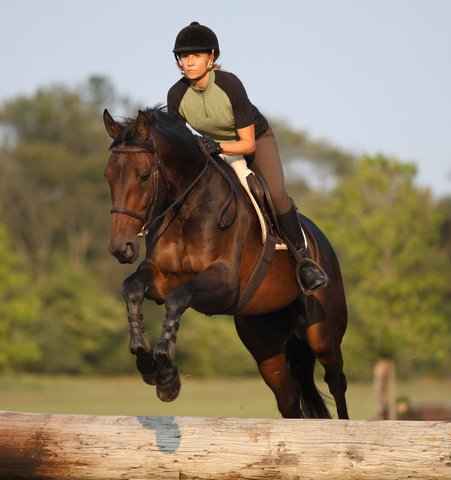 Helene Gregory and her Standardbred gelding JB were chosen to perform at the World Equestrian Games 2010 (photo by Vicki Wright-used by permission)
For those of you who have been immersed in the warmblood and sport horse culture of the last thirty years, I have a surprise for you: America has excellent sources of sport genetics in our native breeds. Huh? I know it is a shocker, but it is true nonetheless.

During the research process for my first book I discovered America has had a sport horse breed continuously from the early 1600s, and that breed, the Running Horse, is the root source of our domestic breeds that succeed at sport today--that includes the American Thoroughbred, American Saddlebred, Standardbred, Morgan, Quarter Horse and our own domestic 'warmblood' which is the Hunter bred horse--a breed we have been selectively breeding in this country for three-hundred years. Now, a dozen years later I have published a book that documents our first light horse breed, the parent breed of all our find light horse breeds : American Running Horse.
Not only that, America has been fielding an international sport horse since the mid-1800s. I must be kidding, right? How come you have never heard this before if it is true? It is because we were never told about our domestic sport horse heritage, a legacy that is as old as our country. 
I discovered this history through study of course, but also being a Tesio methods breeder I built up an extensive database of pedigrees and in so doing I was able to trace the origins of our domestic horses all the way back to the Colonial era. What I found both astonished and delighted me.

One result of this education is that I have a newfound admiration for the genetic essence of our domestic breeds. I ascertained our original Running Horse breed arose from the same root source as that of the English Thoroughbred--at the same time. It was a small race-saddle horse which possessed prodigious amounts of speed and stamina along with natural gaits and a friendly disposition. This breed originates from the Hobby--an ancient Celtic breed, the purest strains being from Ireland. Bet you were never told that America had its own racing breed that was every bit as fast as the Thoroughbred--all one-hundred years before the first Thoroughbred got here--I know, you didn't hear about it and neither did I hear about it in all my years reading and listening about horses.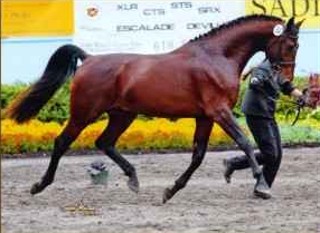 (Suspension and fluidness at the trot is a natural trait of Borealis who is a direct discendant of our first sport horse breed--photo courtesy of Julie Lynn Andrew).
Many of our American breeds have common ancestors in those early sport horses they also now have a natural genetic affinity for each other in proven sport genes. Later on certain populations of these racers were bred to excel at heat-racing, and by the early 1800s our native breed had exceeded all previous distance records. The level of speed, stamina and soundness required for their performance ability demonstrates they carry the finest sport genetics ever developed in any breed of horse. Those extreme genetics are sitting right there in the background of all our domestic sport breeds, and it presents an enormous opportunity for the enlightened line-breeder.
 On this site is a brief outline of our domestic breed development and origin for your immediate information.
Captaintreacherous- modern ST sire of excellence
Rex Peavine- American Saddle Horse sport sire of distinction
The Versatile Tennessee Walker
WBFSH in America
---
A copy of this article has been published in California Riding Magazine (1/2017)

Links to Domestic Breed Discussions:

The American Saddlebred

The Morgan Horse

The Standardbred

The Thoroughbred

Bloodlines of Hall of Fame Show Jumpers

Bloodlines of Dressage Champions of the USDF

Bloodlines of Eventing Champions