Northern Dancer Decode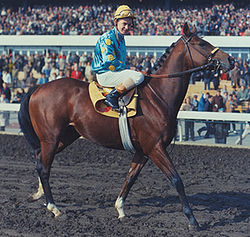 Northern Dancer (public domain shot provided by Wikipedia.)
Many have tried to understand and explain Northern Dancer's genetic reach and come away dissatisfied. Today we can sigh with relief because Sean Kilroy has decoded Northern Dancer's genetic power. 
Sean Kilroy has discovered the key element that only Northern Dancer carries in his pedigree. How many of you have wondered how Northern Dancer, a small blocky Thoroughbred with what appears to be an average pedigree, could have rose to rule the sire line of the modern racer? I know I have; I couldn't see what made him so special, we couldn't fathom what he carried in his genetics that allowed him to completely dominate the production of top racers. 
Sean has sifted through the pedigrees of 664,652 Thoroughbreds, using three pedigree programs, two of which he made himself, to assist him in his work in identifying key breeding patterns. He found Northern Dancer carried a unique pedigree pattern of full siblings that he found in none of the other horses. Sean's findings are fascinating for any student of pedigrees or the Thoroughbred. But he didn't stop there, he looked for other horses of exceptional talent that carried other unique full sibling arrangements, and he gives us several of those stars to ponder, my particular favorite is Winx, that magnificent racemare of recent times. As Sean said "Winx has an average pedigree until you look deeply." And he discovered the key to her ability also. These are groundbreaking studies, that have taken tremendous amounts of work and data shifting and give us answers to questions we have had on potency and talent. 
Click on this link to access his Northern Dancer report.
You may reach Sean directly with questions at foal.mare@gmail.com
His previous study on Inbreeding in the Thoroughbred can be read here.