Noteworthy
A Successful Inbred Sport Horse Stallion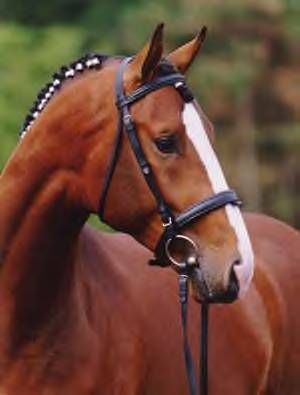 [Noteworthy--these pictures on this webpage are under copyright and used by permission]
Can a inbred sport horse be a successful performer and breeder? Noteworthy DU, inbred 1x3 to Ramiro HO is living proof it can be done! And we find that Ramiro HO himself carries extraordinary inbreeding, his greatest dominance is in Achill HO, and Achill HO is inbred 2x2 to Brilliant, a Yorkshire Coach Horse. 

Inbreeding is a tool that is useful to the breeder because it produces a set type. But without knowledge inbreeding is a risky enterprise. When you are inbreeding, you are concentrating all the genes--the good as well as the bad, and if there are any problems in the lineage, you will cement those right into your gene pool along with the talent you were aiming at. (The soundness and saneness of the duplicated individual should be a more important concern for you than whether you inbreed or linebreed.) 

So why try it then? Because if you want to concentrate a superior influence, plus set a type into your herd, inbreeding is the surest way to do it. Most horse breeds--such as the Holstein itself, originated with inbred individuals, for that is what makes a reproducible and recognizable type.

Carolyn Hoekstra, the breeder of Noteworthy DU, was the right person to engineer this breeding as she carefully researched all aspects of inbreeding and the genetic quality of the available stallions. A medical physician, Carolyn is well versed in genetics, and she did extensive research into the percentages for success in inbred animals. "I mostly researched how close one can breed and minimize recessive genes being expressed."
The phenotype of the horse usually gives us a reliable clue to the dominant genetics in play. Noteworthy DU physically resembles Ramiro HO.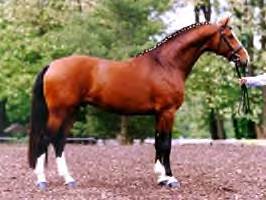 Carolyn knew exactly what she wanted to achieve, which was to increase the Ramiro HO presence in her herd--that is she wanted to set Ramiro HO type--and she did so. Noteworthy DU is 62.5% Ramiro HO (1x3 Ramiro HO). His sire is Ramiro HO and his second dam is a Ramiro HO daughter. Ramiro HO himself is not an inbred horse, he is however beautifully linebred. Ramiro HO was a safe genetic package to concentrate. Remember not all good sport lines are completely without problems, so do your homework before you try this yourself. Read more about Ramiro and his linebreeding on this link
Ramiro HO is a sound, sane and talented progenitor, and his breeding history proves the excellence of his genetic package. The Hoekstras' say, "Ramiro is second to none as far as successful progeny, fertility and talent, and no other stallion was considered in this endeavor." Carolyn did the American breeders a great service by creating Noteworthy DU. As the years go on, his true breeding value will become realized. Inbreeding concentrates type and Noteworthy DU is a sure deliver of Ramiro HO type to his offspring.
When inbreeding works right we get a lasting positive genetic influence. Here are two Thoroughbred examples that breeders of sport horses can relate to: The inbred War Relic (1x2 to the 3/4 siblings Man O'War and Friar Rock) was a good, but not a great performer, but he became one of the great bloodlines, because he made a lasting presence in Thoroughbred, Warmblood and sport horse pedigrees, and is a powerful purveyor of jump. Cottage Son, both a great performer and sire, who is Ramiro's dam sire (also in the great Holstein Lord) is inbred to the 'genetic' 3/4 brothers Rochester and Tracery 3x3. Cottage Son is a lasting source of versatile talent in Sport Horse breeding and his line is considered genetic gold.
Carolyn did her homework, knowing fully if she used a individual that had defects hidden in the gene pool that they would manifest with inbreeding. By sex-balancing the Ramiro HO, Carolyn has guaranteed the workable talent of Ramiro HO comes through intact. The non-Ramiro 36.5% of the pedigree intergrates well with the Ramiro HO majority. The Fanatiker HO daughter Infra HO is sex-balanced by the addition of the Fanatiker son Fax I HO. There is also a seperate filly factor added with two daughters of Signal Light, which will help any stallion succeed.
Noteworthy's performance success has been non-stop since 1998. He has multiple championships in-hand, in dressage and in breeding. His progeny have earned and are still earning championships of their own, always over 80% premium foals. His rating has always been in the top ten for stallions in USDF. Noteworthy DU is a success in every way--a triumph of intelligent breeding. He was at that time standing in Houston, Texas with his new owner, Cecila McKinney.

In 2011 Noteworthy DU was sold. He was purchased by Jay'me Stevens of Illinois. She had admired this stallion for many years and had used him on her mares and was enthusiastic about his genetic power in upgrading her foals. She plans to have him at stud for 2012.