Captaintreacherous
-the Standardbred: the best kept secret in the sport horse breeding world.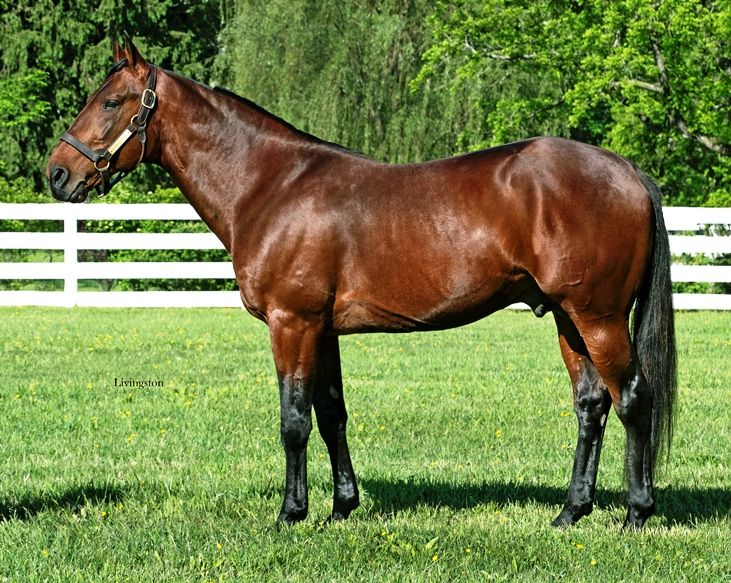 [Captaintreacherous, photo by Livingston, used by permission of Hanover Shoe Farm.]
The Captain, as he is often called, is a champion pacing Standardbred (1:47.1) who now is proving himself a winner in breeding as well. Captaintreacherous is a good example for linebreeders because he is loaded with potency in top rated sport lines, and his pedigree structure is a template for building genetic dominance.
I chose a pacing (rather than trotting) Standardbred as my example here because there is so much resistance and misunderstanding in our sport horse market for the gaited horse. Yet, historically there is no basis for this negative view, and suprisingly, several modern breeders, including myself, have found that crossing in a gaited horse actually improves the movement in the standard gaits of walk-trot-canter.
This discovery, that adding a gaited cross, improves the saddle horse's movement is not something new--our fellow breeders of the early 1800s, found the best saddlehorses, sport horses and hunters, were produced by bringing in the pacing horse! For example, the pre-Civil War Tennessee breeders created an entire saddlehorse industry of excellence based on the pacing Running Horse (many of those old lines are in the background of the modern Standardbred), and when the war arrived it was those renowned saddle horses that were the first choice for the Confederate cavalry, because they were sound, sane, tough, sure-footed, stamina loaded, extremely athletic horses, who could collect so well they were known for being able to jump four feet fences from a standstill. Before the conflict these horses could race, hunt and do cross-country runs, as well as be safe children's mounts and family horses. The Canadians had the same success in creating their Canadian Pacer breed, a top racer, and premier saddle and sport horse, once again based on the pacing Running Horse genetics, and their bloodlines also make up a good portion of the modern Standardbred. (See Standarbred Sport Horses for the full history of the breed.)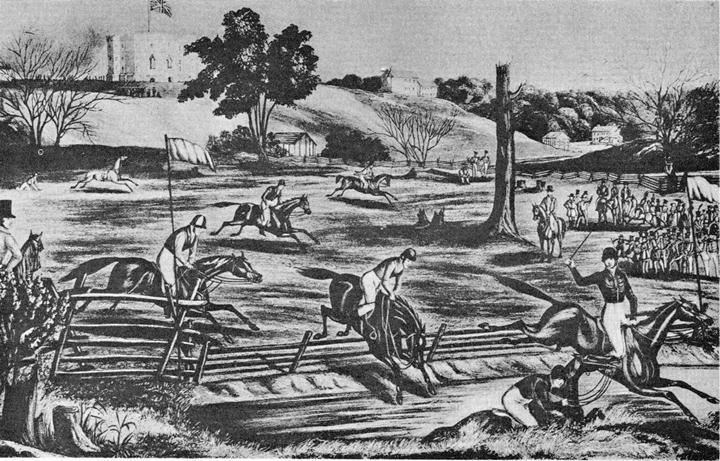 [The first official open ground North American steeplechase, 1843 in Montreal (drawn by Lady Alexander in 1843 and engraved by J. Harris and published in 1845), was assumed by most to have been performed on Thoroughbreds. But until 1867 there were virtually NO Thoroughbreds in Canada (Harry Worcester Smith, 1931). So, what were these sportsmen riding in our steeplechases and hunts? Canadian Pacers and American Running Horses, cousin breeds based on the colonial Running Horse breed; gaited saddle horses. Steeplechase had been performed previous to this date on racetracks.]
In 2015 there was a genetic discovery of a gait-keeper gene, which is a factor that allows a horse to race at full speed at the mid-gait (trot or pace). Unfortunately, a lot of claims were made for this gene's influence that proved impossible, including that it hindered jumping, galloping, and saddle horse traits. Perhaps, if the study had been carried out here in the States, then the geneticists would not have made those blunders and overreaches (covered in Standardbred Sport Horses). 
In the Standardbred, as with all other breeds we use in breeding our sport horses, it is usually the bloodlines that excel at racing or saddle disciplines that are the best to build up for our Olympic style sports. For instance, the Standardbred, along with its cousin the Thoroughbred, have the greatest amount of jumping bloodlines--far more than other breeds; therefore jumping genetics is not something we have to breed into the Thoroughbred or Standardbred, because it is already there in the basic genotype (see Standarbred Sport Horses for the tracing of the jumping trait back to its source). Good movement, athletic talent, soundness, nice temperament are also there from the get-go. And the sad part is that the breeders that went before us knew this, it was part of their daily experience, but we in the modern era somehow forgot it. Until the mid-1900s Standardbreds were not just raced, but used as prime saddle horses, hunted and jumped, show in horse shows in both English classes of walk-trot-canter, but also in gaited divisions; an amazingly versatile sport breed.
Recently I completed a study of the three racehorse breeds for soundness and durability, and it was the Standardbred that proved dramatically sounder and more durable than the Thoroughbred and Quarter Horse.
Captaintreacherous pedigree analysis
The Captain was bred in Allentown, New Jersey by White Birch Farm; and he is standing stud at the famous Hanover Shoe Farm in Pennsylvania. He won Pacer of the Year two years running, and various other awards, and already he has been inducted into the Hall of Fame. A sweet-tempered horse, that liked to work and was easy to handle, people love him. Now, he is topping sire lists as well. Captaintreacherous is a pre-potent sport sire for us to examine. The Captain has a pedigree design that matches his successful career.
Let's begin with his remarkable sire Somebeachsomewhere, a Hall of Famer himself, who was wonderfully potent. Somebeachsomewhere is celebrated as one of the greatest sires in the modern day Standardbred, and he too stood at Hanover Shoe Farm until his death in 2018. We should always pay attention to the pedigree structure when a top sire is able to produce a son or daughter who equals or exceeds their own records. Normally in a breeding the power of the genetics in the sire or the dam is halved in the progeny. When the offspring demonstrates it equaled or improved the talents, then we can be sure a genetic dynamic occurred and we as breeders want to learn to produce this phenomenon in our own herds. Here in Somebeachsomewhere we can see a concentration of the great sire Meadow Skipper (Hall of Fame), sex-balanced, and another strong dominance appears in the strong filly factor of Bret Hanover daughters (Hall of Fame)--these concentrations create a typesetting potency of the highest level.
When Somebeachsomewhere was mated with Worldly Treasure, the combination somehow kept the concentration of the winning genetics at a high, and all breeders can learn something from how these special horses are designed. Worldly Treasure brought an equal amount of potency in new talent to the mix, such as the 7/8 sisters Voodoo Hanover and Romola Hanover 5x6x5, and another filly factor of Dancer Hanover daughters 6x5 and another in The Old Maid sex-balance 7x8x6, all of that adding to the overall genetic power. Plus she brought in more Meadow Skipper so his influence continued to build, and she added more Bret Hanover daughters, keeping the base excellence in Somebeachsomewhere active and potent. A new focal potency was created by a double of Abercrombie, sex-balanced 4x3. The Abercrombie strength was a positive contribution because Meadow Skipper, while he was a fantastic proven sire-line of winners, his lineage is male leaning, producing better males then females.  But Abercrombie  balances all that because he carries a potency in Nibble Hanover, a winning trotter with a strong female factor. Nibble Hanover brings potency in the great mare Expedition 3x5 plus another strong filly factor in Adbell daughters. Both halves of the pedigree interact strongly in the 'engine room' with the 3/4 brothers Henry T. Adios and Bret Hanover 6x6x5x5.
The front of the pedigree is ruled by the Abercrombie (4x3) and Meadow Skipper (7 lines in 7 generations). I decided to do a 10 generation evaluation, and I found the following critical mass levels of important typesetters (listed strongest to least): Hal Dale with 29 lines is the strongest, then his son Adios (7 lines), then Tar Heel (Billy Direct son, 28 lines) then Volomite (34 lines), tied with Abbedale (sire of Hal Dale, 39 lines) and then Dale Frost (Hal Dale son with 8 lines). The above critical mass bloodlines of Hal Dale, Billy Direct and Volomite are the backbone of athleticism and I found these same bloodlines constantly in the sport champions in disciplines other than racing (see Standardbred Sport Horses). Plus, it was Hal Dale and Volomite that led the genetics in the in-depth study I did on Soundness and Durability. No matter the goals of your breeding program you can benefit from these bloodlines. 
The Captain's pedigree is a concentration of the best sport genetics to be found anywhere, and his career reflects this fact.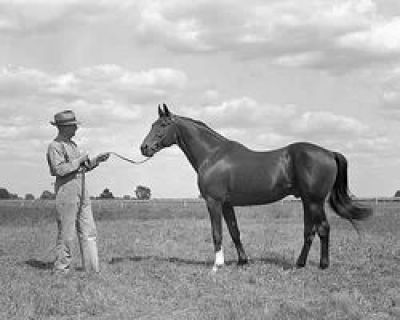 [Hal Dale, one of the critical mass background dominances in Captaintreacherous and in the most durable Standardbreds.]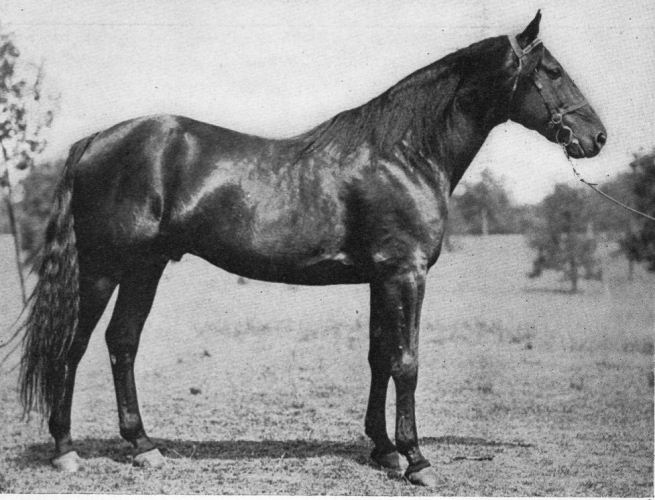 [Volomite, a critical mass ancestor of Captaintreacherous and in the great sport horses of other disciplines.]
Standardbred as a resource for the sport horse breeder.
For sport horse breeders, the Standardbred is the most undervalued resource in our world. Its ironic that so many of us have searched far and wide, using breeds in our programs that carry far less of the components we need to succeed and here all the while is the motherlode of sport. The Standardbred is sound and tough, sane, stamina loaded, full of speed and athleticism, possessing a strong jump and exceptional movement, a willing disposition, desire to work, and is very trainable. The Standardbred is homozygous for both the speed and the stamina gene. When you cross in a Standardbred it will bring in a typesetting influence, an improvement in soundness, sanity, talent and motion. And this treasure of sport genetics is right here among us, underrated, inexpensive, and almost single-handedly able to improve our herds. What are we waiting for? We have nothing to lose and everything to gain.
Places to Adopt a Standardbred
New Vocations (Ohio, Kentucky, New York) 
Standardbred Retirement Foundation (NJ) 
American Standardbred Adoption Program  
Others: Future for the Standardbred (Maine), Starting Gaits (Ohio), WNY Standardbred Placement (western NY), Racer Placers (Wisconsin), Sunshine Horses, Inc. (New York)
References
Battell, Joseph American Stallion Register vol. I-III 1909-1913
Geers, Edward Franklin Ed. Geer's experience with the Trotters and Pacers 1901
Kirsan, Kathleen North American Sport Horse Breeder 2013
       Standardbred Sport Horses 2017 
       Sport Horse Breeder , DNA studies (speed gene, stamina gene, gait-keeper gene), Standardbred, Standardbreds on Stage, Sport Bloodines in the Standardbred
Rodenbough, Ted., editor The Photographic History of the Civil War vol. II, 1911
Smith, Harry Worcester Racing and Breeding in Canada 1931
Wallace, John H. The Horse of America in his Derivation, History and Development 1897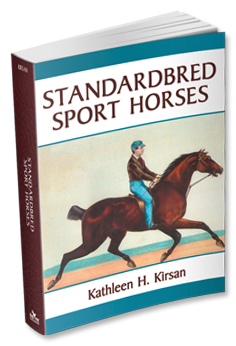 Available on all online booksellers, for outline see book info