The Groninger Horse

by Paula Hondsmerk
Paula Hondsmerk has provided us with a history and evaluation of the valuable Groninger Horse. Many of you have this breed in the background of your sport horse pedigrees especially if you have Dutch Warmblood in your herd. But there has been confusion on what the breed is and how it came to be, so enjoy this contribution by Paula: The Groninger Horse. Paula wants you to know that the Gelderlander and the Groninger are basically the same horse, one branch was bred heavier to deal with the clay soil and coach, and the other for the lighter sandy soil and carriage. This division only occurred in the 20th century.
Follow these two links to pull up the pedigrees of two of the main foundation sires and typesetters in this breed: Emigrant OL and Gambo OL.
I want to add something here. After you read Paula's history of the breed's development, pay attention to the last section when she highlights specific bloodlines, like Corrie and especially the mare Atoucha, both are strong in the modern sport horse lines. Atoucha (pedigree) is the 3rd dam of the top jumper line of Darco.
Atoucha's strongest genetic influence is Domburg GEL 1916, an extremely potent bloodline, a typesetter found in power throughout the Dutch horses, for instance I discovered he is a influence behind the superstar dressage stars Verdades and Valegro, as you can read in their own articles on this site. In Atoucha he is 5x6x4x6x5.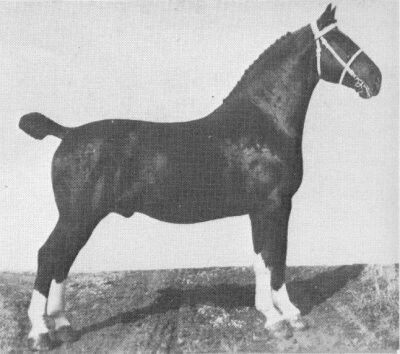 [Domburg, a typesetter of significance]
Why did this light draught type make such an inroad in the breeds? He is extremely potent: he is 4x5 Achill HO 1877, he is 4x5 to Emigrant OL, and 5x5 to Bernheart OL. And three of his lines here are in his daughter Jaconda, who is 5x5x4 in Atoucha, a tremendous filly factor. She is also 5x4 to Sultan II, 5x4 Reviel AN and 6x5x6 to Ebert GRO . Her sire brings in inbreeding to 3/4 siblings 3x4: Lady Reveil van Wittenstein and Ot von Wittenstein, their sire Reveil brings in strong trotting elements. This makes Atoucha a typesetter of excellence, a solid, sound, potent base that international level sport horses have sprung from.