Jarade - 
Born to Jump
Jane Hunter, a lifelong equestrian, recalls for us the amazing horse she had in her 20s, when she was beginning competition. After all these years, jumping Thoroughbreds and other sport horses, Jane says she  "never had another horse that could jump like this Morgan." Did she say Morgan? Yes, she did, and that is not all, because he was a very small Morgan at 14.1 hands and just 850 lbs, yet , she says he jumped 4' like it was nothing.
Let Jane tell you about this wonderful horse in her own words:
"Story of my unlikely jumping prospect my mother purchased when I was 19. He was a 14.1 hand 4 year old Morgan gelding. A TWIN. My father was into Morgans and was showing a Morgan stallion for a friend in Maine. This stallion had sired quite a few offspring and this little gelding came in for training by my father as a 3 year old. He trained easy under saddle and was bold but well behaved. However he was a total brat on the ground, very mouthy and pushy. My mother fell in love with him and the next year when he came up for sale (because the owners kids were afraid of him) she bought him. My father was very negative  about her buying him...Saying he would be weak because he was a twin. Well this little horse was not weak...HE WAS A HELL OF A HORSE. My mother turned him over to me and off we went. Jumping everything in sight. He was a very typy little horse and hot as a pistol. He was only 14.1 but 4 feet was easy for him. He had a huge stride for a little horse and was not afraid of anything. His name was Jarade named for his sire Parade Jubilee. He had a twin sister that never did anything and could never get in foal. He never quit on me, ever. I worked him very hard and kept him very trim. He only weighed 800lbs running fit. My mother took me everywhere and was very proud that this little horse was hers. And always very supportive of her daughter training and showing him...I took jumping lessons from a trainer/horse dealer friend of my father, George in Sanford, NH for many years. I took lessons on all his jumping horses and I applied all I learned to training Jarade. The stable offered many shows yearly and Jarade and I took lots of ribbons and championships at these shows. I also got into three day eventing with this little horse. I competed in Ledyards Farms 1st international  Three Day Event that was held locally in 1971.This was an Olympic sized event put on by Neil Ayer who was one of the local wealthy land owners. He built an Olympic size cross country run on his property. (Neil later designed the cross country course for the 1984 Olympics in California). There were over 50 entries and I came in 16th with a clean cross country run (over 2 miles) and a clean jumping round. At the time I hated dressage and my hot, typy, little, prancing, high headed Morgan did not get very good scores. I was pleased I did do the dressage pattern correct except for our stops were still moving. I had this little horse 5 years and learned a lot from him. We sold Jarade to a middle aged couple in his 9th year. Patty wanted a bold trail horse. And her husband wanted a horse he could drive and compete in driving events. Jarade was 'tired' from all the hard jumping I did with him and my mother did not want him BROKEN DOWN. We decided he needed a easier career. He was boarded at my fathers barn for 3 years, then was taken home The lady had Jarade until he was 24. She trail rode him until he was 21. She gave this horse a great life and my mother followed him until he died. After Jarade I got into Thoroughbreds but never had another horse that could jump like this little Morgan." Jane Hunter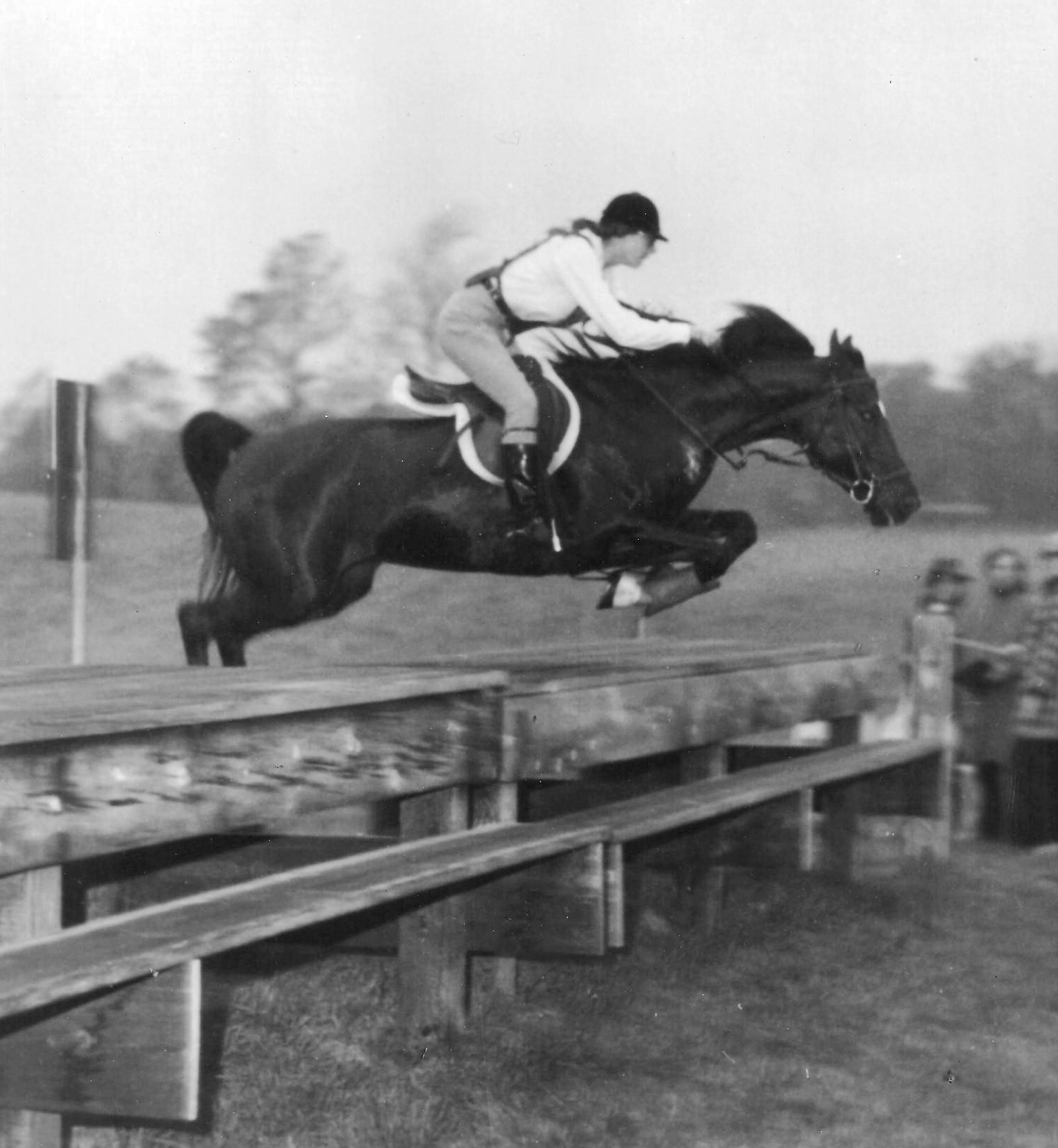 So Jarade, born with several strikes against him, being a twin and extremely small, was a jumper, and a very good one, and he retired from the field sound.
Jane sent me this information a few months ago, and she thought I might want to write him up for my website, but I didn't have the time until now to unpack this. Jane is right, Jarade is worth a mention and a study. He is an extraordinary horse that with circumstances against him achieved far beyond what anyone dared to dream. 
No matter the breed, it always pays to take notice of a horse's genetics if it seems an overachiever or possess a first rate talent. And I found in building out his pedigree, and analyzing his bloodlines, that he is not what the common industry understanding expects in a top performer either. To me it is an opportunity to uncover an overlooked truth. First, Morgans are not the breed you expect to find leading the jumpers, or eventers. Horses with high Thoroughbred blood, Hunters are what we used to call them, and today we find the same horse being called a warmblood or sport horse, but really they are nothing more than a hunter--which is a horse with a racehorse base crossed with other breeds for substance or style. What we have forgotten is that our American light horse breeds are hunters---really. In the Morgan's case, it is a breed founded on the genetics of one stallion, Figure RH.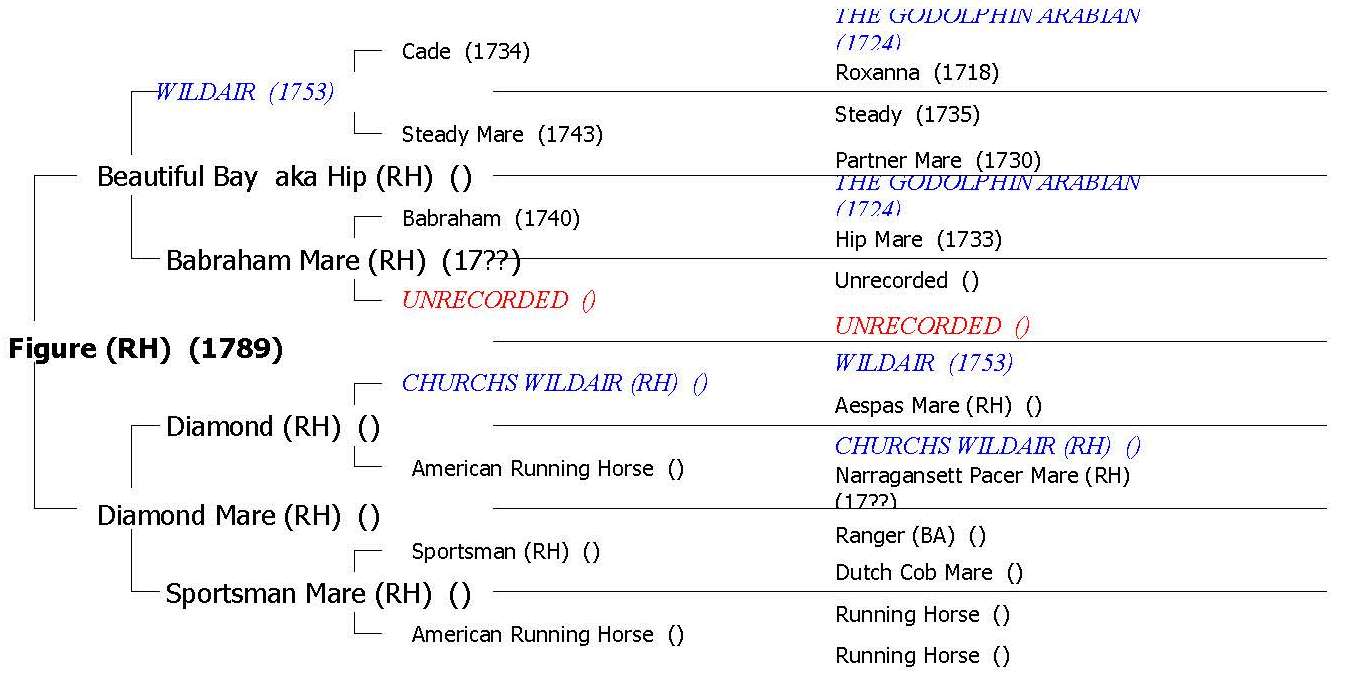 The pedigree of Figure RH is an adjusted lineage, based on the recent studies of Bruce Burton, who uncovered that the stallions claimed as his sire at one time or another: Beautiful Bay, True Briton and Hip were one and the same horse. As you can see, the genetics are overwhelmingly racehorse (Thoroughbred and Running Horse). And Figure RH, did indeed express that heritage as he was a champion sprinter; but that is not all, he also was noted as extremely strong, able to out pull much larger horses, had incredible stamina, was sound and sweet tempered.  The Morgan is based on this horse, and Figure RH is inbred to the early Thoroughbred stallion (1753), Wildair 2x4x5, so Figure RH is a potent Wildair type. The most successful of his stallion sons: Woodbury and Sherman were out of racehorse dams, a Running Horse and a Narragansett Pacer. So those lovely looking little horses you see in the ring and on trail rides, are in reality packing a tremendous concentration of the highest level racing and sporting genetics in the world. With little else crossed in with them, after 200 years they still retain the Morgan type. No matter the current use or the public's impression, this breed is a powerful sport horse breed. And Jarade certainly lets us know that he is a faithful descendant of those genetics.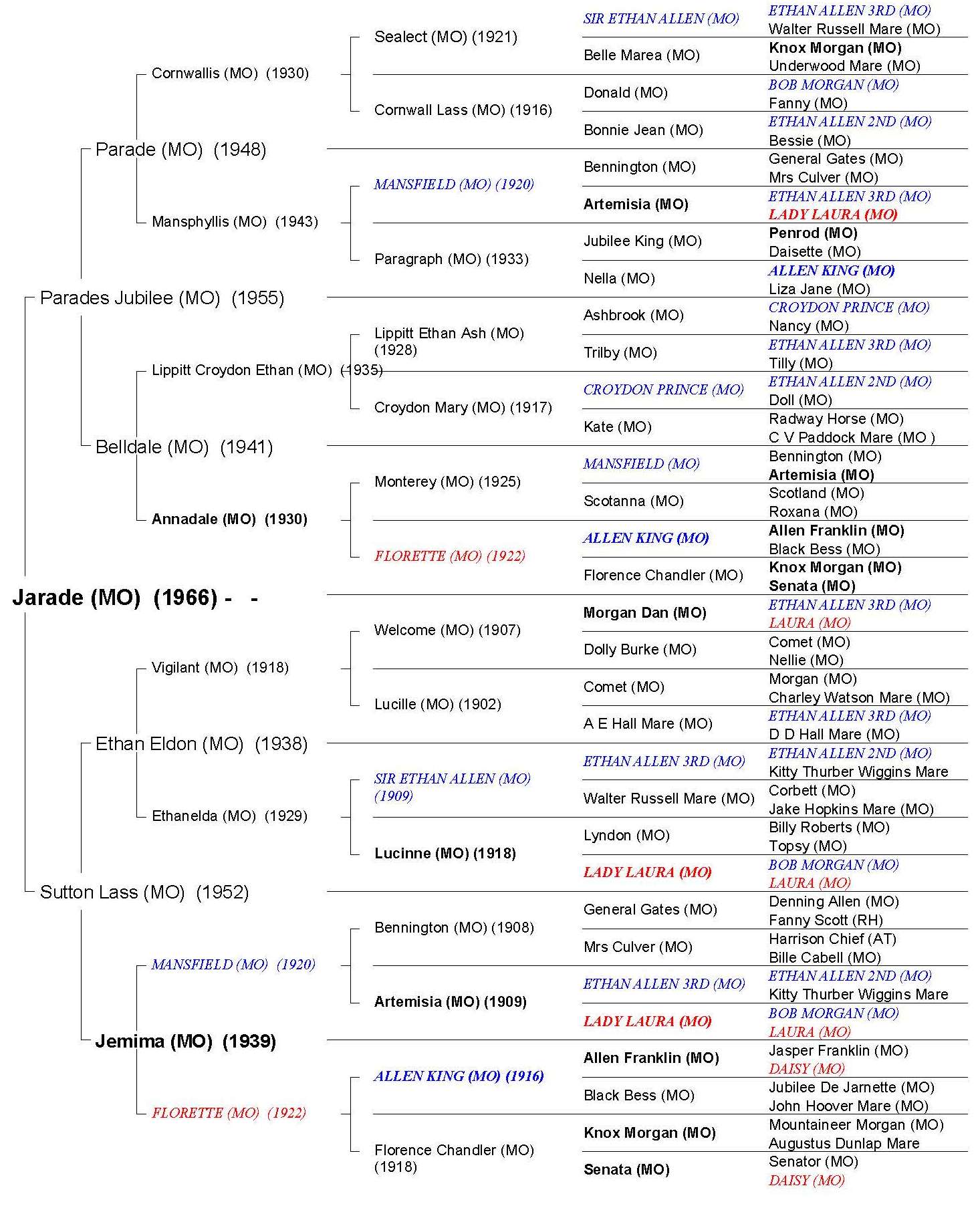 Pedigree Analysis
Jarade is inbred, and most people think an inbred horse will be a terrible performer, and sometimes that is the case--true enough to be a cautionary mention to breeders considering it, but there are enough examples of inbred horses at the top of the leader boards to not make this a cut and dried rule. For instance, there is the astounding Enable, a Thoroughbred race mare who won everything in sight including the Prix Arc de Triomphe twice and almost 7 million dollars. And she too is inbred: 3x2 to Sadlers Wells.
Further, it is how Jarade is inbred; he is 3x3x2 to 3/4 sisters: Mansphyllis/Annadale/Jemima, a design which makes his genetics strongly female leaning, a factor that one would see as yet another strike against his success as it is a design that is believed to be a detriment to a male performer--at least that is the current industry wisdom. Everything about this horse is a puzzle. This is a strong female leaning pedigree yet it did not hamper his performance. He is not alone in his design either, as the Triple Crown winner Justify also has a powerful female leaning pedigree. So, we can learn something from these unusual horses.
Those front sisters are made even more powerful because they have full and 3/4 siblings as dam or damsire: Jubiliee King/Florette. And all three sisters have Mansfield as their sire or grandsire, and he is a product of the golden cross of Bennington/Artemisia; Mansfield and his full siblings were the backbone of the government cavalry program.
Florette, the 3rd dam, is the strongest single genetic factor factor in the pedigree (by percentage); she is by Allen King and her dam line goes to Daisy (6th dam) who is found with her 3/4 sister Topsy throughout the pedigree. Allen King is 5x6x4 and his full brother Penrod is in the the 6th. All of this connecting common genetics makes the front inbreeding immensely powerful. Florette with her close siblings and the background reinforcements explain for me where this horse got his tremendous energy and spunk, as his mtDNA had to revving on overdrive. And those are just the greatest configurations in his lineage, there are tremendous amounts of other close sibling relations as well.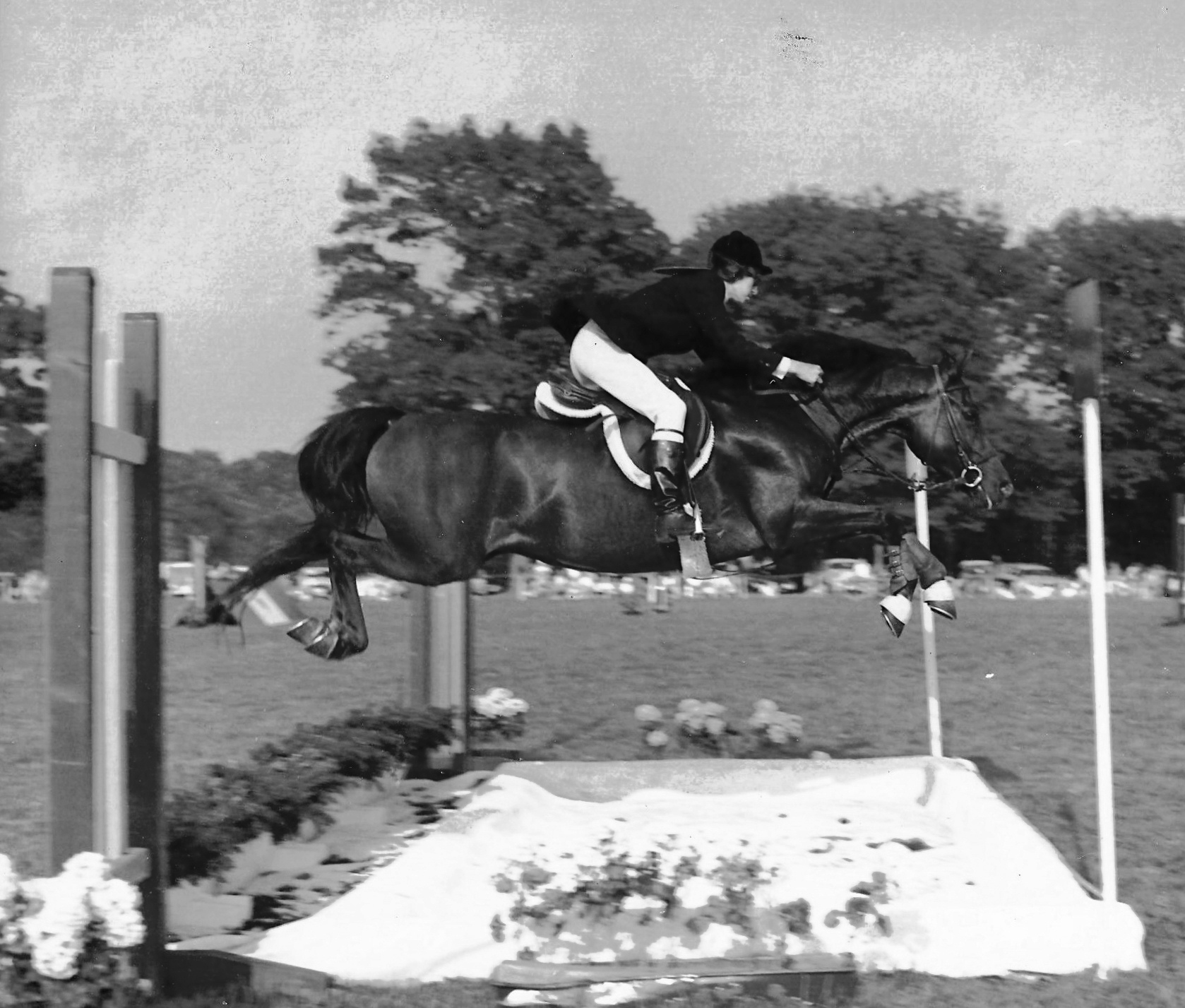 Ok, so what do these names mean as far as the talent Jarade displayed? His high energy level can easily be explained by the inbreeding connecting to his damline, a line of top quality Morgan mares, and reinforced as the damline of his sire and grandsire mimic it. So the genetics (mtDNA) are magnified, causing cranked up energy conversion. But where does the expression of that genetic force come from--the jump, the gallop, the fearlessness, the ability to take huge obstacles at a gallop? 
Mansfield and his family were part of the government program as I mentioned above. The government program lasted from 1906-1950, and was among the toughest performance testing requirements ever seen. The horses that were allowed to breed were put through a rigorous testing process; they had to be sound of course, of a cavalry type: 15 hands or so, sturdy, steady temperament, hardy, able to withstand hard training and meager rations, athletically superior. Their performance test required them to pass a under saddle phase (like military dressage), a jumping test, a cross country test, and a 300 mile endurance ride. If a horse failed in any area or came up lame, they were culled. The horses that came from that program attained a level of versatile, sound and athletic bloodlines that few breeds, if any can match. And now they are found in the modern day Morgan, and you thought the Morgan was just a pretty little show horse! So just right there, Jarade, who is 4x3x3 to Mansfield (critical mass) could have acquired the ability to jump and excel at eventing from his cavalry lines. 
In recent years it has become my habit to fill in pedigrees as far as they go, and it has paid off in a deep understanding of the origins of sport ability.  In Jarade's case I found he has 39 lines of Ethan Allen MO and an additonal 5 lines of his 3/4 brother Bob Morgan MO, within the first 10 generations--this is what we call critical mass. So behind it all Jarade is an Ethan Allen MO type. This is a good potency, for Ethan Allen MO, born in 1849, was a champion trotter in his day, setting records, a top sire of trotters and he was reported to have the best trotting action ever seen (Helm). Back then racing often was heat racing, 1 to 4 mile heats,with the winner of two heats taking the prize. That means he had to trot a race two or three times in one meet, which of course equals stamina and speed. Here is Ethan Allen's pedigree from my database: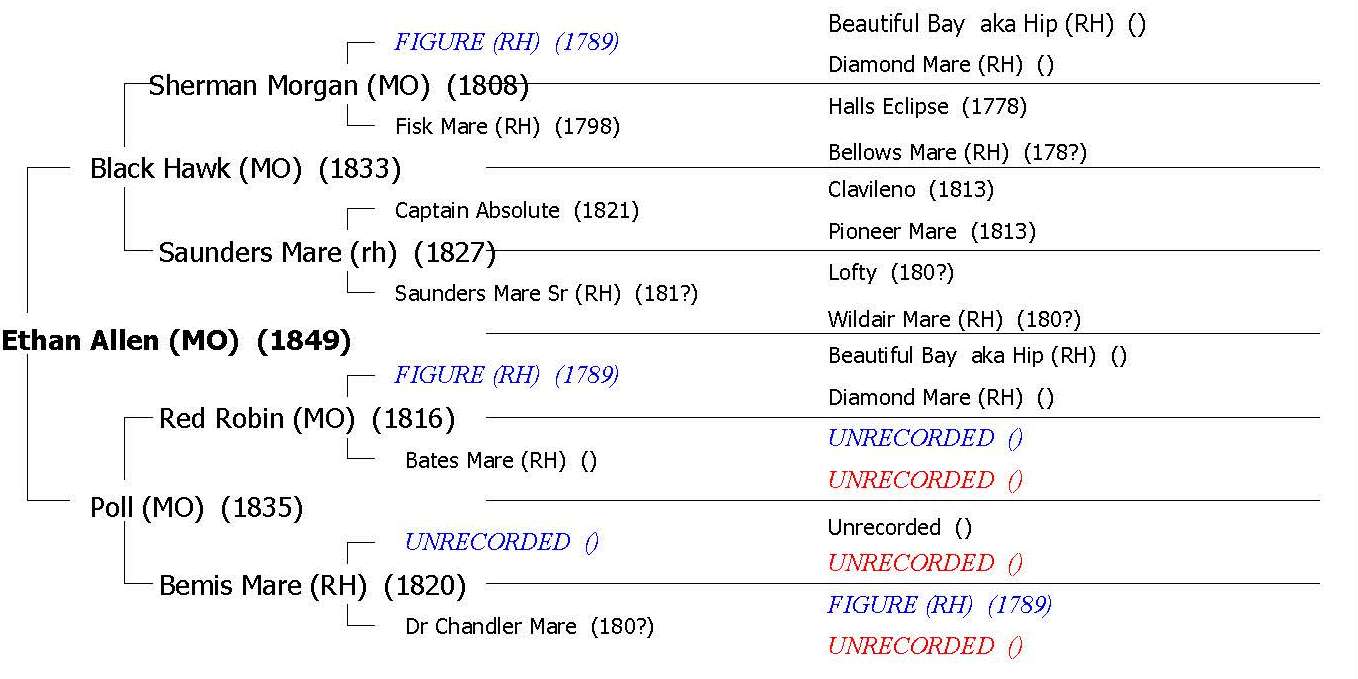 As you can see in this version he is 3x3x4 to Figure RH (foundation sire of the Morgan), a critical mass concentration. There has been a controversy about Ethan's sireline that crops up now and then: that his sire was really a horse named Flying Morgan MO, not Black Hawk MO. But the report has been proved a hoax, and actually the guy who put it out there admitted it was made up. But that is not all the mystery connected with this horse. Wallace says Black Hawk's trot was sputtery and uneven, which he deducts came from the high amount of Narragansett Pacer in him, yet the Black Hawk line produced great trotters and sport horses of renown. But his son Ethan had none of the gait messiness; rather he was celebrated as he perfect trotter. So, his dam must have provided genetics in a strong square trot. The harness racers wanted a clean square trot, and valued a sire that could set it on their gaited horses.
In my book Standardbred Sport Horses I reported the often spoken remark that Ethan Allen resembled his damsire, Red Robin, more than his sire Black Hawk, and I believed at that time from all the reports, that Red Robin was his damsire. But here is the big problem: his dam Poll RH, was a grey, some say a flea bitten grey, but her parents are recorded as being a dark brown dam (Bemis mare), and a bright bay sire (Red Robin). Greys do not come from two solid colored parents. One of them must be a grey. So something is not right about his dam., and all reports says she was a grey. She is stated to be an excellent trotter, a docile, but nervous horse, but able to work long and hard. She never paced, she never had mixed gaits, and her trot was clean and square. A medium sized horse, 15 hands, about 950 lbs. Some say she was a fast trotter, while others say she was not fast but steady, another said she was a fast trotter when she was young. All agree she was a fine trotter, a very good road mare. One of her owners, Justus Rising, reported she was a natural jumper.: "She was a regular jumper; couldn't keep her anywhere." Paddock fences are usualy 4'6" to 5' tall, and she could and did jump them all. She was lamed later in her life, with a spavin and a dropped hip. She had several good foals. 
I had to pull out the trotting breed experts: Wallace, Battell, Owen, Helm, Hervey etc. to see how to fix this mess. John Wallace says she is of unknown parentage and was called a 'Messenger'. Battell says she was " a grey mare bred by John Field, Springfield, Vermont, got by Robin, Red Robin, a horse owned by Moses G. Bates of Springfield, Vermont, pedigree unknown....second dam, dark brown, bred by Mr. Bemis of Baltimore,Vermont; a mare of Morgan build and appearance, said to be a Morgan; third dam a chestnut mare brought to Chester, Vermont by Dr. Chandler of that place, from Tunbridge, Vermont, and said to be by Justin Morgan." (emphasis mine)
I noticed today while rereading all the experts, that the description of Red Robin or Robin that is now passed on with the descriptions of her sire, resembles closely that of a Morgan born a decade later, Morgan Robin, by Sherman Morgan born in 1827, who was bright bay, legs white halfway to knee,  14 3/4 hands and 1000 lbs. Could some of those writers and pedigree compilers have mistaken the two Robins, and was her sire really a horse of unknown parentage and a grey? One of her parents had to be a grey. The dam line description is consistent.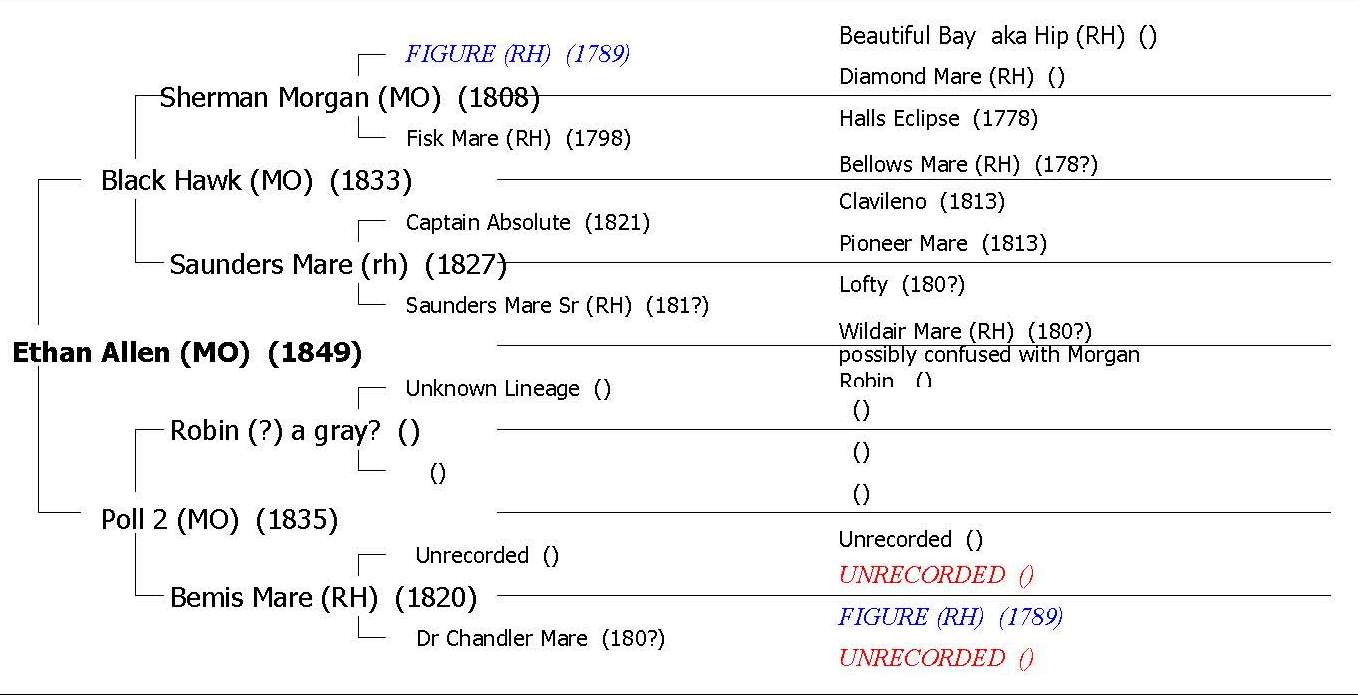 With these old pedigrees it is easy to confuse things, plus it was only about 1820 that the breeders in Vermont realized that the produce of Figure RH (Justin Morgan) were something special--a distinctive and valuable type, and it was only then those horses were beginning to be described as the Morgan Family. The registry opened in 1840 to gather all those descended from that special sire. Battell spent years trying to track down and identify the progeny of Figure RH. He did wonderful work on this project, but he did tend to get a little loose in adding horses to his list on scant proof, sometimes no more than 'said to resemble a Morgan'.
Poll MO, whatever her parentage, was a natural jumper and by all acounts a fine trotter. Jarade is in critical mass to the Ethan Allen type and genetics, and Jarade has immensely powerful damlines, his forward genetics all concentrated with a strong influence from the tough and talented government horses. 
Since this article was published Jane has passed from this earth, she is will be greatly missed.
References:
Battell, Joseph Morgan Horse Register 1894
Helm, Henry T. American Roadsters and Trotting Horses 1878
Hervey, John The American Trotter 1947
Kirsan, Kathleen Standardbred Sport Horses 2017
Owen, Mabel Names in Morgan Horse Pedigrees 1999
Wallace, John H. The Horse of America in His Derivation, History and Development 18987