The Versatile Tennessee Walker
"There is so much specialization in the horse world now that we are losing the type of horse that can do a bit of everything."(Craig Cameron, creator of the Extreme Cowboy Racing)
Craig is so right in his observation, our domestic breeds have been marginalized because of the modern 'show' culture. Once upon a time, our domestic breeds and their common ancestors could do it all. They could race, jump, surefootedly transverse difficult terrain, excel in saddle disciplines, pull a carriage, plow a field, ride to the hunt and compete in all manner of sports. Those bloodlines that gave those versatile talents are still there in our breeds including the Tennessee Walker, and you, the breeder, can identify and bring their talents back to your modern product.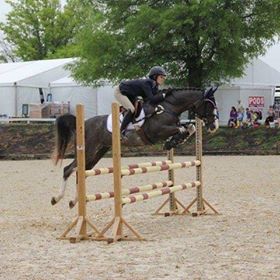 [Repeat the Beat, a full Tennessee Walker, that won championships in jumping and eventing. The Tennessee Walker is a natural jumper. Photo used by permission of Lisa Murray.]
So, why are we not seeing more Tennessee Walkers in our sports? Most competitors and breeders do not understand the breed and are unaware of its talents. And they are driven away by the very public show horse version, never realizing that the breed they are witnessing in such a strange flamboyant display arose from the highest quality sport genetics that exist, and is closely related not just to its sister breeds: the Saddlebred and Missouri Fox Trotter, but to the Standardbred, the greatest mid-gait racehorse in the world.
The un-enhanced Tennessee Walker, has a very nice four beat running walk, low and extended, with its hind legs reaching so far underneath they pass where the front foot was, a good canter, a counter canter and a gallop, and many of them also trot naturally. Their normal gaits are not high stepping movements, but are done with collection and smoothness. In its natural state the Walker is a lovely looking horse (think Long Ranger's Silver or Roy Roger's Trigger Jr.) most standing 15 to 16.3 hands, with a wide variety of coat colors and an outstanding sweet and willing temperament.
I will present the great Walker jumper and eventer Repeat the Beat (shown above), who after a long and winning career earned himself a Breyer model; and then mention a champion of the Extreme Cowboy Racing: Texan at the Ritiz and a new Western Dressage champion: Rowdy Spirit. I will attach their pedigrees to help us understand the modern bloodlines that transmit versatile sport ability. First, though, I will give you a primer on what exactly the Tennessee Walker is and how it came to be, because it will be through its history that you come to understand that it has always been a sport horse of the highest caliper.
Background Genetics
In order to understand the sport potential our domestic breeds carry in their genetics we need to know where and what they came from. The pedigrees I attach here will have breed labels you will not be used to seeing, as many ancestors in online databases, and references, have been inaccurately attributed to breeds they did not and in most cases could not be part of (time and place impossibilities). 
In our study for instance, the pedigree of the modern Walker foundation sire is Allan, a registered Standardbred, born in 1886, and is an example of the seemingly wide spread practice of labeling the ancestors of a breed as being of the breed itself. The Standardbred became a breed in 1879 when the trotting standard of 2:30 mile was set as the breed criteria (7 years before Allan was born). The Standardbred was a breed based on performance, rather then pedigree. Before 1879 the correct breed was the American Trotter, with a standard of 2:40 mile, and it contained trotters, Morgans, and other breeds that produced fast trotters. Pacers were not allowed into the studbook until 1891 (unless they were bred to be trotters--many were retrained to trot), so before that date they could not be Standardbreds, rather they were pacing Running Horses. If you pull up Allan's pedigree (online version) and compare it to my breed corrected version you will notice the differences. 
In Allan's online pedigree version first notice he is listed as a Tennessee Walker, that is not correct, he was registered as a Standardbred. Once again, this is this same strange practice of labeling a foundation sire as being of the breed which he helped develop. And the sloppy breed labeling continues because his grandparents Onward 1875 and Alma Mater 1872 are listed as Standardbreds, which is impossible because the breed did not exist until 1879, and they were registered American Trotters. Much of ancestry beyond that is inaccurately labeled as Standardbred as well, except for a few Thoroughbred lines. But even with the Thoroughbred ancestry there are breed errors as well. To be a Thoroughbred in that time frame, the horse must have at least 5 full generations of General Stud Book (English) registered stock...and the American Thoroughbred was not a breed until 1868 when it adopted the English rules for entry. So what breed were horses found in Allan like Gano 1835, whose parents were bred here in America and not found in the English studbook of the day, and what about those other labeled Thoroughbred that have (USA) in brackets? With the exception of a few like Sir Archy, who was 100% English Thoroughbred, most are American Running Horses, our original racehorse breed with some Thoroughbred added (see American Breed Development for an outline).
Here is another common error in these pedigrees: Canadian Pacers could not have been a breed until 1830 at the earliest, it just is not possible. So horses, like Old Pacing Pilot RH 1823, while surely a foundation of the future breed, are instead Running Horses, not Canadian Pacers. Just like Figure 1789, the foundation sire of the Morgan Horse, is not a Morgan rather he is a product of an earlier breed: American Running Horse.
In addition, many individual horses were misidentified until recent times, for instance, two that are crucial to the genetics of the Tennessee Walker: Copperbottom RH 1810, was not a Canadian Pacer, the breed did not exist then--not until 1830 at the earliest (sse Standardbred Sport Horses for the story of the Canadian Pacer), rather he was a foundation of the breed, and eventually it was discovered he was by Figure RH out of a Narragansett Pacer dam and was born in the States, not Canada. Although he was by Figure RH, he was born a decade before the Morgan breed existed also, and most importantly he was never entered into the 1840 register, and he was a racehorse, and he paced, so he is truly a Running Horse not a Morgan. It took Joseph Battell until 1909 to discover his true heritage and place of birth. The other is Tom Hal RH 1805, a Maryland bred Running Horse, whose true origin was not cleared up until MacKay-Smith laid out the evidence in Colonial Quarter Race Horses (1983), before that we were led to believe he was a Canadian Pacer,  yet born decades before that breed began. Most modern web articles and breed histories still have the incorrect information in place.
The original foundation sire of the Tennessee Horse was Bald Stockings RH by Tom Hal RH out of a Copperbottom mare...both Tom Hal RH and Copperbottom RH were celebrated racers, fast and stamina loaded.
A significant confusion for our study here is the Saddlebred, a true sister breed of the Walker, but it did not become of its own until the parent breed, the American Saddle Horse, broke up into its regional components in 1935: the Tennessee Walker, Missouri Fox Trotter and the Saddlebred. The Saddlebred kept the original studbook however which adds to the confusion; nonetheless, until the divisions of the breed split up and formed separate registries they were all American Saddle Horses, a breed first developed in Virginia around 1800 and established as a breed by its first performance test demonstrated in a horse show in Kentucky in 1817. The American Saddle Horse went by many names: the Kentucky Saddler, Plantation Horse etc. So the ancestries that may be attributed to Saddlebreds in the Walker histories and in pedigrees online are most often instead the common parent breed: the American Saddle Horse. Gaines Denmark who became the sole foundation sire of the Saddlebred after many years, he too was not a Saddlebred, he was a American Saddle Horse, and his line is found not only in the Saddlebred, but in the Walker and Standardbred as well. I have done my best to correct the breed labels in all the pedigrees presented here. 
(Read an outline of our breed histories in American Running Horse, American Breed Development and a detailed account in part I of Standardbred Sport Horses ).
My aim is to alert the breeder and competitor of the advantages found in the Tennessee Walker, so they realize what this breed contains and how it can benefit their programs. 
The Tennessee Horse was always a sport horse, and so versatile it could also be used for light utility, but chiefly it was cherished for its speed, stamina, courage, smooth gaits, willing temperament and beauty. 
Around 1800 the Tennessee area was settled by farmers and gentry with huge land grants. Pacing Running Horses, Thoroughbreds and Saddle Horses were raised with passion, and most estates had their own race track to test their stock. The whole area quickly became famous for the quality of its horses.
The famed trainer of trotters and pacers, Ed Geers, had this to say about the origin of the Tennessee Horse: "...imported from Kentucky a number of highly bred pacing and saddle animals, and these being crossed with the thoroughbreds gave to the people of the State the foundation stock of the great family of pacers which have made of Tennessee a household word whatever the pacing and saddle horse is appreciated." (1901, p. 9). Geers grew up in the 1800s in Tennessee, and trained, raced, hunted and drove many of the horses we find in the background of both the Tennessee Walker and the Standardbred.
So, here we have the base stock of the early 1800s that gave rise to the Walker: Thoroughbred (like Timoleon, Sir Archy, Whip) and galloping Running Horses (like Boston RH, Stump the Dealer RH, Denmark RH), and pacers (like Old Pacing Pilot RH, Davy Crockett CP, Tom Hal RH, Cockspur RH and Copperbottom RH). Most farms had their own racetrack, and fox hunting was part of their culture, and saddlehorses were created by crossing pacing Running Horses with Thoroughbreds or galloping Running Horses.
When the Civil War broke out (1861-1865) Tennessee remained with the South and Kentucky with the Union. Tennessee was hit very hard; the warring decimated the former plantations and the horse industry. The Confederate cavalry  preferred the fine saddle horses bred there and in Kentucky for their mounts because they were sound and resilient, out lasting other cavalry stock. For instance, McMeen's Traveller RH, a horse found often in the background of the Walker, was so prized by General Nathan Forrest, that he purchased 47 of his offspring  to mount his troops (at his own expense). McMeens Traveller served and then died during the war from wounds inflicted by Union guerillas.
Other famous Tennessee bred horses in the war were Baldy, ridden by General Meade in the battles of Fredricksburg, Chansellorsville and Gettysburg, wounded terribly several times; yet he recovered each time and retired to the General's stable after the conflict. 
Stonewall Jackson's favorite mount was Old Sorrell, another Tennessee bred saddle horse, and even General Grant was charmed by the Tennessee bred pacer Jeff Davis who was captured at Vicksburg whom he referred to as as his little black pony. During the war the Union ravished the farms, buildings, and remaining livestock of the South often burning the farms to the ground and stealing or slaughtering the livestock. Tennessee was left a wasteland. (See Standardbred Sport Horses for a full history of these breeds.)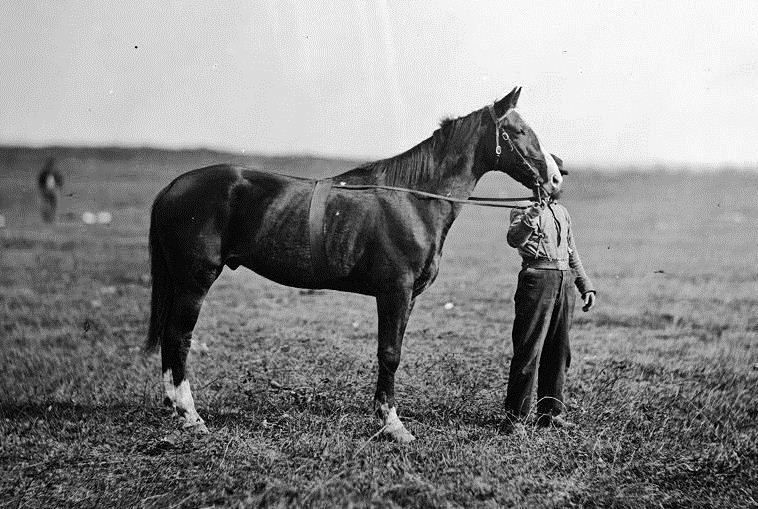 [Baldy, General Meade's favorite charger was terribly wounded three times during the Civil War battles, but miraculously recovered each time to carry his master again and again into the fray. He was a Tennessee bred saddle horse, the type that the Walker arose from.]
It was from the horses that survived the war and were re-gathered that the champions of both the Standardbbred and the Tennessee Walker emerged. Although the former racing practices were sidelined because all the tracks in Tennessee had been destroyed and the trotter industry would not permit pacers to race on their tracks until 1879, yet the pacers did not lose their speed. Many of the talented pacing racers that survived the war were used in the production of saddlehorses and utility horses rather than racers, no matter their speed. Nor were they allowed into the Standard Register until 1891. So it was that great racers and producers of champion racers like Brown Hal RH, were known first as saddlehorses and Hunt Horses, that were occasionally raced under saddle, not harness. Brown Hal RH is a strong line in both the Standardbred and the Walker.
As I mentioned above, the Tennesseans were enthusiastic participants in the hunts, and many of the horses you will find in extended Walker and Standardbred pedigrees were documented fox hunters (the horses in italics below are ones I found in extending the pedigrees of my current sport horse examples.)
"Fox hunting is a custom common to most of the of the Southern States, and I know of no sport more enjoyable or exhilarating, not even as exciting horse race;  and I have spent many happy hours in this enjoyable pastime. Many of the prominent residents of these States own packs of hounds, and when a fox hunt is desired, frequently several neighbors will assemble together, when the host  will produce a fox horn, blow a blast or two, and the hounds will come running and baying from all directions, ready and eager for the chase. Then mounted on saddle horses, the hunters with the hounds start for some locality where the red fox is supposed to have his domicile, and when that territory is reached the fun commences. When the dogs strike the trail there is no mistaking that fact, as the deep, rich voices can be heard for miles, and, as soon as they indicate the direction which the fox is heading, the hunters start at breakneck speed and endeavor to keep within hailing distance of the hounds. These hunts are often held at night when it is so dark that the hunters can scarcely see ten feet ahead, and the course pursued by the fox frequently requires  them to ride through the woods, over fences and ditches, logs and rocks, up and down hills so steep, that serious injury seems to await both horses and riders; but these hunters are fearless, and experts in the saddle, and the horses are surefooted and courageous, and seem to enter into the spirit of the chase with as much enthusiasm as the riders, and accidents of any consequence rarely happen...The horses ridden upon these occasions in Tennessee embrace the best and speediest that State has produced. Tom, Hal, Clipper, Brooks, Mattie Hunter, Little Brown Jug, Joe Braden, Joe Bowers, Brown Hal, Hal Pointer, Bay Tom,  Duplex, Locomotive, and Mountain Slasher have all participated in these hunts and contributed to the enjoyment of their owners." (Ed Geers's Experience with Trotter and Pacers,1901, p. 39-40)
So I must say, I just don't understand how the modern narrative has become that these horses are not fit for 'Olympic style sport', as you can see they have always been a fearless cross country horses, agile jumpers, full of stamina and speed,  and of course they have always excelled in saddle disciplines. We are blessed to find some competitors out there today, who have realized what a sport machine they possess, and have got them out there for us to enjoy. We will look at a few of these modern sport horses of excellence and see what they are dominant in to discover just which lines are producing such versatile excellence today. 
Pedigree Analysis
Repeat the Beat- champion jumper and eventer
So, here we have a natural jumper, Repeat the Beat 1999, known to his friends as Pete, bred by Harvey F. Carlson. It took a while to discover his niche, says his owner Lisa Murray, a lifelong horse woman, and a promoter of the breed. Lisa has brought along eight Tennessee Walkers in open competitions, often in Hunters, and so she knows they have a jump. She admires their powerful hind end, their flexibility in lead changes and most of all their great minds. But Pete was special; he could be hot and unpredictable, but also 'goofy', traits Lisa says came down from his sire The Pusher, who gave him the grit and competitive edge to want to succeed, plus his unusual coloring--black roan.
[Repeat the Beat, trotting right along, a gait some think Walkers can't do. Photo courtesy of Lisa Murray]
Once Lisa discovered he loved to jump his career blossomed. He enjoyed fox hunting, and did well in eventing, struggling a little in the dressage section, but always going clear in the jumping and cross country phases. Lisa taught Pete to trot on cue and so he succeeded in the dressage phase; he can both trot and pace.
But it was in jumpers that Pete really shined, and he could clear 4' easily, always going clear. Pete was a very precise jumper, and being handy he could make the quick turns that save time, and he won many challenges in open competitions, most spectators having no idea what breed he was. During his winning career he was ridden by a number of talented young riders: Mawghan McCabe (hunters), Victoria Bennett Gomez (hunter-jumper), Lydia Whitlow Fisher (hunter-jumper), Rebecca Hawes (jumper), Ashley Jones and Rachel Norton (eventing, University of Kentucky team), he retired at 18. He was the only Tennessee Walker that has been invited to exhibit at the Rolex 3-day event in Lexington, which he did in 2017.
Pete's career came to the notice of the Breyer Company, who create and market models of famous and notable horses. In 2017 they produced Pete's Breyer model, and Pete charmed the crowds for three days at the Breyerfest, standing for hundreds of children, hamming it up, loving the attention. Lisa says he has always loved children.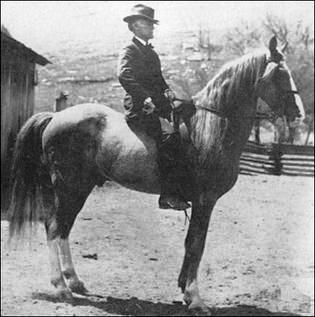 [Roan Allen, one of the typesetters of the modern Tennessee Walker. James Brantley, his breeder in the saddle.]
So what are the genetics giving Pete his unique talents? I was surprised when I did a 10-generation evaluation, that Pete, although heavily dominated in the front of his pedigree by the greats: Midnight Sun and Merry Boy, but it turned out his greatest potency is their common ancestor Alan ST 1886, the modern foundation sire of the Walker. Basically then, Pete is a throw back to Alan ST (121 lines). 
Alan ST was bred to be a trotting harness racer but his early owners all gave up on him because his natural mid-gait was a pace. He did have an excellent 4-beat running walk however, described as a smooth gliding motion, and that caught the eye of the saddle horse breeder James Brantley. Brantley used him as his foundation sire, and when he bred him to his saddle mare Gertrude he got the exceptional breed typesetter Roan Allen 1904. Roan Allen was special from the beginning; he had 7 distinct gaits, including three trots: square trot, fox trot and fox walk. He had an impressive overstride of 35-40 inches, and in Pete we find there are 62 lines of him in the 7th-10 generation.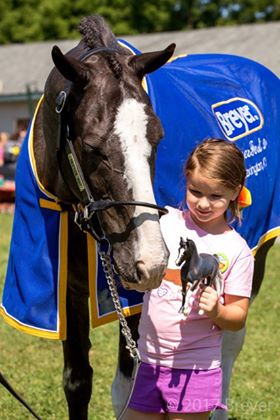 [Here is Pete hamming it up at Breyerfest with one of his adoring fans who is holding Pete's Breyer likeness. Photo courtesy of Lisa Murray]
Allan, whose breeders were unhappy with his gaits, came by them honestly as he carries the gaited Mambrino Patchen ST and the inbred Ben Franklin MO who carries Sherman Morgan, identified as a 'racker' (out of a Narragansett mare) 4x4x4. Roan Allen's dam brought in strength in the original Tennessee Horse foundation lines of Bald Stockings RH, Davey Crockett CP, Brown Pilot RH, and Copperbottom RH. The combination made a double of Gaines Denmark 5x6, who later would go on to become the foundation sire of the Saddlebred. Roan Allen was the sire of Merry Boy, who Pete has 17 lines in the 6th through 9th generation, and he is grandsire of Midnight Sun, the second strongest dominance in Pete, with 18 lines in the 8th through the 10th. As you can see this is an exceedingly tight gene pool, in the best bloodlines from the Saddle Horse, pacing Running Horse and the American Trotter. All of these bloodlines have a jump in them, and the saddle horses of Kentucky and Tennessee (as well as the Canadian Pacer) were noted as possessing such great collection that they could jump 4' from a standstill!
"His horse, when he jumps at all, does not take fences in his stride, but standing. And I have yet to see anything more graceful than the slow rear, the calculating poise, the leap wholly from the hind feet, and the quick, high gather to clear fence,. It is not impossible to find a horse that will feel for the top rail with his knees, and if they are not high enough, he will lift them higher before making his leap." (John Fox Jr. 1895)
When looking at the modern saddle breeds, such as these, we see an extreme type achieved by selective breeding to attain dominance in a particular variation of the pacing gait (Running Walk, Fox Trot, Amble etc.). For sport horse breeders we should see past this, and recognize that these breeds arise from the greatest sport genetics in the world. And because they are so tightly bred, they are perfect for cross breeding. 
 I will give you a couple of other examples below with their pedigree link, so we can see that the potent bloodlines found in Pete, also are powering some other versatile performers.
Texan at the Ritz, champion Cowboy Extreme Racing
Texan at the Ritz 2007, ridden by Tracy Pinson (bred and trained by Darley Oaks Stables, Florida), won the Extreme Cowboy Race world championship in 2013. What the heck is Extreme Cowboy Racing?
"Extreme Cowboy Racing is an event in which horses and riders compete over a timed trail course--one that features obstacles and tasks beyond those found in traditional show pen trail courses."(Jennifer ban Geldren 2019). This fun new sport was created by Craig Cameron in 2002 to showcase versatile talents. The horses go through water, jump obstacles, cross bridges etc., and time faults can accrue. Sounds a little like cross country to me, another sport that challenges a horse's stamina, speed and versatility.  
This resilient horse's greatest potency is in Midnight Sun with 21 lines in the 5th though 8th, critical mass. Breeders often worry about tight breeding, thinking they will get defects if they breed too close and tight. But here we are with two examples that show it is more about the quality of the bloodline then the concentration. And my next example has even more intense inbreeding yet succeeds at high levels. 
[Midnight Sun TWH--one of the greatest sport horse sires of the century, try to ignore the artificially set tail and take a good look at his conformation. His shoulder angle, his hip, short coupling and strong correct legs, he is surely a prime jumper type, absolutely high quality.]
Rowdy Spirit, champion Western Dressage
Rowdy Spirit 2012, caught my eye when I visited the National Walking Horse Association site as he and his rider have won several recent dressage contests, mostly in Adult Western Dressage, and was named their Dressage Horse of the Year 2018. His sire is extremely inbred, being 1x1 to 3/4 siblings, and then in Rowdy his 3rd sire and 2nd damsire are 3/4 related also. This is a very concentrated type, and once again it is the same components as the other two examples, with Midnight Sun 14 lines in the 4th through 7th generation ruling the genetics.
What was Midnight Sun made of that his excellent genotype can stand up to repeated inbreeding and tight linebreeding and still produce champions? He is inbred 3x3x4 Allan ST (overriding genetic power in Pete above), with secondary strengths in Mountain Slasher RH and Kittrells Tom Hal RH (Copperbottom RH, Tom Hal RH, TB). Allan ST, was racing bred, Copperbottom RH, Tom Hal RH and of course the Thoroughbred are all racing bred, which means this saddle breed, used mainly for show is in fact a first class sport horse,  and like its components able to excel in all manner of equine sport. And those in the know are enjoying them in a wide variety of sports, just like their ancestors were joyfully employed.
Watch a video of Midnight Sun performing the running walk and canter. He has the mechanically 'set' tail, but it appears his career was before the torturous front leg treatments were being used. You can see then the true, unimpaired 4-beat running walk and his lovely rocking chair canter. His conformation is a great type for sport: short backed, high neck set, correct legs, powerful hind end...he should be able to pop over anything. Midnight Sun is one of the greatest sires of the century.
References
Anderson, James Douglas, Making the American Thoroughbred--Especially in Tennessee 1800-1845. 1916
American Saddle Horse Breeder's Register 1891, 1911
Battell, Joseph American Stallion Register vol. I-III 1909-1913
Fox, John Jr. "Fox Hunting in Kentucky"  1895
Friends of Sound Horses www.fosh.info
Geers, Edward F. Ed. Geers' Experience with Trotters and Pacers, 1901
Green, Ben A. Biography of the Tennessee Walking Horse 1960, revised 1995
Kirsan, Kathleen  North American Sport Horse Breeder 2013, Standardbred Sport Horses 2017, www.sport-horse-breeder.com: "American Breed Development", "American Running Horse series", "Gait Keeper Gene"
MacKay-Smith, Alexander Colonial Quarter Race Horse 1983
Murray, Lisa correspondence via Messenger and email
National Walking Horse Association, https://www.nwha.com
Tennessee Walking Horse Association, https:twhbea.com
The Walking Horse World "Texan at the Ritz and Tracy Pinson" 2013
Von Geldren, Jennifer "Extreme Cowboy Racing" 5/20/2019, updated 7/17/2019
Wallace, John H. American Horse in its Derivation, History and Development 1897
Wikipedia "Soring"
Womack, Bob The Echo of Hoofbeats: a history of the Tennessee Walking Horse 1973
www.WalkersWest.com
Links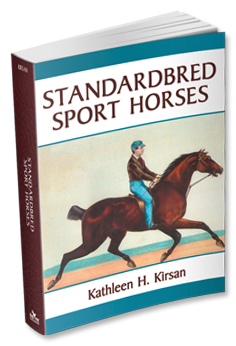 Standardbred Sport Horses---available at online booksellers everywhere, it contains the American sport breeds history from colonial times through the Civil War