Primavera Valdez
-old style Morgan stallion with critical mass-
When I saw the pedigree of this stallion I was blown away, it is an incredible example of both critical mass and the old style Morgan from the government program. Even with him being a champion in open competition in reining which was not quite the discipline I was looking for, I could not ignore him. With this genetic map Valdez would have been a champion in whatever sport he was placed in.
(American breeds all arose from a common sport horse base therefore no matter which discipline we are using them in or breeding for they will always have aptitude in performance and/or in breeding for a wide spectrum of sports--our breeds are sport from the onset, not draft or coach with continual infusions of racehorse to make them sporting, no, they are sporting down to their roots.)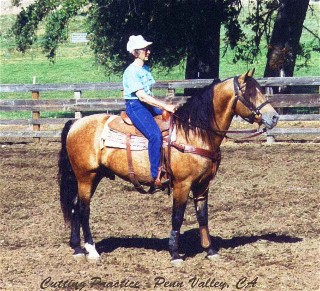 [The pictures of Primavera Valdez MO and his son Primavera Brio MO are under copyright and are used here by permission.]
This recently deceased stallion was owned by Carol Simpson, and bred by Dick Nelsen of Polk, Ohio. He is the embodiment of the old style Morgan, a tough, stamina loaded, sweet tempered versatile light horse. He was a champion reining horse being the first and so far the only Morgan to be placed on the Honor Roll by the National Reining Association. Carol says she was able to do anything with him, whatever she or her trainer would ask, he was willing and able. (In the photo to the left Carol and Valdez are participating in a cutting class).

Carol is a real life cowgirl- riding stock horses and working cattle in Northern California from the time she was a child. Carol is one of the founders of the California Cow Horse Association and the Morgan International Cow Horse Association.

Carol found Valdez while she was searching for a good Quarter Horse at a stock sale in 1982. Over the years Valdez was seen in open stock horse competitions and he thereby introduced many to the versatile talent that can be found in the Morgan Horse and the quality that is in the Western Working family of Morgans. While some of the other branches of Morgan may have succumbed to the allure of the show ring and bred to produce a flashier version of the Morgan, the breeders in the West valued and preserved the traits of the old style Morgan Horse.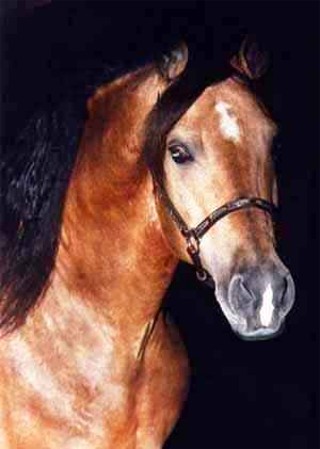 Primavera Valdez MO is a remarkable stallion for a number of reasons. His temperament is such that he was able to become a teaching aid to the veterinary students at UC Davis, where he allowed the students to learn hands-on the AI procedures and how to handle a stallion. His sweet gentle disposition endeared him to staff and students alike.

He is outstanding for his color as he is a rare Buckskin Morgan, which also earned him the Grand Champion title for the American Buckskin Registry. And as for his sport career, he is so talented that he won in open reining contests among top Quarter Horses. He has excelled at cattle work, cutting, reining and whatever else was asked of him. He is the embodiment of the same traits that made the Morgan Horse the most valued family horse of the mid-1800s, a horse that could do any job from plowing to racing and would willing and lovingly perform for any person--adult or child. These are also the attributes that made the Morgan a top choice in our Cavalry Remount program.

For those sport horse breeders that are thinking this is a western discipline rather than an Olympic sport horse resource--you should known that Valdez's offspring are out there winning at both dressage and eventing. This is the thing with the old style Morgan- they are VERSATILE!

The strongest genetic ingredient in Primavera Valdez's pedigree. is Gay Mac MO, a product of the United States Department of Agriculture breeding program at the Vermont Morgan farm. An excellent dark bay Morgan of 15.2 hands/1130lbs, whose progeny were all a consistent type, well conformed horses with wonderful dispositions. He is here 4x4x4x3 through two lines of a son Ro Mac MO and of his 3/4 genetic sister Gay Berta MO who sits on both dam lines. For a stallion this is immense genetic power and consistency, and it would guarantee that Valdez would be a strong typesetter.

The second most powerful individual is General Gates MO 1894 of whom there are nineteen sex-balanced lines in ten generations (critical mass). Bred by Colonel Battell and donated to the government program- along with his entire farm, this stallion was chosen as the first cavalry stud. The government was looking for the best domestic cavalry resource and found that the Morgan Horse overall was a great candidate. For except for its lack of height and its low wither--a result of one-hundred years of harness breeding, it had all the qualities they were looking for.

General Gates MO fit the bill in type and also was attractive to the selectors because he carried some Thoroughbred blood. General Gates pedigree. To help build in height and saddle horse traits the government advertised for a specific type of mare, and they ended up selecting five grade Morgan mares that were taller and had more saddle horse form and also two American Saddle Horse mares each of which already had some Morgan bloodlines (Our early breeds all carried some common lines). One of these Saddle mares became the dam of the foundation sire Bennington MO.

However, the government choices caused a protest from the Morgan breeders--they were outraged that this 'mongrel blood' was chosen over the pure-breds. It was hardly a surprising reaction when you consider how many of the best Morgan bloodlines disappeared into other developing breeds in the 1800s--the fast trotters into the American Trotter, the good saddle horses into the American Saddle Horse, and many others into the emerging Quarter Horse. So it was a perceived insult to the loyal Morgan breeders who had managed to hold on and keep the breed alive. For instance, one of the first American Trotter stallions to enter the English and European studbooks was Sheperd F Knapp MO (1857), who was largely of Morgan blood (inbred to Sherman Morgan), he is found consistently today in the background of the Selle Francais, Hackney and French Trotter.

But it turned out that the government had the right idea after all, for the descendants of this project have proved to be the best of the breed. The government selection process set very high standards, which included a rigorous selection based on type and performance and they employed ruthless culling. The result was not only a cavalry horse of excellent quality, tremendous stamina and soundness, but a pre-potent source of sport stock for us today.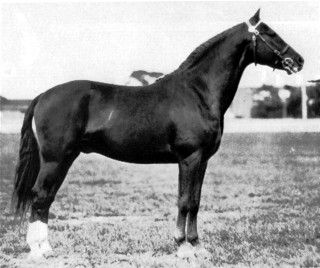 It was General Gates' son Bennington, out of one of the American Saddle Horse mares, that succeeded his sire as the top stallion. This too caused an uproar. But when Bennington's genetics combined with a inbred traditional Morgan mare named Artemisia, the progeny were of such a high quality that they have been called the 'golden cross' ever since (pedigree). They produced six offspring together: Mansfield MO, Querido MO (both found in Valdez) and Ulysses MO, Canfield MO, plus there were two daughters- Willys MO and Redfern MO. All of these individuals produced many offspring and thereby have provided the modern sport horse breeders with a gold mine of full sibling options. We know now that building in full siblings to our pedigree designs is the single strongest genetic power we can create. (photo: Mansfield).

The pedigree of these full siblings can be instructive to us as an example of how to make use of our closely bred stock (Artemisia MO) with a horse bringing in new bloodlines. Notice how Bennington's top line brings in the sex balance for the Ethan Allen MO lines behind her front inbreeding. He also carries 3 lines of Black Hawk MO and 3 lines of Copperbottom RH, 2 of those via Bald Stockings RH. And the double of the American Saddle Horse Queen on the dam line is a huge plus, as she is one of the most important taproot mares of our Saddle breeds.

This then is the backbone of Valdez as he carries ten sex-balanced lines of the full brothers Mansfield MO and Querido MO. It is reinforced by the close relatives from General Gates MO other sons and daughters that are present, and then it is funneled forward to the front to the pedigree through the 3/4 related brother and sister: Ro Mac MO and Gay Berta MO, this is surely an example of 'critical mass'. (photo: Querido).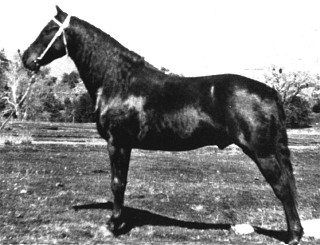 There is some complexity brought in through he western developed lines of Headlight Morgan and Texas Allen, which opens up line breeding opportunities for future development.

So with a few exceptions Valdez is a modern day example of the very best produce of the government breeding program. Let that sink in. The government breeding program strictly culled their stock based on a performance standard that is more demanding than I have ever seen in any other breeding society. The horses were required to perform correctly in basic riding skills (dressage) as well as in show jumping, a cross-country test and then they had to finish a three-hundred mile endurance ride and come in sound. The horses that didn't make the grade were removed from the program. And what we see here were the best progenitors of those horses.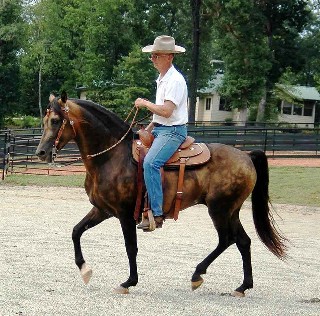 Sadly, this great horse is now deceased. However there are many of his descendants out there for you to find. One notable stallion son is Primavera Brio MO.

Primavera Brio MO is owned by John and Joyce Hutcheson of Gab Creek Farm in Georgia. John spent his childhood working with ranch herds, mainly Quarter Horse bred horses, later he became enamored with the Morgan as a superb cattle working type in the old style mold, that is a short coupled mount with bone and substance. He wasn't looking for "color", but chose Brio because of his conformation. John is a skilled rider and trainer of the Vaquero method which is where the horse is systematically trained to be light and responsive. This is what is called riding "on the bridle" and is sometimes now called 'cowboy dressage'. By the way, if you are thinking- "gee, that horse looks really small", it may help your perspective to know that John is 6'4".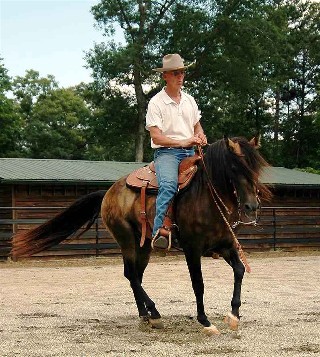 As you can see this apple did not fall far from Valdez's tree. As a young stallion with just 7 months of training, Brio placed againts the big boys in the Grand National contest held in Oklahoma City. John then took his young horse home and has continued his training there in Georgia, finding his horse incredibly balanced with smooth comfortable gaits. As you can see this horse has what it takes naturally for any form of dressage- cowboy or Olympic style.

What was added to Valdez's genetics ( pedigree) to build this extremely balanced and supple horse?

Right away we see more lines of Mansfield MO, and this time there is a daughter added: Lady Field. And down in the dam quadrant is a sister for Gay Berta MO on the sire's damlines: Gayselba MO, making a strong filly factor that strengthens the dam lines and the Mitochondrial DNA. There is also more of the golden cross as there are lines of Ulysses MO and even one of Canfield MO; in total in ten generations there are nineteen lines of the golden cross: ten Mansfield, four Querido, four Ulyssess and one Canfield. And they can look forward to finding one of the full sister lines in mares for a broader genetic bonus, those lines are out there. In those same ten generations the General Gates MO presence has grown now to thirty-seven lines! With more Jubilee King MO and Knox Morgan  MO lines they now become significant builders of complexity. This young stallion will be a typesetter just like his dad--of the best that the old style Morgan has to offer.

John and Joyce also now have a young stallion son of Brio who is a lovely palamino color, and he too was carefully bred from an old style Morgan mare. These sturdy supple horses are just the thing to deliver the collection and personality that you desire.


Learn more about Primavera Brio and his son.

Return to Morgan Horse page.