Thoroughbred
The Importance of the Thoroughbred in
Warmblood and Sport Horse Breeding
The Thoroughbred (or other racehorse) genetic contribution is essential for our sport horse success. Our sport horses are usually not pure-bred, but instead are a combination of several different breeds brought together in the effort to produce an exceptional equine athlete that can succeed at Olympic style sport of Jumping, Dressage or Eventing. See Sport Horse Recipe for the most commonly found ingredients.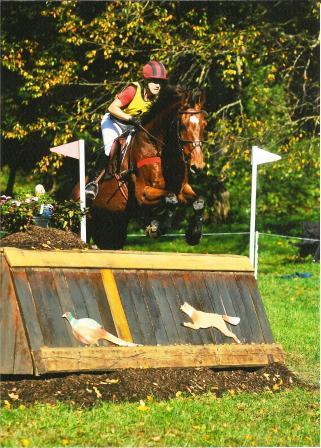 [Aqua Tom and Helen Hayn, a team with several National titles, have moved up to Intermediate level. Tom is 5/8 Tb and 3/8 Holstein.]


It is time for some plain talk. I may lose a portion of my readers at this point, but if you press on you will discover some interesting and relevant facts about the Thoroughbred and its value to our sport horse goals. We cannot afford to be misled any longer; thirty years after the 'warmblood' invasion into America we still find it is our original sport horse- the Hunter Horse that is winning (racehorse based sport horse). We may not call those horses Hunters anymore, but that is what our modern 'warmblood' and 'sport horse' are, and it is a sport horse we have selectively bred in this country for 300 years (since 1700).

Today, the horses at the top of the sport horse leader boards whether they have a warmblood brand on their hip or not, are consistent for containing Thoroughbred blood with varying amounts of other breeds (a Hunter) - it is the Thoroughbred that is the constant in Olympic style sport horse success, not the warmblood.

What is the Tb? First and foremost it is a racehorse of the highest excellence- a galloper- its speed at the gallop is unmatched by any other breed. The Tb is also a magnificent polo horse, a steeplechaser and Hunter Horse, full or part-bred, and it also now excels at the more modern Olympic style sports. Further, it is an 'improver' for just about any other equine breed that needs an injection of athleticism, style or speed, and the proof of this is most other breed studbooks -even if closed studbooks (pure-breds) will allow Tbs also.

This makes it all the more confusing when we find the continuing resistance and truly an anti-Tb culture in the warmblood circles. Having been a participant in the warmblood fad in this country I can say from personal experience that the inclusion of the Thoroughbred in the breeding inspections was grudging and they were looked upon as a lesser animal. I heard comments as 'not more than 20%', or 'it is better if they are 2 or 3 generations back' - and the American Tb was barely tolerated: 'sprint only', 'built downhill', 'not proper saddle-horse conformation' were comments I heard continually in the 1990s, the Tb especially the American Tb was treated like something that smelled bad.

Yet the facts don't support these prejudices. The Thoroughbred- full or part-bred, has been a top Olympic style competitor since the 1912 Olympics when 'team equestrian' was begun. And even in modern times, the Tb still dominates the standings of top equine athletes. I found that in this country 80% of the Show Jumping Hall of Fame Inductees are full Tb. Even in the Dressage stars of the USDF Hall of Fame, of which there are only 6 Inductees, however 25% of the bloodlines are Tb. Eventing of course is dominated by Thoroughbred bloodlines: 45% full Tb, 50% Tb/Irish, 5% Tb/Standardbred. So the facts do not support the attitude.

Here, check for yourself: US Show Jumping Hall of Fame Inductees , USDF Hall of Fame Inductees, USCTA Hall of Fame Inductees.


But those are American standings, what about Europe? The recent DNA evaluation of the Hanoverian Horse, which is the most popular of the Warmblood breeds worldwide, is 35% Thoroughbred in the general population and 39% Tb in the stallions. That is a huge amount of another breed, and it did not get there by accident- the warmblood, a breed derived from coach and light agricultural stock, will revert back to 'type' without periodic infusions of more athletic breeds.

So there appears to be some hypocrisy present in the psyche of the sport horse producers, as there is a strong love-hate relationship with the Thoroughbred horse. The Thoroughbred is needed for the athleticism, elegance and style it delivers but is despised for the temperament issues it may bring along for the ride. Anyone who has ridden Tbs can attest that some of them can be high-strung. We find with some Thoroughbreds that if there is excitement in the sport that it plays upon their sensitive and high tuned systems, and sometimes that translates into a animal that may be to hard to control. And that is something that comes along the genetic trail with the speed and stamina, some of them have a cranked up disposition, although many do not. This is not something new- the sport horse breeders of the early 1800s in this country were complaining about this same element. However some Tbs are bombproof and forgiving and they always deliver courage and brilliance. And like most traits in the gene pool, intelligent selective breeding should provide the remedy for this. It is we, the breeders, which need to take this concentrated sport resource and make the most of it.

Now, let me touch on some of the other criticism, such as the "American Thoroughbred is built downhill because it is a sprinter". This is one that I have heard in the past it repeated like rote, and still do today, but that is just it, people are just repeating what they were told without proper evaluation, so this assessment may be just one more example of our collective lack of knowledge.
There is a trait for massive high hindquarters that is strong in the Thoroughbred. But it was the powerful early distance racing typesetter -the Godolphin Arabian who has been identified as the source of this distinctive trait. (The Godolphin Arabian is not an arabian, he is a Turcoman Horse). Usually however the high withers of the Thoroughbred, which is an equally present attribute, not only sets saddle position but produces a more uphill frame.

The Thoroughbred is a saddle racehorse- not harness, and is renowned for imparting a good wither and saddle position on the coach stock of Europe.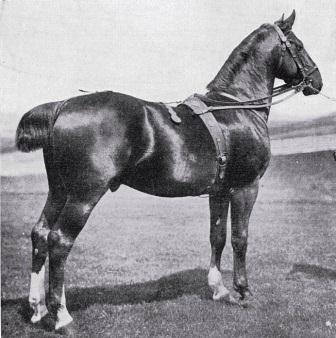 [The German Coach Horse- precursor to the sport type warmblood @1910]


Speed horses often have a slightly straighter shoulder than a stamina racer, but so do most of the top show jumpers. Perhaps the myth of high massive hindquarters and a downhill frame got placed on the American strains, not by observation but by its association with its cousin the Quarter Horse, a breed that often has lower withers along with the high power hindend- a trait produced by Printer 1795, and part of the famous 'bull dog' frame in strains. (Note- not all QHs are conformed this way, for instance the roping and reining strains have perfect riding horse conformation).

It is horses that have been bred for harness (coach and carriage horses) that usually are the breeds that have a lower wither than a saddle horse, it is just selection, the harness works better this way. I guess we need to be reminded then that the majority of the warmblood breeds we reverance so much were in fact from coach horse stock, and before that farm horse stock. The low wither is part and parcel of those breeds, and was only improved with vast importations of the Thoroughbred and Hunter stock starting in the 1800s and continuing to this day. The critics of the Tb as breeding stock, especially the American Tb, are in my experience intent on promoting the heavier breeds of European Warmblood as superior Olympic style sport horse material. But the facts do not support this judgement, the only place where the European Warmblood has actually proven this case is in Olympic style Dressage, which often requires a slower more controlled mount. In 'modern' warmblood breeding the breeders discovered that they needed more Thoroughbred to compete successfully at the highest levels in show jumping and of course eventing- and even then they heavily and successfully campaigned to revise the cross country test in eventing to more suit their slower and less athletic breeds (steeplechase portion removed).

Now on the subject of the much maligned American Thoroughbred and its supposed sprinter bent (American Thoroughbred), taking a look at the chef-de-race listing may help you get some true perspective, because once again the facts do not support the anti-American-bred Thoroughbred bias.

The Chef-de-Race list is a tool used by the Thoroughbred racing industry to classify and identify the sires whose offspring dominate the difference race lengths. The Brilliant and Intermediate columns are the premier sprinter sires. The Classic column is of course those sires that produce the best classic race winners. But the last two columns- Stout and Professional- are the stamina sires- the producers of stayers. Of those 76 premier stayer sires 19 are American-breds- that is an even 25% of the best stayer sirelines in the world are American Thoroughbreds. But that isn't all, the only countries that produce more stayers are England (22) and France (27). Here are the American-breds that have made this exclusive list in the stamina catagories: Chiefs Crown, Creme dela Creme, Kingmambo, Pia Star, Sadlers Wells, Niniski, Run the Gantlet, Tom Rolfe, Discovery, Fair Play, Man O'War, Mill Reef, Stage Door Johnny, Round Table, Rainbow Quest, Nodouble and Graustark. I found 1 Canadian-bred- Nijinksy, but surprisingly there are no New Zealand, no Australian, 2 Italian (Tesio) and only 3 Irish and 3 German. Don't take my word for it- check it out for yourself. We have all been taught the New Zealand, the Irish, the Australian and of course the German Thoroughbred are the best sources of stayers- and that those are the strains we should only be using in sport horse breeding. It is time for the American breeders to wake-up, and accept the fact that you may have been conned. For it is no contest- America produces far more stamina bloodlines than all those Irish, Australian, New Zealand, Italian and German strains combined!

On the other side of this issue you would think that there is something really negative in sprinter bloodlines- that we the sport horse breeders should be avoiding them like the plague. Maybe then in the sport of eventing, where they have to gallop long distances this possibly could be a valid concern. (Although if that was the case why would we ever use the slower warmbloods at all?).You want a horse with stamina- one who will not tire. Sprint sources have traditionally been providers of impulsion, and many great jumpers have strong sprinter bloodlines as that ability to push off the hind quarter is a help- we all want our jumpers to have great lift-off. Perhaps what we should really be looking for is a horse that excels at all distances, that has the acceleration of a sprinter, but the wind of a stayer, who can cut seconds off the time in a jump off, but still be able to go the distance in cross country.

Even the great Tesio came to the realization that he needed some sprint-speed lines in his program. In the beginning of his project he would only look for stout or professional type sires, but eventually he came to understand that the sprint lines are essential for speed at all distances. When he used the French-bred sprinter Havresac II with his staying mare Catnip he produced Nogara and then he used the Phalaris son Pharos, a sire of speed horses, to be her mate- the result was Nearco.
The Nearco son Nasrullah is rated the #1 sport horse sireline in North America by Peter Birdsall, not just has a hunter/jumper sire, but also in eventing and most surprisingly in dressage, and Nasrullah is considered a sprinter sireline in racing.

As breeders that aspire to produce excellence in sport performance we must do our research and apply our learning to achieving our sport goals. If we want a quiet amateur mount that can do the lower levels in our sports, than truly a nice saddle horse from just about any breed will do. However, if we have aspirations of success at a higher level of competition than the mix we create in our foals can make the difference, and one thing we can depend on is that we will need some high class Thoroughbred to succeed.



---
Sport Horse Recipe
Bloodlines of Hall of Fame Show Jumpers
USDF Hall of Fame Inductees
USCTA Hall of Fame Inductees
the American Thoroughbred and the Sprinting Issue
Stamina Lines in the American Thoroughbred
Real Stayers-- Four Mile Racers of Yesteryear