Bloodlines of the Dressage Champions of the USDF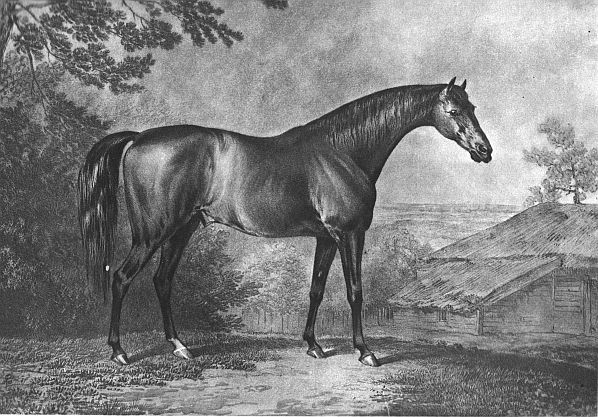 [Highflyer 1774 --could he be the deep root source of dressage? ]

This is the second article in a series that explores the genetic make-up of our most successful sport horses. The idea is to clear away all the common knowledge and hype about popular bloodlines and breeds in order to truly see for ourselves what genetics are powering the champions of today. Following are the bloodlines of our Dressage champions. Since I wrote this in 2012 I have discovered some unexpected things about the 'centuries old'  warmblood bloodlines, and I will add that commentary as we go along.
A quick examination of our USDF Hall of Famers reveals that we are on more expected ground with the majority of the dressage inductees being European warmbloods. There are only six horses that have received this honor so far (2012). To be eligible the horses have to be near the end of their career or over with it, possibly deceased and to have made a significant contribution to the sport of dressage in the US. Four of the six are warmbloods: Roemer 1975, Gifted 1980, Graf George 1984 and Bretina 1997.
USDF Hall of Fame

Hanover has perfected the dressage horse, and has often dominated the international standings since the 1980s. But there is something significant that has shown up here in the very top in American dressage that the sport horse breeder might want to know. That is all four of these warmbloods have a prominent daughter line of Duellant, close up in their pedigrees, often through his grandson Grande--all of them--even though there is a twenty-two year age difference between them.

Roemer, who is a Westphalen but often identified as a Dutch horse, carries a Duellant daughter, Duela in the 2nd, and she is the dam of his sire Pilatus. All the others are Hanoverians and carry Grande who is himself out of a Duellant daughter. Graf George and Gifted both have him as their 2nd sire, Bretina carries him as the damsire of her sire in the 3rd; and because she is a mare and because of his position in her pedigree, he colors her X chromosome. In the males the position in the pedigree shows he rules the Y chromosome--this is an interesting indicator of the possible transmission of sex-linked traits.
Duellant HA is renowned as a dressage line, and we see that this is still so, and his grandson Grande continues on with this. When I checked Duellant's listing on sporthorse-data.com it reports he had six recorded sport progeny, four in dressage and two in jumping.
His grandson Grande HA had more show jumpers--twenty-five, then his six dressage horses, and he also has a higher percentage of Fling HA lines versus Alnok HA. 
Seeing many of the very best dressage performers in this country carry this particular line in several different descendants and that it is the consistent genetic theme throughout--this then should be an alert to the line-breeder out there that they will still find dressage success with building up these lines in the engine room (4-6) and beyond in the lineages of their prospective dressage foals. Remember to look for the daughter lines of Duellant HA, as all of these champs are out of his daughters--no sons, and possibly see if you can find some closely related sisters for even more genetic punch.
Looking closer at Duellant HA, the common denominator in many of our super dressage horses I discovered he is more potent than the average warmblood sire, and because of his obvious significance I decided I needed to extend his lineage and evaluate it. I had done this previously with the Fling/Ferda et all full siblings that are found everywhere in the Hanoverian background (see North American Sport Horse Breeder) and found they traveled back to the mass importation of coaching stock from England and Ireland. The Hanoverian, one of the best documented of the warmblood breeds besides the Trakehner and East Prussian, also has the deepest lineages to study of the warmbloods (recorded further back in time). It imported huge amounts of coaching stock, but not just from the Mecklenburg Stud operation as most of the others did, but it also took in direct shipments to their breeders. It also incorporated good amounts of Trakehner and East Prussian, and through them a significant amount of Anglo-Arab.
I also recently revisited the dressage sensation Donnerhall OL to correct a pedigree error I had made, and re-evaluate his lineage and potency. His background is much the same--lots of Thoroughbred and coach stock of England, but he appears to have higher concentration (critical mass) of the Trotter than Duellant HA, and the European developed lines disappear in his lineage quicker than what I found in Duellant HA.
We are all familiar with the warmblood industry dogma that they have centuries of experience in breeding sport horses. Claims ranging from 700 years (American Holstein website) to 200 years (isroldenburg.org) are commonplace, and their trade union, the WBFSH says 'centuries of experience' on their website--so this is the official company line--it is what they point to as proof of their ability to lead world sport. What most fail to mention is their centuries of experience is in draft horse production, not sport horse. So, that is one crack in their glass house. Here is another: in tracing back their pedigrees until they disappear I discovered two things. One, that their pedigrees develop huge holes by the late 1800s, and those lines that carry on are usually Thoroughbred, Anglo-Norman, Norfolk Trotter, Irish Hunter, Yorkshire Coach--Cleveland Bay, and even sometimes American Trotter and American Running Horse--all Anglo developed sport breeds, not European. And the pedigrees themselves with the exception of Thoroughbred lines rarely get past the mid-1800s and only in a few cases into the late 1700s. The second thing is that the centuries old inspection system, where they examine the stock, record the lineage with comments etc. does not exist--it dies off with their own modern-day developed bloodlines. I ask you--wouldn't there be records if they carefully inspected stock as they claim they have for hundreds and hundreds of years? Even more recently (2023) as I update this article I can say I went too far in giving them the benefit of the doubt, for their own leader, head of the Warmblood marketing and production, Dr. Hanfried Haring, says they only began breeding the modern warmblood in 1975, and only developed their famed inspection system in 1991! (see Lohmann-breeders.com "The changing role of horses in our society")
But here is the big point: with the exception of France, on the continent there was NO sport horse breeding done at all until the dawn of the 20th century.
I felt it only fair when I was revising this web page to extend the pedigree of the Hanoverian Duellant because he is so instrumental in the dressage Hall of Fame stars. And as I said about the Hanoverian in general above, applies here as well, the European lines in Duellant's pedigree vanish as I go through the decades, and the roots of his pedigree go back to the early 1800s with imports of Thoroughbred, Norfolk Trotter, Yorkshire Coach, and some direct imports of Anglo-Arab. By far the Thoroughbred is in dominance, many of the early lines are 70 to 80% Thoroughbred. I followed his lines back, just to get a full picture; it took two days to do that. But now I can confidently evaluate his pedigree.
As you can see Duellant HA, born in the middle of World War II (1943) carries dominance in Alnok HA 1888 with five lines (4x5x6x7x7). Alnok's genetic influence is almost double any other, and so he is definetly a typesetter for Duellant HA. The lines are made more powerful as Alnok Mare HA not only sex-balances those lines, but multiplies their power because she and Aldermann I HA are 3/4 siblings, and with both of them being present through daughters it also makes a powerful filly factor--all factors that made Duellant HA a successful stallion. 
Aldermann I HA (and his siblings) is the most common line in the Hanoverian, and the Fling HA line holds second place. Aldermann's type, and to a lesser extent that of the Fling HA family are the bedbrock of the Hanoverian--so if you understand their bloodlines then you will grasp the essence of the Hanoverian. (Contrary to the breed origin propaganda, the Hanoverian was a new breed in the mid-1800s)
Duellant HA produced four dressage horses and two show jumpers. Alnok HA (considered a coach horse sire) produced one show jumper (sporthorse-data.com). Alnok HA has a Thoroughbred sire (Adeptus) and he is out of a coach horse dam, she is a mixture of Thoroughbred, Cleveland Bay and Mecklenburg stock--see pedigree. Alnok HA carries critical mass himself in Highflyer with thirty-seven lines. So Alnok HA is a Highflyer typesetter and he is the leading element in Duellant. Highflyer is an early Thoroughbred.
Mecklenburg was the chief importer of coaching stock from the British Isles for the project of improving the coach horse of the continent. If you pull up the pedigrees as we go along you will see what I am talking about.
I ran a ten generation evaluation to see if there were any other significant background buildups in Duellant HA and got a surprise: the second most powerful genetic power in Duellant HA is a horse born in 1843 called Norfolk HA, a product of the Mecklenburg Stud--there is twenty-three lines of him (critical mass), which puts him right behind Alnok HA as a typesetter to Duellant HA, plus he is also Alnok's dam-sire, which means that Alnok HA is a conduit of his power to the front as well.
So Norfolk HA is an important element in the genetic power of Duellant HA as well. And what is Norfolk HA made of? He too has a Thoroughbred sire, and his dam is Mecklenburg coach stock (Anglo breeds) and English Hunter. His strongest dominance by far is the Thoroughbred Highflyer, there are thirty-five lines of him--this too is 'critical mass'--and that makes Norfolk/Alnok/Duellant channels forward for the Thoroughbred Highflyer (picture at article start)--they are saturated in his blood. (Just from the Alnok HA/Norfolk HA presences in Duellant HA there are nine-hundred-ninety lines of Highflyer.)
What we see then is contrary to the usual chatter. We can see through following the bloodlines that the dressage and jump traveled to the Hanoverian through the Anglo breeds as well. There is no mystery here, it is consistent everywhere I check. There is no centuries old European breed that provides the ability in sport, rather it is what it has always been: the true sporting breeds--which are Anglo developed, were added on to their draft horse stock, over and over and over until it could finally perform in sport.
So let's look at the other two Hall of Famers:
Keen 1966, is a full American Thoroughbred and he is one of the great dressage horses of all time. Remember now in warmblood circles the American Thoroughbred is a breed which we have been told not to use because of its supposed sprinter bent--and here is something amusing on this subject: Keen's second damsire is War Bam, a good race horse and a sire of excellent progeny: both TBs and QHs, that's right, half of his progeny are Quarter Horses.

Keen 1966 Pedigree

When we look to see where Keen's talent arises we see that his sire is nicely bred but not very potent. He has some nice linebreeding, such as 6x6x6 St. Frusquin, 6x7 Canterbury Pilgrim and 7x7 to the full siblings Sainfoin/Sierra. And Canterbury Pilgrim and Sanda (dam of the full siblings) are powerful jumping lines in the Thoroughbred. The dam is nice also, but pretty dull as well, at first glance she provides nothing that explains the level of talent Keen displayed.
I did a full detailed pedigree analysis of Keen for Legacy of Lexington and when I did that I found something remarkable after all. His dam also carried strong jump indicators of The Tetrarch and Fair Play lines--once again powerful jump transmitters. But then I looked at the dam-line and there was an unusually powerful genetic configuration--it was extremely inbred.
Nothing sets type and talent like inbreeding, and this line is an astounding example of inbreeding in action. The fourth dam Odd Foot's sire carried Hanover as his dam-sire, and then Hanover appeared twice more, as the second sire in both the fifth dam Panic Girl and also in her dam Hildagene--and both of these mares also have the same sire: Farmer Jim, and his dam Miss Breeze is also the 8th dam, making the fourth dam Odd Foot inbred 2x3 Farmer Jim, 3x4x5 Hanover and 3x4x5 Miss Breeze!! But there is even more gene consolidation because Miss Breeze is 3x4x4 to Lexington RH (just like Domino) and her 6th dam Mary Hunt RH is inbred 3x4 to Bedford 1792, who himself was famous for his wonderful saddle horses. Here is the key I think: Bedford is strongly bred also, because he is 5x5x5x6 to Highflyer--the same early Thoroughbred behind the dressage ability in Duellant HA. I believe we may have isolated a deep root source of dressage ability: Highflyer!                    
Then there is the pony: Seldom Seen 1970, a 14.2 hand Connemara/Tb cross--a pony, and his pedigree is incomplete, but he does carry a double of the important pony sire Gil (CSB 43), who in turn carries a sex-balanced double of Cannon Ball (CSB 1), who is one of the greats of this pony breed. His sire Mitipo is an Argentine bred Thoroughbred--a sprinter by the way, who carries strong Phalaris and St. Simon lines which includes a sex-balance of his son Chaucer. These are the ever present lines in the background of the modern TB. Phalaris can contribute very nice movement and impulsion, as does St. Simon. However, that extra pizzazz--that exceptional collection is not evident in Mitipo's lineage. It is clear then some of the style must come down the line from the pony sire Cannon Ball--whose pedigree is unrecorded.
How can a pony be a sport horse? The Connemara is a superb sport horse, a natural jumper and is renowned for its hardiness, good temperament and stamina. Combined with Thoroughbred it is a winning eventer. The Connemara is closely related genetically to both the Irish Draught and the Thoroughbred. The ancestors that are common to these breeds is the Irish Hobby, a gaited saddle-racehorse that is also found at the base of both the English and American TB, as well as in the American breeds: Standardbred, Saddlebred, Quarter Horse, Tennessee Walker, Morgan and Missouri Fox Trotter, through our original Colonial race-saddle horse- which is based on the Hobby, both English and Irish. So sport is in their DNA. This is no small thing, that is, to be the parent breed of four racehorse breeds--and should be something we in the sport horse world take an interest in.

We have modern day superstar in the Dutch Warmblood Verdades, owned and ridden by Laura Graves, this pair is winning at the highest level, just recently taking the gold medal at the World Cup in Aachen. With movement that reflects its genetic dominance this horse is a concentrated genetic genotype of the Hackney-Norfolk Trotter. Read the full pedigree analysis here.
And the Morgan Horse FEI dressage bloodlines have now been identified.
---
Morgan FEI dressage bloodlines
Bloodlines of Show Jumpers
Bloodlines of Eventing Champions
read more about the origins of our American breeds
Thoroughbred