Stamina Lines in the
American Thoroughbred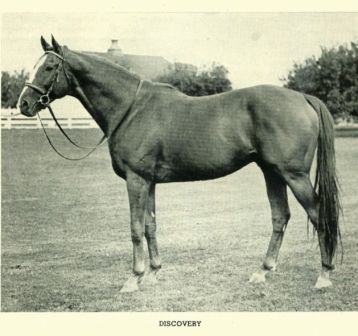 The American Thoroughbred is loaded with stamina bloodlines. One of the hugest misstatements made in the sport horse world is that the American Thoroughbred is a 'sprint only' breed. It was spouted continuously in trade journals, at warmblood inspections, in articles both here and abroad, from the 1980s thru 2010 (after that I am not sure). But it is a lie. I don't think most of those who pass it on know what they are saying is untrue, but then they did not do their homework either, and like the effect of malicious gossip has on someone's reputation, so this pernicious twisting of the truth has had its effect on our understanding of this breed, even by our own equestrians. It is a tragedy.

Above is the stayer Discovery, called the Iron Horse for his ability to win at distance while carrying heavy weight. He is a descendant of the American staying dynasty of Fair Play. He is a chef-de-race of stamina. Just as powerful is his close relative, another stamina line found in sport horses, Man O' War, a sire Dr. Birdsall ranks as #2 in influence in the modern sport horse--and he was born in 1917, so that is quite a long reign. Man O' War is a genetic giant in all sport: racing and non-racing, and he is one of the strongest genetic transmitters of jump out there, plus this is a sound line. 
As breeders we know that selective breeding for certain traits, along with performance testing is the basis of our successful sport breeding. What most of us didn't know was that the greatest breeding program for true distance racing in the entire world was conducted here in America. For two-hundred years 1665-1875 the American racehorse was bred and tested for four-mile heat racing, and in that time our breed set world records that have never been beaten since. Those individual horses, the pinnacle of stamina and soundness (many still racing in their teens) are behind all our top sport breeds, both race and saddle sport. And I discovered that our modern racers and sport horses that excel have 'critical mass' in those mighty racers of yesteryear (see Legacy of Lexington).
Because we don't recognize our history, we also don't understand our bloodlines. I had no idea myself, until I began the research for my books about the genetic  base our domestic breeds are based on, and I never heard about what is called the Heroic Era and its racing feats either. Yet all our sport horse breeds of today, and especially our racing breeds, have a depth in stamina, soundness and speed that no other population contains. There were clues out there for me, but I didn't identify what they really meant, such as if we in America are such crappy breeders, like our European cousins prefer to say (WBFSH), then how come we have the THREE greatest racehorse breeds in the world?
While writing North American Sport Horse Breeder I took the time to test the often told 'sprint only' breed statement by going to the 'chef-de-race' list that Dr. Steve Roman publishes and pulled up each stamina horse to see which countries actually bred the important sires of stamina, and I got a big shock. As a sport horse breeder who spent over a decade under warmblood teachings, I expected to find the German, Irish, French and Australian Thoroughbreds making up the majority of this list, as we had been told, those were the true stamina Thoroughbreds. Here is what I discovered, France is first in stamina with 34%, England is second with 30% and America is third with 24%...but here is the most notable thing, there then is a free fall with a distant fourth place of 4% shared by Ireland and Germany, Australia didn't make the list. So this judgement of 'sprint-only' breed was totally wrong.
Here are the American bred lines in the stamina categories: Fair Play, his son Man O' War and his grandson Discovery, Tom Rolfe, Stage Door Johnny, Round Table, Rainbow Quest, Sadlers Wells, Nodouble, Graustark, Mill Reef, Pia Star, Kingmambo, Run the Gantlet, Niniski, Creme de la Creme and Chiefs Crown, with their birth dates ranging from 1905 to 1990. (see American Thoroughbred Stamina chef-de-race)
Sadlers Wells? Isnt't he an Irish Thoroughbred?  No, he was bred in America and is loaded with our Heroic Era bloodlines. Called  the 'best stallion that ever stood in England' and 'the greatest sire of Europe". He led the sire's list for a whopping fourteen times, which is the closest any horse has ever come to the Lexington RH record of sixteen years. He is a wonder horse by anyone's reckoning. When I was doing my research for Legacy of Lexington I discovered Sadlers Wells carried enormous background build ups of horses for our distance racing era, he carries one-hundred-twenty-three lines of Lexington RH in ten generations (one-hundred-fifty of Boston RH)--this is a huge critical mass from the true distance racers, and they are reconcentrated  and brought to the front of his pedigree via both American sources like Domino and French lines like Djebel and Tourbillon and English sources like Lady Josephine--all carrying inbreeding to Lexington RH, coming to the front via Lalun and others. Sadler's pedigree. The American sire Mill Reef also stood in England and created a dynasty--he has very similar lines.
Perhaps the teaching about 'sprint-only' arose from the immense sprint speed demonstrated by its sister breed, the American Quarter Horse. It is the fastest sprint racing breed in the world. And when our Thoroughbred and Standardbred traveled to England and Europe in the 1800s to race with the best of their racers, it was discovered our breeds were faster, even at distance, than what they had. The English were so angry they reacted by banning our Thoroughbred from the stud book, and the French were so overwhelmed by our Trotter that they limited its bloodlines allowed into their breed for fear of it taking over completely. But I don't think most of us have been told about that period in our breed's development. 
In Legacy of Lexington I provide ample examples of our modern day racers and sport horses who carrying critical mass in our distance stars of yesteryear, and how many of them  surprised the experts with their superior performance; examples like Seattle Slew and Sunday Silence, horses no one gave a second look to, who then proceeded to dominate the classics and then established later racing dynasties.
So how can our racers be both fast and stamina loaded? The gifted scientists Dr. Bower and Dr. Hill discovered the 'speed gene' recently, and they say it is a sprint-speed gene. They were tracing this gene back through time and determined that it came from one of the early pre-Thoroughbred mares, not oriental, but which they referred to as the 'native English' mare. The 'native' mare was the pre-Thoroughbred racer that made up the early English racing studs, so it is either a  Irish Hobby or its close relative: the English Running Horse; both descended from the Celtic Horse.
Before the Thoroughbred came about the Irish Hobby had been the premier racehorse breed in the world, it carried the speed and gave it to the Thoroughbred. The Irish Hobby and English Running Horse were also the horses that were imported into our colonies to breed race, hunter and saddle horses from--starting in 1611 with the last shipment being 1666. The Governor and the plantation owners proceeded to breed up their sport-saddle horses, and later breeders continued on with the selection for the speed and athleticism, and that is how we in America got so much speed into our horses. (see American Running Horse series for docuemntations). And DNA studies tracing origin support this understanding.
The genetic studies continued and theories have arisen from the original finding. It has been published that a homozygous carrier of the speed gene (two copies) would be a sprint racer (under a mile), a heterozygous carrier (one copy) would be a classic length racer (one to two miles), and a stamina horse (over two to two and a half miles) would not have the speed gene at all. And it was suggested you could do a DNA test to determine which category racer your horse would be. The Quarter Horse was found to be 93% homozygous for the speed gene, and so it certainly backs up this statement. Of course, in turn then, it would mean our Heroic racers would not carry the gene at all--they all raced beyond two miles, most regularly doing four miles and several times in one meet--that was the normal test. So according to the scientific theory on this, our distance racers did not carry the speed gene.
But other theories have been published on the making of a stamina or a sprint horse. Clive Harper, who is also a scientist and applied scientific methods to the evaluation of pedigree patterns to determine if or any of the patterns could provide superior racers. He then was able to statistically show that certain pedigree structures provided certain traits (Tesio Methods). He found that sprint speed was most often in horses that had close inbreeding three generations or closer, usually of closely related siblings. And that the stamina horses usually had a strong build up in the background of their lineages of a particular horse and/or its siblings. And the great Domino, a strong purveyor of speed to the Thoroughbred, reflects this as he is 3x4x4 to Lexington RH and 3x3 to the 3/4 related brothers War Dance RH and Lecomte RH. 
What do I think? All these gifted researchers and their studies provide valuable information for the breeder, but in the case of stamina, there is still something missing. Our distance racers, both gallopers and trotters, which performed feats of distance combined with speed that have never been equaled, must have carried speed as well. We know that some of them could win at both a sprint and a heat race, the great racer Barleysides RH, son of imported heat racer Fearnought is one, another is the Running Horse Monseur Tonson, but besides that we have Domino, who concentrated the greatest four-mile heat racers, yet he is a typesetter for speed (and jump!) and was a winning sprinter himself, as was his full sister. Speed does not drop from the sky, it has to be there to be passed on, and it has to be concentrated to be passed on consistently--that means Lexington RH carried the speed-gene or a yet unidentified speed-gene.
[2019 update: Part of the mystery of this contradiction in the historical record and the DNA theories may be solved with the release of the 2018 discovery of a Stamina Gene! So a horse could possess both a speed and a stamina gene? That would explain a lot wouldn't it?]
It is interesting that the trainer of Lexington RH, J.B. Pryor said he was nearly unbeatable from 1/2 mile to 4 four miles.
"No other horse was ever his match or ever could race with him after a half mile...He could go faster at the end of four miles then most horses can a half mile." (Pryor)
Even Tesio's first classic winner, Fidia, carried inbreeding to Lexington RH on is dam-line, and we find his masterpiece Nearco carries not only Lexington RH, but the pacing speed demon Blackburns Whip RH through his fourth dam Maiden RH. The reality is that inbreeding to Lexington RH and other American lines has produced tremendous speed as well as distance ability. Obviously then, from Lexington's own racing record and those descended from him, we can see there was a speed factor in play. Was this the same as the newly found gene or is it another undiscovered speed gene?
Because the American Running Horse behind all our sport horses was performance tested in extreme distance racing (heats) for two hundred years, 1665-1875, it consolidated the characteristics required for that level of performance, with its true stamina ability, along with great soundness plus a speed component--it is set like rock in our breeds.
Don't see proof of this in our modern racers, or you believe the current narrative that only Germany and France produce stamina horses? Then you did not examine our steeplechasers. We have Thoroughbreds, that somehow are able not only run races of 2 to 4 miles, but jump a variety of obstacles as they do so. For this reason, I have taken the time to analyze the pedigrees of the Hall of Fame steeplechasers in this country and the results may surprise you. 
How is this relevant for the sport horse breeder today? If you want to insure supreme athleticism, with both speed and stamina and tremendous soundness in your stock, it might be intelligent to create 'critical mass' in those carriers in the fabric of your lineages. Ask yourself, how did Sadlers Wells turn out?
But there is more. These same bloodlines that carry the stamina-speed factor also carry the jumper trait. One of the benefits of database building over the decades is that I am able to trace back the sources of talent to their root. It wasn't easy to get to this point, because of incomplete lineages so prevalent in our sport horses, and the pedigree errors both I and others have made, but perseverance has paid off in the jumper lines. You will find the results of those studies in Legacy of Lexington where the main Thoroughbred carriers of the jump are identified, and then in Standardbred Sport Horses I was able to do the same for the trotter and pacer as well, plus find the common root of all jumper bloodlines in the world--that includes the warmbloods also, which turned out to be an early TB stallion and his ancestors. And I have found a root dressage source as well.
The American Thoroughbred not only produces a full quarter of the world's stamina lines, it carries the genetics of the greatest stamina racers there has ever been, and those genetics are right there in your horses waiting for you to recognize them and make them dominant in your stock. You have veins of sport gold running through your bloodlines, it is up to you to mine that gold.
Thoroughbred and Soundness study
American Thoroughbred Stamina chef-de-race
Real Stayers- 4 mile racers of yesteryear
Irish Hobby--the root of all sport
---
"

Back to Thoroughbred
Bloodlines of Show Jumpers
Bloodlines of Champion Eventers
Bloodlines of Champion Dressage Horses