Show Jumper Hall of Fame
Hall of Fame Show Jumper genetics analyzed via pedigree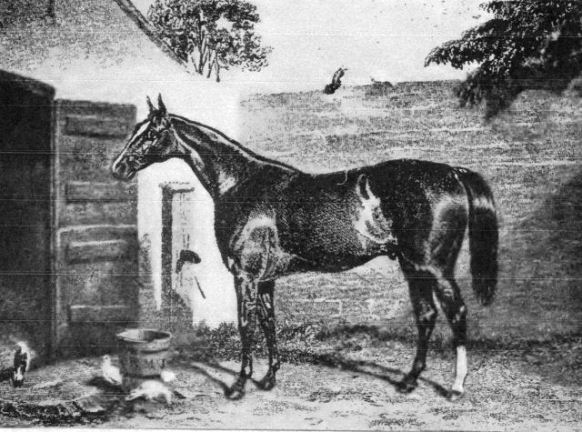 Above is the major root show jumper line of the Irish bred Thoroughbred Birdcatcher, often found in multiples with his full brother Faugh-a-Ballah,  he is the most common root jump line in the world.

Introduction
The inductees (horses) list at the Show Jumping Hall of Fame has grown to twenty-five, of which three have no pedigree information, leaving twenty-two to analyze, of which eighteen are full Thoroughbred, two are half TB and one Trakehner and one Westphalian. Because the scope of this study has expanded so much from the last time I covered it, in this piece I will not give the career outline of each horse, instead I direct you to each horse's write up on the Hall of Fame website (link above) for that information. Also this is an American Hall of Fame, so some may think it does not apply to those warmbloods you may be breeding. The majority of the root jump lines I have identified are universal, that is, they are the source behind all the jumper lines.
It is my belief that there is a great benefit for breeders of jumpers and eventers that comes with understanding the origin of the talents we desire to see manifest in our horses. This article will briefly pick out the genetic dominance in each inductee and note the source bloodline that powers it (click on the horse name for its 7-generation pedigree to appear.)
In tracing sport transmission back through the ages, it seems that in every study I do I find more previously unnoted origins. I have been onto the    main root Birdcatcher (above) for some time, and the American developed sources of Lexington RH-Boston RH and Vandal RH, but then the DNA discovery that Bend Or was a fraud revealed the powerful sport conduit found in the uncelebrated mare Clemence (Kirsan 2014) as well. Now here we are, enlarging this study for the present article and extending and analyzing all the inductees, and in doing so have exposed a few more definite background roots. For instance, it is Clemence's sire Newminster that proves to be the major source because other of his offspring are confirmed producers of jumpers such as Hermit, Reticence and Lord Clifton.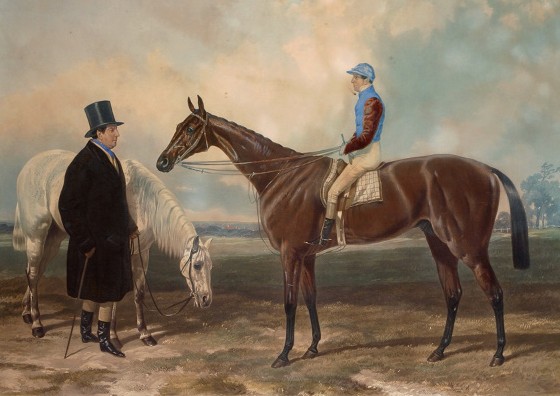 Above is the root jumper line of Newminster, sire of Clemence, Hermit, Reticence and Lord Clifton.

Another major jump power has emerged in Galopin, the sire of the mighty St. Simon, Galliard and others. These three: Birdcatcher, Galopin and Newminster are in critical mass in the jumpers worldwide, including the warmbloods.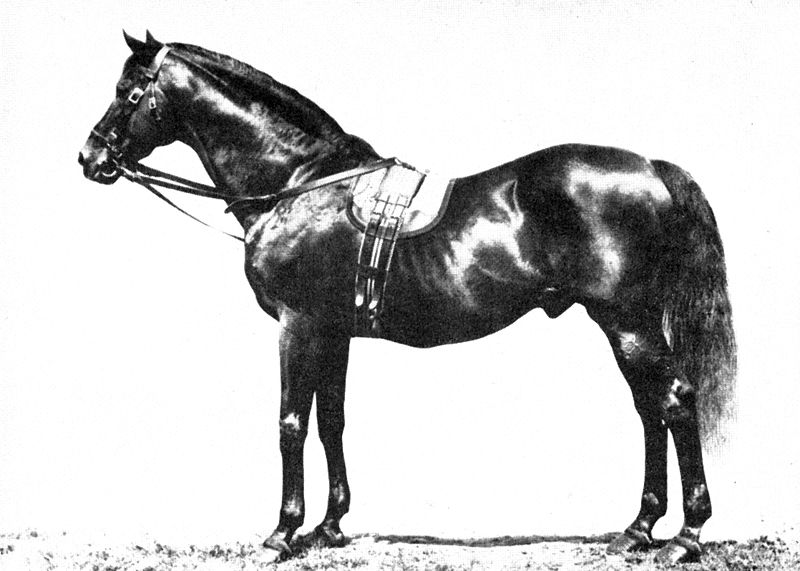 Above is Galopin, head of a massive jumper dynasty. I have further traced all the roots we will discuss in this article, most of who were born in the 1800s to a further back main root in the 1700s, and beyond to the 1600s, but that is too much for this piece and you may follow that trail and those found in the Trotters in Standardbred Sport Horses.

As with all our work on this site we will examine the jump genetics through the pedigree using Tesio Methods (statistically proven indicators of potency).There will be links provided throughout when a pedigree pattern feature is introduced so that you may click on it to learn its importance. After this discussion of each horse's genetic jump potency (listed by date of birth),  I will follow it up with a partial list of the jump lines with the origin of that dominance shown.
Most warmblood breeders are aware of the proclaimed jump lines, such as Dark Ronald, Rantzau, Ladykiller, Orange Peel, Cottage Son, Thormanby, Marco, Barcaldine, Le Sancy, Dollar, Fair Play, Agram HA, Feiner Kerl HA, Alme SF and many more, plus entire breeds (Holstein, Selle Francais etc.) that are considered jump breeds, and we will see many of those noted lines in this study as well as some you may not be aware of.
Some may be surprised by the overwhelming Thoroughbred presence in the top show jumpers (85.5%). For example, if you have been listening to the WBFSH industry wisdom lately it has included a new trend to declare the Thoroughbred not a 'true' sport horse because it does not have a separate stud book section specifically dedicated to sport horse breeding. This is so silly a posture I hate to even address it, but you will see that the Thoroughbred is the main source of jump to the rest of those breeds, and that it doesn't need a separate stud book section because the jump permeates the entire breed. The Thoroughbred is truly a jumper breed, indeed it--the Thoroughbred, is the chief source of all sport in those warmblood breeds after all.
Another insight I hope you gain via this study is the principle that potency with the ability to pass on a specific trait requires concentration of those genetics. What I have determined is that all Thoroughbreds (and all Trotters) have jump genetics, and certain bloodlines are revealed as consistent producers of good jumpers no matter what they are crossed on, and I hope you will come to see this via the principles of critical mass and engine room duplications.
I was made aware of another curious teaching when a friend in Ireland mentioned to me a few years ago that the people promoting the use of the warmblood to the Irish breeders were telling them if they wanted to be competitive they needed to use continental stock because they said the jump originated with some mysterious continental dam-line. These false teachings, even such silly ones as the two just mentioned need to be addressed by presenting facts. You wouldn't think that such a claim made without any documentation could grow feet in Ireland where the sport of show jumping began, but it did in some of the breeders. So let's see what really powered these amazing jumpers.

Inductees and Their Dominant Bloodlines
Here we are blessed with an inductee that is born early enough so that some of the proven source bloodlines are visible close up in the pedigree. When I evaluated the jumper lines of the warmbloods and the sport horses  of other countries I discovered a majority of them had critical mass in an Irish-bred Thoroughbred Birdcatcher. In sport horses that came from America I found that same line but also some that were just as powerful but were developed here, especially Lexington RH and his sire Boston RH (RH is Running Horse, our original racehorse breed--precursor to our later American TB, Quarter Horse and Standardbred).
Heatherbloom, a full Thoroughbred is dominant in Birdcatcher/Faugh-a-Ballah 4x4x4x7x8 through sons, and Lexington RH 5x5 via daughters (what we call a remote sex-balance). There is also a wonderful full sister Empress/Eusebia presence 4x6 (mares that carry 12 lines of Eclipse and 10 of Herod in the first 7 generations.)
Of all these lines the Birdcatcher is the most dominant, helped by the reinforcing of his sire Sir Hercules and granddam Peri finding close relatives (3/4 related), which expands the genetics. Heatherbloom jumped on the genetics of Birdcatcher and Lexington RH.
Another full Thoroughbred, Democrat was bred by our Remount and was by one the greatest modern sires of jumpers: Gordon Russell. At one time the entire US Jump Team was horsed on his offspring, and he is also the sire  of the incomparable eventer Jenny Camp ASH, a winner of 2 individual Olympic silver medals and 1 team gold medal. Read more of what Gordon Russell brought to the genetics on the eventing page.
Democrat's dam built on Gordon's strong genetics by bringing in more of Martagon 3x6x4 (sons), and added another line of Springfield 4x6 (daughters) and more Lexington RH-Boston RH lines on the dam-line (daughters). Martagon is a Birdcatcher conduit and Springfield is both a Birdcatcher descendant and a carrier of critical mass in Eclipse and Herod.
As we go along you will see all these lines surface repeatedly in other jumpers. Another curiosity is that the Boston-Lexington lines found in Democrat are through two sons that could race at the trot as well as the gallop, and both lines repeatedly produced trotters, as did their sires. There is a current teaching (Capilet Genetics) out there that states that gaitedness--which is the ability to race at full speed at the trot or pace, is a negative for all other sport activities (see gait-keeper gene page for the full discussion). Once again this is an example why we must test pronouncements made to us, because both of these trotters: Eolus and Planet RH were four-mile heat galloping racers, matter of fact Planet RH was the greatest four-mile heat racer before our Civil War. Plus all these horses pass on a talent in jumping. (Eolus you will find in the German line of Graf Ferry.)
Sun Beau 193?
no pedigree information
Circus Rose 1945 (aka Miss Budweiser)
Circus Rose, also known as Miss Budweiser, was another full Thoroughbred. Her leading dominance is Rock Sand (Birdcatcher/Newminster/Galopin), a noted jump influence, through daughters via her sire Great War, a son of Man O' War, another exemplary jump transmitter from the root Fair Play bloodline (Lexington RH/Birdcatcher/Newminster). The Fair Play line crossed with Rock Sand (pictured below) proved to be a "golden cross" is commonly called a "nick". Circus Rose, like the great Man O' War are examples of the cross in action.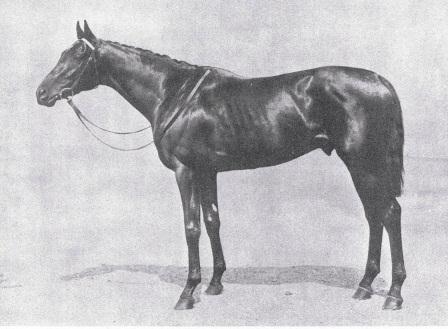 Her dam Winter Rose strengthens both those conduits by providing a sex balance in additional lines. Rock Sand's dam Roquebrune meets her 7/8 brother St. Serf making them 5x5x4. Roquebrune is a daughter of the ever present St. Simon out of a Hermit mare, and so she brings in both root jump lines of Galopin and Newminster. And those strong lines are reinforced more by the presence of the 3/4 brothers: Royal Hampton--Henry the Eighth who bring in more Newminster via Hermit and Clemence 6x5x5. Rock Sand's sire Sainfoin from the Birdcatcher bloodline which is the strongest jump line worldwide, via inbreeding to the full brothers: Rataplan/Stockwell (grandsons of Birdcatcher). Rock Sand is all jump.
Spendthrift on the Fair Play sireline meets his full brother Fellowcraft through a daughter: Lady Reel, the dam of the great Hamburg. Spendthrift/Fellowcraft are conduits of the American root jump line Lexington RH, which is boosted by additional concentrated bloodlines arriving with Mannie Gray via Domino and Lady Reel. It is worth noting also that Fellowcraft is the holder of the World Record for four-mile heat racing, beating the former record of his grandfather Lexington RH by 1/4 of a second--this record has never been beaten since.
Another genetic focal point of jumper traits is seen in the presence of the 3/4 siblings Maggie BB and Inspector B 6x7 bringing in yet more Lexington RH-Boston RH.
Circus Rose has a very busy and saturated lineage of jumper lines: Newminster, Galopin and Lexington RH-Boston RH (Boston pictured below).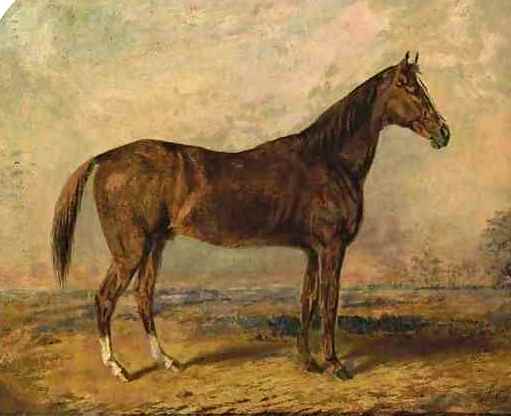 Nautical QH 194? (Pela de Oro)
A top international jumper is a Quarter Horse? Yes, and there have been several others, but this one was so exceptional he made it to the Hall  of Fame. The undeniable fact that there are Quarter Horse jumpers becomes much more understandable when we understand the history of our breeds, because the Quarter Horse and American Thoroughbred were the same breed until 1868. Further, they were both a portion of the American Running Horse breed, which was 250 years old by the time of their emergence--therefore their root bloodlines are the same (see American Breed Development). Our original Running Horse breed was not just a racehorse that excelled at both sprint and extreme distance racing, but a talented Hunter (cross country-jumping) and a valued saddle horse (gaited). The Running Horse breed is the genetic base of most American light horse breeds. The modern show ring and western sport breeders may not encourage the breeding for Olympic style sports and so the Quarter Horse is not often looked to as a capable but the genetics are still there in the background waiting to be reinforced in your breeding designs.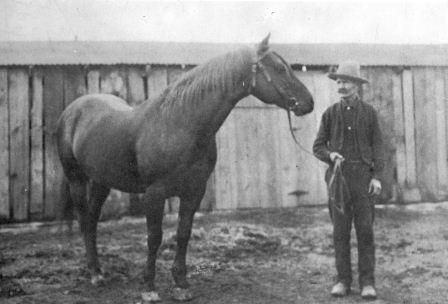 Here are Nautical's strongest genetics: Sykes Rondo QH 6x6x7 who in-turn is 4x4x3 to Harry Bluff RH, who in-turn is 2x4 Blackburns Whip RH.
Domino 7x5 who is 3x4x4 Lexington RH plus 3x4 to the 3/4 brothers War Dance RH/Lecomte RH and 4x5x5 to the 3/4 sisters Judith/Reel.
Peter McCue (pictured above) 7x5 and he in-turn is 5x4x4 Steel Dust RH and 6x4x4x4 to his sire Harry Bluff (2x4 Blackburns Whip RH).
Hermit 5x8x9, a son of Newminster, whose strongest potency is a buildup (critical mass) of 75 lines of Herod, all coming forward via multiple sources.
In Thoroughbred lines we see the strong jump sources of Lexington RH (Domino inbred 3x4x4 to Lexington RH) and Hermit (son of Newminster, brother to Clemence).There is also a strong Galopin presence (sire of St. Simon and others). The major Quarter Horse contributions are surprisingly similar in their antecedents, as they both carry strong inbreeding to Harry Bluff QH lines. Harry Bluff QH is inbred to Blackburns Whip RH, a racehorse sire so fast his genetics are at the base of the American TB, Quarter Horse and Standardbred, and so versatile he could race at the pace, trot or gallop and produced both sprinters and heat racers, and himself five-gaited, he produced wonderful gaited saddle horses as well...he is one of the greatest sport horse sires this country ever produced. He is even found on the dam-line of the "sire of  the century" Nearco. Is Blackburns Whip RH a jump line? Maybe, but can't say so with just this instance here...what I can say at this time is Blackburns Whip RH is a major purveyor of speed and perfect gaits and that our Running Horse historically displayed an immense jump long before a Thoroughbred got to outr continent. And Nautical, who could jump as a top international level is saturated in Blackburns Whip RH, so yes, my guess is Blackburns Whip RH is a jump line. (Blackbburns Whip RH is found on the damline of Catnip, Tesio's best broodmare, via his son Tiger RH, and from there he has presence in all countries that breed sport horses.)

Another full Thoroughbred and a product of our Remount program, his dam Trailoka was a champion eventer, and served on our Olympic eventing team with the great Jenny Camp ASH (American Sport Horse). Unfortunately no one has been able to locate the breeding on Trailoka yet, which is a shame for she was a mighty competitor, so we must just go with what we know of his English-bred sire.
There is a strong background presence of Galopin found through three sons: St. Simon, Galliard and Donovan 6x5x4x5. And there is a strong Newminster presence of  the 3/4 siblings Hermit and Reticence. Plus we find Birdcatcher via Stockwell, Blair Athol and Thrift 6x6x6. Both Newminster and Birdcatcher are made more powerful by the 4x5 position of the 3/4 siblings Be Cannie/Tristan which carry both lines to the front.
A full Thoroughbred, Sinjon is an overwhelming type of Newminster with 36 lines in 10 generations (critical mass): Clemence 9 lines, Hermit 13 lines (pictured below) and Lord Clifton 10 lines. And the power of the line is ramped up via the full sibling offspring of his daughter Clemence (6x6x7x6x8x6x8x6x7) who is one of the truly great modern sport lines.
Galopin is also present in lesser strength with 13 lines, and there are 10 lines of Lexington RH as well, but these are truly just a backup chorus as Sinjon is a powerful Newminster type.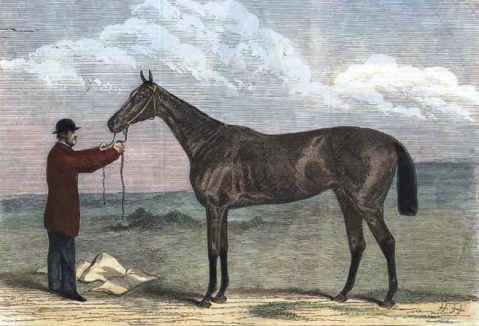 It is a shame this great jumper was a gelding because he is tremendously potent--he would have made a good stallion. For our study he is an example of the power of full and close siblings to bring power of  previous generations to the forefront.
The sire Bolero carries two lines of the great modern jumper line of The Tetrarch 5x5 who is remarkable for his inbreeding to full siblings: Clementina/Tadcaster 3x3 who pulls forward the root jump line  of Newminster (31 lines in 10 generations).
A great modern jump line (American) is Eight Thirty (2nd sire), he carries the potent The Tetrarch, plus the 3/4 siblings Friar Rock/Man O' War  2x3 who in-turn pull forward the jumper lines of Rock Sand and Fair Play.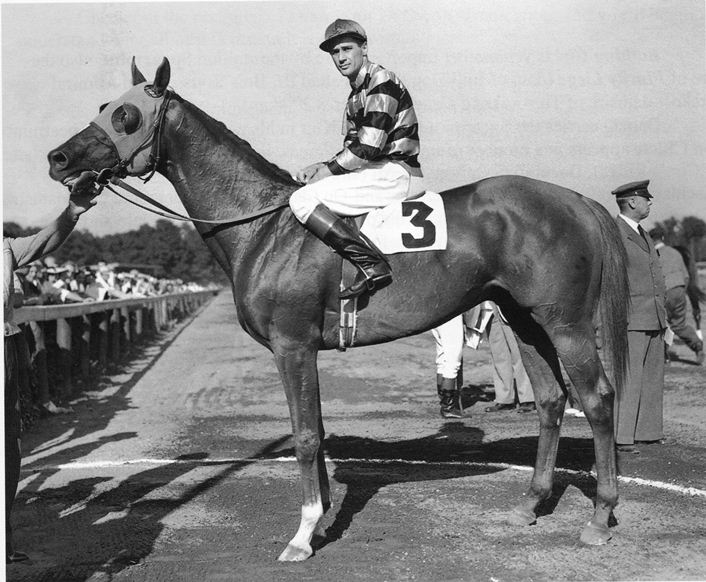 Rock Sand's sire Sainfoin finds his full sister Sierra on the dam-line through her sire Sundridge who is the 3/4 brother to Rock Sand. Their dam Sanda is a root jump line herself and a transmitter of Birdcatcher and Newminster.
Eight Thirty (pictured above) also carries the tremendously inbred High Time who is 3x3x2 to Domino, and this connects and magnifies the lines of Domino and his full sister Mannie Himyar 7x7x6x6x6, who in-turn are  inbred to Lexington RH 3x4x4. Plus Mannie Himyar's son Blackstock is  7/8 brother to the great Hamburg (5x6) found on the dam side with another line of his sire Hanover (transmitters of Vandal RH and Lexington RH). All these lines are not just powerful jumper sources, they are also purveyors of both speed and stamina (see speed gene).
Snowman 195?
no pedigree information
Main Spring 195?
no pedigree information
A full Thoroughbred bred in America but aside from an American 2nd dam (Hanover-Fair Play) he is a return to the English TB sources of jump which dominates the genetics. There are multiple lines of the great Tadcaster, who finds his full sister Clementina via a line of Le Samaritan 7x6x6x7x7.
There are several 3/4 sibling configurations that concentrate the genetics: Arcadia/Hecuba 7x5x6 (Isonomy-Birdcatcher-Newminster), who are in-turn the dams of the 3/4 related Cyllene and Picton who build on the Newminster influence via Tadcaster...plus their sons: Bridge of Earn and Light Brigade 3x4 in the dam are also 3/4 related also bringing in Galopin through St. Simon. So the majority of jumper traits arrive from the root lines of Newminster/Birdcatcher/Galopin, with a lesser amount coming from American lines of Lexington RH-Boston RH and Vandal RH (via Hanover).
Isonomy is an extraordinarily potent transmitter of Birdcatcher (3x4x4). Individual horses like this (concentrated in key bloodlines) are the ones we need to become familiar with because they bring forward the background strength of important lines. In this case everytime you add a line of Isonomy you get 3 lines of Birdcatcher.
Snowbound carries equal background power in Galopin/Newminster, focused forward via the 3/4 siblings Doremi/Martagon. Plus there is a heavy dose of the American root jump line of Ben Brush and Maggie B B (Lexington RH-Boston RH).

Good Twist is one of the few entire males in the Hall of Fame, further he was a top sire of jumpers. The big 3 English TB sources of jump: Newminster/Galopin/Birdcatcher are in equal power in the background if you factor in date of birth and generation position: 50 lines of Birdcatcher 1833, 49 lines of Newminster 1844 and 20 lines of Galopin 1872, all carrying equal genetic weight and funneled forward powerfully by the 15 lines of the full siblings Tadcaster/Clementina, and further thrust forward by The Tetrarch and Roi Herode lines 5x5x5, and  the 3/4 siblings Elf, Fairy Gold  and Marlincea 4x6x5x6, making a saturated jumper source and an important sire of jumpers (Gem Twist). The Tetrarch is another potent line, because he is a key conduit of the jump transmitter Newminister because he is 3x3 to full siblings who are out of Clemence, a daugther of Newminister.

I love this horse; he was still competing and winning in his twenties and he retired sound. In his lineage it is Black Toney 4x5 that has the greatest genetic weight, further reinforced with the presence of his sister Prudery in the 5th. Black Toney's grandsire Commando is a Domino conduit and he carries 5 lines of the root jump line of Lexington RH. Black Toney (pictured below) is out of a Ben Brush mare made more powerful by two lines of Broomstick, a Ben Brush son, the whole group pulled forward yet again by the 3/4 siblings Halcyon/Shady Lady4x4. Ben Brush brings in 2 more lines of Lexington RH, making 7 lines in 7 generations.

This is a very American pedigree because the second power is via the Fair Play family both of which are out of mares carrying Rock Sand--a winning combination. Not only is Man O' War well recognized as a jump line, but Pari-Mutual is also, who makes several appearances in Birdsall's Hunters and Jumpers of North America as a sire of jumpers. The line is made stronger with Fair Play's 1/2 sister Pyramid in the 5th.
Other jump genetics arrive via Tadcaster 17 lines and Hermit 22 lines, a significant Newminster presence.
Idle Dice is a BlackToney/Fair Play genetic bomb therefore considering his astonishing career we can seek these lines for soundness, resiliency and talent.
Balbuco is an Argentine bred Thoroughbred whose dam information is lost, leaving us with incomplete data to evaluate. His sire Timor has three jump lines in power: strong Galopin, plus the French Dollar line from a double of Ominum 5x6, and the American originated jump lines of Vandal RH and Lexington RH via Hanover 7x7.
Jet Run is strongly ruled by the full brothers Bull Dog/Sir Gallahad 3x5, and these line, sons of Teddy, are Bay Ronald, Newminster, Galopin sources. There is another almost as powerful influence of the Fair Play line (Lexington RH, Birdcatcher, Galopin) via 3/4 siblings: Cri de Coeur, Mademoiselle and Man  O' War. This formation also provides what we call a remote sex balance for the male Bull Dog/Sir Gallahad lines. There are also multiple lines of Spearmint (Newminster), Canterbury Pilgrim (Birdcatcher), Tadcaster/Clementina/The Mersey (Newminster), Bay Ronald family (Dark Ronald, Rondeau), plus the Hanover (pictured below) family via Teas Over and Hamburg (Vandal RH) and Marco lines (Birdcatcher). Hanover provided excellent jumpers and steeplechasers on both sides of  the Atlantic, with some of his progeny stuck there during the Jersey Act, unable to breed racers (because they were banned from the stud book) yet they succeeded in producing top horses for the steeplechase, jumper and hunter markets and  Hanover is found in pedigrees worldwide.

Now we come to our first warmblood inductee: Abdullah TR, who proves  to be most dominant in Poseidon TR 5x4 and pulled forward by 3/4 siblings out of Piral TR via daughters Absalon/Tropenglut, which serves to funnel forward the background power of Thoroughbred Perfectionist who is a Newminster,Galopin, Birdcatcher and Thormanby sources.
A second dominance is via the Arabian Fetysz, unfortunately his lines, like most arab lines in warmbloods, cease very quickly with "DB" which means desert-bred. I have a hard time with assuming this breed is an ancient pure-bred breed, For instance, somehow "DB" implies pure-bred? We are meant to accept this narrative on faith that there has been continuous selective breeding for centuries. Our mustangs are "DB" also and no one is trying to say the mustang is pure-bred. but the reality is the Arabian usually has less demonstrated organized breeding than the warmbloods it is found in (shorter pedigrees). And while this breed is a notable endurance star and surely added the lighter cross with elegance, there is no bonafide jumper lines that originated with it. In this case the Arabian lineage goes into the desert mirage in just a few generations. (It is the Anglo-arab, a part-Arab that is a sport breed that succeeds in the Olympic disciplines and has provided viable sport lines. The Shagya Arabian, such as the Amurath line, are also mixed bred, with Orloff Trotter inroads). (See the Arabian Myth for a discussion on this industry falsehood.)
Next is another warmblood, a Dutch product, who is at least 1/2 Thoroughbred, probably much more if the warmblood lines are exended. He is dominated by sex balanced Phalaris 5x7x7 (Springfield) plus a Galopin (St. Simon), Tacaster (Newminster) and Birdcatcher strength via Canterbury Pilgrim.
The damside is Gelderland which is made of early Oldenburg, Anglo-Norman, Trotter and Thoroughbred. We see a Domburg GEL double, a very common line in this breed, and he is a virtual Achill HO warehouse, who in turn is a Burlington Turk conduit, Yorkshire/Thoroughbred mix. Indiana OL is 3x3x3 to Agamenmon, a Mecklenberg bred coach horse that is inbred 1x3 to the foundation sire Jellachich, an English Hunter--by a Thoroughbred sire and with an unverified but probably Irish dam (Irish Hunters were exported by the hundreds by the English who dominated Ireland in this period--usually with no pedigree information.) The French Trotter elements here all go back to Thoroughbred, Norfolk Trotter, Cleveland Bay with some Norman Draft and American Trotter.
If you extend Calypso's pedigree you will find he is really 75-80 % Thoroughbred, and most of the rest Trotter.

Here is a typical Selle Francais example, and he is 5/8 Thoroughbred and 3/8 Trotter, which gives us a chance to view the Trotter contributions to jump. In the Thoroughbred portion we see a dominance created by the Black Devil double 4x5 carrying Sir Gallahad, Blandford and Hurry On--all conduits of Birdcatcher, Newminster and Galopin. We also see the great modern jump line of Alme SF, a lineal descendant of Orange Peel who is 75% Thoroughbred, with some Anglo-Arab and Trotter lines.
The French Trotter goes back to Thoroughbred, Yorkshire, Norfolk Trotter, Anglo-Norman and American Trotter, with strong jump lines like Fuschia FT, Heir of Linne and Juggler (I address the Trotter jump lines in depth in Standardbred Sport Horses.)
This is a busy pedigree with strong genetic dominance oozing from  all quadrants.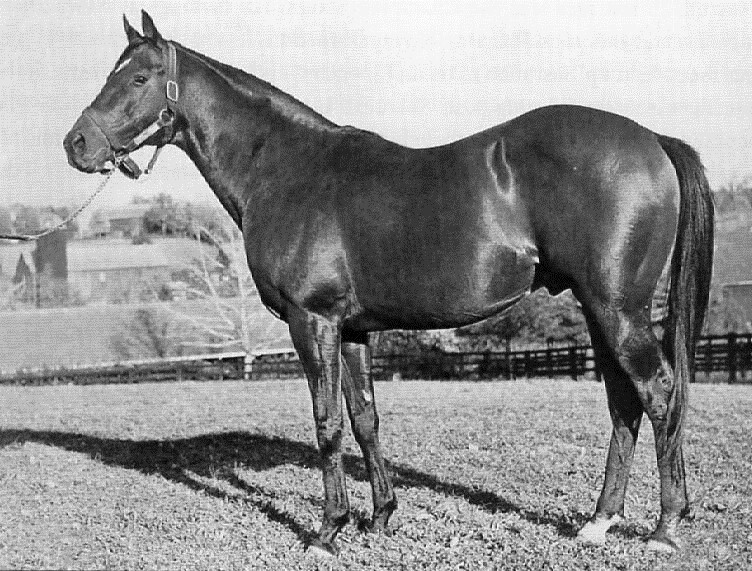 Nearco leads the way 4x4 with the closely related Nasrullah (pictured above) and Neocracy 3x3, which are made even more powerful with Nasrullah's 3/4 brother Mahmoud in the 3rd. Plus Blandford appears in all three of those siblings with Phalaris, The Tetrarch, Rondeau (Bay Ronald) making strong inroads.  All these lines are reinforced with additional lines of Solario, Phalaris and Roi Herode elsewhere. All of them are modern jump lines.

Additional strong background strength arrives with 3/4 brothers Rock Sand and Sunridge 7x7x7x7x6x6x7, all these lines listed so far are jumper lines and are strong transmitters of Newminsiter/Galopin/Birdcatcher. Plus  a Lexington RH-Boston RH strength comes from the full siblings Domino/Mannie Himyar 8x9x7x9x7, and through Americus the damsire of Lady Josephine (pictured below) 6x6 made dominant via full siblings The Nun/Norfolk. Lady Josephine is found via daughters Lady Juror and Mumtaz Mahal in the best English Thoroughbreds, she is a jump line.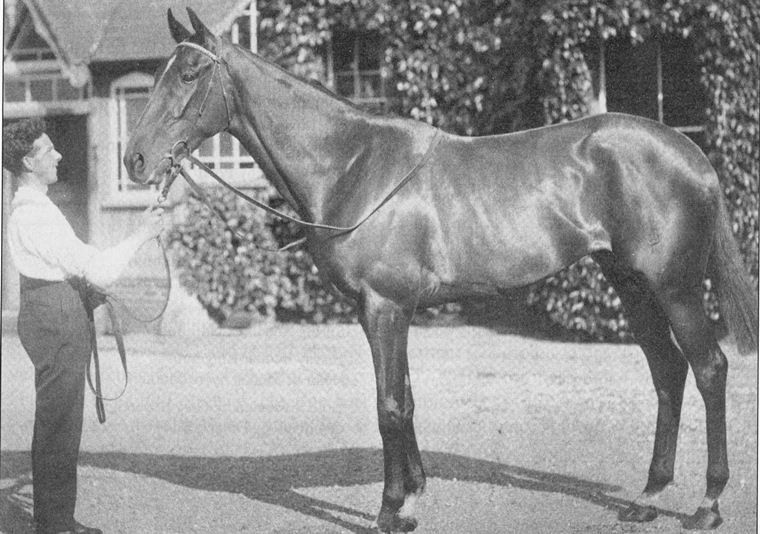 This pedigree is a good example of 'critical mass' that Clive Harper stressed: strong background buildup of important lines that are refocused in the engine room area (4th-6th).

Here is another warmblood. Lately I have made it a practice to extend all warmblood pedigrees back until they cease so that I can understand what they are made. In doing so I have found some generalities: the native European lines all vanish by the mid-1800s, and the only lines that continue on are Anglo or Anglo based (Thoroughbred, Trotter), and most of the foundation lines are 70-80% Thoroughbred with the rest Trotter.
Here we have a well linebred Hanoverian, equally heavy in Domitz I 3x4 and Goldfisch II 5x3 (whose dam-sire Flugfeuer II is reinforced with a line of his full brother Flugfeuer I in Graf making a strong dominance).
Domitz I is 4x5 to Alderman I who is found elsewhere in the pedigree in multiples, and he in turn is 5x5x6x5 to Alnok HA (a foundation sire and 1/2 Thoroughbred) and he is also 5x4 Lorlot HA who in turn is 4x4 to Norfolk (Mecklenburg coach). So we have dominance in the background lines of Alderman I and Norfolk, and it is funny but I have found both these lines are a significance presence in Duellant HA as well, which is a dressage line--so here is a clue that sometimes the sport line is equally found in jump and dressage.
What about Goldfisch II? His dam-sire Flugfeuer II is made more powerful by the presence of his full brother as mentioned above, and they in turn are 4x3x3 to King HA, a 5/8 Thoroughbred, and two of the lines are full sisters:  Kimball/Kitrosa 3x2, and they are by Kingdom TB our of Norfolk HA (aka Norfolk MECK) 3x5. Norfolk unfortunately has little information of the non-Thoroughbred elements of his pedigree, just names with nothing behind it.
Goldfisch's dam carries Alderman I HA as well and he is found 17 times in the entire pedigree making him a strong genetic contributor to type. he is even in the multiple Abendsport HA lines we see here, where he is 2x4. Alderman I HA is dominant in Zernebog MECK(3/4 TB) and Norfolk HA who we discussed above. 

We see right away she is inbred 2x3 to Klairon, and the key to her pedigree then is in his lineage. Klairon genetics are leading her performance (Newminster, Birdcatcher,Galopin). We can see Gay Crusader dominates his genetics with a double filly factor plus an additional line in the dam quadrant of yet another daughter of Gay Crusader, Indolence, putting his daughters 5x5x6x6x6. Filly factors are helpful for any breeding stock and are especially important for performance mares as well. And another strong female configuration is seen in the full sisters Kizil Sou and Kizil Kourgan (Birdcatcher, Dollar, Newminster). Plus there is Canterbury Pilgrim power  via Swynford/Chaucer 5x4. 
Klairon is an extremely potent sire loaded with jump traits.
Here we see an example of a top performance horse with a not very potent pedigree. Many top performance horses are loosely bred, the key to their performance is still in the pedigree but their ability to pass on the talent they displayed is limited. Starman WE while he was a top performer he was not very potent and his lackluster stud career reflects this. Plus the population he was bred to at his place and time carried little to connect to his lines (which translates to the potency he did carry being halved with each breeding). To succeed in America at that time he needed more potency.
His strongest dominance arrives via the 4x5 placement of the 3/4 brothers Alexander WE/Almfurst HA, plus there are 7 lines of Fling HA, 7x8x8x7x6x8 and 2 lines of Almjaeger HA 5x6. On the surface he is 1/4 Thoroughbred, but when the lines are extended we find far more. He has some Trakehner lines with a build of Tempelhueter TR (Perfectionist). 
Almjaeger HA has a Adlerman I HA sire-line, and Alderman I  HA is 3x3 to Alnok HA and 4x5 to King HA. Alnok HA is by the Thoroughbred Adeptus out of a Nord HA mare.  Nord HA is a picture into the foundation stock of Hanover. Fling HA is 3x2 King HA (3/4 TB) and 5x5x5 to Schluetter HA (3/4 TB).

By Good Twist (above) we find Gem Twist's dam changed the direction of the genetics by making the American lines dominant. Led by Black Toney lines, through Balladier and Boys I'm It 4x6x5 and closely followed by a Man O' War dominance 5x6x8x6, connecting into the Great War line in Good Twist with War Admiral and War Woman. There is a definite similarity here between this and Idle Dice's lineage (above)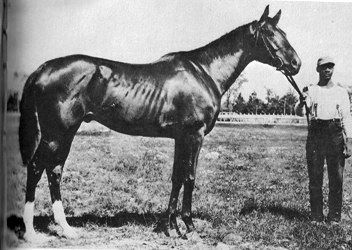 Black Toney is a Lexington RH warehouse, a son of the great sire Commando with 5 lines of Lexington RH, who brings in 3 of those lines via his sire the mighty sport line of Domino (pictured above), and Black Toney gathers in 2 more from the dam side making 7 lines in 7 generations (critical mass). 
Man O' War, while he also carries Lexington RH is really a Birdcatcher warehouse (13 lines) and also a Newminster source (6 lines).
The jump lines in our American stars and other sport traits available in our American Thoroughbred are visited in more depth in Legacy of Lexington.

Conclusions--Critical Mass and Strong Linebreeding Set Jumper Type
By now you have surely noticed certain bloodlines are in dominance in these jumping stars. Let me list them for you with some of their common expressions. 
First the major common jump roots:
Newminster 1844 via Hermit, Clemence, The Mersey and Reticence
Galopin 1872 via Galliard, St. Simon, Donovan
Birdcatcher 1833 via Stockwell, Sanda, Canterbury Pilgrim, Isonomy
Lexington RH 1850-Boston RH 1833 via Domino, Durban, Americus, Black Toney
Vandal RH 1850 via Hanover-Hamburg, Teas Over
Springfield 1873 via Phalaris, Sainfoin/Sierra
Thormanby 1857 via Le Sancy, Roi Herode
Dollar 1860 via Saumur, Upas, Fair Agnes
Alnok HA 1888, a foundation of the Hanoverian, via Alderman I HA and others, is  5/8 TB with 30 lines of Herod, 28 of Eclipse and carries Norfolk HA, Zernebog MECK and Jellachich MECK, both 3/4 TBs
Achill HO 1877, via Tobias, Sigmund and others is 7x7x7x5x5x5x3 Burlington Turk, a Yorkshire Coach Horse
Blackburns Whip RH 1805, via Tiger, Kennons Whip, Truxton, Cannon Whip, Harry Bluff RH, Steel Dust RH and others, is 4x4x5 Janus, 4x4x5 Brandon RH (he is found in most American sport breeds and even on the dam side of the Tesio bred Nearco).
Norfolk HA 1833 via Nord, Nabock, Nordlicht, Sud, Young Norfolk and others, is 3x5 Delpini, 10 lines of Highflyer in 7 generations and 12  lines of his sire Herod in 7
King HA 1890 is a Hanoverian foundation via Khedive, Kimball and others is 3/4 TB out of Norfolk HA dam

These listed above are proven foundation jump lines because they consistently produce top jumpers and when made dominant they still give jumping traits once the buildup reaches critical mass.
Below are more recent jump purveyors and many of you will recognize them as such--their strongest root dominance added after their name. Some of the lines are strong because they carry the foundation roots close up to the front, but most others because they refocused those lines. Here are a few examples of foundation refocusing power we saw in the Hall of Fame inductees and some others that are found in the European products not found in the Hall of Fame. This is not a complete list, but should be an illustration for you of the benefit of concentrating those lines to the front of the pedigree--these are lasting sport influences.
Gay Crusader 5x3x3 Galopin
Bay Ronald 5x5x6x4 Birdcatcher (grandson of Newminster) [Note: just recently this line has been identified as a root carrier of the WFFS genetic defect]
Rock Sand (son of Sainfoin/grandson of St.Simon) Birdcatcher 6x7x6x6, Newminster 5x4
Isonomy 3x4x4 Birdcatcher
Americus 2x2 full siblings The Nun/Norfolk (by Lexington RH)

Domino 3x4x4 Lexington RH

Fair Play Birdcatcher 5x6, Lexington RH in 4th, Galopin in the 4th, Newminster in the5th
Phalaris 3x4 Springfield
Alderman I HA 4x6x6 Norfolk HA
Domitz I HA 4x5 Alderman I HA
Domburg GEL 4x4 3/4 siblings Achill HO 1888/Action HO, also 5x4x5x6x7 Achill HO 1877, 4x5 Martin  OL (TB, AN, CB)
Fling HA 3x2 King HA
Fuschia FT 4x4 La Juggler NT, 5x5x5 Schlutter HA (3/4 TB)

Barcaldine 2x3 Birdcatcher Mare
Marco (son of Barcaldine) is 3x4 Birdcatcher and 5x3 Newminster
Roi Herode 4x4 Thormanby, 5x4 Newminster
The Tetrarch (son of Roi Herode) is 3x3 full sibings Clementina/Tadcaster (Newminster), 5x4 Thormanby
Le Sancy 2x2 full siblings Thormanby/Lady Hawthorne
Lady Josephine 4x4 full siblings The Nun/Norfolk (Lexington RH), 4x5 Hermit (Newminster), 5x5x6x5x6x6x7 full brothers Stockwell/Rataplan (Birdcatcher)
Nearco 5x4x4x5 St. Simon and his full sister Angelica (Galopin) and he has an American dam-line (Lexington RH and Blackburns Whip RH)
Nasrullah (son of Nearco) 5x6x6x5 St.Simon (Galopin), 5x5 Canterbury Pilgrim (Birdcatcher) and has an Americanized dam-line (Americus via Lady Josephine)

Ajax 4x3 Galopin
Teddy (son of Ajax) 4x2 Ormonde/Doremi, Galopin 5x4
Spearmint 5x4x5 Galopin, 5x3 Tadcaster with line of Lord Clifton in 4th (Newminster)
Hurry On 4x4 Hermit (Newminster), Stockwell 5x5x5 (Birdcatcher)
Precipitation (son of Hurry On) Hermit 5x5x5 and Tadcaster 5x5 (Newminster)
Furioso, (son  of Precipitation) produced Furioso II SF who has strongly impacted the modern warmblood, he is out of a Anglo-Norman dam who brings in 6x5x6 Bordeau AN (AN, TB, AT) and Karikal AN 5x6 (NT, AN, TB)

Ladykiller 4x4 Phalaris (Springfield), Chaucer 5x5x5x5 (Canterbury Pilgrim), The Tetrarch 5x5 (Newminister)
Perfectionist 4x4 Lord Clifton (Newminster)
Rantzau 6x6 Isonomy, 7x7x6x7x7 Newminster, Ajax 5x5, 7x8 Newminster
Orange Peel 4x5 St. Simon-Angelica (Galopin), 5x6x5x6 Birdcatcher
Durban/Heldfann (full sisters) 4x4 Hanover (Vandal RH), 4x5 Hermit  (Newminster), 3x4 St. Simon (Galopin) plus 8 lines of Lexington RH
War Relic 2x3 Man O' War/Friar Rock (Birdcatcher, Newminster, Lexington RH)

Another curious fact has arisen, in that sometimes the bloodline that produces the great jumper also is strong in the dressage star. We can see this plainly in the modern versatile lines of Cottage Son and Nearco for instance. I have noticed this reality in the various Thoroughbred and Trotter line research I did for both Legacy of Lexington and Standardbred Sport Horses. Maybe this is why we have been hearing of late the lament from the warmblood experts that they have lost their way and think now they should add a jumper line to their dressage formula. It appears often that athletic talent, whether dressage, jumping, racing at the different gaits and distances often have the same root source.
Perhaps we might shift our perception then...that all athletic pursuits need the base dominance in speed, stamina, agility that is provided from the root lines (racehorse breeds), and that other lines that bring in adjustments in shoulder, hip and neck carriage may transform the ability from one discipline to another? Something to think about.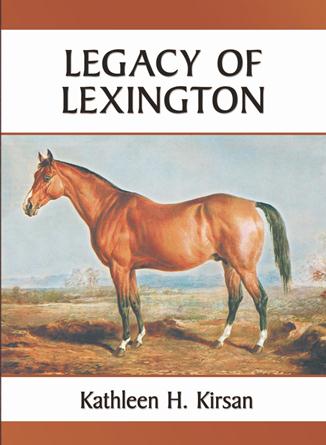 The above identified Thoroughbred lines are identified and discussed in depth in Legacy of Lexington; that study is enlarged and followed back to the root sources in both the Thoroughbred and the trotter in Standardbred Sport Horses, both books are available online at most booksellers.
We hold steeplechase races in this country, and when I did a bloodline study of the hall of fame steeplechasers I discovered they carry very similar lines to the show jump champions. 
 A discussion of the new narrative circulating in the warmblood world: that the Thoroughbred has lost its jump.