Senior Senator
Bloodlines of a Champion
"you never expect to catch lightning in a bottle, but we did." (Joe Davies on the passing of Senior Senator)
Every once in a while there is a horse that is so remarkable we are riveted by their performance, but before we can get quite enough of them they die. The great Ruffian comes to mind; it's like being robbed. Senior Senator falls into that category, like a comet streaking across the steeplechase sky, winning all before him with ease, and then too soon he was gone.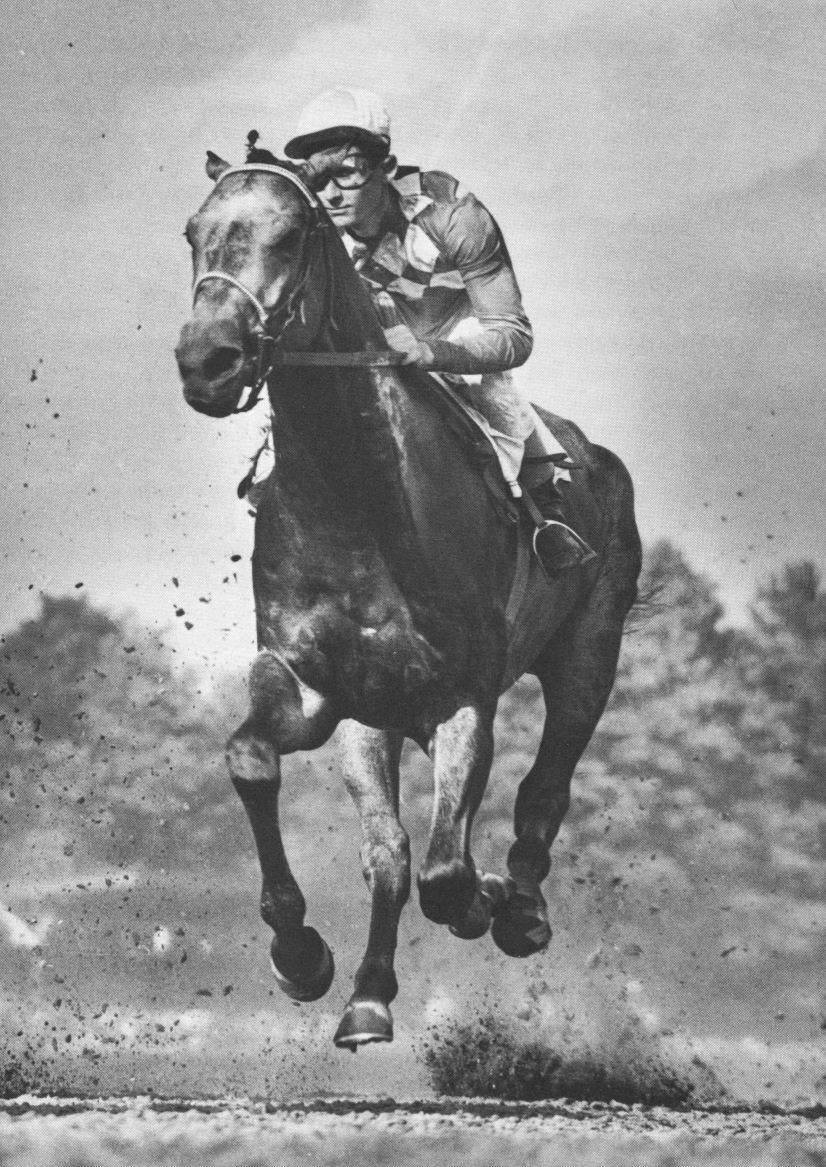 [A ruling genetic force in Senior Senator is Native Dancer, a great racehorse and sire, whose relatives succeed in steeplechase, and Senator greatly resembles him in type. Photo by Bert Morgan, courtesy of Keeneland Library]
In the Thoroughbred world the poor sister is the steeplechase circuit. It shouldn't be, because in a industry that worries it is losing its stamina base, here right before their eyes are horses that are the embodiment of both stamina and soundness. Steeplechasing is not for the unsound horse; a unsound horse would never get through the ranks as it is too punishing of a sport to allow that. And when the main stream racing tracks have all but eliminated the stamina race, here are horses that are not only running 2 1/2 to 4 miles but are clearing obstacles while doing it, some as high as 4'10". Shouldn't we be paying attention to what makes a good steeplechaser if we are serious about putting stamina and soundness back into the breed?
I did a pedigree study on the Hall of Fame Steeplechasers to answer our questions on this problem. Some of the results were surprising, as it included several bloodlines known as sprinters and known to be unsound. Yet, there they were powering the best of the best in the most strenuous athletic tests of our day. Our lesson being, those talented lines may pass on a fault or are known or assumed to produce only sprinters and classic length racers, still have a few surprises for us. Today, shortly after Senior Senator's passing, I thought it might encourage breeders to recognize his power lines.
In 2019, the already legendary steeplechaser, Senior Senator, jumped into immortality when he won his third consecutive Grand National, retiring the trophy. Also called the Breeders Cup Grand National, this is a grade 1 hurdle race run over 2 5/8 miles with 14 obstacles. But that is not all; he entered the Maryland Hunt Cup again that year (slide show, video of full race), the toughest steeplechase in America at 4 miles and 22 timber fences (fixed rails up to 4'10") and won that for the third time: 2016, 2018, 2019; retiring that trophy as well. All this was after a terrible fall in the 2017 Maryland Hunt Cup in which he fractured his neck, requiring a metal plate in his neck and a year's recovery; but there he was in 2018 and 2019 continuing his incredible winning streak. 
Senator had a reputation as being a difficult horse. Joseph Davies, his trainer, said it appeared that he had panic attacks periodically, and being such a large and powerful horse, he was dangerous to be around when the fear overcame him and he tried in panic to break loose from whatever confinement he was in. They realized very quickly that it was better to keep him at pasture, but even then, he would easily jump from one pasture to another, and sometimes right out and down the road. But to try to keep him confined was asking for trouble, and they also found that he needed to keep working or he would tend to colic. His high energy level and need to be kept in training reminds one of Hamburg, a powerful horse that had to be kept in training and fed continuously. Senator had been claimed off the flat track by his owner Irvin Campbell and his trainer Joe Davies; they saw the potential for an excellent jump racer in him. With proper handling and retraining he became one of those rare horses that stuns us with their performances.
With his tendency to colic if not being worked regularly, when the steeplechase season was cancelled in 2020 they kept him in training. Somehow it was not enough, because this amazing creature succumbed to colic in April of 2020 at just 10 years of age. And just like that a horse with incredible talent and vitality was gone.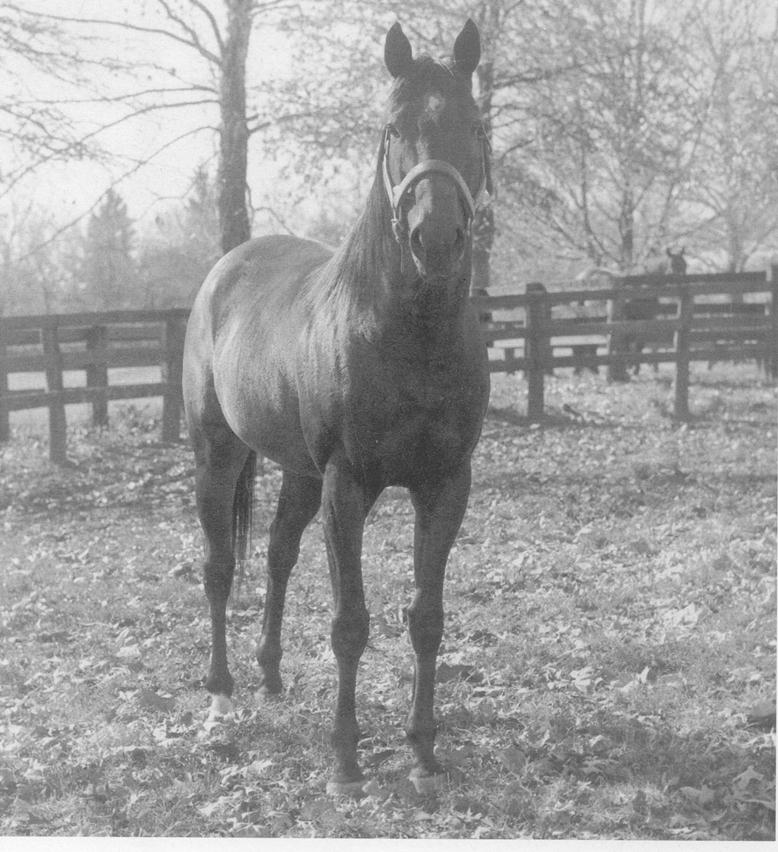 [The second strongest genetic power in Senator: Bold Ruler, another super star. Photo courtesy of Keeneland Library.]
Pedigree Analysis
Senator's pedigree does not disappoint in pointing us very clearly where his immense talent arose from. It is an unusual pattern to begin with, as the dominance arrives from the two dam quadrants, not the sire's.  His sire, which also was 'difficult', has tremendous potency coming from his dam: Majestical Moment. She is inbred 3x4 to 3/4 siblings Bold Lad/Bold Princess by Bold Ruler out of Grey Flight or her daughter Misty Morn. Grey Flight is rated a reine-de-course because of the consistent talent she produces. Bold Ruler is one of the most successful sire lines in America and with a reputation for difficulty. The great Olympian Denny Emerson said of the Bold Ruler line horses: "I've found them to be tough--sometimes tough minded too--but if you can get that working for you, instead of against you, hang on to your hat!" ("Danny Emerson: I'm a Fan of Bold Ruler" 10/22/15). Anne Peters said of Bold Ruler: "Bold Ruler is blessed with speed and courage that allowed him to succeed despite infirmities, from a tender mouth to chronic arthritis and soreness." (Bloodhorse.com 3/28/14).
Grey Flight was a successful broodmare, having 9 stakes winners out of 15 foals a record that earned her reine-de-course status. Bold Ruler's full brother, Independence, was a successful steeplechaser, starting 74 times!
Majestical Moment is also 4x4 to the full siblings: Native Dancer/Mysterious East, with another 5 lines of Native Dancer throughout the pedigree. Native Dancer has the outstanding race record of 21 wins out of 22 starts, and is rated #6 of the top 100 tbs of the 20th century (Bloodhorse 2005). He was a huge racer, 16.3 and muscled to the eyebrows, which is very similar to Senators physique . Further, Avalyn Hunter described his temperament this way: "Native Dancer was intelligent but extremely strong-willed and had a calculating streak. These traits contributed to his penchant for close finishes; he usually had his opposition measured and would launch his bid when he saw fit, with or without the jockey's consent." (American Classic Pedigrees.com/native-dancer.html). Senator surely got some this intelligence and strong will. It's interesting also that Native Dancer's dam Geisha is full sister to the steeplechaser Columbus. Jump genetics saturate Senator's gene type. All of this power is concentrated in the Majestical Moment lineage, she is the greatest genetic contributor of the grandparents. 
The second dam, Le Grand Epic while taking a second place to the sire's dam, she also carries notable potency, and once again far more then seen in the damsire, her main potency arises from providing the full sister, Mah Iran, to the 10 lines of Mahmoud this pedigree carries. So she is 5x4x4 to the full siblings: Mah Iran/Mahmoud, and there are an additional 7 lines of Mahmoud throughout the rest of the lineage in the 6th through 9th generation--including the dams of Northern Dancer (4x4) and Queen Sucree (4th). 
These are the power genetics of our hero in order of genetic strength: Native Dancer, Bold Ruler and Mahmoud, with full siblings cranking up the potency even more. These are extremely high class bloodlines, the best of their time, plus more intensity arrives when the damlines are involved in this, such as we see here (mtDNA). No wonder the Senator could not control his energy level.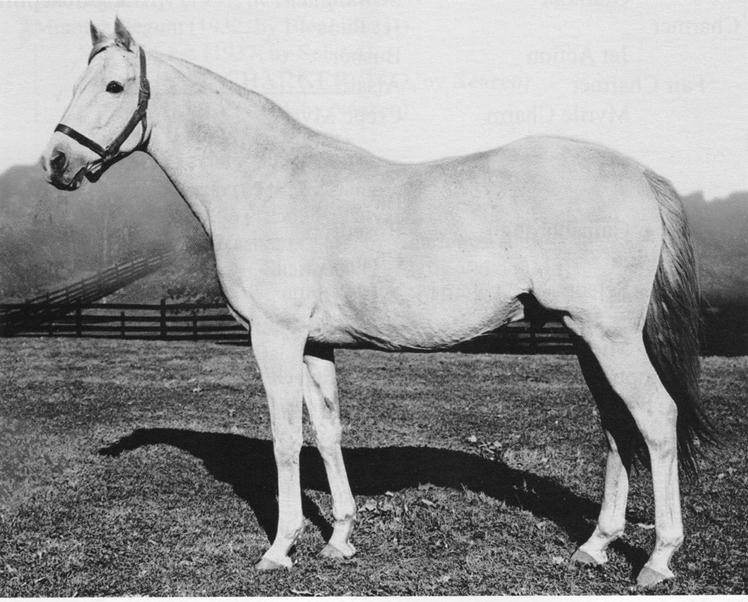 [Mahmoud, strong background power in Senator. photo from Keeneland Library collection]
Hamburg, a winning stayer, who I noted above has similarity with Senator in displays of extreme athletic ability along with high energy conversion rates, was 4x5 to the 3/4 brothers War Dance RH and Lecomte RH, and his sire was 4x4 to Vandal RH, with an overall pedigree dominance in Lexington RH 5x5x6x6. All of that gave him a first rate racing ability, but there is something else here that may help identify the high energy level: Hamburg's 3rd dam, Lizzie G, is 2x3x3 to the 3/4 sisters Reel/Judith...once again concentration of the maternal genetics, including the damline.
Another superstar and difficult horse with excessive energy and talent is Halla HE, who holds the world record for Olympic gold medals in show jumping. Curiously, she was also a champion steeplechaser, winning the prestigious Hamburg Cup, but was sold off because of her high strung disposition which made her too difficult a mount for most riders. Her pedigree is only partially recovered (we have full information on her sire, and I discovered the true identify of her damsire, her 2nd dam is unrecorded Anglo-Norman--see Standardbred Sport Horses). Oberst, her sire, is a full Standardbred, with extreme inbreeding to a mare: Ottaray Belle, 2x2, plus full brothers 5x5 May King/Adventurer. Ottaray Belle rules the dam lines of both the sire and grandsire, and being a daughter she received the x chromosome. Halla, once paired with the gifted Hans Winkler, was able to focus her talent and achieve the highest level. 
What may we deduct from this? That intense inbreeding or linebreeding to high performing horses transmits extreme talent as we would expect, but involving the damlines seems to increase energy conversion rates.
All three of Senator's dominance, that is, the influences that set his type are 'chef-de-race' and not in the stamina category. Native Dancer is a consistent producer of Intermediate (sprint) and classic (1 to 2 miles) horses. Bold Ruler is categorized as chef of brilliant (sprint) and classic horses. Mahmoud is a chef of intermediate (sprint) and classic horses. Yet, Senior Senator, is clearly a grade A stayer, perhaps because his concentrations are in the 4th generation or beyond, tempered a little by intervening generations (Harper). Hamburg's duplications also begin in the 4th generation, and he was a champion stayer, but was built like a quareter horse.
Links:
Hall of Fame Steeplechase Bloodlines study
Durability and Soundness in Thoroughbred
Can the Thoroughbred Still Jump?
References: 
Clippinger, Don  " Senior Senator Wins Third Grand National" National Steeplechase News 4/20/19, "Three Time Hunt Cup Winner Senior Senator Dies" National Steeplechase Association 4/15/20
Emerson, Denny "I Am a Fan of Bold Ruler" 10/22/15
Finley, Bill "How a Horse with a Panic Disorder Turned into a Steeplechase Star" 4/26/17 Thoroughbred Daily News
Harper, Clive Thoroughbred Breeder's Handbook 1997
Hunter, Avalyn www.american-classic-pedigrees.com/native-dancer.html
Kirsan, Kathleen www.sport-horse-breeder.com: "Ruffian", "Speed Gene", "Steeplechase Hall of Famers" , Standardbred Sport Horses 2017
Parker, Ellen www.reines-de-course.com "Grey Flight"
Peters, Anne www.bloodhorse.com 3/28/14