Eventing Hall of Fame - Bloodlines

Introduction
This article is a complete rewrite of my previous page on the Eventing Hall of Fame inductees. This time I will include the bloodlines of all the Eventing Hall of Fame inductees (click on name) even if some are incomplete. Four new horses have been added to the ranks since I did my last update of this article.
The purpose of this piece, as the one before it, is not just to honor the selected few super eventing horses (14) that have qualified for the Hall of Fame, but to determine the bloodlines that put them there, so we breeders can use that information to refine our own breeding projects. This exercise will not always be easy or completely conclusive because more than half of the athletes, as I mentioned above have portions of their ancestry unknown. Also I will list the inductees not by date of induction, but by their date of birth, hoping to add a dimension of progression of power lines. The horses examined span 70 years--from 1926 to 1994. As always on this site, we will analyze for genetic dominance using statistically proven indicators of potency: Tesio Methods.
Our operating theory for this exercise is that the potent bloodlines in a horse determines their performance ability and stud success. After the individual inductee lineage review we will wrap up with the conclusions we can make from this information.
Inductee Pedigree Review
Jenny Camp ASH 1926 (ASH=American Sport Horse)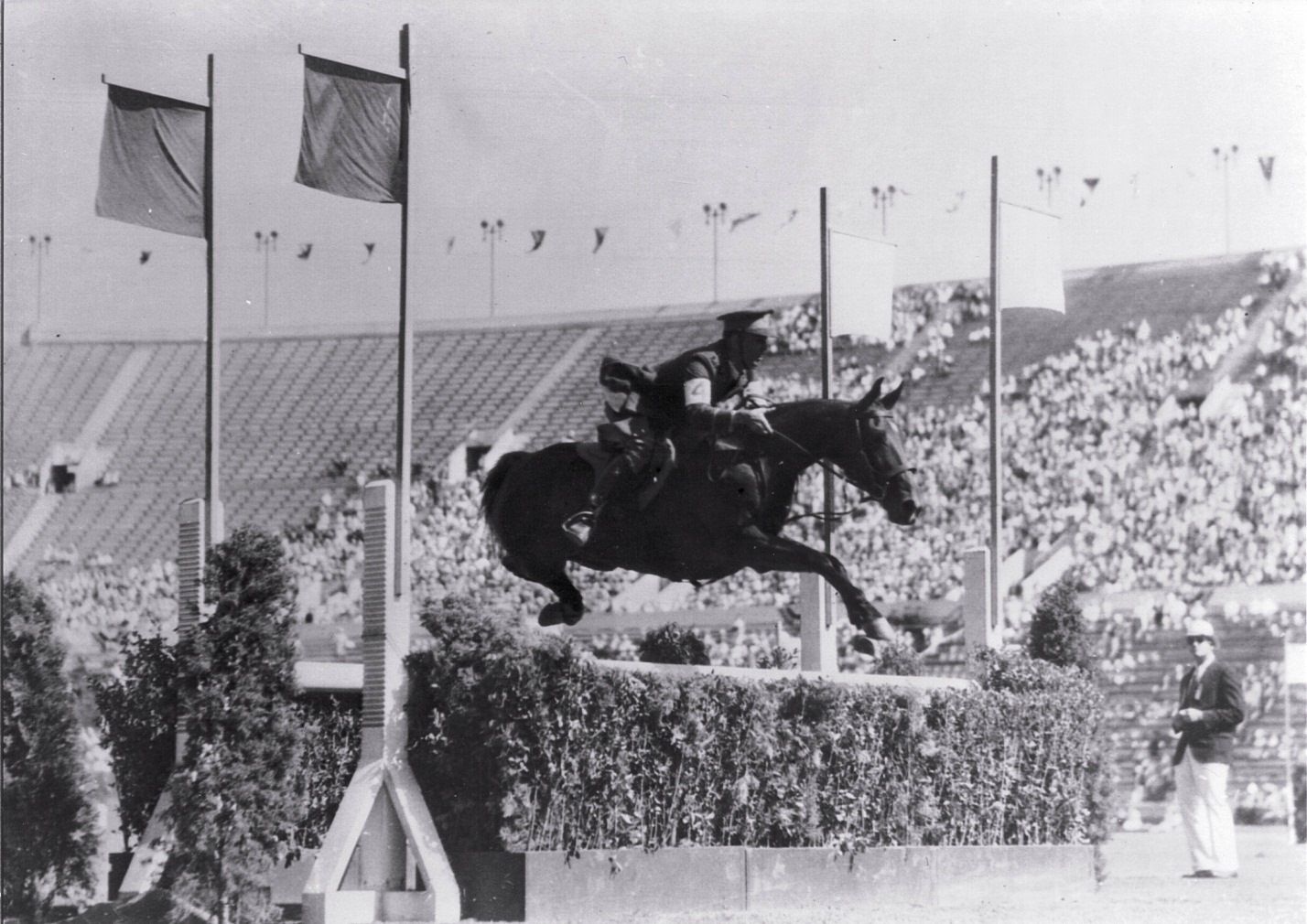 Jenny was a Remount bred sport horse who is truly one of the most remarkable sport horses of all time. Just 15.2 hands, this mighty mite won back-to-back individual silver medals in eventing in the 1932 and 1936 Olympics. Paired with the equally notable Tommy Thomson, she won team gold and individual silver at the 1932 Los Angeles Olympics (pictured), and then returned in 1936 to take the individual silver again in the notorious Berlin Olympics. America had no team score in 1936 because 2 of the 4 team horses were injured at the trap in the #4 obstacle, and one team horse, Slippery Slim, had to be shot right there. So, there were not enough intact horses on our team to complete the event. Only 3 of the 18 foreign teams competing had enough horses survive unhurt to qualify for the team medals; all 18 countries lodged formal complaints. (see North American Sport Horse Breeder for the full story). Yet, our little Jenny made it through displaying such toughness, spirit and resiliency her performance made her a legend in eventing.
Jenny's dam was unrecorded; the only information on her we have was she was a Standardbred--Thoroughbred cross. We can surmise this mare was exceptional nonetheless because the same combination of this mare with Jenny's sire Gordon Russell produced some of his very best progeny. Her full brother Don R was a member of the Army Jump Team that competed at the Olympics, and her full sister, Little Boo, was an excellent broodmare, producing 3 top eventers herself. Jenny never had a foal.
Her sire Gordon Russell was a Thoroughbred born in 1910 and donated to the Remount cause, and he made it into the General Stud Book before the Jersey Act was enforced (1913). So, unlike many other great American-bred sires of the time (Man O' War for instance), Gordon and his racing progeny were allowed "Thoroughbred" status, while others of the day were ruled "half-bred" (see Legacy of Lexington). Gordon also is close enough to the 1800s that we can see clearly the root power lines in operation in his lineage.
His sire Marchmont, foaled in 1900 was of typical English breeding, with a heavy dose of the root jump line of Birdcatcher (sire of The Baron and Miss Agnes) in dominance. Further jump influence enters through the mare Clemence, dam of Tadcaster. Also interesting is the sprinter: Springfield, who we will see further along is the power behind the Phalaris line by inbreeding 3x4.
Gordon's dam Tokalon was a 1901 American-bred, a top racer and good broodmare. Looking at her topline you will see the incomparable Iroquois, one of the many American-breds who raced in England in the 1800s and humiliated the English racing industry by winning all their classics, and worse, the progeny of those Yankee invaders bred there also proved winners. Iroquois took both the English Derby and the St. Leger in 1881, which was the same year that American-bred Foxhall took the other classics in both France and England, like the Cesarewitch Stakes and Cambridgeshire Stakes and the Grand Prix de Paris. Iroquois brought in a line of Faugh-a-Ballah who is the full brother to the root jump bloodline of Birdcatcher, making the jumping traits fully dominant.
Iroquois' dam is the American mare Maggie BB, who is out of a Boston RH daughter which is an American root jump and stamina source. Further down the pedigree you will see 2 daughters of Lexington RH (son of Boston RH), making the Boston RH line just as powerful as the Birdcatcher because the Lexington RH daughters are 3/4 sisters. Boston RH and Lexington RH are not just a root jumper line, but they are the best distance racers (stamina) lines in the world--champion four-mile heat racers and as sires they have no equal (easily doubling the sire record of St. Simon).
[The 'RH' breed label is the American pre-TB racehorse breed that is the parent stock of all our racehorse breeds: Quarter Horse, Standardbred and American Thoroughbred (see American Breed Development).]
Jenny's dam is 1/2 Standardbred, a breed that also carries an immense jump, great feet and legs and a tremendous work ethic. With her genetic power like her partial pedigree reveals it is no wonder Jenny and her full siblings were so terrific. (We will see much more of these bloodlines; Birdcatcher/Clemence/Springfield/Boston RH below.)

[Above is a engraving of the premier root jump source Birdcatcher, an Irish-bred TB. Birdcatcher is a major jumper bloodline behind the all the modern day jumper bloodlines, including all the warmbloods.]

The Grasshopper ISH 194?
Here we have the Irish-bred The Grasshopper, an Irish Sport Horse before they were called that; in  his day they were called Irish Hunters, North Americans have imported Irish Hunters for centuries, for the same reason they are still the greatest eventing breed out there today: athleticism, stamina, toughness, jump and excellent temperament. Unfortunately his Irish bred dam is unrecorded. Irish lines as you will see as we go along in this study were often left off, making our conclusions on the Irish power lines less exact. However, by the numbers of Irish Hunters that made it to the honors (7), we will see no matter what has been recorded the Irish Horse is definitely a winner in eventing. My research into root bloodlines has provided me with some understanding on the Irish Horse's consistent sport ability and the compatibility it has with the Thoroughbred and our native breeds: they all arose from the same original sport horse base--the Hobby. 
The Grasshopper at 15.1 hands tall is the smallest of the inductees, even shorter than Jenny, but just as tough and talented. He was still competing internationally at age 16. He rode in several Pan Am Games and was on  three Olympic teams: 1956 Stockhholm, 1960 Rome and 1964 Toyoko. He earned Olympic team silver and two individual golds, plus a team silver and gold in the Pan Am Games.
In his sire the TB Tutor we see the ever present St. Simon 5x6x7, Hermit   7x7 (pictured  below), and the racer and root jump line Isonomy 6x6, and what I find interesting is the presence of the French jump line Dollar through a double of his son Upas 6x5.  All of these lines are top sport lines, and St. Simon and Hermit we expect to see in multiples in all Thoroughbreds--they are a standard presence as you will see further on.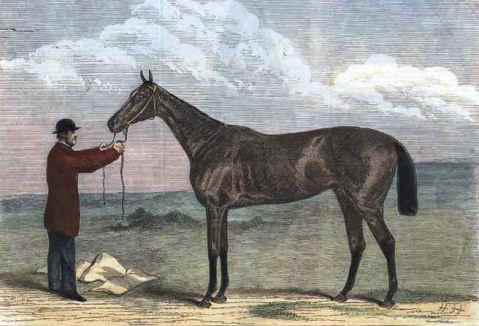 Plain Sailing ISH 195?
Another Irish bred sport horse, Plain Sailing won team gold at the 1967 Pan Am Games, team silver at the 1968 Olympics, team silver at the 1972 Olympics and team gold at the 1979 World Championships. He and the next inductee Kilkenny ISH are by the noted TB sire of eventers: Water Serpent.
Water Serpent has a pedigree worthy of study not just because he is such a successful sire of top sport horses but because he possesses a very strong genetic design. Water Serpent is also found in the superlative jumper and sire Cruising ISH, as his second dam-sire, and his presence surely helped Cruising become a star jumper. Water Serpent is also living proof we should strive to build up the maternal influence we find in our stock. His pedigree reveals a strong filly factor of Gallinule daughters: Lady Drake,  Hammerkop and Joie de Vivre 4x3x4. Further he carries the ever present Swynford and his brother Chaucer--also through daughters 3x3, and further reinforced with a presence of the dam's (Canterbury Pilgrim), brother Loved One. These are the lines that Lord Derby built his racing empire on: the sound progeny of the mare Pilgrimage. But I have found Canterbury Pilgrim does much more, for she is found to be one of the greatest taproot jumper bloodlines in the modern sport horse (see Standardbred Sport Horses for tracing of the jumper traits back to its roots.)
As we saw in The Grasshopper ISH, Plain Sailing's dam lineage is unknown.
Kilkenny ISH 1957
Kilkenny is another great Irish Sport Horse (Irish Hunter). He won Olympic team silver both in 1968 and 1972, plus the individual bronze at the 1970 World Championships. He was rated a supreme athlete who had great suspension in his gaits and a noted excellent work ethic.
As mentioned above he is also by the potent Water Serpent and we are fortunate to have half of his dam's lineage as well, but as seems so often the case, the Irish lines are missing. With the extra TB added via the dam-sire we see Isonomy and St. Simon lines in power as usual but also the notable jump lines of Clemence, Sanda, Marco and Canterbury Pilgrim (jump lines identified in Legacy of Lexington and enlarged on with common root line identified in Standardbred Sport Horses).
This is a place to take a moment and discuss the presence of unsound lines in sport horses. Here we see Phalaris, a transmitter of both speed and brittle front legs,  John O'Gaunt who brings in weak joints, Spearmint with front leg faults and The Tetrarch with poor front legs. How can a horse not just jump very well but race cross-country over obstacles and uneven ground with such transmitters of leg faults in their ancestry?
I had to research the soundness question because Spearmint, The Tetrarch and Phalaris are consistent bloodlines in our American jumpers as well. First, because of the way genes divide and combine with the mates it is never certain which half is sent to the foal, and we know that an unsound horse can regularly produce sound horses as well as the compromised ones.
Phalaris is a consistent transmitter of speed, and we can see he is inbred to Springfield, and he is a dominant line in the modern Thoroughbred--there is no way to avoid his lines. Some of his descendants are sound and remain sound like Nearco (grandson of Phalaris) and others are tragically flawed like Ruffian.
Spearmint is by the Australian-bred Carbine whose dam is The Mersey (out of Clemence); The Mersey, along with the great mares: Catnip (Nogara-Nearco) and Plucky Liege (Bull Dog-Sir Gallahad) are permeating the breed now. The explanations I have read about his genetic power by the experts always came up short for me. It all made sense finally when the 2010 DNA revelation that Bend Or was really a ringer named Tadcaster was published. Then we could see the entire honor that Bend Or had as a racer and sire belonged instead to Tadcaster.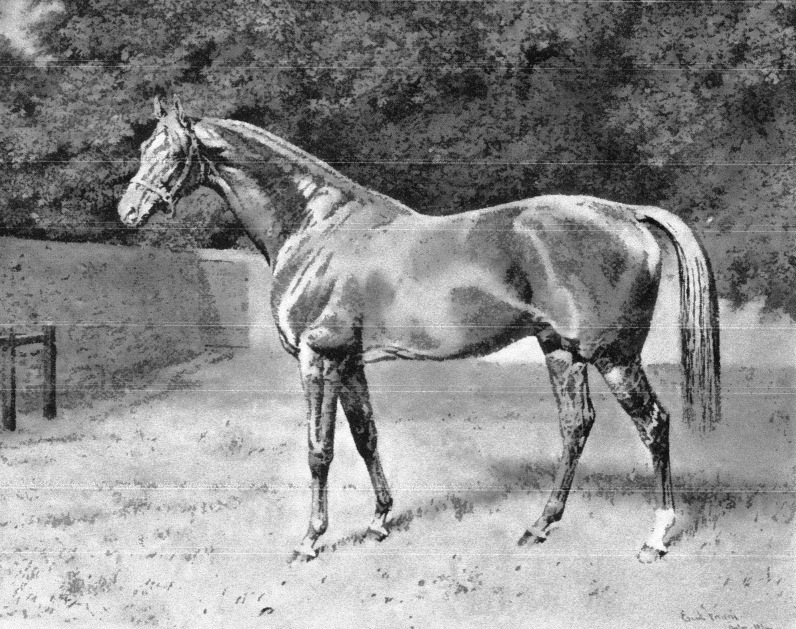 Tadcaster (pictured), who had the same sire as Bend Or: Doncaster, was a son of Clemence, who also is the dam of The Mersey--dam of Carbine--sire of Spearmint. This discovery provided the missing pieces of the genetic puzzle, because then we could see that Clemence, a mare no one wrote about, is also the genetic power behind the equally puzzling The Tetrarach (inbred to full siblings out of Clemence), as well as our domestic enduring jump line of Fair Play (his dam is by Tadcaster). So here we have three sport horse dynasties, on three continents, powered by the same mare: Clemence. Spearmint and The Tetrarch, despite their leg faults, are found in genetic power in some of the best sport horses. We as breeders should take care to build dominance in the sounder of their descendants.
Good Mixture 1962
Now we encounter our first inductee that is a full Thoroughbred. All of the Hall of Famers are at least 1/2 Thoroughbred, many are 3/4 and of course 5 are full Thoroughbreds. Facts are amazing things, no matter how many times falsities are expressed the facts just keep coming to the surface as we find in eventing, for it is clear to anyone with eyes it is the Thoroughbred and the Irish Horse that rule in eventing, not the warmblood.
Good Mixture is a very potent package of the power lines from both the USA and Great Britian. Leading the dominance are the full brothers Bull Dog and Sir Gallahad, sons of the ever present Teddy out of Plucky Liege, a Spearmint daughter, making Clemence 5x5. These full brothers are represented by a son and daughter and combine both sides of the pedigree strongly. Further, the dam-sire Spearmint is found a total of four lines: 5x6x5x5. Good Mixture carries a Teddy/Spearmint potency, with all other power lines in his pedigree lagging behind this.
Teddy (pictured below) is a significant sport bloodline worldwide, recognized for bringing in the often missing female lines of the taproot mare Pocahontas, he is also a strong jump transmitter with the above mentioned double of Clemence and a strong background presence of Birdcatcher lines. The full brother combination acts as a focal point for the multiple Clemence (17) and Birdcatcher (17) lines found in 10 generations. The Tetrarch line in the 5th is part of the  focus as it brings in the full siblings Tadcaster/Clementina.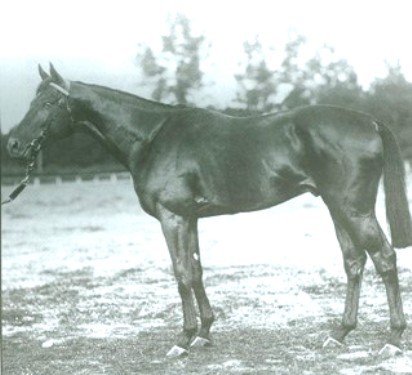 The sire line adds stamina, power and speed from a concentration of the super sire Domino, who in-turn is inbred to Lexington RH,  the greatest sport sire so far (16 year world record). Try to see how it is the bloodlines that concentrated the important sport lines are the source of the power to perform in the horse.
Bally Cor 1965
The American bred Thoroughbred mare Bally Cor was a versatile and steady mount with enough talent to propel her to the top. She earned in  1975 a team and individual gold at the Pan Am Games, in 1976 she won the team and individual gold at the Montreal  Olympics and two years later won team bronze at the World Championships; and upon retirement she became a successful broodmare.
Her sire Cormac was a celebrated  steeplechaser and he provides some of  her power lines, including a double of Wellington through daughters (inbred to Pocahontas 3x2). This is a huge boost for a mare,  a powerful  filly factor but much more as it provides the female lines of Pocahontas, one of the greatest mares ever, bringing forward  and sex-balancing the 30 Pocahontas lines in the background,  and refocuses it all through the double of Negofol 3x7.
The second power source is from the Swynford daughters 4x5 made more powerful by his dam-sire Tristan finding his 3/4 brother Friar's Balsam and 3/4 sister Be Cannie, they in-turn pull forward a background buildup of Hermit-Newminister (jump  lines).
There is a third genetic influence here, which appears lesser in power except that this being a mare and it involves the dam-line makes it more relevant. These are the old power lines of Lexington  RH and Vandal RH (doubled in Hanover). Her 6th dam Frizette, a Hamburg daughter (Hanover son) is one of the greatest broodmares of the last century, building a dynasty in both France and the States that is still powerful today. The 5th dam is a daughter of Black Toney, who combines Domino with Ben Brush, plus a line of Fair Play in the 2nd dam make this dam-line a powerhouse of top American sport genetics (10 lines of Lexington RH, 2 of Vandal RH). Below is Lexington engraving.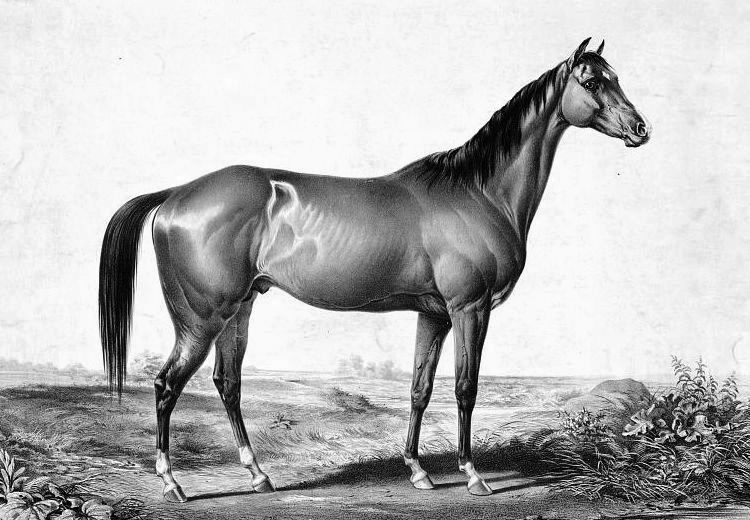 Irish Cap 1967
Another full Thoroughbred, Irish Cap, was bred in Ireland and was a huge horse of 17.2 hands. Teamed with Bruce Davidson they dominated the European Championships in 1975, taking both team and individual gold. In 1976 they brought home the team gold in the Montreal Olympics.
You can see there are plenty of evident dominances in duplicated lines in this pedigree, but I found only one close sibling group which is the 3/4 siblings Light Brigade and Bridge of Earn. The main potency, however, appears to arrive from a Sir Gallahad double 4x4 sex-balanced (colt factor), a line we find very often in these champions. The second strongest dominance is farther back, and that is Galopin, a horse born in 1872, but is present by 51 lines in 10 generations making a strong critical mass in him, 27 of those lines are through his famous son St. Simon, a stallion who proved to be a sire of winners at all distances. This makes Irish Cap a Sir  Gallahad/Galopin type.
The Gray Goose ISH 1970
Next is another Irish Sport Horse, the 1970 The Gray Goose,  said to be a difficult horse who finally settled down to a highly productive career under Kim Walner. The pair was eventing fan favorites, and they won individual and team bronze at the 1982 World Championships.
With only his Thoroughbred sire Hill Tarquin's ancestry recorded we can only see a portion of his genetics. But we see once again it is the full brothers Bull Dog/Sir Gallahad in force 4x5 with some  lesser potency arising with Blenheim 4x7, Fair Play 6x7 and Pharos 5x6.
Molokai 1983
A full Thoroughbred straight off the track, Molokai proved to be an exceptional  jumper and galloper. In 1994 he took the individual silver at the World Equestrian Games in the Hague. In 1998 he earned the USEF Pinnacle Trophy for his second place performance in a four-star event. He lived to be 30.
His tremendous talent is provided by the 3/4 siblings Aurora/Heliopolis (Hyperion) 5x4, Canterbury Pilgrim 4x3 and his sire line goes to Bay Ronald--all jump lines. Plus 3/4 siblings Tetramena/La Mauri 5x5, full brothers Pharos/Fairway 6x6x6, full brothers Bull Dog/Sir Gallahad 5x5x7x7, and the dam-line once again goes to the American power lines  of Domino (Lexington RH) and Hanover (Vandal RH). Plus the background genetics are at critical mass with St. Simon (57 lines in 10 generations) and the great sport mare Clemence (32 lines).
We can see by this time continuous presences of the same lines, but realize these same lines power the best racers of their day as well. What does this mean?  It means the Thoroughbred, a pure-bred breed, selectively bred for  galloping racing, also is an extreme cross-country and jumper prospect. It is innate in the breed. It doesn't need a separate division in the stud book to encourage these abilities as some warmblood devotees of late have declared as a reason that the Thoroughbred isn't a real sport horse. Indeed it would be laughable to read those statements in our trade journals today except it is so pathetic and displays a shameful ignorance of sport horse history and what powers the sport bloodlines. The Thoroughbred and the Running Horse before it were always used in Hunter sports, always were great jumpers and saddle horses, and nine times out of ten the jump line or the sport line originated with a Thoroughbred.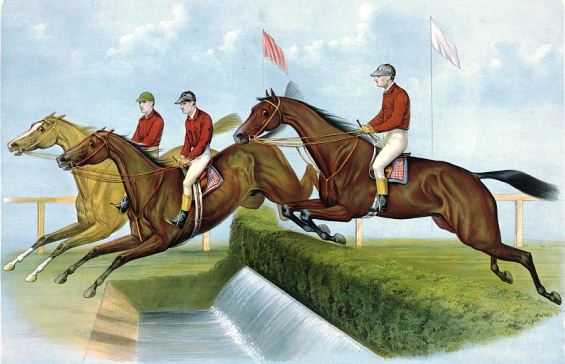 [A lithograph print of a steeplechase water jump from the 1800s--long before a sport warmblood was even dreamed about, full and part-thoroughbreds made possible our multitudes of sport and they and their ancestors before them have always been sport horses.]
The sport horse base of the Thoroughbred, the Irish Horse and the American sport breeds is the same: the Irish Hobby, all those breeds are direct descendants of the original Hobby which is documented as sport horse for over 2000 years!
Biko 1984
Another full Thoroughbred, Biko (not an Irish Sport Horse as stated on the Hall of Fame site).was a very large horse of 17.3 hands (tied with McKinlaigh ISH for tallest of the inductees). An incredible sport horse Biko was awarded the 1999 USEA Horse of the Century award after a stellar career which included the 1996 team silver at the Alberta Olympics.
Biko's genetics have taken on a definite French flavor as the strongest dominances are French-bred: Rialto 4x5 and the 7/8 sisters Vasthi/Variete 5x6. Plus we find Pharos 5x6x6x6 and Solario 7x6x5, all of which pull forward the background powers of 46 lines of Galopin and 34 of Isonomy.
Custom Made ISH 1985
Custom Made is an Irish Sport Horse as you can see from his pedigree; he too is a breed mix up on the HOF site which lists him as a full Thoroughbred. Another huge horse of 17.2 hands, in 1997 he won the Badminton 4-star and then he thrilled us all in 2000 when David O'Connor rode him to the Individual gold at the Sidney Olympics.
Sired by the noted Thoroughbred sire Bassompierre and out of Purple Heather ISH, a Ben Purple IDH daughter. His strongest dominance is Wild Risk, a son of Rialto--who was the main dominance in Biko (above).Wild Risk is 5x5x5 to Isinglass (Isonomy son), a powerful jumper line. Like most English and continental jumper lines, Isonomy is 4x5x5x5 to the full brothers Birdcatcher and Faugh-a-Ballah, who along with Clemence is the major root jumper lines behind the proclaimed warmblood jumper lines.
The 2nd dam in unrecorded, crippling our full evaluation of the Irish lines, but even so we can see Galty Boy IDH who is a constant power-line in the modern Irish Sport Horse,
Giltedge ISH 1986
We are told Giltedge still holds the 4th place position in high points after his exemplary career displaying immense stamina and strength. His pedigree also is missing sections, but even so we can see some Irish lines in force, that Kildare IDH and Galty Boy IDH are in strength. It is plain however that Giltedge is dominated genetically by the Thoroughbred  Awkward Brief 3x2 by daughters. This brings the potency of Awkward Brief to the front. The full brothers Fairway/Pharos 6x6x6x5, the great jump line of Hurry On 5x7x6, Son-in-Law 6x6 through daughters and Carbine is 8x8x7x7.
Winsome Adante is a registered British Sport Horse (English Hunter--EH, a sport breed from 1500s), who is ruled genetically by the full brothers Fairway/Pharos 5x5x8x8x8x8, strengthened even more with 2 lines of their 3/4 brother Colorado through a daughter 6x8. This is a saturation of type from the Phalaris line (Springfield) as we have seen in so many others. This is to be expected as it is the most prevalent sire line in the Thoroughbred, mainly because it delivers speed.
Other genetic influences arrive with the mare Nogara who is present 5x6x8x9x8x8 through two different sons--a colt factor. Hyperion makes a showing with 3/4 siblings Aurora/Heliopolis and the Teddy line power is evident with the full brothers Bull Dog/Sir Gallahad.
We see a Anglo-Arab influence coming from the dam, but it lacks potency and the dam produced only one star out of 9 offspring, and that is Winsome, which was also the only time she was mated with Saunter--therefore we look to his genetics as the key.  His pattern shows he accessed and brought forward the power background lines of Fairway/Pharos/Colorado.
McKinlaigh ISH 1994
Here is another huge horse, 17.3 hands. He won the 2002 bronze at the World Championships in Sweden, in 2006 he was voted USEA Horse of the Year and won the USEA Gold Cup. In 2007 he won team gold and individual bronze at the Brazil  Pan Am Games and in 2008 he and Gina Miles took home the individual silver at the Hong Kong Olympics.
Once again we see the Phalaris in power with Colorado/Pharos/Carpet Slipper 6x7x8x7x9x9 and in the Irish lines that are recorded we can see Galty Boy 6x7 and Kildare 7x7 in strength again.
Conclusions
Height does not make a difference, as we have super stars ranging from 15.1 to 17.3 hands.
The Thoroughbred, contrary to the WBFSH member breeds attitude toward it, is the very bedrock of sport.
The Irish Sport Horse is the ultimate eventing, cross country and hunting horse, as it has been since the 1500s.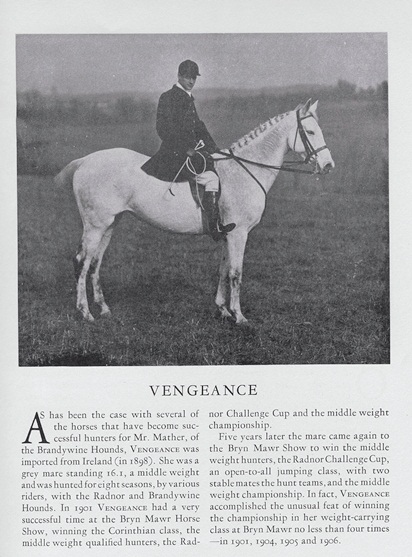 [Above is a page from the valuable book: Thoroughbred Types1900-1925, this is Vengeance, one of many Irish Sport Horses imported to this country highlighted in the book which provides photos of the stars of racing, hunting, cross country and jumping--American sports since colonial days.]
The Thoroughbred bloodlines that power top sport performance are the very same ones that power the racing branch of the breed. Therefore the Thoroughbred is first and foremost a supreme sport horse for breeding and performing in all sports (leads the Jumping Hall of Fame genetics also). It does not need a separate section in its studbook to develop sport traits because they are part of the fabric of the breed and have been so since 1670 when the breed commenced.