California Chrome - Mare Power in Action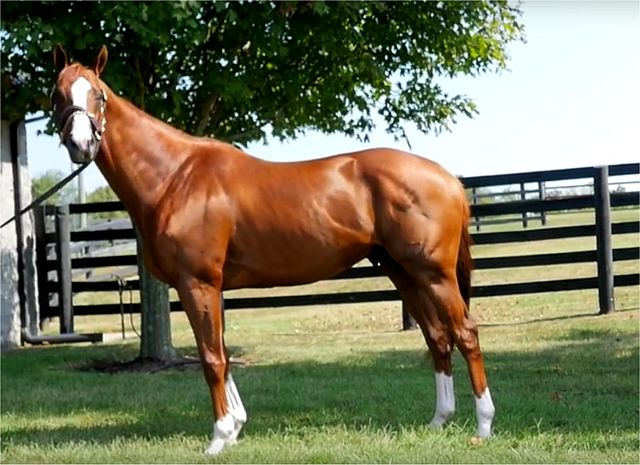 Meet California Chrome, a lovely horse with a pedigree that shouts 'mare power in action', he is also an example that the American Thoroughbred is NOT built downhill!! Even in this good conformation shot, his front feet are placed on lower ground and still he is uphill. Without doubt this is one of the greatest racehorses out there and will soon to be one of the greatest sires--photo by Horse Racing Nation who has generously made it available for public use via Wiki Commons--thank you Horse Racing Nation.
This article was first written in May of 2014, after Chrome had won the Kentucky Derby and very shortly he also took the Preakness. At this time everyone here in northern California is abuzz about California Chrome, a product of this area; his owners are from Yuba City, a farming community north of Sacramento. And no one could deny after seeing him run in the Kentucky Derby that this is a horse of the highest class, as he easily won his race, breezing home in a canter. This will be a brief analysis of his genetic power and the influence of his inbred dam.
There is a tremendous irony here, because the pundits were continually writing in 2014 that he had 'poor' pedigree and actually pointed to his mare's lineage as being deficient! Nonetheless, that is not what I saw and I wasn't totally alone, because several of the Thoroughbred pedigree experts, like Les Brinsfield, saw the power in his ancestry, and we look forward to his stud career, because unless he proves to entirely sterile, this horse will leave a tremendous legacy at stud as well as rewrite the racing history books. And I believed in his potential so much I added a section about him in my chapter on Seattle Slew and Sunday Silence in my book I was finishing then (Legacy of Lexington).
Here is what I saw back then:  What I want to share with you is how similar his pedigree design is to Seattle Slew's, and for the illustration of what a good mare can contribute. Click on each horse's name for a seven generation pedigree. You will see both of these champions have nice sires, but truly it is the mare in each who is the power in their genetics.
Let's review first what it was about Seattle Slew's pedigree structure (which is a map of his genetics) that made such an incredible champion. He was born back in 1974, has proven to be one of the greatest sires in the last fifty years, his power continues to grow even today, and I know personally he is a line I value in my sport horse designs. Seattle Slew is also the fourth sire of California Chrome, so his genetics are already present in our subject. Seattle Slew's dam My Charmer is an inbred mare, as she is inbred 3x3 to the full sisters Busher/Striking. Both of these sisters have a tremendous record individually as broodmares, but combining them (plus their 3/4 genetic sister Nothirdchance who also sits in the third generation on the sire side) gave us the invincible Seattle Slew. This type of  concentration obviously provides dominance. Another example of this same type of pattern can be seen in the champion Easy Goer for instance, as his dam Relaxing, was 3x3 to the 3/4 sisters Businesslike/Big Hurry. This is the strongest pedigree feature in both of these super-stars of the past, and now with this same design in the new star California Chrome.

To understand the power demonstrated in Seattle Slew that was focused through these doubled up mares we need to take a trip back in time to when it was commonplace in this country to race our horses in four-mile-heat races. This period of our racehorse development is unique in the world; because for two hundred years American breeders chose the best genetics for heat racing horses--the result being the soundest, strongest and most stamina loaded racehorse there has ever been. Seattle Slew, Easy Goer and now California Chrome are demonstrating 'critical mass' in these background genetics.
The second dam of the full sister mares in Seattle Slew is the famous La Troienne, an imported French-bred mare who was a mediocre racer, but proved to be an astounding broodmare, especially of quality mares--she created a strong maternal dynasty of excellence in this country. But I found her pedigree appears to be more male oriented on the surface as she is inbred to the 3/4 brothers St Denis/Flying Fox--therefore on the surface it would appear that her sons should be better than her daughters--but that was not the case. It took Les Brinsfield to solve the mystery of her incredible ability to produce fantastic daughters. He discovered first of all that she is a genetic warehouse of Young Giantess, a Diomed daughter. Les found she has over 40 lines of this mare in just ten generations, but carries no other Diomed lines, just this one daughter. This level of concentration we call 'critical mass', and surely reached a tipping point in dominance, enough so that it would strongly set 'type'. But it also is an extreme example of a background filly factor--as the daughter of Diomed,  who is in-turn present through both sons and daughters.
But that is just the set-up for what occurred when this mare was imported to America. Les pointed out that when La Troienne was imported here she was bred only to stallions that were strong carriers of Domino: Black Toney, Blue Larkspur and Bubbling Over. Domino, who was the fastest sprinter of his day, Domino, is inbred to the King of Stayers: Lexington RH. The Running Horse Lexington set the world record for the fastest four-mile-heat, and then set a world record as a stallion that has never  been broken--he led the sires list for sixteen years. So Lexington RH is America's super-horse, and to be carrying multiple lines of him is stacking the genetic deck with the fastest, soundest, most stamina loaded racer there has ever been--this is no small thing. Lexington RH is everywhere in the American Thoroughbred, but is particularly strong in Domino, who is inbred to him 3x4x4. But the genetic power does not stop there, as Lexington RH is himself inbred to Diomed, through sons only--so he and then Domino after him, is a warehouse of the male Diomed lines (11).
When these two super-charged gene pools came together (Domino/La Troienne), the long separated daughter lines of Diomed met their male counterparts and it provided a tremendously powerful 'nick' in Diomed lines. Diomed was born in 1777, but imported to this country when he was twenty-one, he is one of the greatest English stallions that ever entered the American horse, and he set a strong type in our native racehorse, creating a bonanza of top performers; all at a time when his imported peers were disappointing our breeders. Diomed was bred as a four-mile heat racer, but as that race standard was being abolished in England at that time, he was raced also in the new 'classic distance' race form--he was a winner in both. Here in the US we kept the four-mile heat race standard for another hundred years so his genetics contributed positively to our domestic distance racer.
When a horse is inbred or tightly line-bred, they are dominant in those bloodlines; therefore inbreeding is an important tool for the breeder, and historically this practice is responsible for the creation of many breeds. In Seattle Slew's case he is inbred 3x3x3 to closely related sisters (Busher/Striking/Nothirdchance) who are powered by Diomed genetics. La Troienne has 46 lines of Diomed (through a daughter), Bubbling Over has 33 lines of Diomed (male), Blue Larkspur has 23 male Diomed lines and War Admiral carries an additional male 16. The rest of Seattle Slew's pedigree adds even more sources of these genetics throughout, but it is his front inbreeding which acts as the laser beam of this genetic power. Enough so this horse, Seattle Slew, even with crooked hind legs, and slow maturing joints, was able as a three year old to win the Triple Crown while undefeated--an extraordinary achievement.
Now if we look at California Chrome's pedigree pattern we find it is very similiar. We not only see the same inbred mare pattern, with a dam that is inbred to 3/4 siblings 2x3, who are out of the same dam: Numbered Account (so she is 3x4 to this mare), but it turns out this inbreeding goes straight back to these same sources of power that created Seattle Slew. For example, Numbered Account's sire Buckpasser is out of a dam who is by War Admiral, out of a Blue Larkspur dam (Businesslike) who is out of La Troienne. Further, the second dam of this mare is Glamour, a daughter of Striking (also found in Seattle Slew). Striking and Businesslike are 3/4 sisters and they are 8x8x7x7x7x7, building on the dominance. There are additional lines of Buckpasser, Jet Pilot and other carriers of these same genetics throughout as well. Other pedigree strengths play in the genetics of California Chrome: a sex-balanced double of Mr. Prospector 3x4, Northern Dancer 4x5, 3/4 brothers Secretariat/Sir Gaylord--all of these are racing bloodlines of the highest class, but these wonderful lines are expected in the top American TB in our day as the breed is saturated in them. What makes this pedigree shine is the extraordinary concentration of genes coming from the mare's inbreeding. This type of pedigree pattern is one found in the best stallions, both Seattle Slew and Easy Goer (who died young at eight from an allergic reaction) were top sires and their bloodlines are genetic gold in your pedigrees today. Now we find this same power pattern in the new super-star, California Chrome, which insures with his pedigree structure that is powerful in America's best genetics, that he will be a legendary sire as well. We have waited a long time for a horse this wonderful.
2016 update--since that time Chrome has made racing history, he has just been given his second Horse of the Year title, he has amassed over $13 million in winnings, and so far he has had an undefeated season, he won the Dubai World Cup and five other major stakes racers and is lined up for the Breeders Cup Classic. 
He lost the Belmont in 2014, and so many were disappointed in him then, although it was discovered he had been injured in that race. Also his 2015 season was good but not great because he was suffering from bruised cannons. To me just winning the Kentucky Derby was enough, because I saw his breeding potential. But the general public is fickle and many dismissed him as just a typical good horse. However, no matter who you are today there is no denying his greatness after his 2016 season--he is the greatest money earner of all time. His trainer Art Sherman has done a splendid job of healing this horse and conditioning him, and taking the time necessary to get him truly ready. The results have been breath taking. What a joy this horse is!