Thoroughbred


The Importance of the Thoroughbred in
Warmblood and Sport Horse Breeding
The Thoroughbred (or other racehorse) genetic contribution is essential for our sport horse success. There is no true sport horse without the athleticism, speed and stamina that only come with racehorse genetics. Our sport horses are usually not pure-bred, but instead are a combination of several different breeds brought together in the effort to produce an exceptional equine athlete that can succeed at Olympic style sport of Jumping, Dressage or Eventing., or Driving.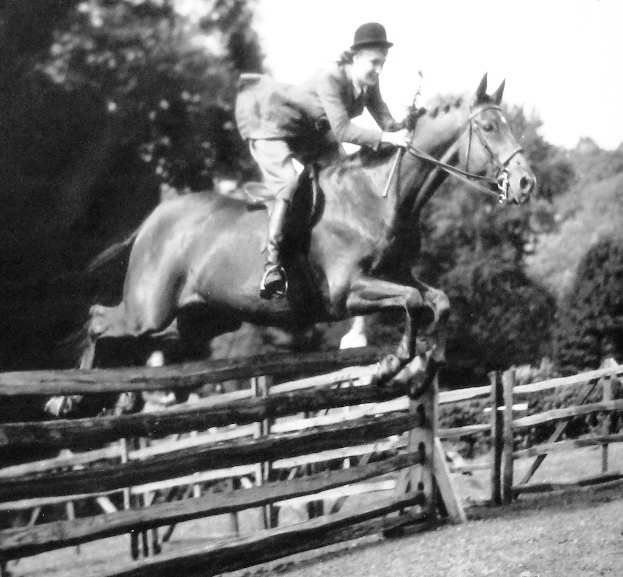 [Holystone 1931, a son of Man O'War, national champion show jumper and hunter.The Man O' War/Fair Play bloodline is a renowned jumper line in the States.]

So, let's discover some interesting and relevant facts about the Thoroughbred and its value to our sport horse goals. Forty years after the 'Warmblood Invasion'  with all its glitz and self serving literature, many have been misled to the point that they think the Thoroughbred is no longer a relevant sport horse. Nothing could be further from the facts, because the Thoroughbred and to a lesser extent, the Trotter, are really powering the athletic ability of those warmbloods  you admire so much. Matter of fact, if you remove the racehorse genes from the warmblood, all you are left with is a common farm horse, valuable only for draught work. 

Today, the horses at the top of the sport horse leader boards whether they have a warmblood brand on their hip or not, are consistent for containing Thoroughbred blood with varying amounts of other breeds (a Hunter) - it is the Thoroughbred that is the constant in Olympic style sport horse success, not the warmblood. Recently talking with a warmblood breeder in another country she informed me that the belief is now that Thoroughbreds can only jump 1.3 meters, not 1.6 as is required at Nation Cup level, and that no one is breeding purebred  Thoroughbred jumpers. To me it appears if the entire sport horse breeding world has been  hypnotized. Even twenty years ago that disconnect with the source of sport in  the equine would not have existed, but today it is prevalent. Thoroughbred does not need to be bred specifically for jumping  because it is a jumper breed and always has been! And the Thoroughbred bloodline is the SOURCE of the jump genetics in the majority of sport horses today.
For further examples see the pedigree analysis of our Jumper Hall of Fame. I have also traced the jump characteristic back through time, through pedigrees, and found in the warmbloods, Thoroughbreds and many other sport breeds, the main root of the jump is an early Thoroughbred: Herod 1758, and all the good jumpers carry critical mass in his lines--no matter their breed (study published in Standardbred Sport Horses). Another example of the jump resident in the Thoroughbred can be seen in an article and pedigree analysis of a remarkable steeplechaser of our day: Senior Senator. This incredible jump racer was able to win the Maryland Hunt Cup three times, a grueling race of 22 obstacles and 2 1/4 miles, with fixed rail jumps up to 4'10". He was such a prolific jumper that he was able to easily hop out of his 5' paddock and trot off to enjoy some grass elsewhere. The Maryland Hunt Cup is rated one of the most difficult in the world, and he retired the trophy! In American steeplechasing is only performed by full Thoroughbreds, and all of them are taken from the flat racing stock. There is no need to special breed a chaser as the Thoroughbred regularly produces them.
On jumping, let me give you another slight reality check concerning the idea that a Thoroughbred cannot jump high. There is a sport called puissance, which is the high jump...although I believe the true record holder is a Hackney/Thoroughbred cross, and he cleared 8'3" (2.5 meters), I have read that the official high jump record is held by a Thoroughbred Huaso (Chilean bred) who jumped 8'1" in 1949, he is linebred to St. Simon 4x4x6. 
Even Standardbreds do well at jumping when someone bothers to try them, for instance Bionic Woman; ridden by Olympian Susie Hutchison jumped 6'6", winning her puissance class that day. (Puissance competition starts with a 4'6" jump, then each round it is raised until a winner emerges). 
[Pictured is the full Thoroughbred Untouchable with Kathy Kusner onboard. He lived up to his name as he won the Grand Prix in Belgium, Hickstead in England, Lucerne in Switzerland, twice the Grand Prix of Dublin, Rotterdam Grand Prix, and then he also won the pussiance in Aachen Germany and he held the USA high jump record.] 
And of course, still the leader in Olympic gold medals in jumping (3) is not even a Thoroughbred, but its sister breed of Trotter. Halla is by a Standardbred sire out of a French Trotter dam (Tb/Anglo-Norman). It is the racehorse breeds and their ancestors that carry the sport traits, and have passed them on to the modern breeds that crossed them in. (see Origin of Sport Resides in the British Isles for an argument on this topic).
What is the Thoroughbred? First and foremost it is a racehorse of the highest excellence--a galloper--its speed at the gallop is unmatched by any other breed. The Thoroughbred is also a magnificent polo horse, a steeplechaser and Hunter Horse, full or part-bred, and it also now excels at the more modern Olympic style sports. Further, it is an 'improver' for just about any other equine breed that needs an injection of athleticism, style or speed, and the proof of this is most other breed studbooks--even if closed studbooks (pure-breds) will allow Thoroughbreds also. Thoroughbreds and their immediate ancestors (Irish Hobby and English Running Horse),were always used as hunters--that means they were jumpers and cross country horses as well as racers.

All of us students of equine sport know full well the fantastic sport genetics that are found in the Thoroughbred in abundance. But while we recognize the qualities found in the Thoroughbred, we are confounded when we encounter the continuing resistance and truly an anti-Thoroughbred culture in the warmblood circles. Having been a participant in the warmblood fad in this country I can say from personal experience that the inclusion of the Thoroughbred in the breeding inspections was grudging and they were looked upon as a lesser animal. I heard comments as 'not more than 20%', or 'it is better if they are 2 or 3 generations back' - and the American Thoroughbred was barely tolerated: 'sprint only', 'built downhill', 'not proper saddle-horse conformation' were comments I heard continually in the 1990s, but none of that was true
The facts don't support these prejudices against the Thoroughbred use in Olympic style sport. If the European warmblood had not added copious amounts of both Thoroughbred and Trotter it would still be pulling a plow--the racehorse gave it sport ability, it had no sport talent until the racehorse genes were crossed in, and even then it required multiple doses over decades to lighten up and correct the movement and conformation of it's farm horse base. Don't believe me? Extend the pedigrees of your favorite sport warmblood, and it will lead back to the racehorse every time, and you will also discover the 'centuries' of European bred horses are absent, after the mid-1800s, those spaces in the pedigrees are blank--nothing there, and the only lines that are recorded beyond that are the Anglo breeds: Norfolk Trotter, Yorkshire Coach, Thoroughbred, and even some American Running Horse and American Trotter--see for yourself. 
The Thoroughbred, full or part-bred, has been a top Olympic style competitor since the 1912 Olympics when 'team equestrian' was begun. And even in modern times, the Thoroughbred still dominates the standings of top equine athletes. But don't look for the Thoroughbred breed in the 'world rankings' because as a breed it is not even tabulated--those world rankings are only for European Union approved breeds (WBFSH), contrary to the title, they do not represent the true world rankings, just their closed club. But you are not supposed to notice that, the intention is for you to believe those listed breeds are the true leaders in sport (see WBFSH in America for how this slick promotional trick was implemented).
There seems to be a never ending campaign to discredit other breeds and their importance to sport as both competitors and breeding stock by the WBSFH member breeds and their adherents. The Thoroughbred especially seems to be a focus, to it from its rightful place. See Can the Thoroughbred Still Jump? for the latest of this relentless attack.
Instead of the continual discounting of the Thoroughbred and its importance to sport, what I discovered that in this country 85.5% of the Show Jumping Hall of Fame Inductees are full Thoroughbred. Even in the Dressage stars of the USDF Hall of Fame, of which there are only six Inductees, however 25% of the bloodlines are Thoroughbred, and if you extend the pedigrees of those warmblood stars, you will discover the early lines are 70-90 % Thoroughbred, and even that the English Thoroughbred Highflyer is most often at critical mass.  Eventing of course is dominated by Thoroughbred bloodlines: 45% full Thoroughbred, 50% Thoroughbred/Irish, 5% Thoroughbred/Standardbred. So, once again, the facts do not support the attitude. So, once again, when a real examination is done, the current industry narrative does not reflect the facts.
It appears to me that there is a requirement for hypocrisy or blindness residing in the psyche of the sport horse producers, as there is a strong love-hate relationship with the Thoroughbred horse and a communal denial of what actually makes up those breeds.
The Thoroughbred is needed for the athleticism, elegance, speed, stamina and style it delivers, but often a competitor is wary of temperament issues it may bring along for the ride. Anyone who has ridden Thoroughbreds can attest that some of them can be high-strung. We find with some Thoroughbreds that if there is excitement in the sport that it plays upon their sensitive and high tuned systems, and sometimes that translates into a animal that may be hard to control, especially for an amateur. Of course, that is not always the case, and there are many Thoroughbreds that keep their heads just fine, even some are what we call "bombproof", and they are forgiving and always deliver courage and brilliance.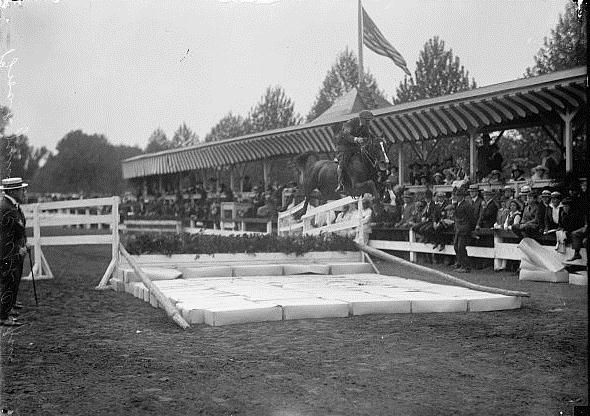 [Above we see Roger Coffin on his part-TB Rabbit performing the broad jump in the 1920s]


As stock for breeding sport horses, the Thoroughbred is almost a necessity, and all breeders can adjust their amounts for use depending on their breeding goals. Thoroughbreds can sometimes pass on poor feet, or front leg faults, and I found personally that a cross with a potent sport breed that is strong in those points remedies the weakness in the herd quite well. For instance, I have a broodmare base that is largely Thoroughbred with some Irish, and some of them have displayed the Thoroughbred shelly hooves and long pasterns. I crossed my stock with a tightly bred Morgan (inbred or closely linebred horses are more potent), a breed that has excellent legs and feet, overall correct sport horse conformation along with a good disposition, and I got an overall improvement in the next generation without losing any athleticism. 
In modern warmblood breeding it became evident that more Thoroughbred was needed to compete successfully at the highest levels of show jumping and of course eventing. Today's warmblood has a  totally different appearance from what we used to call "Thudmonsters" in the 1980s. This change in phenotype was achieved by adding more racehorse into their mix, and they have now arrived at a true 'Hunter' type horse, that is, a much lighter and more athletic type---a horse type we in the Anglo countries have been breeding for centuries. It was the continual infusion of racehorse lines that brought about that change. Sport ability originated with the true sporting breeds of the British Isles, not from some central European farm horse. 
As breeders that aspire to produce excellence in sport performance we must do our research and apply our learning to achieving our sport goals. If we want a quiet amateur mount that can do the lower levels in our sports, than truly a nice saddle horse from just about any breed will do. However, if we have aspirations of success at a higher level of competition than the mix we create in our foals can make the difference, and one thing we can depend on is that we will need some high class Thoroughbred to succeed.
Thoroughbred and Soundness study
Can the Thoroughbred Still Jump?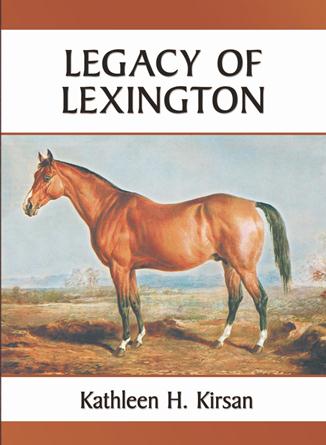 The author, Kathleen Kirsan, has written 3 books on sport horse breeding and bloodlines. Her book on the unique American Thoroughbred  Legacy of Lexington --available online from most book sellers.

---

Sport Horse Recipe
Bloodlines of Hall of Fame Show Jumpers
USDF Hall of Fame Inductees
USCTA Hall of Fame Inductees
the American Thoroughbred and the Sprinting Issue
Stamina Lines in the American Thoroughbred
Real Stayers-- Four Mile Racers of Yesteryear