The Unforgettable Ruffian
American Triumph and Tragedy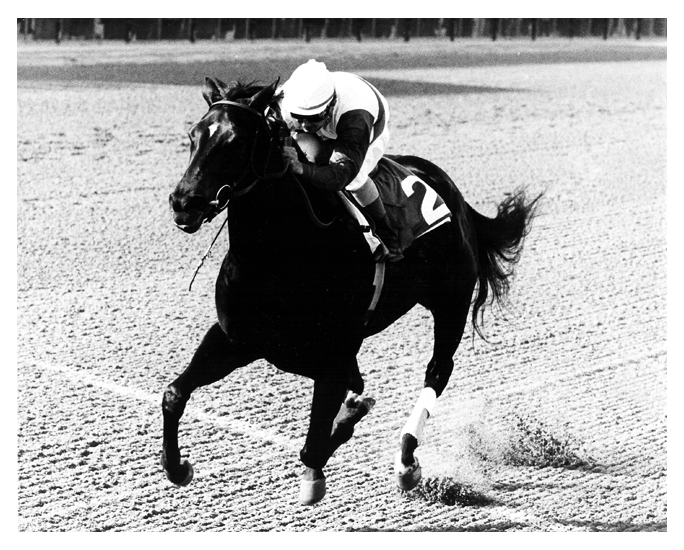 Above is Ruffian with Jacinto Vazquez on board--a public domain image made available via Wiki Commons, no photographer identified.

Ruffian is an illustration of the limits of perfection. "She was meant to reveal, once and for all, how big, how beautiful, and how fast a Thoroughbred race horse could be, and how the combination could be deadly when taken to Ruffian's physical extremes."(Hovdey)
How big? Ruffian was over 16 hands at three years, that is bigger than most of the colts of the same age, with a huge powerful hindquarter and girth. How beautiful? Ruffian was extremely beautiful, both in appearance and in action. She was near black with a small white star, elegant and powerful at the same time, with perfect balance. Her speed was incredible--she broke five track records--just smashed them, and she did it easily. That was what stunned everyone, she made it look so easy, she was described as coasting past the opposition. In a manner similar to Man O'War she was never really extended, and no one really challenged her. She would leave them all in the dust, often thirteen to fifteen lengths behind. Her grace in movement brought observers to tears.

Like Secretariat two years before, the public was mesmerized by her. "She gave the impression of being an elemental force, a creature whose speed was not limited by mortal bounds of flesh and blood." (Hunter)

But there were ominous signs of trouble. At two she triumphed over her opponents in five consecutive races, but then she developed a hair line fracture in her right hind and was retired for the rest of the season. At three she came back stronger and faster than ever, dropping track records and winning the filly triple crown--once again with ease. She was completely dominant at distances from five-furlongs (sprint) to 1 1/2 miles (stamina). She was the the pinnacle of Thoroughbred breeding: a horse that possessed both speed and stamina. And she did it all with grace. The media loved her, the public adored her, thus she became an icon which resulted in her undoing.

The inevitable demand was made for a match race with the Kentucky Derby winner: Foolish Pleasure. They were neck and neck at the 3rd furlong when her right front ankle shattered. She was going so fast, her jockey who heard the bone shatter had trouble pulling her up. The public watched as Ruffian ran on with a horribly destroyed limb, and then watched as she reared in agony. The race, a major media event, was televised nationwide. The filly, who had become the symbol of all that is possible by a female, was wrecked before the public's eyes.

She survived the emergency surgery, but coming out of anesthesia she fought so hard she damaged herself beyond fixing. She was then mercifully put down. 

Like Ruffian herself, her pedigree is just about perfection. She is closely linebred to Discovery 4x5x4, through three different daughters, and she has the full brother and sister: Transmute/Traffic 4x5 on opposite sides of the pedigree, and she is 4x6x5 to Sir Gallahad, sex-balanced, also 5x6 sex- balanced to Pompey.
The amazing speed was created by the multiple close duplications (see American Thoroughbred) and the stamina was built by the tremendous amount of background reinforcement. This is also a prime example of the the experts talk about--that there seems to be a tipping point, when the quanity and quality of the duplications reach a level that the champions start appearing. Apparently she possessed both the speed and stamina gene, like Hamburg did.

Physcially Ruffian resembled the Phalaris line, in that she was long, dark and leggy like Nearco, plus she had his blinding speed at all distances. Let us not forget that Nearco was Tesio's masterpiece. Nearco is described as "beautifully proportioned, he stood just over 16 hands and was all quality." Mr. McElligott could as well have been describing Ruffian.

And this may have been the source of her weakness. If she had thrown more to the Discovery line instead, she would have been more solid.

"Not always is it the closest ancestor duplicated which has the greatest impact or dominant force; it really depends upon the strongest genetic dominance winning over all other forms of semi-dominance."(McLean)
This is important for sport horse breeders, especially those of us who are consciously building up duplications in our foals. We have already talked about how the physical appearance of a horse is a good indication of the dominant genetics. Take a good look at your horse and any potential mate, to get a good clue of the strongest dominance. This is not a foolproof tool, but I have found it a usefull one.

The Phalaris line can give a fraility especially in the front legs, along with the tremendous talent, plus it can pass on a large bulky frame perched on slender delicate legs.  Also there is a double of the gifted but unsound Pompey close up, which is known to sometimes pass down weakness in the front limbs--especially the ankles. 

Porter and Peters say Ruffian was "...the ultimate filly, graceful, spirited, powerful, fiercely competitive, yet like fine porcelain, delicate enough to shatter in one unforeseen moment."

Her sire Reviewer was known to be "brittle", and was also retired with a fracture. Looking at Reviewer's lineage might give us a clue to how the Phalaris line was able to dominate the sound Discovery line. Reviewer had Discovery 3x4--inbred, but he carries no close background connections to this line. Also the Fair Play line usually comes more into its own late in the 3rd year or even the fourth. Nearco, being a late Tesio product, is prepotent- -no one did it better than Tesio. Both Nearco and his sire Pharos are inbred to St. Simon. Phalaris the sire of Pharos is inbred to Springfield 2x3--very potent. So it would not take much to bring the Nearco potency back to the fore. Nearco is reinforced in Reviewer through his 2nd dam, Catnip, a Spearmint daughter. Sir Gallahad is a sex-blanced double in Reviewer 4x5 is out of another Spearmint daughter: Plucky Liege. Spearmint is a great bloodline, but he too had poor front limbs. This makes Spearmint daughters 5x6x7, and connects Nearco to the strong Sir Gallahad double. While Discovery, though very powerful here, is not reinforced.

In Ruffian, her dam side built up the Phalaris/Nearco presence even more with the addition of Sickle, Pharos 3/4 brother, and two additional lines of Polymelus, Phalaris' sire. These strengthened lines become the focus of the pedigree, even overpowering the Transmute/Traffic full siblings. The problem is compounded by the Phalaris lines and even its reinforcements being all male.

A note for sport horse breeders: we should know that the Phalaris line is the most predominant line in the modern Thoroughbred. You will not be able to avoid it, even if you want to. It has produced the most enduring sire lines in the Thoroughbred today. Phalaris was a sprinter of exceptional class--with beautiful movement. The Phalaris line weakness was its sometimes delicacy--it's fineness. The Phalaris line, through Nasrullah, Nearco, Native Dancer and Tom Fool is consistently giving us exceptional sport talent.

The breeder probably thought the Discovery lines would override any brittleness or front leg faults coming down the gene trail from Phalaris. Discovery was called the "Iron Horse" for a reason. It is likely with some background interactions the Discovery influence would have strengthened the Phalaris bone structure more--as it certainly did in Secretariat. However, remember Secretariat did not have the amount of close linebreeding Ruffian did. Therefore the Discovery strength was able to come through to aid Secretariat's physical type. His genetic concentrations really were concentrated in the 5th and beyond, while Ruffian's start heavy in the 4th and just keep on going.

As sport horse breeders we should be sure to add to the background of the lines we desire to be the most dominant. To have multiple duplications of many different ancestors, like this, is a important goal, and obviously succeeded in producing extraordinary abilities. Clive Harper noted that the greatest dominance is built by large background buildups of a ancestor, and then in the engine room is re-concentrated, usually via full or 3/4 siblings that carry dominance in the ancestor. Ruffian had this with Phalaris, but not in Discovery.

The first time Ruffian actually was challenged by a worthy opponent was the match race, and her talent was well up to the test, but her fine Phalaris legs couldn't handle it. How could they have known that Ruffian's ability was of such a degree that her body could not contain it? No one had seen a filly this incredible before. Sport horse breeders should keep in mind this type of tragedy happens in our sports also. Many a beautifully bred and super gifted sport horse is ruined by injury early in their career.

The racing world and the American public still grieve over Ruffian--she was the image of female perfection. And it is much worse than that, because the breeding legacy that was lost to us all is incalculable. Ruffian would have been an astounding broodmare. Her dam Shenanigans was what they call a 100% producer: all her foals were winners on the track. Ruffian carried a strong filly factor in the Discovery daughters, plus the sex-balanced full siblings, this would have guaranteed her breeding success. She was a dream of a horse that still haunts us now.
For  a discussion on unsoundness in the modern Thoroughbred the lines that carry faults and what we can do about them see Legacy of Lexington, Thoroughbred and Soundness and Soundness and the Breeder.