Soundness and the Breeder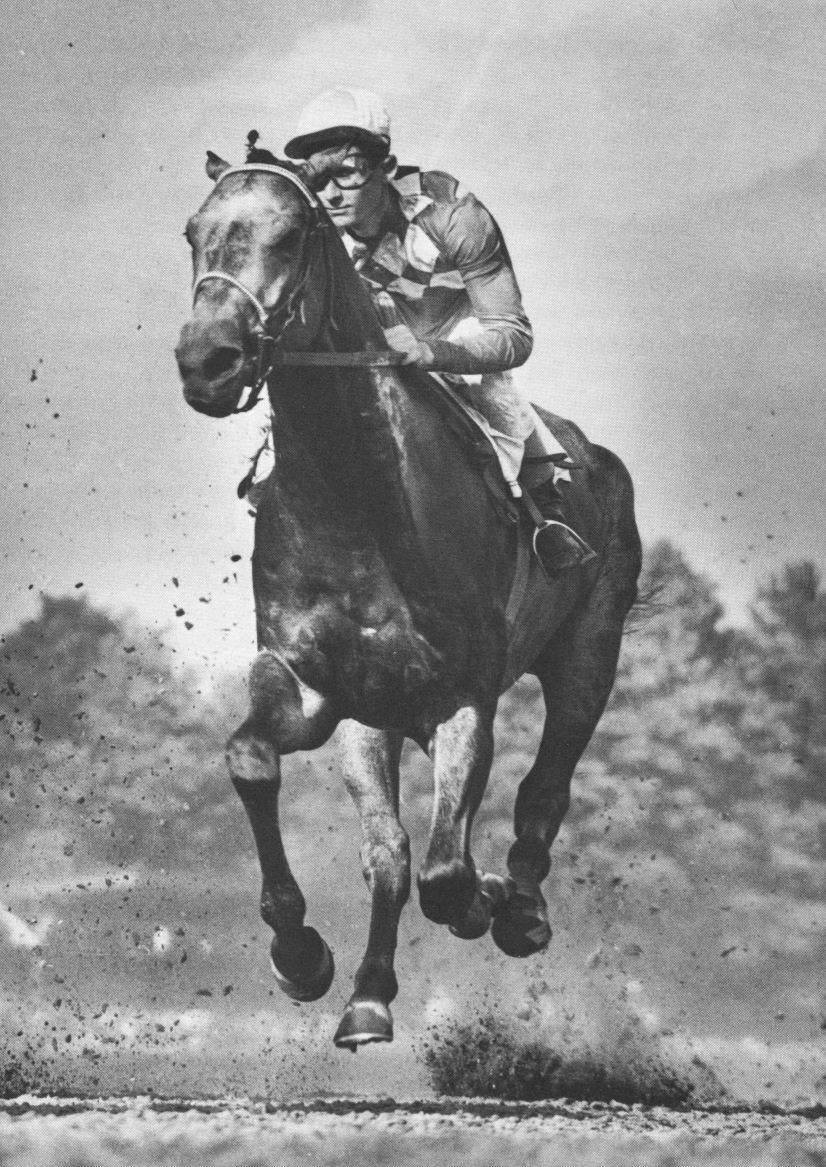 [One of the modern scapegoats for unsoundness-- the great racer and sire Native Dancer]
Soundness discussions have been arising continuously on many breeder forums, and so I thought I might gather together some of the knowledge that has arrived via various sources. Soundness is one of the biggest challenges facing the breeder of sport horses no matter our discipline.
My friend Julie in Nova Scotia posted me a link to an upcoming documentary, on one of the greatest racers and studs of all time and of any breed: Somebeachsomewhere (pedigree) A tremendous racer, he earned $3.2 million, and tied the world record for a mile: 1:46.4, and was Harness Horse of the Year in both Canada and the US in 2008, and in Canada in 2007. His stud record is just as good, and in his first crop he produced a son that won $3.1 million. When he died his progeny had won over $84 million, and he was the leading sire in 2016 and 2017. Bred in Ontario, Canada, by the good sire Mach Three, he carries critical mass in Hal Dale (10 lines in 7 generations) and Volomite (8 lines). Talented and sound, that is what we want.
No matter what our breed is, the excellence of this horse has something to teach us. Besides, for you sport horse traditionalists who never considered this breed, the Standardbred and the American Thoroughbred were the same breed until the 1800s, and so there are root bloodlines in common. I found a horse that had run in more races in modern times than any other in the three racehorse breeds (TB, QH, STB): the Standardbred gelding Stacey's Echo, bred in the Canadian Maritimes, he ran 603 races and he retired sound.
I posted a lengthy study a few months ago on Soundness and Durability in the racehorse breeds. This project was inspired by yet another Standardbred: Foiled Again, who was facing his mandatory retirement at age 15, but before he said good-bye he managed to rack up 109 lifetime wins--not races run--that was in the 300s, but wins. He retired sound. He could have raced for years more, and he was still winning 25% of his starts when he retired. All three of these exceptional athletes: Stacey's Echo, Foiled Again, and Somebeachsomewhere carry critical mass in the same lines: first in Hal Dale and second in Volomite. So? Hal Dale was not a completely sound horse, he had tendon issues, yet he is the fountain head of the most successful and soundest Standardbred family...somehow the tendon problem did not continue down the line, and his bloodline has provided the height in equine sport consistently for decades.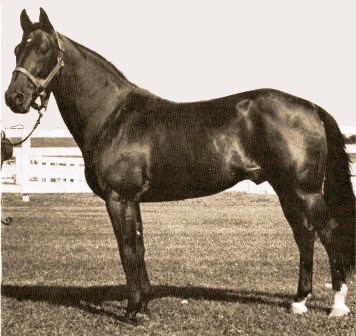 [Adios--the strongest conduit of Hal Dale, and one of the greatest sires ever.]
We all want to breed sound and talented athletes, but all the breeds have defects and genetic problems. For example, several of us have been having discussions on soundness recently on different Thoroughbred forums, and many breeders are concerned, as they should be. But I just want to reiterate that all is not lost, and the breeds can be made sound...it is up to us, the breeders, to fix this. Learning bloodlines and how to build dominance into a pedigree are invaluable tools in our quest to produce the best and soundest sport horses---no matter our breed or discipline, and all breeds are plagued with unsoundness. The problem in the Thoroughbred is the speed is often now tied in with the flaw, and too often the sound lines lack the speed. And a horse that can't run fast is a financial loss to the breeder of Thoroughbreds--it is a dilemma.
So, what can be done? Can we save the talent while surgically removing the cancer of unsoundness? It is not an easy task because the defects have permeated the breed, but it is doable if we pay attention. Take a look at Nashua, a stallion born in 1952, a great racer and a top broodmare sire, and he was sound and he shouldn't have been. What do I mean? Take a look at his pedigree. He carries some of the most notorious unsound lines close up in the 3rd to 6th generation: Phalaris, Haversac, Swynford, John O'Gaunt, Charles O'Malley, The Tetrarch and Sardanapale--powerful placings and they are all known to pass on bad legs, joint problems, especially the front legs, brittleness, weak knees, weak ankles, bad tendons etc. and yet he was sound, and his offspring was sound. How did that happen? Well it is obvious, from the Hal Dale story, and now Nashua, that unsound traits must be recessives genes or act like a recessive, in that they require a second copy to manifest, or that only 25% to 50% of the offspring receive the defect. By some miracle Nashua got the sound half of each gene...what are the odds of that? But it happened and there he is.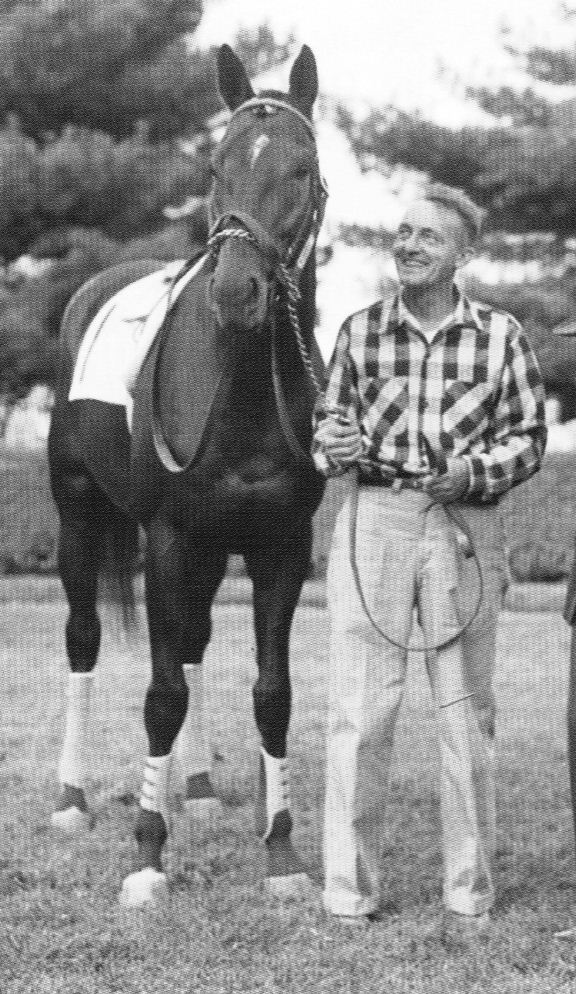 [Nashua--great racer and sire]
Our hero Tesio, had a mare named Romanella, who had immense talent but she had ringbone, and she passed it on. Tesio was a ruthless culler of unsound stock, and he tried his young stock severely, and if weakness showed up, he got rid of them. But there is Romanella, and he wanted to save the good stuff in her. So he kept her, and yes, she produced youngsters with ringbone, but not every time. One of her ringbone free youngsters was Ribot, Tesio's greatest racer and a good sire--he did not have ringbone and he did not pass on ringbone. The ringbone defect was eliminated from the line. (Ribot was a nut case, and that trait came at least partially from his dam as well, but Tesio liked nervous energy and did not try to cull it out).
In the recent Thoroughbred discussions people were painting Native Dancer as the source of all the soundness woes in the modern Thoroughbred. Native Dancer won 21 of his 22 starts and retired with a septic hoof, not the ankle or tendon problems that this ancestors passed on. The cry is Native Dancer passes on bad front legs, and they like to say the same about the other modern scapegoat: Mr. Prospector. Yet the breed is overwhelmed with these lines. Why? Because they win and win big!
These lines are unavoidable, as is Phalaris, who is the conduit of the faults to these two in the first place. So what do you do? You examine the offspring carefully and choose stock that carries their SOUND young, avoid the unsound lines...you pick out the 'Ribot' or the 'Adios' or the 'Nashua' from the bunch and breed on from there. It won't be that hard as all of these sires had multiple sound winners. But remember, the unsoundness seems to act like a recessive, so it is possible that a sound racer can still carry the unsound trait but not express it themselves. If the 'unsound' line is a few decades old, for instance Native Dancer was born in 1950, and then his sons and daughters and possibly grandchildren all have progeny on the ground. Take a look. Which ones are talented and sound? Those are the ones safe to breed on from, that is, IF you have not added in other sources of unsoundness in the lineage. The frustration in the Thoroughbred is the unsoundness is coming from many different directions, and so to achieve the fix it might take several generations, and the very determined effort of enlightened breeders.
Unsoundness is in all breeding populations, and it is the breeder that will allow it to continue or eliminate it. About 6 months ago we discovered that a fatal genetic disease was loose in the highest rated and most expensive warmblood bloodlines, and unfortunately while it was known from 2009, it was hidden from the buyers of the stock, and it only came to light in 2018 when a rare live birth of a carrier of two copies of the WFFS gene, who survived a few days (most die in-utero and abort). This deadly defect has now infected 15% to 25% of the warmblood gene pool. The industry is reeling trying to mop up the mess. Luckily, this trait can be tested for; you can find out if your horse is a carrier, and then before you breed decided if it is worth the risk.
There is no test that I know of for bad legs, except the performance test. And we, the breeders of racehorses and sport horses must learn our bloodlines and design our matings to eliminate or dodge the crippling flaws. We don't have to lose the talent, but we have to be vigilant and determined to fix this crisis.
And I believe the most important fact to consider is that even the so-called unsound lines often have offspring that do not carry the fault. And while studying the steeplechase Thoroughbreds in this country I found a perfect modern example of this factor. Senior Senator is a 2010 Thoroughbred gelding that has so far has won the grueling Maryland Hunt Cup (considered one of the most difficult steeplechases in the world) three times! And he is loaded with lines we consider conduits of unsoundness, he is 4x5 Mr. Prospector, and his second sire is Unbridled's Song, yet here he is still competing as I write this, winning 4 mile races while jumping fences close to 5 feet--22 of them. You can't be unsound and accomplish this, especially not three times. 
Soundness and Durability study