Bloodline Analysis of the American Hall of Fame Steeplechasers
Steeplechase definition: "A distance horse race in which competitors are required to jump diverse fence and ditch obstacles." (Wikipedia)
In the United States, there are two types of steeplechase, the hurdle and the timber race. The hurdle race is usually 2 to 3 miles in length and the obstacles are brush type fences, where the horse can 'brush' through, up to 52" tall (4'4")...this type is common in the British Isles and Europe. And the timber race, which seems to be unique to America, is run 3 to 4 miles over fixed wood rail fences up to 5' high. The timber race is traditional here, reminiscent of the fences encountered in a hunt. The steeplechase was one of many performance tests used to condition and improve the performance of the Hunter Horse, usually held in the 'off' season.
The sport originated in Ireland in 1752, and the first official steeplechase held in North America was in 1843 in Montreal, Quebec, Canada, ridden not on Thoroughbreds, but on Canadian Pacers, American Running Horses and Morgans--there were no Thoroughbreds in Canada until 1867 (Smith 1931, Kirsan 2017).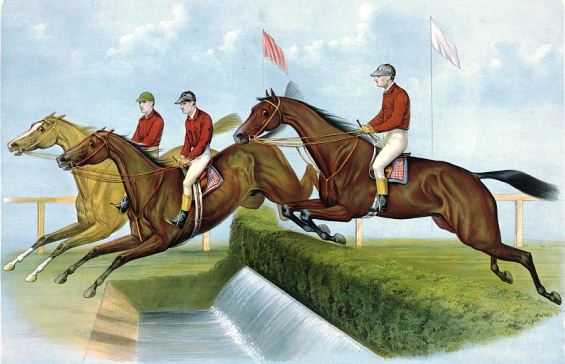 [1884 lithograph called the "water jump".]
There are 19 horses in the American Thoroughbred Racing Hall of Fame that earned their place from their steeplechase careers. They are all Thoroughbreds; in this country only Thoroughbreds run in steeplechase in modern times (it was not always that way). The horse's dates of birth span 100 years from 1900 to 2001, and one is a stallion, the other 18 are geldings. These are American racers, although a few were bred in England or Ireland (3), most are domestic (16). In the Soundness and Durability study in the Thoroughbred, I did include three Irish bred steeplechasers (Red Rum, Arkle and Hurricane Fly) and at the end of this study we will compare their bloodlines with the American horses. 
This project was inspired by the anxiety present in the industry about the perceived unsoundness and lack of stamina in the modern flat racing Thoroughbred gene pool, and the accompanying doomsday thinking, that there are no sound or resilient horses left, especially in America of course. Yet here we have our own steeplechasers, that are full Thoroughbred, and they regularly run races of 2 to 4 miles over obstacles, which is a much tougher and longer contest then the typical modern flat racing Thoroughbred endures, and even better, many of them keep racing into their teens, and several went on to different careers after retiring. Plus, two of the inductees lived past 30 years of age! Surely then, there are still Thoroughbred lines that produce sound, talented horses.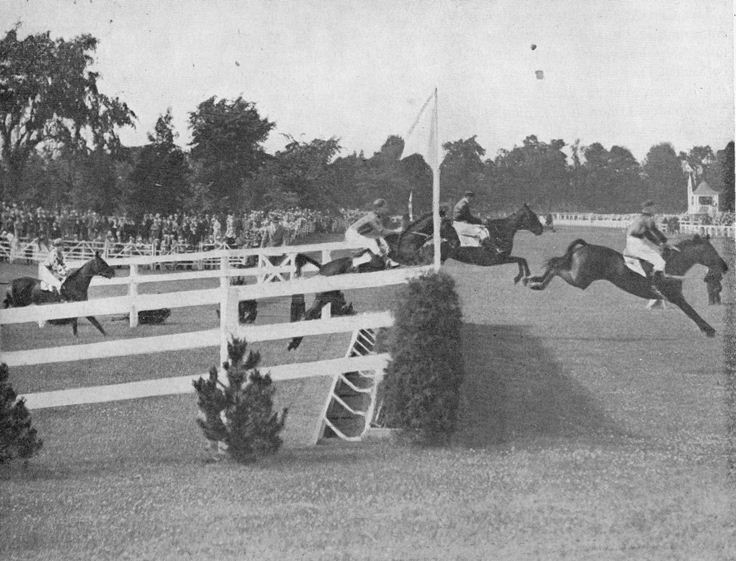 When I brought this idea up in a discussion group I was shocked to hear from some that America did not have a steeplechase industry, one person even telling me that our races here, if they exist at all, which most seemed to doubt, are not real races like those run in England and France. My goodness, I get so weary of the anti-American equine industry narrative...it is exhausting. This was a Thoroughbred group, and it appeared the majority (and more then a few were Americans), were unaware of the American steeplechase industry...I was floored...we have been holding steeplechases here longer then there has been an American Thoroughbred breed (1868--see American Breed Development). The fact is America has had a steeplechase industry from the early-1800s, and until recently they were run on the regular racetracks as well as their own cross-country courses (such as the Raceland track in Boston in the 1940s pictured above). And the industry is quite large; races are run every year in 12 states, with over a million spectators, with purses of $6,233,399 just last year. And you can read a short history of the sport in America on this link. This year the season opening has been set back to April instead of March because of the virus concerns.
Now, on the implication that the American races cannot compare with those of Europe, the Maryland Hunt Cup (established in 1894) with 22 timber obstacles run over 4 miles is considered one of the toughest chases in the world. We have tough hurdle races as well, like the American Grand National, a grade 1 race of 2 5/8 miles with 14 obstacles. Timber fences are a traditional design because the chase here was used originally to condition our Hunter Horses, and the fences they would encounter in the field  were rail, not brush. Timber jumpers can't jump like the hurdle racers, brushing through the obstacles, but must arch their backs and pull up their knees to clear the rails--rails are unforgiving, as you will see in the tragic end of Bushranger's career below. Our successful timber racers are like show jumpers or eventers on steroids.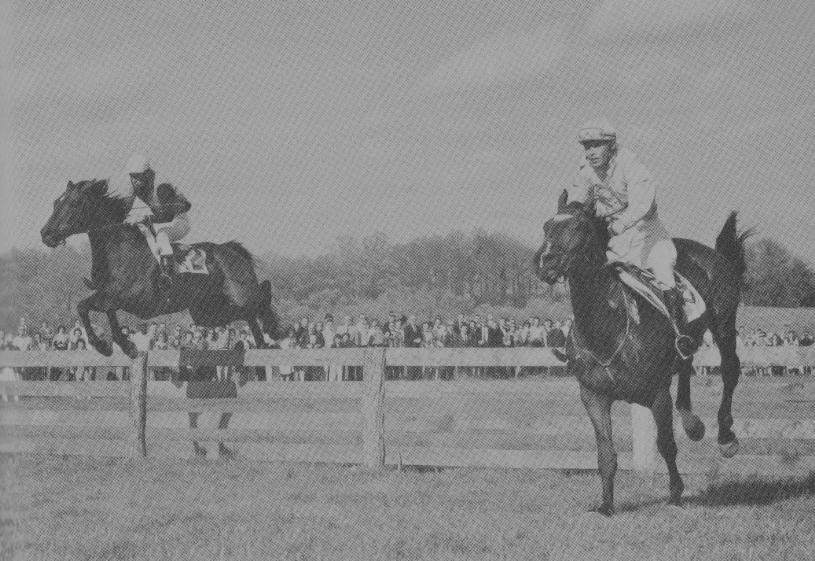 [Maryland Hunt Cup, 1963, Jay Trump on right beating Mill House]
The 19 Steeplechasers of Merit
As in previous studies of the bloodlines of Hall of Fame inductees, I will give the number of races and the number of wins, plus I will identify the strongest dominance, then follow with the secondary potencies and show the closest linebreeding position. By listing each horse by date of birth, we can perhaps notice the root bloodlines and then track the talent into the more modern carriers, and I will provide a pedigree link for a few of them. In the identifying of the bloodlines, I will put the main dominances of the line in parentheses.
Good and Plenty will give us a view into the base sport genetics of excellence because of his date of birth. He won 14 out of 21 starts including the American Grand National in 1906 He was a great campaigner who unfortunately died young in 1907 of a bone disease.Through his pedigree we can identify that he was most dominant in Stockwell 1849, 3x9, (Whalebone et al), which is closely followed in genetic strength by a strong background buildup (10 generations) of Highflyer (68 lines) and his sire Herod (93 lines), overpowering the other concentrated ancestry---this type of situation, when the sheer number of the horse appearances overpowers the closer concentrations is what we call critical mass (see Understanding Pedigrees). Herod is the power deep root of the majority of show jumpers (see Hall of Fame show jumpers).
The secondary strengths are the close linebreeding of the full brothers Birdcatcher/Faugh-a-Ballah 5x5x5, the full brothers Sir Charles RH/Marion RH 5x6, and the 3/4 siblings Quiz/Woodpecker 5x6, the last two groupings are either by Sir Archy or he is the grandsire.
Stockwell carries the heaviest dominance and we will see further on that he and his full brother Rataplan are a driving force in several others of the jump racers. What is powering Stockwell? He is 4x4x4 to the full siblings: Whalebone/Whisker/Web, making him a typesetter of those siblings, both Whalebone and Whisker were Derby winners, and Web was the second dam of the great sire Glencoe, therefore these lines are as good as it gets in the English Thoroughbred. Another power line is Sir Archy 1802,  a champion 4-mile heat racer, and tremendous sire, he is strongest in Herod (3x4) and Partner (5x5x6x6x6). Then there is Birdcatcher 1833 and his full brother are another first class bloodline, not only for racing but for jumping; he is also a Herod warehouse (6x5x7x7x6x6x5x5x5x5). This is a similar finding to what I made when examining the greatest jump lines in the world, almost all genetic roads lead back to Herod (there were others that instead went back to the elements of Herod's ancestry directly--study found in Standardbred Sport Horses. )
Fairmont 1921 gelding
He had 23 starts/12 wins, and won carrying upto 170 lbs, including winning the Temple Gawthmey three times!
An interesting point is that Fairmont (who is by Fair Play out of a Rock Sand mare) is a 3/4 brother to Man O' War, who we will see in power in several other champions.
Fairmont is strongest in Stockwell/Rataplan with 9 lines in the 5th through 9th generation. His secondary genetic strengths are in Doncaster (Stockwell son 4x5) and in Newminister 6x8x5x6x6x7, who once again is a Herod warehouse with 19 lines in 10 generations. Newminster, is the sire of Clemence (dam of Tadcaster and The Mersey) and Hermit, among other great horses.
Jolly Roger 1922 gelding
He raced both flat and jumps, 49 starts/18 wins, including the Brook Steeplechase, the Corinthian Steeplechase twice and the Grand National Steeplechase. 
His strongest dominance is Hampton 4x5 (who is 3x4 to the full siblings Otisina/Lanercost, grandson of Newminister), Hampton himself was a winner both in flat and hurdles. His secondary dominance is Stockwell/Rataplan 12 lines, and then Touchstone 21 lines and Hermit 4x6 (Newminster son).
Bushranger 1929 gelding
He had 21 starts/11 wins including the Broad Hollow Handicap twice and the Grand National (he died at 7 years while racing, when he failed to clear a jump and broke his neck in the fall). A grandson of both The Tetrarch (son of Roi Herode) and Man O' War (son of Fair Play), these are lines we will see repeated in other champions. His strongest genetic potency is the full siblings St Simon/Angelica (by Galopin) 4x5x6x6x5. His secondary strengths are in the full siblings Tadcaster/Clemintina (by Newminister) 6x6x6, then Galopin 5x6x7x7x6x7, and then Newminister 22 lines.
Note: Already we can see certain lines are commonly in power, such as Birdcatcher, Newminister, Stockwell, Sir Archy, Galopin-St Simon, Man O' War-Fair Play, with the deep background being dominanted by Herod.
He raced flat until he was 4, then raced jumps, 34 starts/14 wins, with the jumps being 21 of those starts with 10 wins.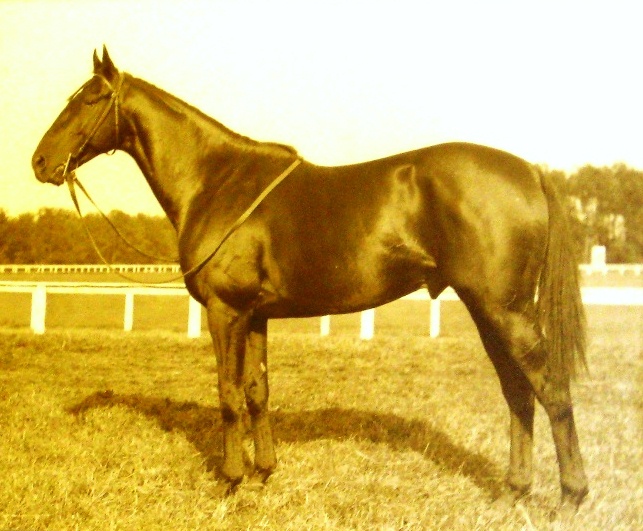 A 15.1 hand son of Man O' War, the English referred to him as the American Pony, yet he won their Grand National in 1939, after winning our own Grand National in 1938. He was used as Marion DuPont's Montpelier Farm stallion and he only sired 58 foals, but many of those were exceptional and became noted jumpers and sires themselves (Shipboard, War Battle for instance) and he died at age 31. He retired sound, not just to breeding duties but was regularly fox hunted.
His strongest dominance is the 3/4 siblings Fairy Gold/Elf 3x3 (reverse sex balance of Tadcaster and Galliard). His secondary strength is in Galliard (Galopin) 5x4x4 and then a background buildup--12 lines of Stockwell/Rataplan. There is also power coming from the 3/4 siblings Uncas/Preface 5x6, and the 3/4 sisters Lady Langden/Virtue which create strength as well--he is very tightly bred, therefore potent. He also carries 19 lines of Newminister. 
A phenomenal Maryland bred; he had 123 starts with 31 wins over 10 years including winning the Indian River Steeplechase five times! Also the North American Steeplechase four times, and the raced until he was 13 and retired sound. With 123 starts we can recognize that this horse is soundness and athleticism personified, he is reminiscent of the great heat racers of the 1800s.
His strongesr genetic dominance is the 3/4 brothers Martagon/Laveno/Bona Vista (Tadcaster, Newminster), followed by a Galopin strength of 9 lines in the 5th through 9th generation, and his son St. Simon 6x5x6x5x7. Note that the damsire is Black Toney (Queen Mary, Lexington RH, Alarm), a line that will appear many more times, along with his close relatives Sweep, Commando, Peter Pan--these are 'Domino' lines, with an inbreeding 3x4x4 to Lexington RH. You will not see these lines in power in the European jumpers, partly because of the Jersey Act. Newminster--Galopin, show up in strength, a rock solid base of the Thoroughbred, and it is remarkable that these lines and a few others we will see are the power behind these extreme athletes. 
Oepidus 1946 gelding
With 58 starts and 14 wins which include the Broad Hollow Steeplechase twice and the Grand National three times, we have another serious champion. His strongest potency is in Black Toney 3x3,  followed by the 3/4 siblings Laveno/Bona Vista/Doremi 4x6x6, backed up with critical mass levels of Galopin (11 lines), Stockwell (29 lines) and Newminister (27 lines).
Neji 1950 gelding (bred in US, born in England)
Wtih 49 starts and 17 wins, while racing in both England and here, he won the Grand National Steeplechase Handicap three times, the last time carrying 178 lbs. Plus the Brooks Steeplechase three times and the Temple Gawthmey twice. He retired at 10 years and started his second career as a field hunter and show hunter.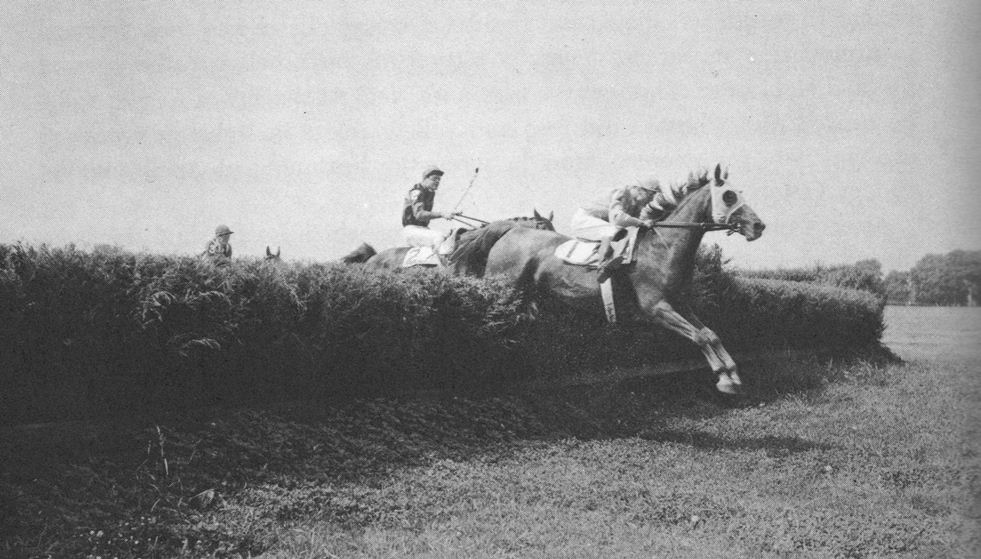 His strongest dominance is Fair Play 4x4, followed by St. Simon/Angelica 5x6x6x7x7, then 13 lines of Galopin and in the background 34 lines of Newminster and 36 lines of Stockwell.
This horse is a super star among stars. He raced flat and jumps, 26 starts/12 wins, but all of those 12 wins were in his 20 jump races. Among the races he won is the Maryland Hunt Cup three times, plus he won both the American Grand National and the English Grand National (Aintree). These races are considered the height of difficulty ( yet there is a race in the Czech Republic that is even more grueling).
Toughness combined with top skill, this is just what we want to identify. His strongest dominance is Sweep 6x4, with background buildups of Galopin 30 lines, and his son St. Simon 17 lines, Black Toney 6x5, and Sainfoin/Sierra 7x7x7x7.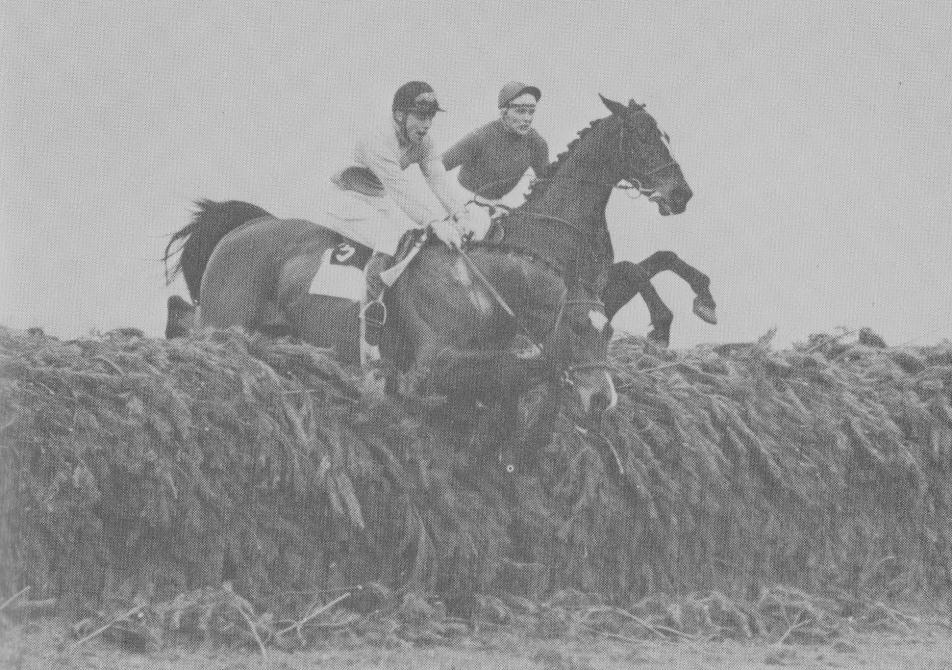 [Jay Trump beating the favorite Freddie at the last fence in the Aintree Grand National.]
Sweep is an extremely potent line, with close inbreeding (dominance in parantheses) to the good English import Alarm (Whalebone, Whisker etc) 4x4, Lexington RH 6x5x6x6x5 (Diomed-Herod), also the full brothers Faugh-a-Ballah/Birdcatcher 8 lines (Herod), Queen Mary 4x7 (Herod) and Iago 6x4 (Herod). Sweep, along with Black Toney--Blue Larkspur, Commando and Peter Pan all carry dominance in Lexington RH via Domino, Ben Brush and other American lines. These lines are not usually found in the chasers across the pond because they were banned lines for the duration of the Jersey Act.
Bon Nouvel 1960 gelding
He ran for 5 years carrying weights upto 170 lbs, with 51 starts/16 wins, while earning the Steeplechase Champion of the Year three times (1964, 65, 68). He won the American Grand National by 20 lengths and the Temple Gawthmey by 30 lengths.
His strongest potency comes from the background with 19 lines of Galopin, and 40 lines of Stockwell being in critical mass. He also has three equally potent engine room duplications: Spearmint 5x5, and then two Domino line stallions: Peter Pan 5x5 and Commando 6x6x5.
Tuscalee 1960 gelding
Tuscalee raced for 10 years, both flat and jump, and in 87 starts he had 39 wins, 81 of those races and 17 wins were in steeplechases, including the Indian River Steeplechase twice.
His strongest dominances are seen in the background 15 lines of St Simon, and then the 5x5x6 position of the 3/4 brothers: Sundridge/Rock Sand, and the full siblings Sainfoin/Sierra (Birdcatcher/Newminister) 6x6x7 and the full brothers Adam/Ajax (Galopin) 6x5. He also has secondary strength buildup of  29 lines of Galopin and 20 lines of Hermit (Newminsiter).
L'Escargot 1963 Irish bred gelding
He ran 53 races and won 12, including the Cheltenham Gold Cup twice and the Aintree Grand National. Dominance is seen in Tourbillon 3 x 10, and the 3/4 siblings Duncan Grey/Prestige 4x4, and the 3/4 brothers Martagon/Tredennis 6x7. Other genetic strengths are 26 lines of St. Simon, and 48 of his sire Galopin, but also multiples of the Polymelus sons Pommern 6x5x5 and Dark Ronald 5x6x6.
Ben Nevis 1968 English bred gelding
A great chaser, he won the Aintree Grand National and the Maryland Hunt Cup twice, 21 starts/9 wins. 
Potency arrives in critical mass, 40 lines of Galopin, plus there are the 3/4 siblings Selene/Sansovino 5x4 and the 3/4 siblings Glacier/John O' Gaunt 5x6x6, and a double of Gainsborough 5x4.
Note: John O'Gaunt is often identified as a source of weak joints, and yet he is found not just here in strength but further on as well. He is not the only purveyor of unsoundness we will see either.
Cafe Prince 1970 gelding
He started 52 times, won 18, including the American Grand National. 
His strongest potency is in Nasrullah 3x4, followed by the 3/4 siblings John O' Gaunt/Bridge of Sighs 6x6 and 38 lines of St. Simon.
Zaccio 1979 gelding
He won 22 of 42 starts. 
Polymelus 4x4 is the strongest dominance, then the 3/4 sisters Sweet Lavender/Drift 4x5, their sire Swynford is 7x5x7x6. The full brothers Tetratema/The Satrap 6x6, and in the background more power from 13 lines of Canterbury Pilgrim (Birdcatcher) and 44 lines of Galopin.
He raced both flat and jump, 51 starts/24 wins, the jump races were 33/20, he won the American Grand National, and after all that he was retired to a career in dressage and died at the age of 35!
His strongest dominance is the 7/8 brothers Nasrullah/Royal Charger 4x3, then the 3/4 brothers Pharos/Sickle 6x5x5, and the full brothers Bull Dog/Sir Gallahad 5x5x6. Secondary potency arrives with 43 lines of St Simon in the background, and Sweep 6x6x6x9x6x8, and the equally potency of Bull Dog 4x5, Misleading 5x5 and Pharos 6x6x5. 
He raced in both England and here, bred as a jumper, but flat raced as well. He was 5 times the Steeplechase Champion of the Year,  had 43 starts/23 wins, including the Colonial Cup three times and the Carolina Cup twice. 
His strongest potency is the mare Blue Denim (Blue Larkspur daughter ) 6x3, and Blue Larkspur 5x7x4x7, with secondary strengths in Prince Rose 4x5 (Birdcatcher, Galopin, Stockwell), Hyperion 4x7 (St. Simon-Galopin) and Mahmoud 4x7 (Galopin, Newminister, Isonomy).
McDynamo 1997 gelding
He raced both flat and jump, 34 starts/17 wins, the jump races were 30/16 of those, and he won the Breeders Cup Grand National 5 times.
His strongest potency is Turn-To 4x5, the 7/8 brothers Nasrullah/Royal Charger, and then the 3/4 siblings By Jiminy/Blade of Time (Black Toney).
Good Night Shirt 2001 gelding
He ran in 33 races and won 14 times, including the American Grand National, the Colonial Cup twice, the Lonesome Glory Hurdle twice and the Iroquois Memorial twice. 
He is strongest in Raise a Native 5x4, then the 7/8 brothers Nasrullah/Royal Charger 6x6x7x7x6x6x9, Turn-To 5x5 and 23 lines of Teddy in the background.
Conclusions
Something puzzling has arisen in the prominent dominance's, especially in the more recent champions, the presence of sprinters in such distance ordeals for one thing, and more curious the bloodlines of known transmitters of faults. Nasrullah is a problem for those that say sprinters can't do distance, and in the narrative in the sport horse industry that sprinters are poor choices for success. Nasrullah has squashed those arguments, he is a chef-de-race for sprint and sprint only, yet here he is in dominance in the most difficult stamina races...maybe we need to rethink our industry narratives. Nasrullah transmits speed, and he surely got plenty of that from Nearco, but both Nearco and his dam have great distance racers in their damlines...That might be a clue.
But even more curious is the presence of Turn-To, not just once, but several times and in power, and his line is notorious for weak front legs---how can a jumper succeed with bad front legs? It can't. Then there is Raise A Native as well, a transmitter of weak ankles, and he too is here in power. 
Certain genetic dominances have shown themselves to be indicative of toughness, speed and agility. As noted above, Galopin and his son St. Simon, the background powers of Stockwell, Newminister and Birdcatcher, and Sir Archy, but several others have now stepped up to the front. Of course Fair Play and his son Man O'War, but also the Domino line stallions: Sweep, Commando, Peter Pan, Black Toney and his grandson Blue Larkspur, and the Teddy family (Newminster, Galopin) has a huge presence as well. The Phalaris line, for all its faults shows itself mighty, here in the States with Nasrullah/Royal Charger, and as we will see below in a few of the best Irish Steeplechasers, the full brothers Fairway/Pharos.
Irish Steeplechasers: Red Rum, Arkle and Hurrican Fly. These are racers that I included in my Thoroughbred Soundness and Durability study, and thought it might be interesting to see here if there were certain lines that were similar to ours.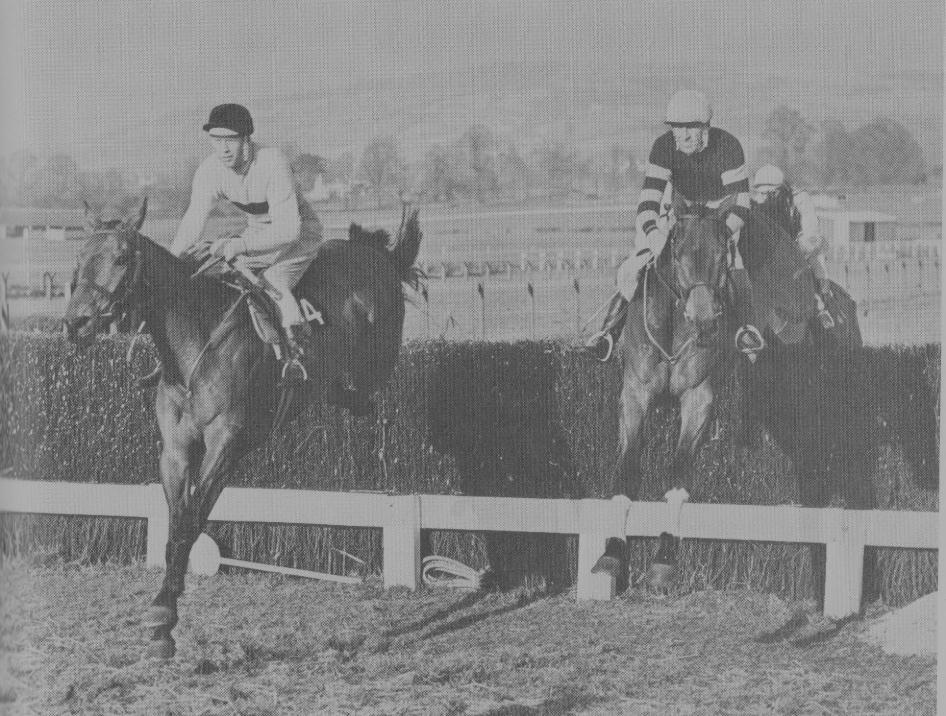 [Arkle winning the 1964 Cheltenham Gold Cup]
Arkle 1957 ran 35 races with 27 wins including the Cheltenham Gold Cup three times, the Hennessy Gold Cup twice and the Irish Grand National. He died early, euthanized because of debilitating arthritis. His strongest dominance is Dark Ronald (Stockwell) with secondary power in St. Simon, and Cyllene, with background power in Stockwell and Newminister. His closest inbreeding is 4x4.
Cyllene and Dark Ronald are not seen in our champions. Cyllene is dominant in the main sport roots of Newminster 6x4 and Stockwell 4x4, with Isonomy as his damsire he carries strong Birdcatcher as well. We see Dark Ronald is 4x5x5 Stockwell/Rataplan, and he carries a Queen Mary double 5x5, so both are a re-shuffle of the basic roots found in our horses.
Red Rum 1965 ran 110 times with 26 wins (very similar record to Elkridge), truly a super star, he raced both flat and jump, and won the Grand National three times and came in second two more times...amazing horse, and he died at age 30. His strongest dominance is the tie between the full siblings St. Simon/Angelica (24 lines) and the full brothers Fairway/Pharos 4x4. Secondary dominance is Polymelus 6x5x6, Cyllene (sire of Polymelus, En Gradia and Pussy Willow), Newminster-Tadcaster and Scapa Flow. 
Hurricane Fly 2004 had 41 starts and 26 wins, some of those more than once: Champion Hurdle twice, Irish Champion Hurdle 5 times, Punchtown Hurdle 4 times, Rabobank Champion Hurdle 3 times, Morgiana Hurdle 3 times and Ryanair Hurdle...you get the picture, he outclassed most of his rivals. His strongest potency is a double of Zaddan (5x4) who is a Galopin warehouse (32 lines) with secondary powers of Nearco and Vimy. 
We can see between the two populations ((Irish and US) much in common. St Simon-Galopin is the dominant line in the modern English Thoroughbred, and we discussed these lines in the soundness study, they have an extreme depth due to their potency, and when I extended St. Simon's lines I discovered a surprising super saturation in the early Thoroughbred Partner...he has 230 lines of him! This is a lesson for us, in that the background buildup of a superior ancestor does indeed have a lasting positive effect on the performance of the horse's descendants.
On our side of the pond a very strong presence of Fair Play-Man O' War is evident, but also the definite evidence of the power from the Domino (inbred to Lexington RH 3x4x4) line stallions Blue Larkspur-Black Toney (7 lines of Lexington RH),  Commando and Peter Pan, as well as their close relative Sweep (Ben Brush out of Domino dam---Lexington RH 5x5x6x6). In the States the presence of Lexington RH is a predictable as St. Simon is in the English strains. Lexington RH also has a surprising background buildup: 117 lines of the foundation mare Betty Leedes. So this is notable, that two of the greatest Thoroughbred bloodlines ever have a super saturated background power.
Pharos and the Phalaris line have shown up in power in the more modern jumpers, and some of the individuals they are present from surprised me a little. Further back we saw the sometimes unsound line of John O'Gaunt (weak joints) appear strongly, but now the Pharos stallions (front legs, tendons), of course Nasrullah and Royal Charger (who had poor front legs), but the talented yet often unsound Turn-To (inbred to Pharos--weak front legs) and Raise a Native (ankles). Raise a Native is disturbing on another point although he is sire line descended from the Phalaris line he carries strong linebreeding in sound stout lines of Fair Play 5x5 and Whiskbroom 5x4, which we would hope would have neutralized the weak legs coming down the sireline, but it didn't (see Ruffian for another example).
These jump races are not for the unsound horse, especially at the level the inductees raced at. So we can learn something from this: Unsound lines produce sound as well as unsound progeny, as we see proof of here,  where this being such a punishing test a weak horse would just not make the grade (see soundness and the breeder). That gives us a lot of hope as breeders, that we don't have to 'throw the baby out with the bath water'...we can search out the sound offspring of the talented bloodlines and breed on from there, even Phalaris line horses can produce tough jumpers and stamina runners.
References
Kirsan, Kathleen Legacy of Lexington 2014, Standardbred Sport Horses 2017, www.sport-horse-breeder.com: "Understanding Pedigrees", "Soundness and the Breeder", "Soundness and Durability in the Thoroughbred"
American Thoroughbred Stamina chef-de-race
National Steeplechase Association 
Smith, Harry Worcester "Steeplechasing in Canada" 1931
Stoneridge, M.A. Great Horses of Our Time 1972
Wikipedia "Hall of Fame Horses"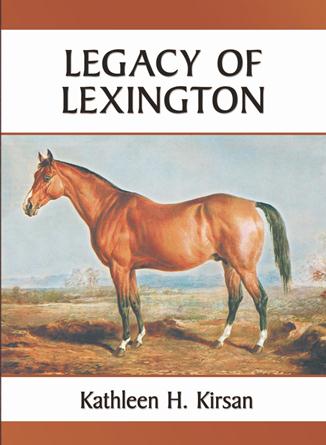 Legacy of Lexington for more information on the American Thoroughbred, its bloodlines and their development. available online via most booksellers
Links
Bloodlines of Champion Show Jumpers
Sound and Durable Thoroughbreds