Tapit 
Carrier of the Seattle Slew Sire Line
Many of my friends in the Thoroughbred world are focused on sire lines; and lament when a prized sire line no longer has a viable tail male descendant. Tapit is a living example of success in carrying on not just the sire line, but keeping the genetic power at a high. I think we could learn something from him and his lineage. (Access pedigrees by tapping on links: Tapit)
Sire lines are not self sustaining, the dominance in the good stuff, the traits that made the horse great must be added to, or improved, otherwise the original elements will be halved in potency with each generation, and each horse in the line will show less and less of the original greatness.
Tapit was a good but not a great racer; he had one grade 1 win and he won 3 of 6 races, very respectable, but not a racing super star, and no one expected his tremendous impact at stud. Yet, this modest racehorse led the sire list in 2014, 2015, 2016 and still today he is near the top.
Just 16 hands, a grey gone white early, a short-coupled attractive horse. Many writers say he is reflecting his 'arabian' ancestry, but we now how (DNA) that is a false assessment, perhaps he is instead reflecting his 'native English horse' ancestry (Hobby-Running Horse). (For photos and videos of Tapit, use this link to his page at Gainesway Farm, all his photos and videos are under copyright, so I can't post them here).
Tapit is a son of the wonderful sire Pulpit, and to me his pedigree is a work of art. As time goes on Slew's sire-line is continuing to produce great things instead of fading out; not just Tapit, but other great sires and racers, for instance the Kentucky Derby and Preakness winner: California Chrome, a Pulpit grandson, and the strong racer Mineshaft, one of the many great sons of A P Indy, he earned a 2003 Horse of the Year title.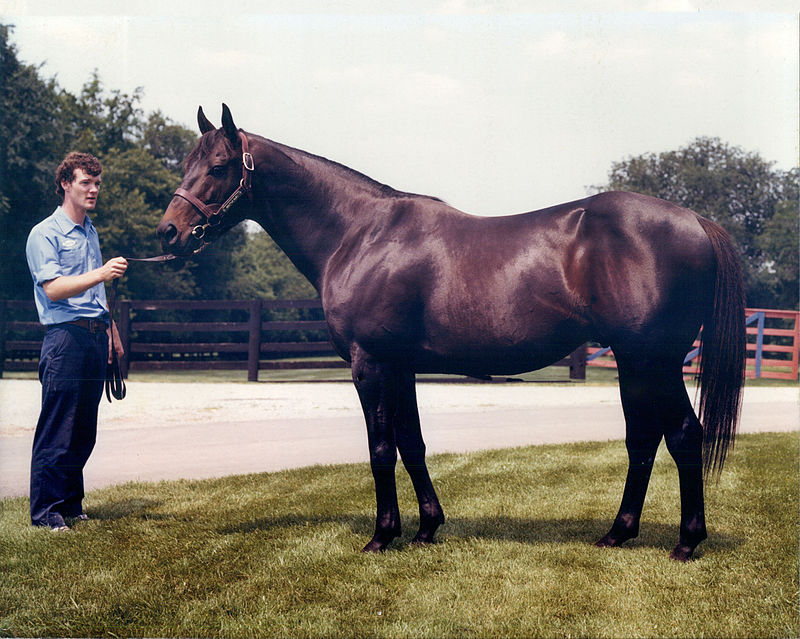 [Seattle Slew, conformation shot by Pawneese, taken on 9/7/2015 at Spendthrift Farm, made available for public use on Wiki Commons.]
We will begin with the genetics of Seattle Slew and then demonstrate how these top sport genes stayed powerful through the generations.
I wrote about the unlikely Triple Crown winner and super sire Seattle Slew in Legacy of Lexington:
"Bred by Ben Castleman, this is a colt that was also rejected at the Keeneland yearling sales and sold instead at the lesser Fasig-Tipton sales for a pittance to the partnership of Taylor and Hill. Like Sunday Silence, this colt was not a picture; he was coarse, raw boned, bit (16.2 hands), muscular and slow to mature. Luckily he was trained by Billy Turner, who understood he needed to give the colt time to grow into himself, for once he got there at the Belmont track Seattle Slew won his maiden by five lengths. He loved to run, and in his races he wanted to lead. By the end of his abbreviated season (began in September) he had earned Champion-Two-Year-Old title and set a record for the fastest mile by a two-year-old; with his definitive display of class he snatched the title of Horse-of-the-Year from racers who had run the entire season. The fans and bettors loved him; however the racing industry still wasn't very impressed." (p.326 Legacy of Lexington).
As we all know he went on to win the Triple Crown--undefeated--a feat few others have accomplished, although recently, Justify achieved it, and his second dam is by Pulpit, So something great is residing in these genetics--despite Seattle Slew's appearance and his nay-sayers, he rose to the top like cream, and his genetics still are producing greatness; line-breeding to him has proven successful and his daughters are genetic gold.
Seattle Slew's pedigree has all sorts of good stuff, but is most remarkable for his engine room grouping (4x4x4) of full and 3/4 sisters: Busher, Striking (War Admiral/Sweep/Teddy) and Nothirdchance, sex-balanced--what we call a filly factor. (Nothirdchance is a 'genetic' 3/4 sister to the full sisters Striking and Busher, adding complexity and power by providing the opposite sex-balance of their main lines: Blue Larkspur son (Domino line), two Man O'War daughters and Teddy sons...see Legacy of Lexington for full discussion of this and the reason La Trioenne (Teddy) did so well in America.)
There is a theory out there in line breeding circles that having strong female presences like his, and also like we see in Justify (4 daughters of Mr. Prospector--2 of them full sisters and 2 daughters of Secretariat), are a negative to a male's racing career---these two Triple Crown winners say otherwise.
These 3/4 sisters are carriers of the blessed cross of La Trioenne (Teddy) with Man O War and his sire Fair Play, and Domino stallions. In his pedigree we also find plenty of the usual Nasrullah-Phalaris line concentrations, as this line now saturates the entire Thoroughbred. But what is unusual here is this sister power, which is the ruling element. Plus there are additional reinforcements of the key elements in the sisters via Myrtlewood on the damline, Warrior Lass on the sire's damline and Alablue on the 2nd sire's damline. Remember this: Teddy via La Trioenne, Bull Dog, Sir Gallahad; Man O War/Fair Play via War Admiral, Warrior Lass, Flaming Swords, Baton Rouge, Discovery etc. and Domino via Blue Larkspur, Black Toney and Sweep--these are key elements in his genetic dominance. There is also 140 lines of Lexington in the background (10 generations--critical mass).
[A P Indy with his groom, this lovely photo was taken by Jean from Shelbyville, Ky on 7/22/2010, posted for public use on Wiki Commons]
A P Indy built on the Bold Ruler sire line he inherited from Slew by presenting the 3/4 brothers Secretariat and Sir Gaylord through daughters (another filly factor), and he kept the Teddy/Man O War/Domino strength alive via Busanda (dam of Buckpasser and a 3/4 sister to Busher/Striking).
A P Indy's son Pulpit is an important step for us breeders to note. When we have a strong dominance, it is advantageous to leave it for a generation or two and build on a different strength. Pulpit's breeding career shows how right this choice was. His pedigree made the full siblings Round Table/Monarchy 5x4, a brilliant and powerful design. The background 3/4 brothers Nasrullah/Royal Charger/Mahmoud continued to build as well. Yet, his lineage still stayed connected to the original power structure by adding a line of Myrtlewood,
All of the above sires are considered influential in the breed. Next in line we come to Tapit, the horse no one expected to become a top stud. His genetics are like a symphony, his dam brought in another Mr. Prospector line (sex-balanced) whose sire Raise a Native is strong in the same elements as the sister strength in Seattle Slew, but more important another line of Nijinsky through daughters, whose dam Flaming Page is another strong in the Slew power with Domino, Fair Play and Teddy lines, and Tapit has a double of In Reality by daughters, whose whole pedigree is a repeat of the same basic elements: Teddy, Fair Play, Domino, repeating his grandsire's maternal power. Tapit's pedigree has Mr. Prospector 3x4, Nijinsky 5x3, and In Reality 5x4. This is extreme genetic potency with background depth. We find a strong collection of filly factors: In Reality daughters, Aspidstra (mare) sex-balanced, Nijinsky double by daughters and then the 3/4 brothers Secretariat and Sir Gaylord through two daughters.
When we visit Tapit's background we find over 50 lines of Domino via Disquise (6), Ultimus (7, inbred to Domino), Sweep (12), Peter Pan (8) and Black Toney (11) and others. The Fair Play stamina dynasty has 29 lines with 20 Man O' War and 9 Discovery, plus there are 30 lines of Teddy including 12 Bull Dog, 7 La Trioenne, and 6 Sir Gallahad. These lines are at critical mass level where their type will saturate the offspring. Plus there are 20 lines of Phalaris--for once it is not the dominant force.
For those of you that have been hearing and reading continually that America only breeds sprinters, here in Tapit is a stud brimming with tremendous stamina sources (including over 200 lines of Lexington). We have it all here; you just have to open your eyes. 
So what happened with his offspring? I pulled up the pedigrees of a few of his well known racers who have retired to stud: Tacitus, Frosted, Creator, Tonalist, Tapwrit, Hansen, Mohaymen, to see what they have genetically and on the whole I was a little disappointed. For example, Creator, in 5 generations his only dominance was a double of Northern Dancer through sons which puts him in the 'ho-hum' catagory with about 70% of the racers out there. It is the same design in Tonalist. Hansen did a little better as he did more with the genetics that were handed to him. He had the male only Northern Dancer sons 5x5, plus male only lines of Raise a Native 5x4, but he also had a filly factor of Seattle Slew daughters, which in my view makes him a better stud prospect.
A more recent racer that just retired was Mohaymen, but he too only had the male lines of Northern Dancer 5x4, male only Seattle Slew 4x5, but his dam saved the day by bring in the full brother to Moon Glitter: Relaunch.
I thought surely the great Frosted would have more, but no, he has all male duplications up front also: Seattle Slew 4x4, Northern Dancer 5x4. 
But then there is Tacitus with a sex balanced double of Unbridled 3x4 and sex balanced Seattle Slew 4x4, very nice. And Tacitus continues the male only Northern Dancer (7x5x6x5), but it is tempered by a lovely double of Secretariat through daughters 5x5 (remote sex balance), plus a double of the top mare: Best in Show--an excellent pedigree structure.
Tapwrit also has a powerful balanced double of Seattle Slew 4x4 and In Reality 5x4, plus a Hail to Reason sex balance 7x6x7 (tapping right into the main power in Seattle Slew via Nothirdchance), and then the unusual double of Lucky Debonair through daughters 6x6--another worthwhile lineage. 
When you have an extremely potent pedigree, it is more difficult to equal it or even improve it, but as you see it is not impossible, as we see demonstrated in the descent of this line. Someone can take the time to design a super star from this genetic gift.
Before he passed away a few years ago, Les Brinsfield (Thoroughbred pedigree expert, creator and editor of Pedigree Post) sent many of us the pedigree of a Tapit daughter, Sweet Loretta, saying it was one of the best designed lineages he ever saw. I agree, it is pretty darn nice. The dam brought in a A P Indy daughter, a 3/4 sister to Pulpit 3x3, and another Unbridled daughter 3x3.
The point is we can do better with these great sire lines if we take the time to choose their mates, not just on performance but on what they bring to the foal's genetics. We must first however, shed the limiting thinking this sire line concept imposes on us. A great sire is not dependent on his tail male line of descent for his success. In Seattle Slew it was not his descent from Bold Ruler that made him a super sire, rather it was the extraordinary sister element in the center of his lineage that gave him his lasting genetic impact. 
Sport horse breeders, Thoroughbred bloodlines are pure sport, and they all have a jump, a great many have wonderful movement and collection, they are courageous, and beautiful, and if you take the time to follow back your pedigrees of great sport horses you will always find the Thoroughbred back there providing the 'sport'. Some of the lines have become contaminated with soundness issues, but your intelligent breeding decisions can harvest the good without bringing down the bad. Most of the modern jump lines in the sport horse world originated in the Thoroughbred and surprisingly many from the Standardbred (American Trotter). (see Standardbred Sport Horses for the tracing of the jump bloodlines back to their sources.)
Understanding Pedigrees
Tesio Methods
Soundness and the Thoroughbred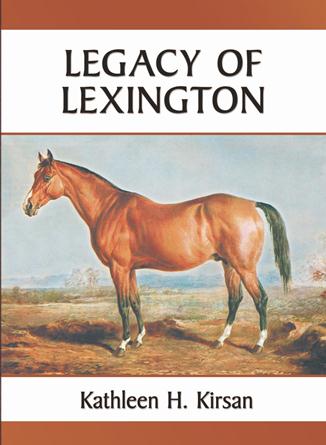 Read more about the lines discussed above, and many others that make up the American Thoroughbred, and discover why it is so annoyingly successful (its not what you think!) in Legacy of Lexington, available online by most book sources (Amazon, Bol, Barnes and Nobles, Abebooks, Ebay etc.)
My associate John Ryan in Australia has done a deep dive into Tapit's pedigree and identified key genetic dominances, worthy of the read.