Tadcaster--the Ringer!
     --a few additional thoughts on this genetic tangle--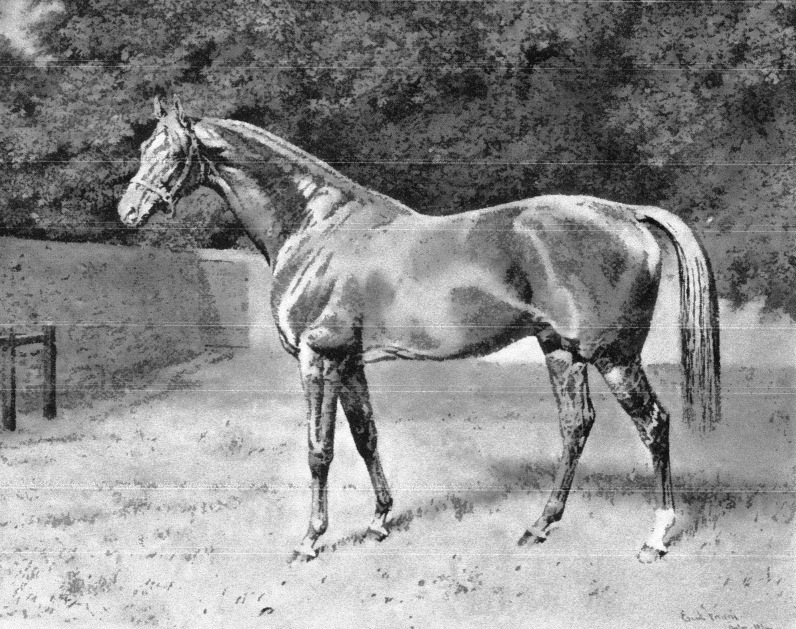 [Tadcaster? Or Bend Or? This image is a photo of a painting done by M. Emil Adam and published in Famous Horses by Theo. Taunton in 1901. Notice the near rear white stocking (I will tell you why a little further along). The horse was said at the time to be Bend Or, a good looking horse and certainly looking strong enough to be the Derby winner of 1880.]
This is not 'new' news: that Tadcaster was substituted for Bend Or, but when discussing the finer points of it with Tony Byles, we decided to dig a little deeper. Now, for those of you that don't know this story or perhaps you want a refresher then you can follow this link to an essay Tony Byles wrote about it, and published in his second book: 101 Interesting Facts on the History of Horse Racing  2014. (Tony is a Thoroughbred historian of note, contributor to www.bloodlines.net, and writer of In Search of Running Rein 2011, which is a detailed and extremely accurate account of an earlier 'ringer' fraud (1844 Derby)--both books are easy to find online.)
Dr. Mim Bower startled the racing world in 2012 when she revealed that the old rumor that Bend Or had been replaced by a ringer (webster definition: 'imposter, fake; one that strongly resembles another) was indeed true. Via DNA Dr. Bower along with a team from Royal Veterinarian College, were able to test the supposed Bend Or's skeleton mtDNA and it revealed that the horse that was thought to be Bend Or, was instead his stable mate, Tadcaster. (see "Solved: Two of the Historic Riddles of Horse Racing")
What this means to us breeders, pedigree designers and equine historians, is that we have to adjust our databases and ideas somewhat. I am old enough to remember the constant discussions of the Bend Or/Macaroni cross, which according to many writers was responsible for much of the best racers of the 20th century. Of course, we can only run with and analyze the information we are given, and now we may have to take a closer look at assumptions made based on that narrative. Personally, what really shook me up was when I changed my database, replacing Bend Or with Tadcaster, and then got surprised what it demonstrated in the genetics of the great The Tetrarch bloodline. He was a fast and talented racer, but retired after his first year (2 year old) with injured front legs. How was it that this horse with damaged front legs, and low fertility, was able to establish a dynasty, not just of racers (Mumtaz Mahal etc.) but he was found continually in jumpers? It all became clear in an instant...with his pedigree corrected it shows he is inbred 3x3 to full siblings: Tadcaster/Clementina (by Doncaster out of Clemence) which is extreme potency and typesetting and it explains his long genetic reach. But that was not all, I remembered that Clemence was dam of The Mersey (dam of Carbine), and Tadcaster was damsire of Fair Play. It hit me like a brick, these were not just good racing lines but noted jumper bloodlines, and they all carried the same mare; indicating that Clemence carried that trait.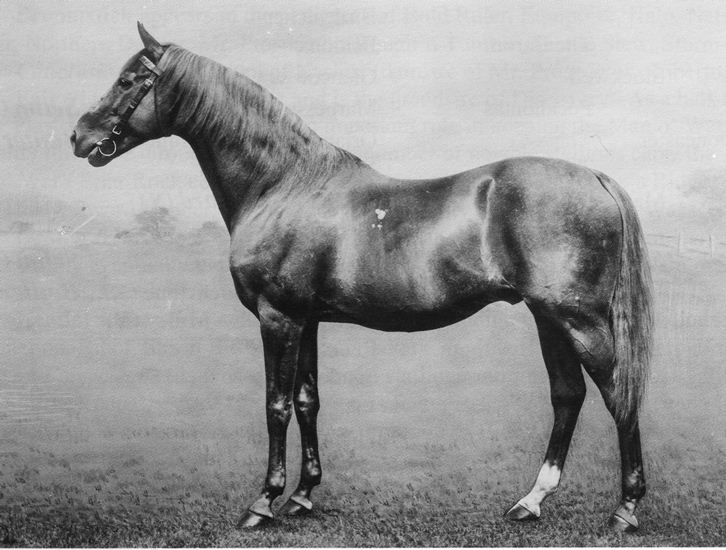 [I stumbled across another mystery concerning these two racers: which one is Tadcaster, the image at article start or this one? This is a photo, but notice this horse has his far hind foot with the stocking, while the painting has it on his near hind. Seems a significant marking to get wrong. Any ideas?]
Looking at the Bend Or notes on pedigreequery.com and allbreedpedigree.com, I realized the race records were really those of Tadcaster of course, but then I went to their Tadcaster pedigree notes, and saw the record was heavy in steeplechase races, which of course then would be the record of Bend Or. I hadn't considered this before, and I was struck by what a tough racer Bend Or was, and that he had innate jumping ability as well. 
Before I jumped to conclusions, I contacted Tony because accuracy is not guaranteed on those sites, in fact, they are often in error, so I verify information I see there with other sources. But Tony, who I can rely on to be accurate,did not have access to the data that would confirm that, so he called on his friend Tim Cox who does, and Tim graciously sent over the official Tadcaster race record. Now, realize that the records of Bend Or and Tadcaster must be switched, at least in our minds. It gets confusing, but something new became apparent in all this. Rouge Rose, a daughter of Thormanby, produced a tough steeplechaser, racing until he was nine, running in 43 races and winning 7 (not the 40 races listed on allbreed). Most of the races after he turned four were two-miles, over hurdles of course. Now here is the interesting thing to me: Thormanby, the sire of Rouge Rose is a valued jump line, and in fact, one of the strongest jumper lines in the world still is a French Thoroughbred named Le Sancy, and he is 2x3 to Thormanby and his full sister Lady Hawthorn. So, the mares, Clemence, a daughter of Newminister (1/2 sister to Hermit), and Rouge Rose, a daughter of Thormanby, are both valuable jump transmitters.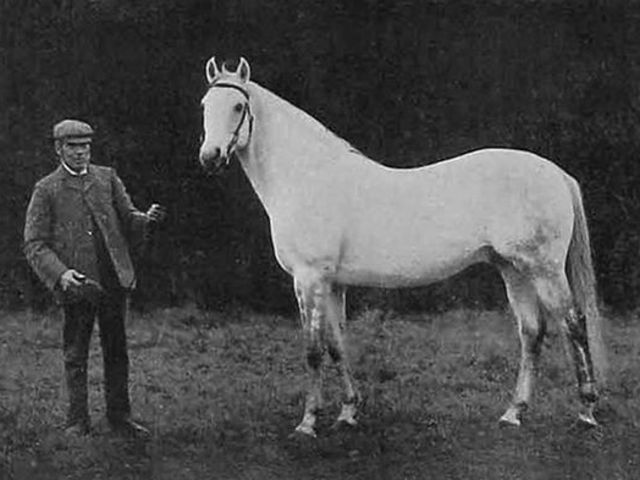 [Le Sancy--great jump line, inbred to Thormanby and his full sister Lady Hawthorne 2x3]
Here are the hopefully correct pedigrees of Bend Or and Tadcaster. They have the same sire, so they are 1/2 brothers, but let's look at the dams and see what is different about them. 
We can see Clemence is strongest in the full brothers Whisker and Whalebone 5x5 sex-balanced, and they are both Derby winners. Plus there is a secondary power seen in Orville lines 6x5x6 plus another line of his sire Beningbrough through a daughter, thereby sex balancing the line. It is interesting to me that Orville is 3x3 Herod, the root source of the jump in the Thoroughbred (see study on jump roots in Standardbred Sport Horses.)
In Rouge Rose we see the main dominance is in full brothers 5x5 again, but this time Castrel/Selim sex-balanced, good racers but not Derby winners. And the secondary dominance once again is the Orville family. Orville and his full sister Orvillina 6x5x6 plus two additional Beningbrough lines, and those lines are concentrations of the Herod lines. Rouge Rose and Clemence has very similar dominance in the Orville family. The main difference I can see between the mares is the front two full brothers. I realize that this piece is simplified, and there are lots of other factors and I have not considered the interactions with the sire's lines. But it somehow makes a little sense to me, that both are strong jump lines (concentrated Herod) and Tadcaster with two Derby winners close up did win the Derby. 
Update 3/10/2020 -- Mystery solved! and a Quarter Horse angle
With the help of both Tony Byles and Tim Cox in England, I believe we have the solution to the mystery presented above of the hind socks on opposite legs. Tim Cox, a Thoroughbred historian and a member of the British Sporting Art Society, discovered a Clarence Hailey photo of Bend Or at Newmarket, and while it is facing the opposite way from the photo above, the two photos look suspiciously alike. On closer observation we saw that it was identical, down to the vague background trees...the image I got off the internet had to have been flipped! Its the same photograph, therefore it is the same horse.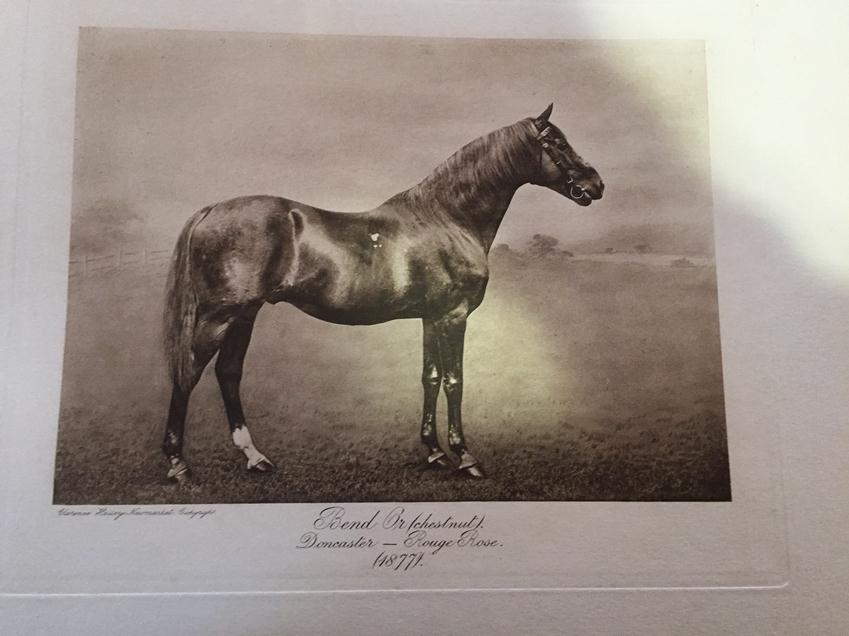 [Clarence Hailey photo of Bend Or (Tadcaster) at Newmarket discovered by Tim Cox]
Also, both Tim and Tony came up with several other photos of our subject which I will add below for you. Tremendous thanks to the diligent researchers: Tony Byles and Tim Cox, for these photos and the time and effort they put into this. Tony brought up the point that it will be hard to find a photo of Bend Or the steeplechaser as photography was still new and seldom did they bother with the jump horses in that day...it was all about the Derby.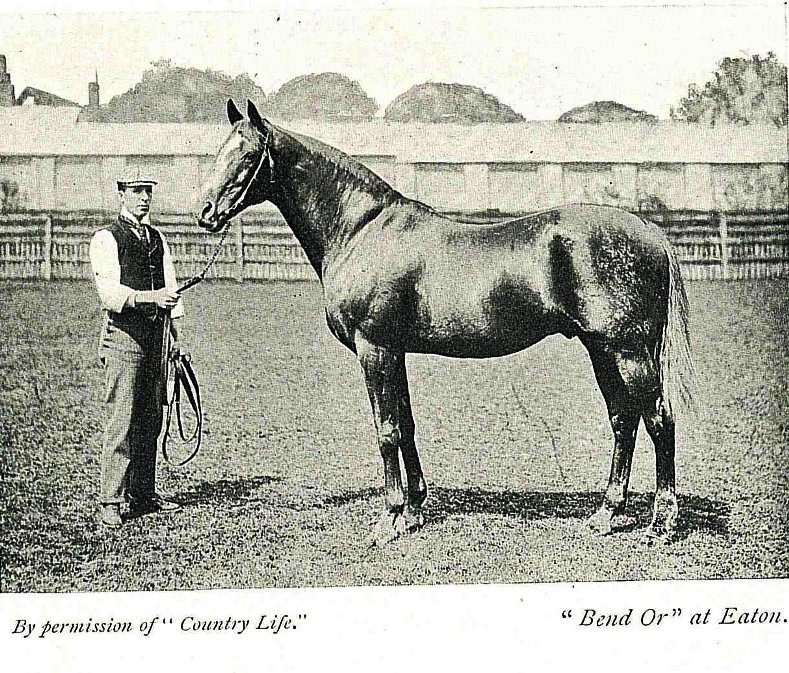 [Tony found this photo for us of Bend Or (Tadcaster) at Eaton, but it is so grainy it is hard to tell which leg has the sock on it. I am loving his conformation, so square, so powerful.]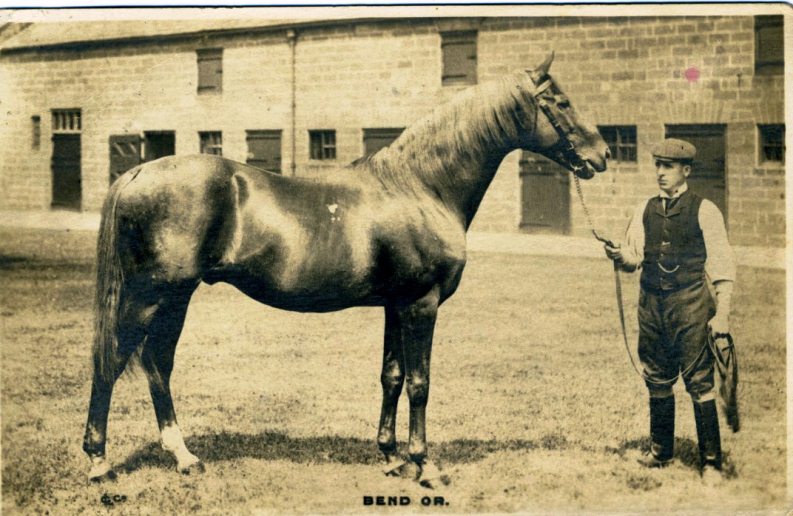 [This photo is a postcard of the day found by Tim, showing the Derby winner Bend Or (Tadcaster), notice the odd mid-section markings.]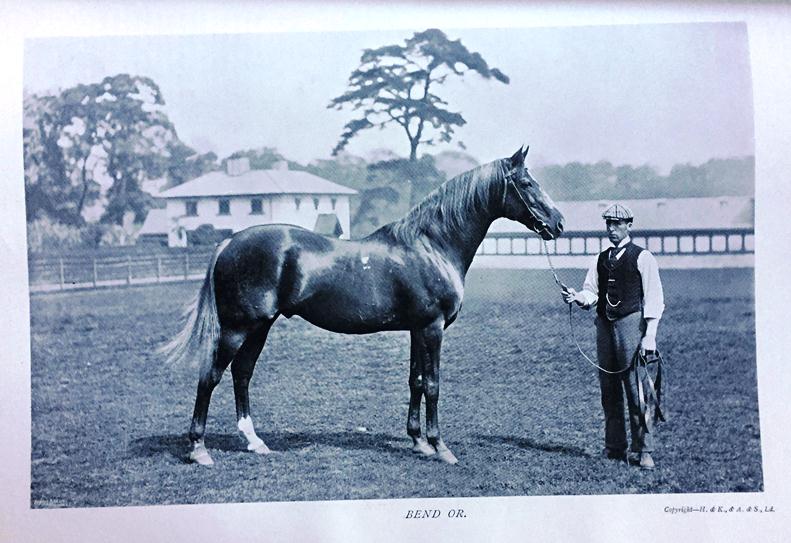 [Tim found this very clear photo originally published in Country Life magazine; once again the odd mid-section marking is visible.]
________________________________________________________
The Quarter Horse Angle
My friend Amy Corbett, here in the States, is a Quarter Horse bloodline scholar, and she noticed that the great modern Thoroughbred typesetter in the Quarter Horse: Three Bars, carries a double of Sandiway, the full sister of Tadcaster, along with a line of Tadcaster, putting them 6x5x5. Here is his pedigree.
I think it is worth noting that here again we find a tremendous sire with a familiar pattern in the dam: like Seattle Slew, Easy Goer and California Chrome, we see a double of a mare, Sandiway and Sandfly, playing a pivotal genetic part in his genetics. 
When I did my study on soundness and durability in the racehorse breeds, in the racing Quarter Horse it was revealed  that Three Bars has three times the genetic dominance in the breed than any other stallion (see Quarter Horse and Soundness--scroll down to the 'Dominance in the Durable Racers' section). Three Bars has another full sibling configuration: the sisters Merry Dance and Pretty Dance 5x6. Plus there are three lines of the potent Domino 5x5x5, and multiple lines of the potent Isonomy 7x6x5x5. Domino is 3x4x4 to Lexington RH, and Isonomy is 3x4x4 to Birdcatcher and his full brother Faugh-a-Ballah, making them equally potent in the best sport lines. Three Bars is a tremendously potent typesetter. 
Another point that shows up, is the high number of long distance runners in this genetic soup, yet Three Bars and the Quarter Horse as a whole are considered sprint racers. He even carries the world record holder for 4-mile heat racing, Fellowcraft, as 5th damsire. Fellowcraft is the only horse to ever beat Lexington's record---by a 1/4 of a second, and he is Lexington's grandson, but there he is. (See discussion of the Speed Gene and the common assumptions that just don't make sense).
Thanks to Tony, Tim and Amy for your contributions to this discussion...it has been great fun.
Links
Show Jump Hall of Fame bloodlines