The Amazing Jazzman
My approach on this article in the Top Sires series will be different from the previous two (Tapit and Captaintreacherous). I will use an unlikely Morgan champion sport horse gelding as a door into the Morgan Horse's premier sport bloodlines. Avatar's Jazzman, a 14.1 hand Morgan, has demonstrated that pure talent out trumps size.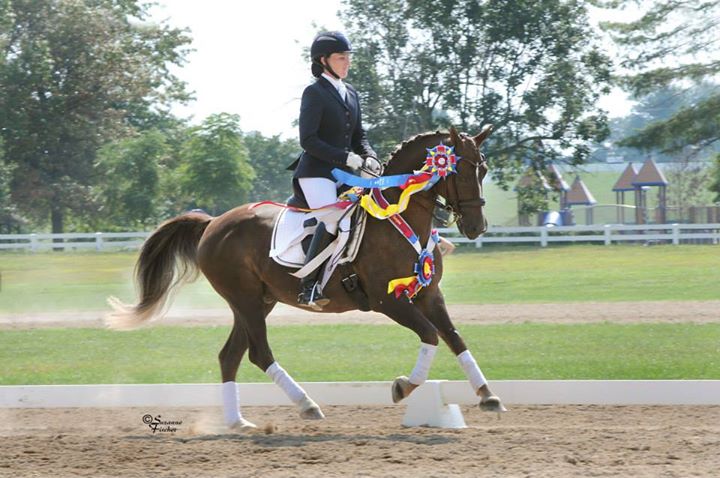 [Jazzman and Lauren taking a victory lap after a championship in dressage--photo used by permission of Suzanne Fisher.]
"Morgans do everything" says Lauren Chumley, his trainer--rider. And this author knows from personal experience that Lauren's statement is accurate,  because I use a Morgan stallion as an improvement sire in my herd and he has proved himself a upgrader of excellence, passing on versatile talent along with good disposition, proper conformation and soundness.
 Jazzman is only 14.1 hands, which is small even by modern Morgan standards, yet he has been slaying them in both eventing and dressage in open competitions. His opponents are often big hunters or warmbloods, many over 17 hands tall. So, how is it a pony can not only hold his own against the big guys but consistently score in the ribbons? This type of David amid the Goliaths is not unheard of, even at the highest level of competition, and we can call to mind the eventing Hall of Famer Jenny Camp at 15.2 hands winning Olympic individual and team silver, and then coming back four years later and winning the silver again. And there is the remarkable international eventing winner The Grasshopper, and he only 15.1 hands. And most will remember the surprising Theodore O'Connor, the 14.1 3/4 pony ridden by Karen O'Connor as he came in 3rd at Rolex, and then won individual and team gold in eventing at the Pan Am Games. In our Dressage Hall of Fame we find a pony also, the 14.2 hand Connemara pony Seldom Seen. 
Jazzman's versatility is a trademark of the Morgan, and has been so since the early 1800s when it was proclaimed the best family and road horse. And Lauren is right, they can do just about anything, and with enthusiasm; they are athletes to the core. They have a active, yet cooperative mind, that can get bored with just ring work, and as Lauren discovered it was best to give him a wide variety of activities and he rewarded her with performing well in all. We will use this little fella's pedigree and genetics to see just where this great sport stuff comes from.
Jazzman was bred by Cordia Pearson of Avatar Morgans in Minnesota, purchased by Melissa Dowling of Maryland, and then trained and competed by Lauren Chumley. He reached Gran Prix level in dressage, he jumps 1.10 meters (3 1/2 feet) easily, excelled in training level eventing, plus he loves when Lauren takes him on a fox hunt or hunter pace. He is now 17 years old, but still going strong--Morgans tend to be long lived.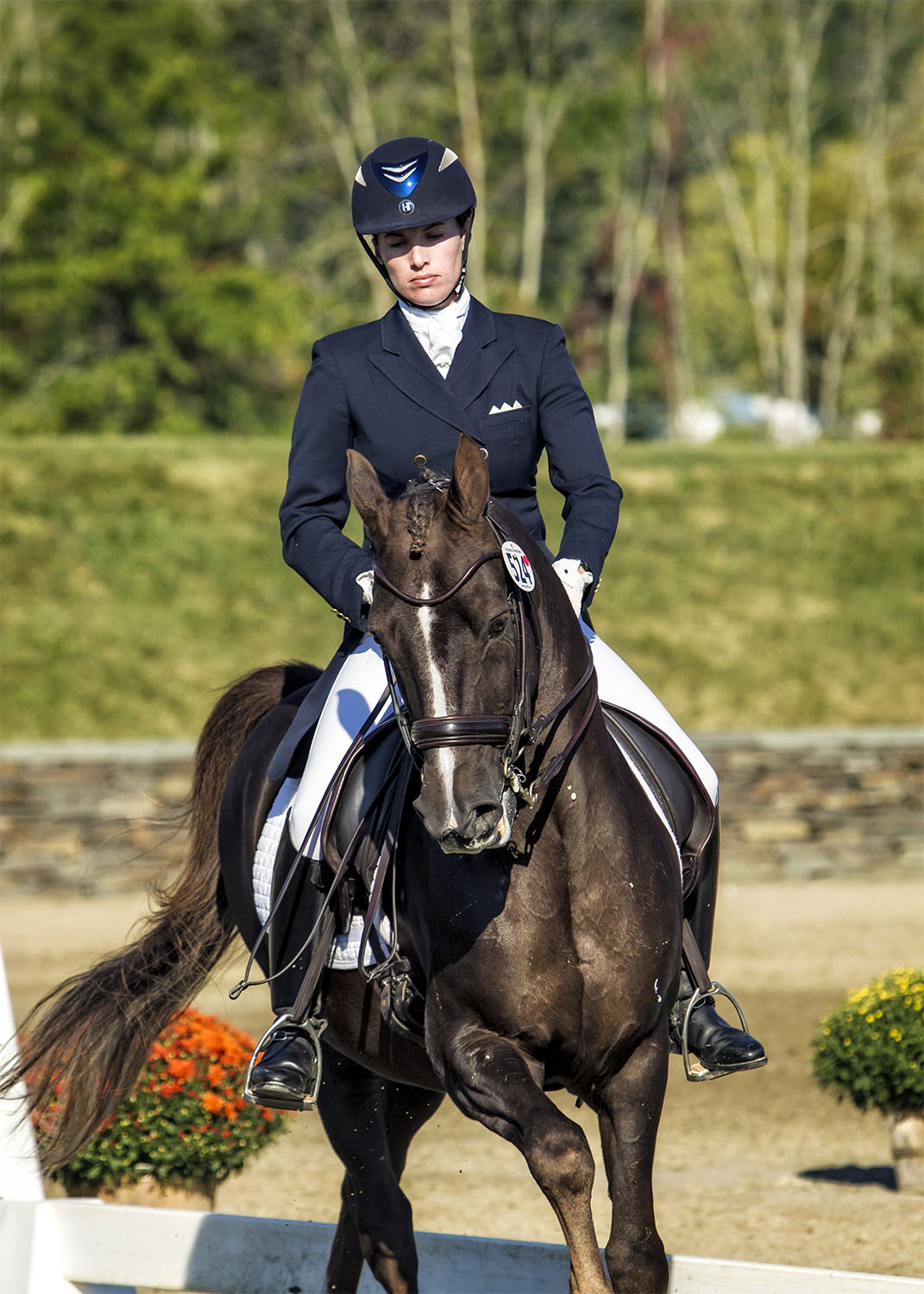 [Lauren and Jazzman doing dressage, photo used by permission of Joan Davis/Flatlands foto]
Lauren has given me a abbreviated overview of her time with him:
"Melissa Dowling purchased Jazz as a barely-started four or five year old in 2005 or 2006....He had about thirty days undersaddle at that point. I finished starting him in Ohio, which is where I lived at the time. When I took an assistant trainer position in 2007 in New Jersey and Florida Melissa took Jazz home for a few years to ride herself. He eventually returned for additional training and showing. We had no idea of how far he could go so we just started training and never stopped! He did his first Grand Prix a couple of years ago and has been improving steadily. While he's probably never going to get a 70% he tries harder than anyone else and gets the job done. Jazz has also competed in eventing. I started hunter pacing him to keep his active and sharp Morgan brain busy and that lead to Beginner Novice eventing, and then we just kept going until Training Level. He's done Grand Prix dressage, Training level eventing, hunter paced and fox hunted. I don't foxhunt very often but when I do, he's my best one!"
This amazing pair of competitiors and their performances have not gone unnoticed, following is a link to one of the many articles written about them:
Chronicle of the Horse "He Piaffes, He Gallops, He Jumps, Avatars Jazzman Does It All"
What makes Jazzman excel in open competitions? He is a well-bred example of the Morgan, one of our premier sport breeds. Sport breeds? The Morgan is a sport breed? Yes, it is, and has been so from its inception, and all its ancestry with the exception of a small amount of Canadian Horse coming via Bulrush Morgan and a few others, and a small amount of Dutch Cob coming in the dam side of the foundation sire Figure's lineage, all the rest is documented racehorse bloodlines! The Morgan can race? Of course it can, and some of its bloodlines were noted champion racers, and the Morgan contributed heavily to the Canadian Pacer and Standardbred, racehorse breeds. That Morgans are not raced today does not mean they cannot be raced, and some of them are very fast and all of them carry great amounts of stamina. 
For you sport horse breeders, a new narrative has taken hold in our industry that declares that no breed is a true sport horse breed unless it has a dedicated section of its studbook set aside for the goal of breeding sport horses---sport meaning 'Olympic style sport'. And some of you here in America, have accepted this dogma as a deciding factor in what breeds to use in your projects. This type of reasoning should never have been applied to our domestic developed breeds, because unlike Europe where this new 'rule' originates, we in America have bred only sport horses...our native breeds are sport horses, always have been, they started that way and their genetics are pure sport. The ancestors of our breeds were used instantly in not only racing, but in hunting which was considered a sport for 'gentlemen'. Our horses were specifically bred for saddle horses, racers and hunters, they were not used for farm work...colonial draft was done by oxen. Our horses did not breed up from a farm horse like Europe's, it was originally a light horse, a sport horse, and it has stayed that way. Our breeds all have a jump, they have excellent saddle horse talents and they have both speed and stamina. (See American Running Horse series for proofs of this history).
The Morgan Horse was all sport from the beginning, its foundation sire Figure 1789 was a Running Horse, our first colonial breed, and he carried inbreeding to a early English Thoroughbred Wildair on his Running Horse base (see Morgan Horse for the history of the breed and the genetics of Figure RH).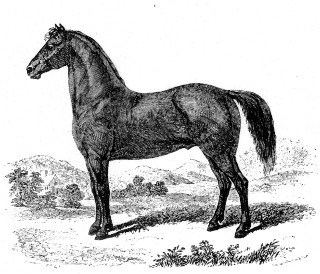 [Figure RH--wood engraving, he is the foundation sire of the Morgan Horse.]
The Morgan Horse was all sport from its inception, its foundation sire Figure RH was an extremely potent Running Horse, a typesetter of such power that his type is still easily recognized today 200 years later. The breed is based on descent from him, usually multiple times, and some of the modern Morgans may have over 1000 lines of him!
What about them being so small? Morgans come in many sizes; the average is 14.3 to 16 hands, they usually have the high head set, the sturdy correct legs and strong hooves, and the short compact form. Yes, Jazzman is a shorty even for a Morgan, and his stature may be related more to his tight inbreeding in the front of the pedigree, then to genetics (inbred horses are often a few inches shorter than the breed normal). The founding sire Figure RH was 14.3 hands, which in his day (1789) was considered a tall horse. Times and fashion change, and today many competitors won't look at a talented horse if it is under 16 hands. Historically riding a tall horse is not a guaranteed road to success, but in our modern era its not fashionable to ride a short horse. Practically, once a ridden sport horse gets over 16 hands the percentage of unsoundness and injury increases, but fashion being what it is, many are more concerned with 'image' than substance. American breeders find that buyers will often turn up their noses at a 15.3 hand or under sport horse--no matter its talent or quality, instead they waste their money and years of training on a 17+ hand horse, which typically, just when its beginning to really compete well breaks down, often with a career ending injury. 
In addition to the size issue, the Morgan is assumed by many others to be just a 'show' horse. It would be laughable if this impression was not so tragic, sadly many American equestrians have lost touch with their domestic breeds to the point that they are unaware of the scope of abilities they possess. In the Morgan's case, it is ridiculous because this breed, since its inception ~1820, has been celebrated as the best family horse, the best road horse, and as it traveled west, the best stock horse and stage coach horse. Stage coach horse? Yes, despite its size, the drivers found the Morgan could out pull and last longer than the bigger stage horse and they were much in demand. For sport horse breeders, this blindness becomes silly, for from 1906 until 1950 the Morgan Horse was used in a government breeding program aimed at producing cavalry horses. Its breeding future was determined by its ability to complete the performance tests. The test had several sections: a jumping test, a cross country test with obstacles and water, a riding test (dressage) and a 300 mile endurance test. If a horse failed in any of the sections it was eliminated from the breeding program. Do any of your warmblood inspections and approvals come near to that level of performance? The bloodlines of that period are found in all modern Morgans. That is why they are so versatile...only the most supremely versatile and talented horses were allowed to breed on!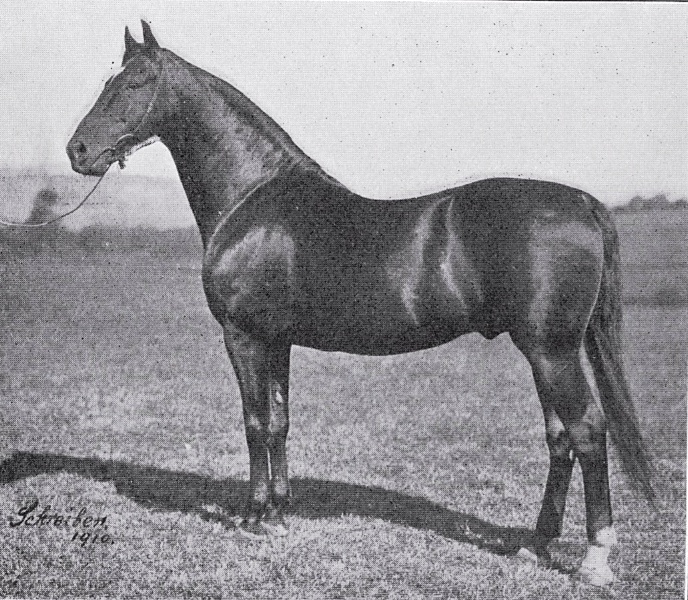 [Morgan remount stallion 1910]
Since the mid 1900s a section of the breed has selected for elevated motion in the front (Hackney style movement) in order to compete in the park division of shows. This type is not the original movement form, and while some Morgans have short 'trappy' front movement, it was never elevated, and always was ground covering. Further, some of the greatest trotters of the mid-1800s and beyond were Morgans: Fearnought, Morrill, Ethan Allen etc. and all of those had great collection and extension...short stride does not win races! (See Standardbred Sport Horses for the racing Morgan bloodlines.)
As a sport horse breeder who has crossed Morgan into my herd, I can attest that the offspring all have excellent extension, plus elasticity and cadence in their movement. In fact, I brought in Morgan to improved the legs, feet, neck set and disposition of my largely Thoroughbred stock (with Irish). Like many of you sport horse breeders have discovered, the Thoroughbred is almost a necessity (see Thoroughbred) in sport horse breeding for its positive sport attributes, but it can also bring in really poor hooves, flighty disposition, leg faults and other issues along with all its benefits. The little Morgan stud I used as an outcross improved all that, plus I got so much more in its movement, that I went back to the pedigree to see what was happening. What I discovered is that I had missed that he carried critical mass in one of the greatest trotters of the 1800s: Daniel Lambert, who was not only a winning racer, but was a crowd favorite because of his beauty, his perfect motion and his sweet disposition.
Small video of one of my Morgan crosses at 3 years.
Avatar's Jazzman pedigree analysis:
So, let me use this cute guy's lineage as a window into the great Morgan sport horse breed. (Please go to Understanding Pedigrees for an outline on how to read a pedigree). The highlighted names in his pedigree are the duplicated bloodlines. Duplication builds potency in the genetics of the repeated lines. Also, I did a 10 generation study to find what else might be powering his talents and will add those findings as well.
If you open up his pedigree you will notice right up in the front there is tight linebreeding: Senator Barr 3x3 through daughters (filly factor), and also Waseekas Here Tiz 3x5 through sons, the two front strengths form what we call a 'remote sex balance', that is when one is represented by daughters only and the other by sons only. The sire of Waseekas Here Tiz, Waseekas Nocturne, has an extra line in the pedigree through a daughter, which reinforces the line. Both Senator Barr and Waseekas Here Tiz descend on the sire line from Senator Graham, a son of Senator Knox, therefore are cousins, and there are 15 lines of Senator Knox in the lineage, so this concentrated grouping becomes a strong typesetting presence.
Another powerful genetic component is the full brothers Mansfield, Querido and Ulysses, with 25 lines of them in 10 generations (critical mass), beginning in the 5th. These brothers are by Bennington out of Artemisia, a combination called the golden cross because of its positive effects on the breed. Further, there is a daughter of Bennington (1/2 sister to full brothers) present in 6 lines, creating a sex balance for the brothers.
Also of significance are 11 lines of Flyhawk, found in the 4th through 10th generation, once again a critical mass concentration, and made incredibly more potent by the presence of the lines of The Brown Falcon and his full sister Flyhawks Fancy 5x3, offspring of Flyhawk. The dam of Flyhawk's full siblings, Allans Fancy L, adds more power to the filly factor she creates by adding an additional daughter line (4x7x6).
There are common bloodlines connecting all these power lines, most notably are heavy concentrations of Black Hawk, Billy Root, both sons of Sherman Morgan ruling the background, and some saddlehorse lines Sir Charles RH and Bedford, galloping racers celebrated for the quality of their saddle stock.
There is significant potency then in Senator Graham, Senator Knox, Flyhawk and General Gates, and further in the background strong presences of Black Hawk and Sherman Morgan. Let's look at these typesetters.
Senator Graham became a pivotal sire for the breed, used mostly as a stock and pleasure mount, his offspring are found everywhere quality horses are. Read more about his career on this link.
Flyhawk was a tough athlete and was relied on to produce progeny with a huge ground covering trot. The cross between Senator Graham and Flyhawk was also called a golden cross. 
General Gates was the foundation sire of the original government breeding project (he stood 1910-1925), and he was a full brother to the leading trotter Morgan Lord Clifton. His son Bennington took over as lead sire in 1925.
Black Hawk "Jet black and 15 hands high, he was a majestic looking stallion, and he could out trot the best of them. He founded a family of excellent trotters, and his bloodlines are in multiples in the back of our modern Standardbred, Saddlebred, Missouri Fox Trotter, Tennessee Walker and Quarter Horses. Because of their overall excellence Joseph Battell selected the descendants of this family for linebreeding targets at his famous Bread Loaf Farm, and they were the backbone of the government program at the turn of the century. Today you will find the Black Hawk lines in the best Morgan sport horses--usually in multiples." (North American Sport Horse Breeder, p. 345). Black Hawk's son Ethan Allen is out of a Running Horse dam, and he was the champion trotter of his day. And his son Daniel Lambert took right over from him, winning races and thrilling crowds with his perfect movement and beauty. I consulted with Morgan historian and pedigree expert Bruce Burton on the correct lineages for both Black Hawk and his sire Sherman Morgan. And once again, as I discovered like his findings on Figure, the lineages he dug out of the old records provided a clue to the great potency these typesetting sires possessed.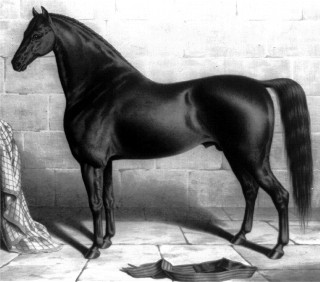 [Black Hawk 1833, from etching by Marston.]
Sherman Morgan, the most successful stallion of Figure RH sons, and in my estimation he is one of the greatest sport horse sires ever anywhere. His genetic reach is huge, and consistently produces excellence in performance, soundness and temperament.  Bruce uncovered that Sherman Morgan was referred to as a 'racker' back in the day, which means a pace derived running walk (4-beat). His dam has traditionally been called a Narragansett, which of course was a pacing breed, and was said to be a very fast trotter. And I have discovered many of the older Thoroughbred bloodlines threw back to their Running Horse-Hobby roots by passing on the mid-gait traits, where trot or pace, such as we find here in the highlighted lines of Regulus: Grey Robinson, and her 3/4 sister Warlock Galloway found in Sherman, both carrying a line of Wyvills Roan Mare, a Hobby. So while his sire Figure RH was a trotter rather than a pacer, his son Sherman produced a strong pacing element.
Black Hawk was Sherman's most successful son and the pedigree provided me (Burton) shows some extreme potency, not just from his potent sire and grandsire, but his dam carries 3x3 inbreeding to full siblings, also her second dam is 1x1 to full sibings Lofty--Wildair Mare, and creates a strong filly factor. Plus their sire Saunders Wildair is 3/4 related to Highflyer daughters: Stargazer and Prunella. Black Hawk was an exceptonal horse, with tremendous vitality and athleticism. For instance, he was a top trotter with a 2:51 record, and he demonstrated his bottomless stamina when he trotted 63 miles in 7 1/4 hours.
The best Morgan bloodlines, and the ones that succeed in sport of all types, descend from crosses with additional racehorse genes, Running Horse, Narragansett (New England Running Horse) and Thoroughbred. And in your sport horse programs, you will find that your largely Thoroughbred genetics will be improved by the addition of the sound and resilient Morgan.
References
Battell, Joseph The Morgan Register vol. I-III 1894 and American Stallion Register vol. I-III (1909-1913)
Burton, Bruce discussions via email
Clumley, Lauren discussions via email
Chronicle of the Horse, 12/1/2017 "He Piaffes, He Jumps, He Gallops, Avatars Jazzman Does it All"
Herbert, Henry Wm. Frank Foresters' Horse and Horsemanship in the United States and British Provinces of North America, vol. I 1857
Kirsan, Kathleen  North American Sport Horse Breeder 2013, Standardbred Sport Horses2017, web articles: The Morgan Horse, American Running Horse and American Breed Development
Linsley, Daniel  Morgan Horses, 1857
New Jersey Magazine, 9/2014 "A Little Morgan Stands Out Among the Warmbloods"
Perlee, Gail "A Personal Quest-The Morgan-Quarter Horse Connection (Arizona Morgan Horse Assn. Yearbook 1996)
Links