Man O' War
Man O' War and His Four Full Siblings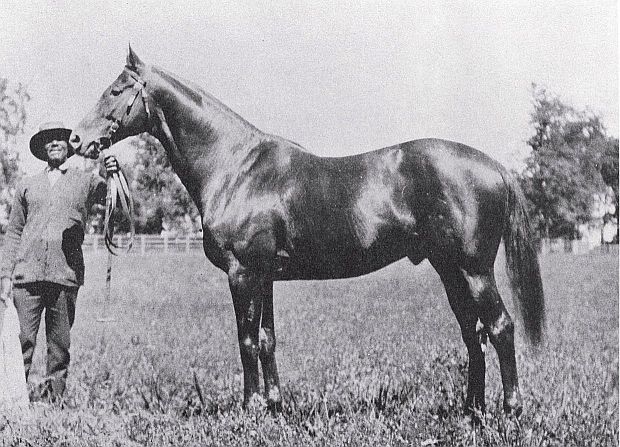 Seen above with his best friend and groom (Will Harbut) is Man O' War, one of the greatest racehorses and sires of all time, he is a legend, and his blood is powerful in all sport still today. He is a prime source of jump.
"He was the mostest hoss that ever was." (Will Harbut)
I am a big fan of Man O' War. Originally this article appeared on my previous website: Sport Horse America (now off the air). He was born in 1917, but he is still a lasting power in the best performance horses and breeders. He could do it all, he had stamina, he had soundness, he had courage, he had speed, he was versatile, and he could pass it all on. He was almost sold as a hunter, and there is good reason for this, he is a powerful jumper and weight carrier, and he has reliably passed on those traits.
As a sire few can compare to his record, because at one time in the late 1930's he had four sons who were champions in four different sports. There was the triple crown winner: War Admiral; he had a Grand National winner: Battleship; he had the winner of the Maryland Hunt Cup: Blockade; and he had Holystone, a champion in the hunter/jumper ring. With the exception of Battleship very few of his offspring competed internationally because he and they were all born while the notorious Jersey Act was in place, and were labeled then as half-breds. (Read all about this line and the Jersey Act, and the reasons the English Jockey Club tried to put the American Thoroughbred out of business in Legacy of Lexington).
He was one of those rare sires who had both top sons and daughters. His daughters are still gold mines in any pedigree, and they passed on his mighty heart. And his sons, such as War Relic, War Admiral and American Flag are still strong positive presences in our Sport Horses. Man O'War bloodlines in our sport horse pedigrees are genetic gold. This whole family, which includes Discovery, War Admiral, War Relic, Chance Play, Oval and countless others are all sure contributors of stamina, soundness, speed, weight carrying ability and jumping talent. Man O' War, his sire Fair Play and his nephew Discovery are all 'chef-de-race' for stamina.
Read a comprehensive essay on Man O'War and his legacy at stud at Ellen Parker's Reine de Course site.
Man O' War had four full siblings. Let us look at those siblings for a graphic illustration of why a good mating should be repeated if you are able (Breeding Principles). Because of the way genes seperate and combine, even full siblings will not be exactly the same, and brothers and sisters always have some different genetic components (sex-linked traits). The more homozygous the genetic package is, the more consistent the outcome and we will discuss this below. Let Man O' War's full siblings illustrate partial genetic fickleness and variability for you.

Masda, a full sister to Man O' War born in 1915, was a very good horse. She was a stakes winner herself and an excellent broodmare. She produced three stakes winners, and the triple crown winner: Assault, directly descends from her. Also there are some noteable champions in her other descendents: Solfed, an Irish champion, and Prove Out, a Jockey Club Gold winner in the USA, who actually outran Secretariat once. Masda was very fast. Her trainer, Sam Hildreth said "Several times when I held a stop-watch on Masda she had run so fast that I thought there must be some mistake and I had to ask others to verify what my watch told me. But they caught her in the same time."(Bowen). So, in Masda you have a worthy sister to Man O' War.

Mirabelle, this is Man O' War's other full sister. She was unraced and proved to be a moderate producer of winners, such as the French champ: In Fijar, and the American winner: Delaware Township. But the racing ability of her progeny did not resemble those of her great brother.

Playfellow. A full brother to Man O' War, but he was only a moderate race horse. He won a few races and he made no impact as a sire. I don't remember ever seeing him in a racing pedigree, however I have found him several times in jumping horses.

My Play. This full brother to Man O' War was a very good race horse--not quite up to his brother (but no horse was), but a superior racer nonetheless. He won the Jockey Club Gold and was a successful sire, and an even better broodmare sire. Unfortunately he only lived to age 11. But he is still seen in good pedigrees.

So, all in all, only half of Man O' War's full siblings even approached his glory. They were all fairly good horses, but only 50% were well above average, and of course, there was only one Man O' War. Two out of the five matings were excellent results, two were okay results, but only one was the superstar. Personally I would be more than happy with this return on a good mating and having three of five top performers is exceptional. However, you can still see even good mating choices should be repeated for the best outcome.
Man O' War Pedigree

With Man O' War, and his full siblings, his sons and daughters, and other relatives, we should consider them targets when trying to concentrate superior relatives in the background our sport horse pedigrees. They are a enduring source of stamina, soundness and sport talent, including being a lasting jumper source. 
I reviewed the genetics of the best Olympic style sport horses we have had in this country as is shown in the respective Hall of Fame inductees. Man O'War, his sire Fair Play, his nephew Discovery and his many other brothers, sisters and relatives (Chance Play, War Glory, Chance Shot etc) have made an indelible mark on American sport--a bloodline does not get much better than this. Go to links below to see for yourself.
Champion American Show Jumpers
Bloodlines of Champion Eventers
You can even find Man O'War in winning dressage stars!
There is a considerable variation in the consistency of Type and Talent found in full siblings. Other full siblings combinations that come to mind easily are Donnerhall OL, who had five siblings and he was the only really good one; then there is the legendary Native Dancer, who had six full siblings, and only one other: Teahouse, came near to his greatness. But there is another lesson I believe we can learn here from full siblings: consider Domino and his two full sisters Correction and Mannie Himyar--all three are superstars, either in racing (Correction won 38 races!!!) or in breeding, Mannie Himyar was a top broodmare and a lasting line. When Joe Estes evaluated the sire lines for Bloodhorse in the 1950s he tabulated Domino had 42% stakes winners--the closest rival for top spot was his own son Commando with 37%. Who was followed by Ben Brush at 24 %, then came Fair Play at 18% and his son Man O' War at 17%. To put these numbers in perspective we need to know that anything over 10% is considered a 'great' sire. For comparison, the wonderful Sadlers Wells, called the greatest stallion to ever stand in England, who led the sires list for fourteen years, had 13% stakes winners. Sadlers Wells was a great sire in every way. You can see how terrific Fair Play and his Man O' War truly were, and Estes even admitted the results were skewed because most of Man O' War's daughters, while counted as offspring, did not race, so his true percentage was probably almost double that--but still what can we say then about Domino? He has no comparison, then or now--and he died after just two years at stud.
So then what made the difference in that Domino could blow through all previous, and it looks like all, future records as well?  Perhaps the answer is Domino was inbred, and not just to any horse, but to the greatest sire the world has ever seen: Lexington RH, he was 3x4x4 to Lexington RH!! For the rest of this story see Legacy of Lexington.
Inbreeding scares most breeders, and rightfully so, because if you do it with a unsound or a less than stellar line then you have damaged your gene pool; but there is a flip side. If you inbreed to a superior bloodline you can cross over into greatness, as we see with Domino, and produce such a consistent type that generations are improved. His full sisters had tremendous records as broodmares as well--this line has been almost a sure thing for speed and sport ability--then and now when we build it up. Today, if we purposely stack our genetic decks with Domino and relatives (and Man O' War and his) we will recapture that magic in our foals. That is a strong lesson for us if we are paying attention.
Visit War Relic for a discussion of the continuing power of this sireline